Travel clothes for Antarctica, you won't face really low temperatures on a cruise, but it will be windy and you'll be around water, here's how to stay warm and comfortable
What to Pack for Antarctica and the Arctic
Cold Weather Travel Clothing
Information: Antarctic travel basics | more travel details | fly to Antarctica | FAQ's | Request Contact | clothing | boots
Regions: Antarctic Peninsula | South Georgia | South Shetland Islands | Falkland Islands - Arctic
Trip gear to bring for tourist visitors to Antarctica and the Arctic, the polar regions

This is the UK page | US page

| Australia / NZ page

What Clothes do I need to take on my Antarctic trip?

As your trip will be in the Antarctic summer, you won't need to take any really extreme cold weather gear.
Temperatures on many or most days will hover around freezing point, maybe dropping to an extreme of -10C (20F) though more likely not. People feel the cold in different ways, the only difference you may experience in Antarctica is that it will almost certainly be windy as well as cold.


Layering is the key,
then you can be flexible according to conditions. Rather than take one very large thick layer, take several thinner layers that can be put on or off as the conditions dictate, this way you can remain comfortable as the day progresses whether you are on the zodiac in the wind, walking in the sunshine with no breeze or anywhere in between.


Buy in South America?
- There are of course clothing stores in the cities of South America, prices for the kind of gear you need however are generally cheaper in North America and Europe and the choice will be much greater.
---
---
---
---
---
---
---
---
---
Clothing around the ship- Antarctic cruises are informal events and you won't need any especially smart clothes on board or need to dress for a formal meal. This is somewhere you can pack light, ships will have a laundry service so you can get a few items washed part way through to last you the duration of your trip.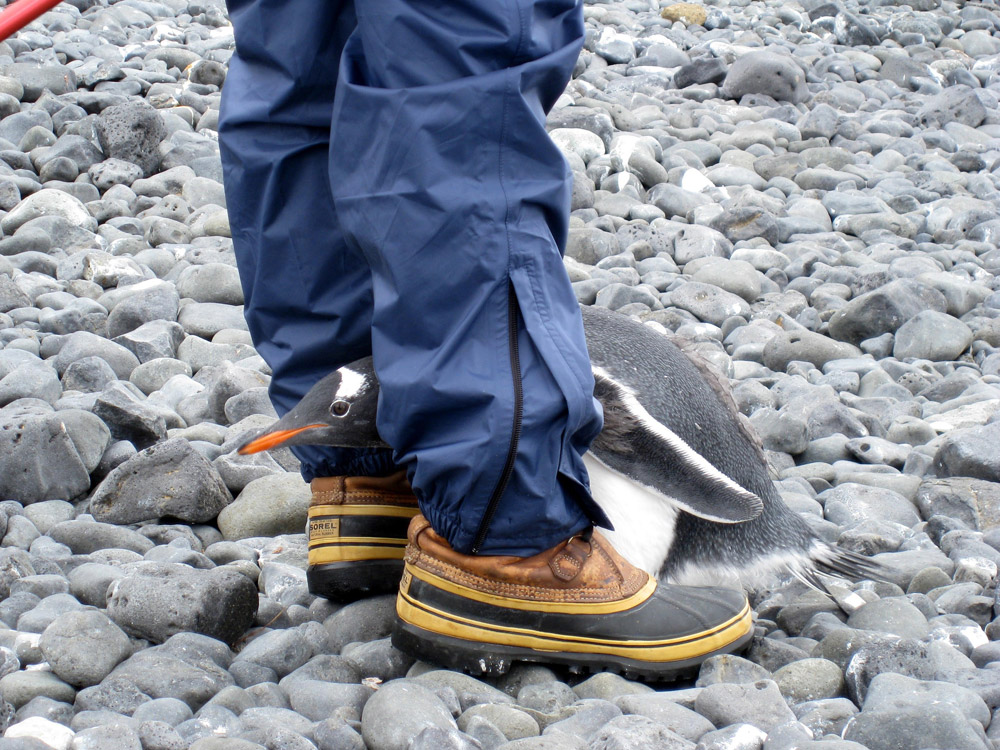 A moulting Gentoo penguin takes refuge thanks to a passing tourist
Other Stuff
---
---
---
---
---
---