Winter Underwear - Arctic / Antarctic, Cold Weather, Thermal Clothing
The base or foundation layer is worn next to the skin, for cold climates this is "thermal" underwear.
---
The layer of clothing next to the skin has two jobs to do, the obvious one of keeping you warm and then the equally important but less obvious one of removing perspiration from the skin so it doesn't cause chilling later on.
In cold temperatures perspiration can be more of an issue than in a warmer climate. The skin loses moisture at all times whether undergoing exertion or not. If there are overlying insulating layers keeping you warm, it is more difficult for this perspiration to escape, If it is not removed it will result in the wearer becoming uncomfortable with a feeling of clamminess as well as lowering the efficiency of the insulating layers.
Underwear that is able to wick this moisture away from the skin surface therefore becomes much more important. Modern "thermals" are made of natural merino wool or synthetic fibers such as polypropylene and "fleece" that have good insulating properties and are also able to efficiently wick moisture away from the skin. The golden rule is to avoid cotton except in some very specific situations.
Features of the foundation layer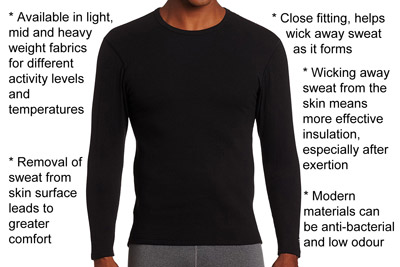 Which material for your
foundation layer?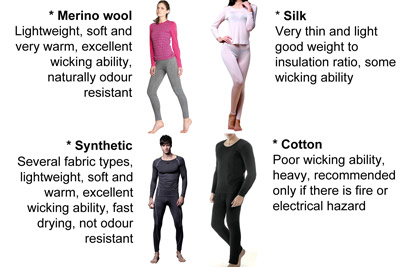 There are a number of materials commonly used for the foundation layer, each has its advantages and disadvantages:
Merino Wool - this has become the gold standard material for the foundation layer, as you may suspect from this, it is not the budget option but it does deliver on performance. It is simply the wool of the merino sheep, a particularly soft and fine natural product. Merino wool garments deliver significant warmth with light weight, they are very good at wicking sweat away from the skin surface and so are particularly effective in use during exertion. They are also odor resistant and so can be worn for extended periods without changing or washing while still making you someone that others still want to be near.
Men's merino | Women's merino
Synthetics - A range of materials, polyester and polypropylene are commonly found as are proprietary versions (brand names) of generic fabrics. If I made my own I could take a form of brushed polyester (say) and call it CoolAntarcticene for instance. Synthetics wick sweat away from the skin very effectively, insulate well and are available in different weights, they dry faster than any of the materials on this page, but are not so good at being odor resistant, but may be treated to make them more so.
Men's synthetic | Women's synthetic
Silk - Another natural material, very thin and light weight delivering excellent insulation for minimal bulk. Not as effective as merino or synthetic, though silk really comes into its own in situations where looks matter, you can squeeze a silk layer under something else without it being noticed or where a matching or contrasting patch of colour enhances an outfit. It is also particularly delightful to the touch. A good choice for cold weather in the city under your office work wear.
Men's silk | Women's silk
Cotton - A traditional, natural material but outperformed in most circumstances by the alternatives. Cotton doesn't wick sweat well which can make it feel cold and clammy with retained sweat after exertion, it is also relatively heavy and has a tendency to go a bit baggy with use, especially at knees and elbows. It is more fire and electricity resistant than many thermal underwear materials which makes it recommended and in some cases the only permitted material where these are a real hazard.
Men's cotton | Women's cotton
Merino Wool Base Layers
Synthetic Base Layers
Silk Base Layers
Cotton Base Layers
---
Weights
Lightweight - approx. 170 gm2
Midweight - approx. 250 gm2
Heavyweight - approx. 400 gm2
Foundation layers come in a range of weights usually described as light, mid and heavy. The one to go for depends on a number of factors, your anticipated activity level, the external temperature and how keenly you feel the cold. There is also the fact that heavier weight materials will be more bulky and so require more flexibility of fit of the over-layers.