Adelie penguins follow-the-leader on sea-ice
- Pygoscelis adeliae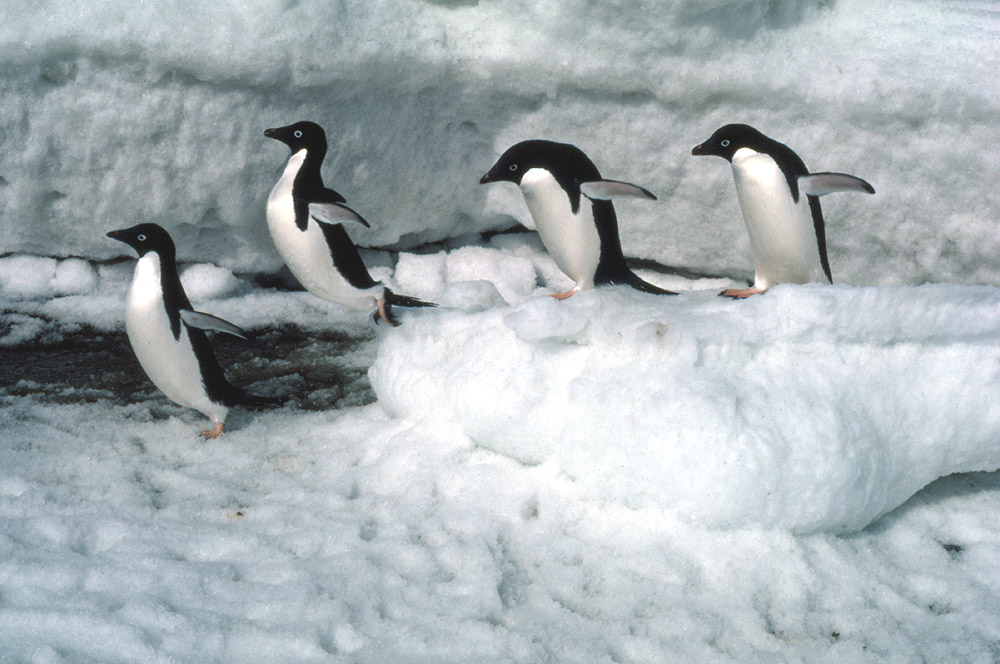 These Adelies have a problem, they went out fishing at high tide and now. some hours later have returned. In the meantime the tide has gone out. Still attached to the land is the "ice-foot" an ice step left behind as the tide rises and falls in the winter months to which the floating sea ice is loosely attached. When the sea ice breaks out, the ice-foot is left behind for a period of days to weeks before rising temperatures and the waves cause this to break off too.
So what was a short hop down for the penguins is now a step too high for them. I spent a couple of hours one afternoon watching and following an ever increasing number of penguins as they came back from their fishing trip. They wandered up and down the shore-line trying to find somewhere to get up, but to no avail. Eventually, the tide came back in and so they floated back up to the right level and were able to get back to their nests. The ice-foot broke off completely a few days later in a mild storm.
Previous Next

Back to thumbnails
Photo copyright - Paul Ward / coolantarctica.com
---