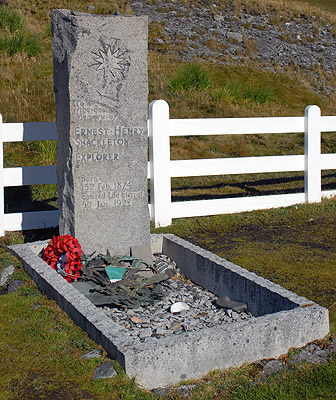 Grytviken cemetery contains 64 graves, mainly of whalers who died while working at the nearby whaling station but most famously of the explorer Ernest Shackleton who died on board his ship Quest on the 5th of January 1922 at South Georgia.
Shackleton's widow decided that he would rather be buried close to Antarctica and at the scene of a part of his most famous adventure, a feeling echoed by many of those who knew him.
Grytviken is the site of an abandoned whaling station and currently active British Antarctic Survey research base on the north coast of South Georgia at 54° 17'S, 36° 30'W. It also has the South Georgia Museum which is in the building that was formerly the house of the whaling station manager.
The name means "pot cove" in Swedish, so called in 1902 by Johan Gunnar Anderson after the old "try pots" he found there, a relic of earlier activity by English sealers.
Grytviken is a very popular site for tourist ships to visit.
Pictures from a trip to Antarctica in the summer of 2010 - 2011 for the purpose of researching former whaling stations and companies by Ulf Gustafsson of the University of Groningen in the Netherlands.
Pictures

copyright Ulf Gustafsson.