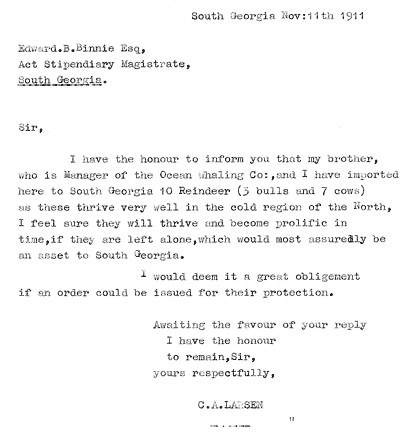 Reindeer were first introduced to South Georgia in 1909 by Carl Anton Larsen, the man who first started whaling from the island. They were introduced in order to provide fresh meat for the whalers without needing to be farmed. They were introduced on three occasions between 1909 and 1925 in two separate areas of the island.
Until 1980, they were regularly hunted and their numbers kept in check, there have been anecdotal reports of them also being hunted by the resident small garrison of British Forces after 1980.
Their future is now under discussion. They obviously have a large impact on the native flora and fauna as they are a non-native species. So far their spread has been limited by glaciers which form natural barriers, they occupy two distinct peninsulas on the northern side of the island. These glaciers like most in the world have been retreating in recent years due to a warming climate and there will come a time when they no longer form an effective barrier.
When I was in Antarctica with the British Antarctic Survey from 1985-1987, the pemmican sledging rations we were supplied with came from the reindeer herd on South Georgia.
Read more about the reindeer and management of them on South Georgia.
These are pictures from a trip to Antarctica in the summer of 2010 - 2011 for the purpose of researching former whaling stations and companies by Ulf Gustafsson of the University of Groningen in the Netherlands.
Pictures

copyright Ulf Gustafsson.