We (my wife Catherine and I) joined the ship in Resolute Bay, Nunavut, Canada (Latitude 74°38'N Longitude 94°45'W) and left it in Kangerlussuaq Greenland (Latitude 66°57'N Longitude 50°58'W).
We cruised from that part of northern Canada where it starts to dissolve into myriad islands then across Baffin Bay to Greenland and down the west coast of Greenland to Sondre Stromfjord which at 160 km (100 miles) long is one of the longest in the world, our flight home was from the end of the fjord.
This was a typical kind of cruise for the Clipper Adventurer, wild places in some considerable style. It was a cruise for people who most of all want to go to the destinations the ship visits, and secondly want to go for the cruise experience.
---
---
As we booked primarily for the places we went rather than for the style in which we went there, it was a very pleasant surprise to find ourselves on a ship where the way in which you appreciated the style of the journey was as important to the ships compliment as the places we went.
Cabin

We were fortunate in that the ship was not full and so there was some flexibility as to our cabin we chose to go to what apparently was one of the least desirable on the ship, cabin 100. We had our own bathroom with shower, which while not being large enough to swing a cat of any significant dimensions, it was large enough. We had a porthole to the outside which you could look out from if you stood on the bed. It did however have an internal metal cover which was very useful in the 24 hours daylight we had for the duration of our trip.
We didn't spend much time there other than sleeping, dressing, and other necessities. There was plentiful wardrobe space and enough space to put our cold weather gear on and sit down. What we liked about the cabin was that it was at the front of the ship and so we were soothed by the sea breaking against the bows or pushing ice aside. Others may find this a bit noisy but we both found that sleep followed within minutes of hitting the pillow whatever the conditions.
---
---
Ship Specification
Staff & Crew - 83
Guests - 117
Zodiac fleet (small inflatable outboard powered boats) for shore transfers
All cabins have exterior views and en suite facilities, all lower berths (no bunks)
One dining room - unreserved seating
Lounge and presentation room
Length - 100.6 meters
Breadth - 16.3 meters
Draft - 4.7 meters
Diesel Twin Engines - 5,280 horsepower
Ice Class - A-1 (strengthened hull - doesn't need to run away from ice)
Cruising Speed - 12 knots in open water
Lifeboats - 4 partially enclosed
Registered - Bahamas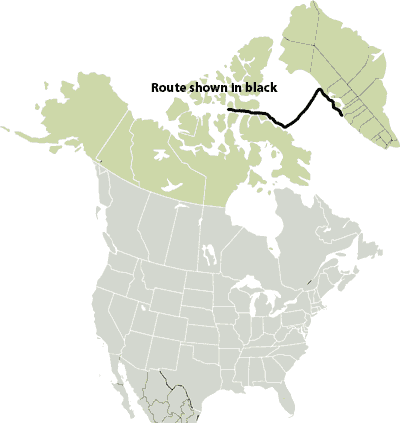 The route: Resolute, Canada to Kangerlussuaq, Greenland in 17 days
---
Daily routine

A typical day started with the dulcet tones of our tour leader waking us over the ships intercom with an update as to where we were, what the weather was like and what the plans were that day.
Typically we would have a trip ashore by zodiac after breakfast, come back for lunch and then repeat in the afternoon. Sometimes we would go ashore to a town and sometimes we would have a zodiac tour in an area of interest. Sometimes the trip was later and on one occasion we had a trip ashore before breakfast to watch the sun rise rapidly and rather magnificently over a mountain to illuminate a glacier.
There were always guides looking out for animals of any kind from the ships bridge, and there would be an announcement if anything exciting was to be seen - cue a rush to grab cameras, binoculars and clothing and get up on deck asap.
Otherwise there were plenty of places to go on the ship, on one of the decks out of the wind to watch the (ridiculously scenic) world going by. My favourite was on the uppermost deck above the bridge where an effective wind barrier meant a calm oasis with 360 degree panoramas of the passing world, Catherine preferred the back of the ship where she could sit with her feet up enjoying a book in the world's most impressive reading room.
Most days there was a lecture of some kind by one of the guides or some form of entertainment. No professional entertainers though or "shows" that you might get on other kinds of cruise ships.
One event that I particularly enjoyed came during a lecture on glaciers, the guide illustrated his talk with a casual "If you look at that glacier over there, you can see... while that glacier over that direction shows another aspect..." etc.
---
---
Meals

Oh joy! I really hadn't expected this. After a couple of days the waiter on our section at breakfast would say "Darjeeling?" which after a happy nod from myself would result in a pot of proper tea of the aforementioned variety delivered to my table. I would then unfailingly select something significantly more calorie laden than I had intended from the menu, often the days special or if not, possibly something bacon-centric. There was also extensive fresh bread, pasties, cereal, fruit, yoghurt and other healthier stuff for the hair-shirted or more likely the two-coursed.

Lunch and dinner were also an extravaganza of choice and quality, I always ended up having at least one course more than than I intended out of the several available. I cannot think of anyone who would realistically think the food is not at least to their satisfaction and more likely to their great pleasure.
Overall

We loved the trip which was made all the better by the unexpectedly high standard of accommodation and service that the Clipper Adventurer provided. Highly recommended, it will swing our choice in the future if we want to go on another cruise and this ship offers it.
---