Antarctica and the wildlife rich sub-Antarctic island of South Georgia Island while also setting foot on the 7th continent.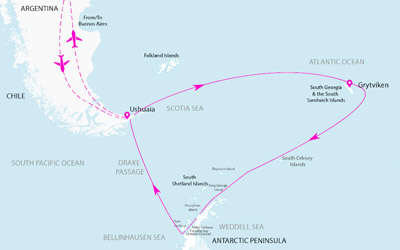 South Georgia and the
Antarctic Peninsula
Cruise Antarctica, Adventure Travel With Cool Antarctica and Antarctica Travels
Penguin Rookeries, South Shetlands - optional kayaking
15 Days | Departures: Nov '22-Feb '23 | From: $11,795
Information: Antarctic travel basics | more travel details | fly to Antarctica | FAQ's | Request Contact | clothing | boots
Regions: Antarctic Peninsula | South Georgia | South Shetland Islands | Falkland Islands - Arctic
---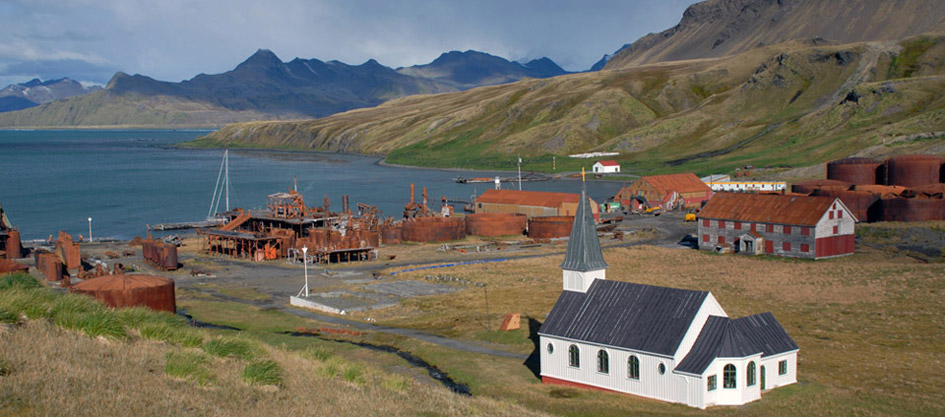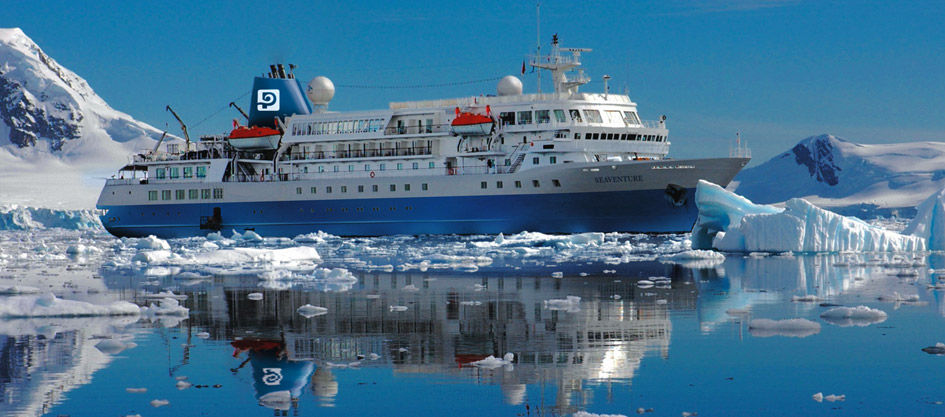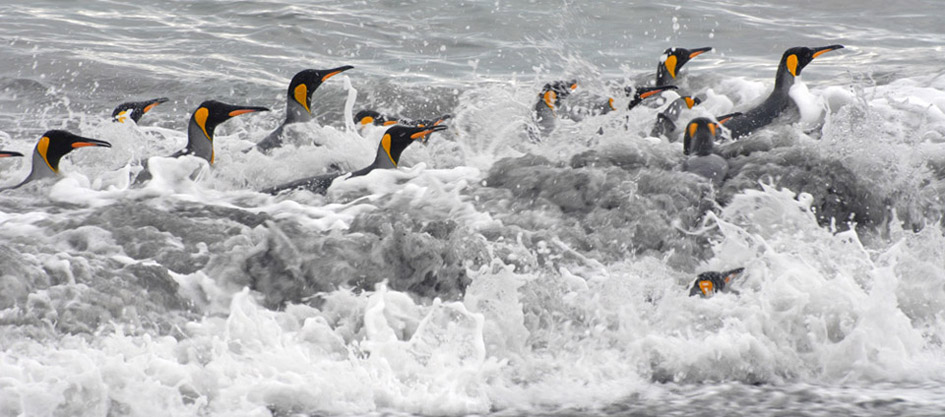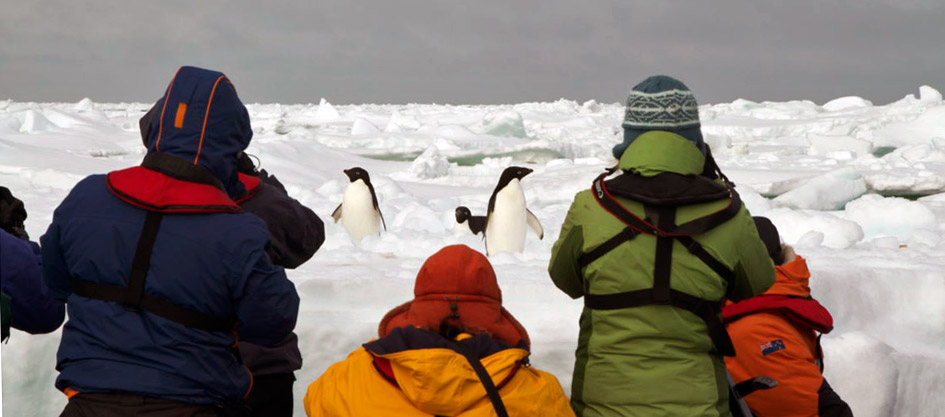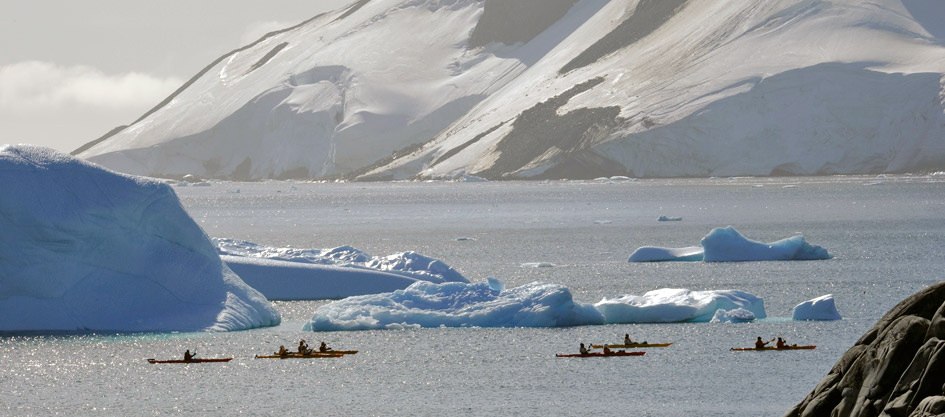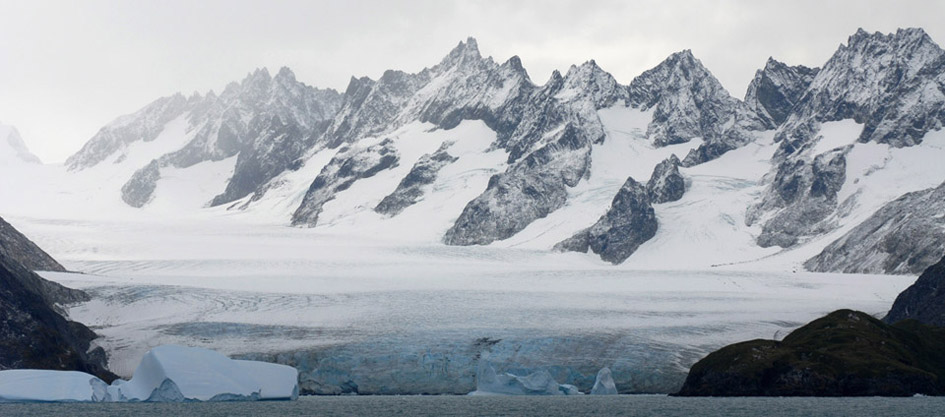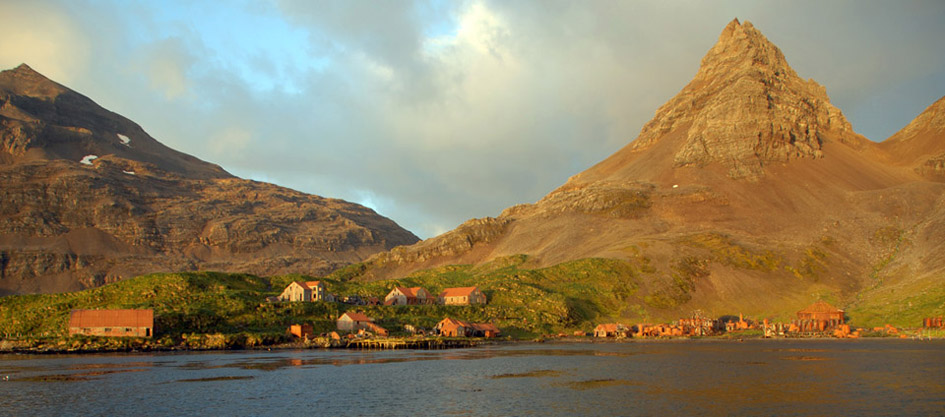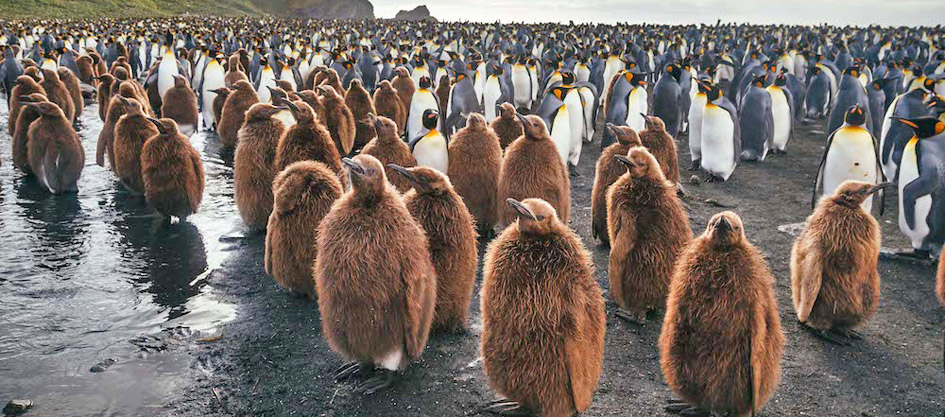 ---
Sample itinerary
Day 1: Ushuaia
You will begin your journey in Ushuaia, a small but bustling port at the tip of South America. It's the ideal gateway for you to explore the southern extent of Patagonia while preparing for your adventure ahead. Get active in the mountains or enjoy handcrafted chocolate at a cafe in town.
Day 3: Embarkation day
Embarkation will occur in the late afternoon, after which your vessel will sail down the historic Beagle Channel, which transects the Tierra del Fuego archipelago in the extreme south of South America. Expect an air of anticipation as you depart!
Day 3-6: At Sea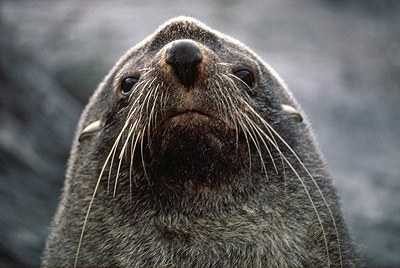 There are many activities to keep you engaged while you are at sea. Learn to identify seabirds that glide alongside the ship, or attend dynamic presentations by your Expedition Team. You will be prepped on safety procedures for Zodiac cruises and shore landings, and also be given instructions for getting the most out of your optional sea kayaking adventures (extra cost), a truly intimate way to experience Antarctica.
If conditions are right, the first indication that you are approaching South Georgia is the sight of birds around a group of rocky spires called Shag Rocks. Have your binoculars and cameras ready to capture these rocky spires rising out of the icy ocean waters. Shags and prions often rest here, and due to nutrient rich upwellings around the rocks it can be a good place to keep a lookout for whales.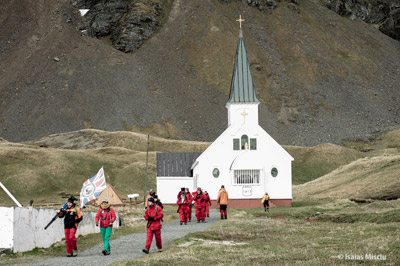 Day 7-8: South Georgia
After enjoying South Georgia from a distance, we'll head toward its numerous beaches to find a bay for your first excursion. Landing sites are varied, largely determined by the weather conditions of your voyage. Whichever sites we visit, they'll provide you with wildlife encounters unrivaled anywhere else on earth.
South Georgia is one of the most fertile breeding grounds in the world for sub-Antarctic wildlife, with beaches blanketed with penguins and seals. It won't take you long to realize that you are in a bird paradise, as burrowing seabirds, albatross and petrels can be seen in abundance.
You'll find that South Georgia, once a popular base for whalers and sealers, is also scattered with abandoned relics and evidence of human activity from centuries gone by. Your Expedition Team will help bring those days to life while you visit old whaling stations and enjoy presentations on the South Georgia of then and now.
One of the most significant sites you will visit on the island is Grytviken. This settlement is the first whaling stations established in sub-Antarctic waters. Many travelers find that this place has a special appeal, as it is the site of the grave of Sir Ernest Shackleton, one of the most famous Antarctic explorers.
Day 9-10: At Sea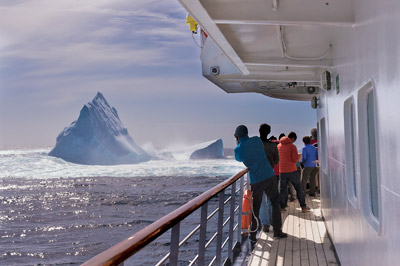 Between the Falklands and South Georgia, you will be entranced by the ceaseless flight of the many seabirds that follow our wake, skillfully using the air currents created by the ship to gain momentum. On this leg, we are usually travelling into the prevailing weather so it is difficult to estimate our precise arrival time in South Georgia. Our lecture program will continue highlighting all of the incredible sights we have witnessed over the past few days. You will have ample time to enjoy observing the sea birds, whale-watching from the observation areas, or simply relaxing with a book.
If time and weather conditions permit, we could pass close to Shag Rocks, a fascinating group of jagged rocky islets protruding from the sea, in the proximity of South Georgia.
Day 11-13: Antarctic Peninsula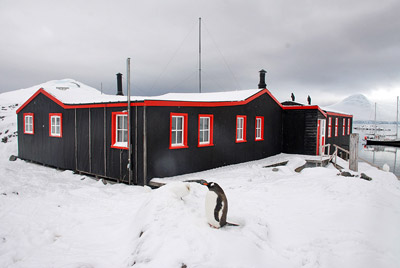 The most common reaction upon reaching the White Continent is a sense of reverence and awe. The experience is hard to put into words, since few places are as untouched and enduring as Antarctica.
You will discover that Antarctica is a land of extremes. At one moment you'll be overcome with a feeling of complete isolation and silence, and at the next moment you'll be inspired by nature as a calving glacier crashes into a brilliant blue sea or a penguin waddles by to inspect your footwear.
Your Expedition Team will take care of you at each excursion, whether you are Zodiac cruising, visiting a historical site or consorting with penguin colonies. Chinstrap, Adelie and gentoo penguins are found here, along with Weddell, fur, crabeater and leopard seals. Keep a lookout for Antarctic whales, such as minkes, while on a Zodiac cruise. Each day and each excursion will present a new collection of creatures to delight you and keep your camera busy.
As exciting as the Zodiac excursions and landings are, perhaps you'll treat yourself to an extra-special Antarctic experience by partaking in an optional paddling excursion (at an extra cost) or cast reason aside and jump into Antarctic waters for the Polar Plunge!
Day 14-15: Drake Passage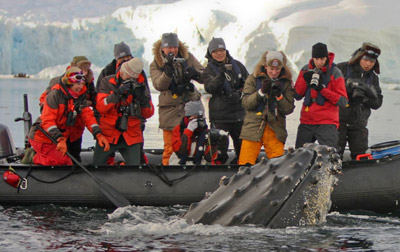 After more than a dozen days of unique wildlife encounters and remarkable landscapes, your journey home begins. Crossing the Drake is your unofficial rite of passage. Spend time on deck watching for seabirds and whales, enjoy presentations by your Expedition Team, or simply relax and reminisce about your experiences. Day 16Ushuaia You will arrive in Ushuaia in the morning, which allows for you to continue your adventure onward or catch your flights home.
Day 16: Ushuaia
You will arrive in Ushuaia in the morning, which allows for you to continue your adventure onward or catch your flights home.
South Georgia is one of the most visited locations in Antarctica. There is a small scientific and governmental presence, though the great majority of visitors are tourists who all arrive by sea as there is no air-strip on the island. It is spectacularly picturesque, over half the island is permanently glaciated, wildlife is abundant, approach by sea is usually straightforward and it is steeped in the history of Antarctic exploration and the stories and relics of Antarctic whalers and sealers. There are many landings possible in sheltered bays.


King penguins in Gold Harbour South Georgia - picture courtesy Ella Derbyshire
---
The Peninsula and South Shetland Islands are the easiest Antarctic destinations to reach from a departure port in South America, it takes less time to get there and back than any other place on the continent. There is a good variety of some of the most spectacular scenery on the planet to be seen within a relatively small area. Jagged mountain peaks clad in glaciers flowing sometimes down to the sea and sometimes spilling into mid air from an altitude of hundreds of feet or more. Huge open skies, enormous icebergs, enigmatic clouds, sudden weather changes and constant surprises from the hugely abundant wildlife you see will keep you in a constant state of awe.
---
Contact me about a trip to the Antarctic!
Please complete the form
and an Antarctic Expert will contact you
Departures from late October to late March
Our partner company, Antarctica Travels, have been passionately helping people to reach their ultimate destination.
All enquiries will be answered from our office in Patagonia, Argentina.
Dozens of trips - unique combinations of ship + itinerary
Choice of ships - 108 to 139 passenger capacity
$8,050 to $40,000
10 to 33 days
Please note - we cannot help directly to find employment in Antarctica, please do not use this form to request any other information than for Antarctic tourist trips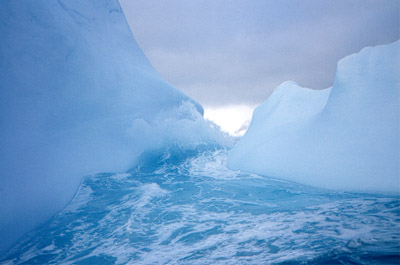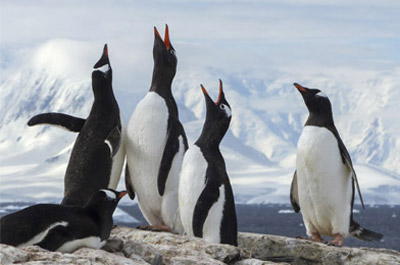 South Georgia / Falkland Islands / Antarctica - Sample Cruises - 2022 / 2023
| Trip | Highlights | Prices USD* | Days |
| --- | --- | --- | --- |
| South Georgia, Falkland Islands and Antarctic Peninsula | All the major Antarctic highlights, anticipate penguins, whales, seabirds and seals as well as magnificent scenery. | $13,000 - $35,175 | 18-21 |
| Antarctica, South Shetlands, South Georgia and the Falkland Islands | All the major Antarctic highlights, anticipate penguins, whales, seabirds and seals as well as magnificent scenery. | $11,795 - $42,076 | 15 |
Notes
*
Prices
are based per person, the lowest price is usually for triple occupancy in a basic cabin, the highest for double occupancy in the best available suite.
Options
may be at additional cost and are usually booked when the cruise is booked - it may be too late once the cruise has started.