Antarctica, South Georgia and the Falkland Islands
Vast Colonies of King Penguins, Breathtaking Scenery, Historic sites, Birding, Child-Friendly, Culture, Hiking, Kayaking, Photography,
24 Days | Departure: 11/07/17, 11/27/17, 01/26/18, 02/15/18 | From $23,790
---
Highlights: This voyage has it all: the impossible beauty of Antarctic ice, over 100,000 king penguins in South Georgia and the Falkland's human history and amazing albatross colonies.
Rates: $23,790 - $41,910
Rates are per person and based on double or triple occupancy according to the cabin.
Child Rate: $500 off per child (under 18)
Charter Air (Santiago / Ushuaia): From $890 per person
Single - shared accommodation available, please contact us for details.
Price includes one pre-voyage hotel night in Santiago and a parka.

Ship - National Geographic Orion - Luxury Expedition Ship
Passengers: 102
---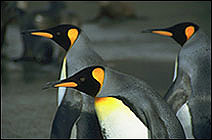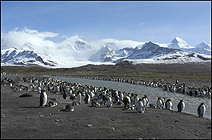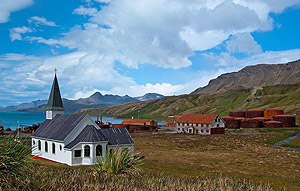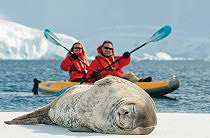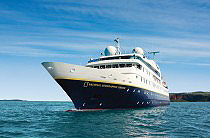 ---
Introduction
This voyage combines the comfortable adventure cruises of Classic Antarctica with visits to the Falkland Islands (Islas Malvinas) and spectacular South Georgia. Many of the wildlife (penguins, whales, seabirds and seals) and scenic highlights of the Antarctic Peninsula and the South Shetland Islands are included as well as the best of these two wildlife-rich sub-Antarctic islands. These expeditions are designed to include as much wildlife viewing as possible, but also include visits to scientific bases and allow plenty of time to enjoy the breathtaking scenery of icy waterways, glaciers, and icebergs.
---
Itinerary
Day 1-2: U.S. / Fly to Santiago, Chile / Overnight
Depart on an overnight flight to Santiago. Check in to your fine centrally located hotel. The morning is at your leisure to relax. Santiago is nearly surrounded by the Andes, which form an inspiring backdrop to your afternoon guided overview of this vibrant city. Explore the Plaza de Armas, the main square, and nearby Presidential Palace, enjoying wonderful views from the many hills that dot the city.
Day 3: Santiago / Ushuaia, Argentina / Embark Ship
This morning's charter flight offers some rare views of Patagonia en route to Ushuaia, the world's southernmost city. Take a catamaran cruise through Patagonia's scenic Beagle Channel before embarking your ship.
Day 4: At Sea
There are many activities to keep you engaged while you're at sea. Take advantage of the library of books available on your ship, spend time at the bar chatting to other travelers or out on deck, admiring the sea. Your Expedition Team will also conduct a series of presentations to familiarize you with how to prepare for Zodiac cruises and shore landings.
Day 5-10: Antarctic Peninsula
Spellbound, shocked and awe-inspired are common reactions to arriving in Antarctica. The indescribable feeling of stepping foot on this untouched, unique environment is something you'll remember forever. Antarctica is a land of extremes; at one moment you'll be overcome with a feeling of complete desolation and silence, at the next moment you'll be inspired by nature as a calving glacier crashes into the sea or a penguin unwittingly provides comic relief as it waddles by.
Your camera will constantly be fixated on Adelie, chinstrap and gentoo penguins, along with Weddell, fur, crabeater and leopard seals. Minke and humpback whales are also commonly sighted in the clear Antarctic waters.
When it comes time for an animal break, the Expedition Team will take you on guided hikes to glaciers, research stations and snowy mountains, to help you appreciate the landscape and what it takes to live in such an extreme environment.
Days 11-12: At Sea
As you voyage, head up to the Bridge to watch for icebergs and observe expert navigation at work as your skilled Captain and officers sail these historic waters. There'll also be time to enjoy a massage in the wellness center, workout in the gym, and browse in the library. Each day your naturalists offer talks that add depth to your experience.
Southwards, a magnificent Alpine country, illuminated by the rising sun, rose slowly from the sea; there were mighty fells with snowy crowns and with sharp, uncovered teeth, around the valleys through which enormous, broad rivers of ice came flowing to the sea.
J. Gunnar Andersson, 1902 - describing South Georgia
Days 13-17: South Georgia
Flexibility in this area is a must. All of your expedition leaders have been to South Georgia numerous times and, if the weather is in your favor, you may make a landing before breakfast or even after dinner. You call at some of the many islands, bays, and coves where you can see outstanding birdlife and elephant and fur seals close at hand. The following is a list of places you may visit on South Georgia.
Salisbury Plain - Two glaciers flank Salisbury Plain on South Georgia's north coast. Here, more than 200,000 king penguins congregate and breed, and you are greeted by one of the more remarkable sights and sounds on earth.


Stromness Bay - Site of Sir Ernest Shackleton and his party's arrival after their harrowing crossing of the island's glaciers on foot, Stromness offers views of cliffs and a glacier from which the adventurer and his companions descended.


Grytviken - You go ashore and explore here, discovering the old ruins of this once-active whaling station. The cemetery holds a special fascination, as it is here that Shackleton is buried on this island he loved. Walking along the coast, you spy seabirds, penguins, and marine mammals.


Gold Harbour - At the foot of the Bertrab Glacier, Gold Harbour is often referred to as the "jewel in the island's crown." In addition to a large king penguin colony, you are likely to see elephant and fur seals, Gentoo penguins, giant petrels, and perhaps even some light-mantled albatross.


Elsehul Bay - This beautiful bay on the north end is home to thousands of fur seals as well as macaroni penguins, the most numerous of all penguin species. Listen for the high-pitched trumpeting of the king penguins amid the magnificent sounds of marine mammals that echo throughout this bay.
Days 18-19: At Sea
The next few days at sea can be as busy or as relaxing as you desire. Go on deck to spot whales and sea birds flying overhead, or attend lectures from our on-board specialists. Whatever you choose, remember to take a moment to reflect on the amazing creatures you've met so far.
Days 20-21: Falkland Islands
You will spend these days in the Falkland Islands (Malvinas), renowned for their amazing wildlife. Highlights include Flightless Steamer Ducks, Magellanic and Gentoo Penguins and a colony of the rare Black-crowned Night Herons. Peale's and Commerson's dolphins are often seen along the coast. Nearby New Island boasts fantastic Rockhopper Penguin rookeries, along with Black-browed Albatrosses and Blue-eyed Shags. You will also explore Stanley, the charming capital of the Falkland Islands. Don't miss the chance to visit the small, but interesting museum.
Day 22: At Sea
As you sail back to Ushuaia, an albatross or two may join the escort of seabirds that cross your bow. There's time to share photos with the onboard National Geographic photographer, catch up on the book you haven't had a minute to read, and write emails home, saying I don't want this to end!"
Day 23-24: Ushuaia / Disembark / Santiago / Home
After breakfast, disembark in Ushuaia with some time to explore before proceeding to the airport for your charter flight to Santiago. Please confirm departure and arrival cities with an Expedition Specialist before booking your flights.
Reverse Itinerary: 11/7/2017, 11/27/2017
---
Notes:
This itinerary is subject to change. ExpeditionTrips.com is not responsible for itinerary changes.

Photo Expeditions:
Travel with a National Geographic photographer and certified photo instructor - at your side and at your service to inspire and assist you. And, take advantage of talks, presentations, slideshows and "laptop gallery" sharing events. All skill and interest levels are welcome; the expert photographers and instructors can meet you wherever you are on your journey. All you need to participate is a camera - point-and-shoot, smartphone, DSLR, whatever - and a sense of adventure. And you're sure to return home with amazing photos.

Included:
Cabin accommodations; all meals and non-alcoholic beverages aboard the ship; some meals on land; one hotel night in Santiago, Chile; shore excursions; transfers to and from group flights; tips (excluding crew), taxes, and service charges; services of a ship physician and expedition staff; bar tab and crew tips (starting Nov 2017, some premium beverages excluded); use of kayaks; parka. Subject to change without notice.

Not Included:
International air transportation; round-trip charter flights between between Santiago/Ushuaia (approx. $850 per person, subject to change); passport and visa expenses; immigration fees; travel insurance; items of a personal nature such as alcoholic beverages, email and laundry; gratuities to ship's crew at your discretion (until Apr 2017); alcoholic beverages (until Nov 2017); optional extensions; fuel surcharge may apply.
South Georgia / Falkland Islands / Antarctica - Sample Cruises - 2017 / 2018
Trip
Highlights
Prices USD*
Days
Antarctica, South Georgia and the Falkland Islands
Vast Colonies of King Penguins, Breathtaking Scenery, Historic sites, optional kayaking
$23,790 -
$41,910
24
Antarctica and South Georgia
Two great destinations, anticipate penguins, whales, seabirds and seals as well as scenic highlights
$8,760 - $15,800
20
Notes
*
Prices
are based per person, the lowest price is usually for triple occupancy in a basic cabin, the highest for double occupancy in the best available suite.
Options
may be at additional cost and are usually booked when the cruise is booked - it may be too late once the cruise has started.