West Greenland to High Arctic Canada
Northwest Passage Cruise
Greenland, Canadian High Arctic and Baffin Island, Inuit culture, Arctic Circle, Glaciers, Icebergs, Wildlife
17 Days | Departure: 1st Aug '22 | From: $15,495
Information: Arctic travel basics | more travel details | request contact | clothing | boots
Regions: Canada | Greenland | Iceland | Svalbard and Spitsbergen - Antarctica
---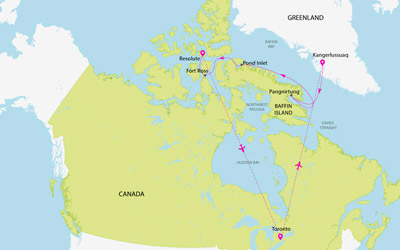 Summary
Winding your way through the icy channels of the legendary Northwest Passage is history brought to life. On this compelling 17-day journey aboard our game-changing new vessel Ultramarine, passengers retrace the steps of the intrepid Franklin Expedition, which left the shores of England in 1845 in search of the last unexplored section of the Northwest Passage - the expedition was never heard from again. Its discovery more than a century and a half later was a much-celebrated moment in polar history.
Journey in comfort aboard the Ultramarine for a voyage through the Canadian Arctic and Greenland. Visit the Arctic at the height of summer!Visit the Franklin graves on Beechey Island. Enjoy an Inuit welcome in Mittimatalik (Pond Inlet). Across Baffin Bay lies the sublime Greenland coast. Explore the best of Greenland and Nunavut, keep a look out for polar bear, whales, seals, Arctic fox, muskox, caribou, and walrus.
Rates: triple cabin: $15,495, double cabins: $17,276 - 34,076
Ship - Ultramarine, Passengers: 199
---
---
Sample Itinerary
Day 1: Ottawa, Canada
Your Arctic expedition begins in Toronto. Explore this vibrant city on your own before spending the night enjoying the comfort and amenities of your designated hotel
Day 2: Fly to Kangerlussuaq, Greenland
After breakfast, board your charter flight to Kangerlussuaq, a small community nestled deep inside a 118 mile (190 km) long fjord. Enjoy your first Zodiac ride as you're transferred from shore to ship. Out on deck, take in your new surroundings before you set sail on your Arctic adventure.
Day 3: Exploring West Greenland
The Greenlandic capital of Nuuk is a haven for history and culture lovers. See for yourself the unique and thriving culture of contemporary Greenland that mingles the ancient with the modern in surprising and wonderful ways. Stroll down to the waterfront to see the Hans Egede Church and Hans Egede statue, named for the missionary who established the settlement in 1728. Marvel at the famous remains of 500-year-old fully dressed mummies, discovered under a rock outcrop in 1972 by two brothers out hunting, at the Greenland National Museum. The Nuuk Art Museum and Katuaq Culture Centre are also worth visiting.
Day 4: At Sea
Your onboard presentation series will continue as the ship crosses the Davis Strait towards Canada. This is an excellent time to enjoy workshops, watch a documentary, and get out on deck looking for whales, seabirds and marine wildlife.
Days 5-15: Exploring Canada's High Arctic
Visit towering fjords, historical sites and Inuit communities as you follow in the footsteps of famous explorers from long ago in the Canadian High Arctic. There are many potential landing sites and places to go in this area, exactly which ones are visited will be influenced by the weather and in particular the presence and density of ice which can block channels one year but be completely clear the next.
Nearing the far north of Baffin Island, enter a broad channel - home to the remote Inuit community of Mittimatalik (Pond Inlet). A highlight is a visit to the Natinnak Center, where a fascinating exhibit showcases aspects of the daily life, culture, and history of the people of the north. Inuit carvings, jewelry and other traditional crafts are on display. Purchasing such items from the local artisans is a great way to support the community.
At the top of Baffin Island sits Lancaster Sound, a calm wide channel this area and the surrounding lands are extremely rich in wildlife and history, both indigenous and European. The area around Lancaster Sound affords several hiking opportunities. Visit a number of the bays, hike the tundra, discover the plant life, cruise a glacier face, and spot wildlife from ship and shore. Once home to the Inuit and their ancestors you can visit archaeological sites with expert interpretation to learn about the human history of this now abandoned island.
On the northern side of Lancaster Sound lies Devon Island, the largest uninhabited island on Earth at over fifty thousand square kilometers. The island's geology is stunning. Flat-top mountains, glacial valleys, and a substantial ice cap give Devon Island its unique character. At Dundas Harbour, on Devon Island, you'll visit an abandoned beachside outpost of the Royal Canadian Mounted Police. At nearby Croker Bay, cruise in a Zodiac (at a safe distance) along the face of an actively calving glacier. Your Expedition Team will also keep its eyes peeled for walrus that are known to visit the bay. Farther west, some of the best ancient Thule remains in the Arctic are at Radstock Bay, beside the soaring Caswell Towers.
At the western end of Devon Island, the windswept Beechey Island is steeped in history. Named after famed British explorer Frederick William Beechey, it's a Canadian National Historic Site. You'll visit the small marked graves of three crew members who died during Sir John Franklin's tragic 1845-46 expedition.
Sailing down the east coast of Somerset Island, you may be fortunate to spot beluga whales and if you're very fortunate, narwhals, as they feed at Creswell Bay. An Important area for bird life, the bay attracts such species as black-bellied plovers, king eiders and white-rumped sandpipers. You'll also have time to explore Fort Ross, where the Hudson's Bay Company established a now abandoned trading post in 1937. At the midpoint of the Bellot Strait, the narrow channel that separates Somerset Island from mainland North America, you'll reach the northernmost area of the continental landmass, Zenith Point.
Day 16: Disembark Resolute Canada fly to Toronto
After disembarking in Resolute, you'll be transferred to your charter flight to Toronto, where you'll spend the night at your included hotel.
---
Price Includes
Guidance throughout your voyage by our experienced Expedition Leaders, including shore landings and other activities
All Zodiac transfers and cruising as per the daily program
All shore landings as per the daily program
Shipboard accommodation with daily housekeeping
All meals, snacks, soft drinks and juices on board throughout your voyage (Please inform us of any dietary requirements as far in advance as possible. Unfortunately, the ships' galleys cannot prepare kosher meals.)
Beer and wine during dinner. Coffee, tea and cocoa available around the clock
Formal and informal presentations by our Expedition Team and guest speakers as scheduled
A photographic journal documenting the expedition
A pair of waterproof expedition boots on loan for landings and Zodiac cruising excursions
A parka to keep
Hair dryer and bathrobes in every cabin
All miscellaneous service taxes and port charges throughout the program
All luggage handling aboard the ship
Emergency Evacuation insurance for all passengers to a maximum benefit of USD $500,000 per person
Greenland voyages cruise passenger tax
Price Excludes
Mandatory Transfer Package

*

International airfares
Arrival and departure transfers, except where listed in the Mandatory Transfer Package
Passport and visa expenses
Canadian eTA required for non-Canadian or U.S. visa-exempt passengers
Government arrival and departure taxes not mentioned above
Meals ashore unless otherwise specified
Baggage, cancellation, interruption and medical travel insurance - strongly recommended
Excess-baggage fees on international flights
Mandatory waterproof pants for Zodiac cruising, or any other gear not mentioned
Laundry, bar and other personal charges unless specified
Phone and Internet charges
Voluntary gratuity at the end of the voyage for shipboard staff and crew
Additional overnight accommodation
Adventure Options not listed in Included Activities
*Mandatory Transfer Package Includes
One night's pre-expedition airport hotel accommodation in Toronto
Group transfer from the Toronto hotel to the airport
Charter flight from Toronto to Resolute
Group transfer from the Resolute airport to the ship on embarkation day
Group transfer from the ship to the Kangerlussuaq airport on disembarkation day
Charter flight from Kangerlussuaq to Toronto
One night's post-expedition airport hotel accommodation in Toronto
---
---
Contact me about my trip to the Arctic!
Please complete the form
and an Antarctic Expert will contact you
The Arctic travel season runs from May to September
October and November for Polar Bear Safaris
Our partner company, Antarctica Travels, have been passionately helping people to reach their ultimate destination.
All enquiries will be answered from our office in Patagonia, Argentina.
Please note - we cannot help directly to find employment in Antarctica, please do not use this form to request any other information than for Antarctic tourist trips
---