The Complete Arctic Cruise
Iceland, Greenland & Svalbard
Polar Bears, Wildlife, Fjords, Icebergs, Three varied aspects of the Arctic
14 Days | Departure: 7/25/20 | From: $8,795
Information: Arctic travel basics | more travel details | request contact | clothing | boots
Regions: Canada | Greenland | Iceland | Svalbard
---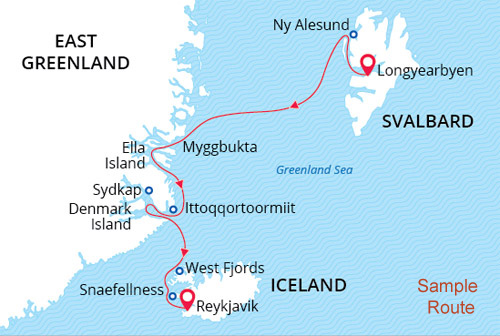 Trip Highlights: This trip takes you to the wide open spaces at the edge of the world to small settlements and then back to the world more as we know it. The wilderness and Inuit culture of Greenland above the Arctic Circle ending up in Reykjavik, a modern European capital city where you can extend your tour for a few more days if you wish.
Bilingual Departure: English/German.
Rates: $8,795 - $21,495
Single Rate: 1.7 - 2 times the double occupancy rate, or can match with other solo passengers to share a cabin
Sea Kayaking Option: $655 per person
Ship - Sea Spirit - Expedition Ship
Passengers: 114
---
---
Summary
Embark on a voyage featuring the incredible scenery, culture, history, and wildlife of Svalbard, Greenland, and Iceland. Experience Spitsbergen's deep fjords, narrow channels, jagged snowy mountains peaks, and immense glaciers. Scout for reindeer, Arctic fox, and walrus. Cross the Greenland Sea for an exploration of Northeast Greenland National Park and discover Scorsebysund's beautiful fjord system and stunning icebergs. Visit the Inuit village of Ittoqqortoormiit, hike the tundra, and visit ancient Thule archeological sites. Keep an eye out for a variety of seabirds and whales as you sail through picturesque waters. Complete your journey in Reykjavik, Iceland. Along the way, learn from knowledgeable guides, attend lectures and photography workshops, or opt to kayak in pristine polar waters.
---
Similar Trips
Multiple Arctic Locations Cruises - See varied aspects of the Arctic in a single cruise, options: Norway, Greenland, Iceland, Svalbard, Canadian High Arctic, Eastern Canada, - 11 - 24 days - from $5,995
Contact our travel partners who will help you find the best cruise for your requirements
---
Itinerary
Day 1: Longyearbyen, Norway
Arrive in Longyearbyen, the adventure capital of the Norwegian territory of Svalbard and the starting point of your expedition. You are free to explore this fascinating Arctic settlement at your leisure. Your hotel for the night is included in the price of the voyage.
Day 2: Longyearbyen / Embark
Embark the ship in the afternoon. Transfers from the hotel are included. Explore the ship and get comfortable in your home away from home for the extraordinary adventure to come. The long days of summer sunlight illuminate your surroundings as the vessel slips her moorings and sails into a true wilderness where wildlife abounds. The scenery sailing through Isfjorden on the first evening is spectacular - there is already the possibility of marine mammal encounters.
Day 3 - 4: Svalbard
Svalbard is a true High Arctic wilderness and this part of the voyage is a real expedition. Your route and exploration opportunities here are heavily dependent on the weather and sea ice conditions encountered. Your experienced captain and expedition leader decide the itinerary and continually adjust plans as conditions and opportunities warrant.
Explore in the northwestern part of the island of Spitsbergen. This area contains the archipelago's most impressive scenery and some of the Arctic's best wildlife viewing opportunities. Deep fjords and narrow channels are flanked by jagged snowy mountain peaks. Immense tidewater glaciers calve icebergs into turquoise waters. Fields of flowering tundra are home to grazing reindeer and playful Arctic fox. Bountiful inshore and offshore waters are home to a wide variety of marine mammals. Polar Bears can be spotted anytime, anywhere, in and around Svalbard.
Also in this area is Ny Alesund, a former mining town that is now home to an international community of Arctic researchers, complete with museum, gift shop, and post office. This was also a staging area for historic attempts to discover the North Pole.
Day 5 - 6: Greenland Sea
From Svalbard, head southwest across the Greenland Sea toward East Greenland. In these far northern latitudes it is possible to encounter sea ice any time of the year. All along the way, remain vigilant for sightings of marine mammals such as whales, seals, and the majestic polar bear. Heading south, darker nights create a high possibility of seeing the Northern Lights (Aurora Borealis).
Day 7 - 11: Eastern Greenland
This is expedition cruising at its most authentic. The itinerary and exploration opportunities in East Greenland are dependent on weather and sea ice conditions. Again you can be sure that your experienced captain and expedition leader will take advantage of every opportunity to experience excellent wildlife viewing, discover incredible scenery, and go ashore wherever possible.
The Franz Josef Fjord and Kong Oscar Fjord systems are part of Northeast Greenland National Park, the world's largest national park. Scoresby Sund is the largest and longest fjord system in the world. Anticipate exploring these fjord systems to the extent made possible by ever-changing ice conditions.
This whole area contains some of the Arctic's most impressive scenery. Deep fjords and narrow channels, flanked by ice-clad peaks up to 1.2-miles high, reach far into the mountainous heart of Greenland. Tidewater glaciers create colossal icebergs that float with wind and tide throughout the fjord system. On shore, fields of multicolored tundra are home to musk oxen and Arctic hare. The landscape - vast, open, and seemingly untouched since the beginning of time - is a hiker's paradise. Throughout this area find ancient Thule archeological sites, historical trappers' huts, and modern Inuit hunters' cabins.
The Inuit village of Ittoqqortoormiit is the only permanent settlement in the region. The community boasts an excellent museum, a gift shop, a post office, an abundance of Greenlandic sled dogs, and of course the opportunity to meet Inuit people.
Day 12: Denmark Strait
Cross the Denmark Strait toward Iceland, crossing the Arctic Circle on the way. Presentations and workshops, as well as a range of onboard recreation facilities, ensure that this day at sea is not idly spent. Seabird viewing and whale sightings can be enjoyed from panoramic open decks as well as exterior stateroom windows and balconies.
Day 13: Snaefellsnes, Iceland
The famous Snaeellsjokull volcano and picturesque Kirkjufell mountain are dominant features in the impressive landscape of the Snaeellsnes peninsula. A rich cultural and literary history and the success of fishermen and merchants are evident in local fishing villages.
Day 14: Reykjavik, Iceland / Disembark
After breakfast, say farewell in Reykjavik, the capital of Iceland and ending point of your expedition. A transfer to the airport or city center is provided.
Reykjavik is home to a wealth of cultural institutions such as museums, galleries, and the Hallgrímskirkja church. Leisure possibilities inside the city include parks, gardens, and thermal baths. You can also take advantage of Reykjavik's wide range of shopping possibilities, excellent dining options, and famous nightlife.
---
Notes:
Read this itinerary as a guide only; the exact route and program varies according to ice and weather conditions - and the wildlife you encounter. Flexibility is the key to the success of this expedition.

Mandatory Travel Insurance:
All guests are required to carry an insurance policy that includes trip cancellation, trip interruption, emergency medical coverage, and a minimum of $200,000 in evacuation and repatriation coverage. Proof of coverage is required prior to embarkation. ExpeditionTrips strongly recommends at least $200,000 Emergency Medical/Evacuation coverage which includes coverage for cancellation, trip disruption, baggage and personal property. ExpeditionTrips can assist U.S. residents with travel protection options. Other conditions may apply based on pre-existing conditions.

Sea Kayaking Option:
Space is limited. Sign up at the time of booking to secure your spot. Weather permitting, join an unscripted kayaking adventure, exploring rugged coastlines and remote waterways that few people have ever paddled. Participants must be at least 18 years old, in good health with appropriate physical fitness, and have previous kayaking experience. Please contact us for details.
Photography Program:
An expert photographer will be on hand to answer questions and give advice, both in the form of onboard lectures and workshops on shore. Explore the key elements of photography in a fun and relaxed setting, with plenty of opportunities for questions and feedback. Learn how to see light in a new way and experiment with the techniques of composition and framing.
Included:
One night pre-voyage hotel in Longyearbyen; group transfer to ship on embarkation day; group transfer to airport or central location upon disembarkation; shipboard accommodations; welcome and farewell cocktail on ship; scheduled landings/excursions; photography program; welcome and farewell cocktail on board ship; digital voyage log; gear to keep (wind- and water-resistant parka); gear on loan (rubber boots); all meals onboard the ship; 24-hour coffee/tea station; port fees; pre-departure materials. Inclusions subject to change without notice.
Not Included:
Airfare; visa and passport fees; emergency evacuation insurance to a minimum benefit of $200,000 and luggage and trip cancellation insurance (required); soft drinks and alcoholic beverages other than those mentioned as included; kayaking; personal expenses such as laundry and telecommunications charges (telephone, faxes, and internet); staff gratuities; fuel surcharge may apply.
---
Contact me about
a trip to the Arctic!
Please complete the form
and an Arctic Expert will contact you
Please note - we cannot help directly to find employment in the Arctic,
please do not use this form to request any other information than for Arctic tourist trips