Classic Antarctica Air-Cruise
Fly over the Drake Passage, Antarctic Peninsula, South Shetland Islands, Wildlife, Scenery, Optional kayaking and snowshoeing
8 Days | Departures: 12/07/20, 12/17/20, 12/22/20, 12/27/20, 01/17/21, 01/22/21, 01/27/21, 02/01/21 | From $11,495
Information: Antarctic travel basics | more travel details | fly to Antarctica | FAQ's | Request Contact | clothing | boots
Regions: Antarctic Peninsula | South Georgia | South Shetland Islands | Falkland Islands
---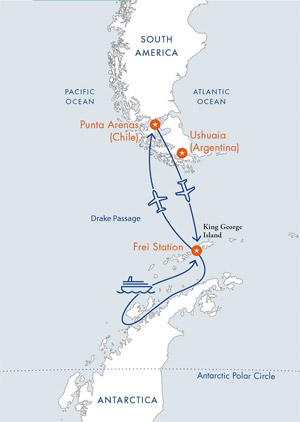 Includes round-trip flight from Punta Arenas, Chile with 6 days in Antarctica. Time spent in Antarctica is equivalent to an 11-day traditional ship cruise.
Trip Highlights: Fly over the 'infamous' Drake Passage directly to King George Island to embark the Ocean Nova. Expect good guides and a comfortable expedition ship with a fantastic glass-enclosed observation lounge.

Rates:
$11,495 - $21,995, Triple: from $11,495, Twins from: $13,495, Single from $17,495
Single supplement: 1.85 or 2 x the regular double occupancy twin rate. Shared cabins may be available in select cabin categories on certain departures. Please inquire.
Child Discount: 5% off the regular per person rate for children age 8 to 12 years old (min age 8 years old)
Kayaking Supplement: $895 per person
Hiking and Snowshoeing Supplement: $85 per person, limited to 10 guests per voyage.
Additional Costs:
Antarctica Flight Preferred Seating Supplement: $495 per person (round-trip)
Hotel and Transfer Package Single - $295; Double - $185 per person; Triple - $165 per person
Single Hotel Accommodation Supplement: $550 (Subject to change)
Expedition Jacket: $349
Fuel surcharge may apply (Subject to change)

Ship: Ocean Nova (Air-Cruise) - Expedition Ship
Passengers: 67
---
---
---
Introduction
In less than two hours of flying from Punta Arenas, Chile, arrive at Frei Station on King George Island (the largest Island of the South Shetland Archipelago) where you will embark the Ocean Nova at the gates of the white continent. From King George Island you will navigate for six days and five nights along the Antarctic Peninsula, visiting the most wonderful places and enjoying the best wildlife sites of Antarctica. With daily excursions, your naturalist team will be giving lectures to introduce and inform you about this wonderful continent. This unique experience is sure to be the trip of your lifetime!
---
Itinerary
Day 1: Punta Arenas, Chile
Upon arrival in the city of Punta Arenas you will be greeted by a staff member and transferred to Hotel Rey Don Felipe. During the afternoon, you will meet your expedition mates and receive instructions concerning the guidelines that should be followed in Antarctica and the procedures for Zodiac boat embarkation and disembarkation. Later, enjoy a welcome dinner and meet your fellow adventurers while enjoying regional cuisine.
Day 2: Fly to King George Island / Embark
Your Antarctic adventure will begin with the two hour flight from Punta Arenas to King George Island (the largest of the South Shetland Islands). Upon arrival, you will be able to tour around the area where the Frei Chilean Base and the Bellingshausen Russian Base are located. Gather at the beach on Fildes Bay for embarkation of your expedition vessel by Zodiac boats.
Days 3-6: Exploring Antarctica, South Shetland Islands & Antarctic Peninsula
While cruising between the South Shetland Islands and the western coast of the Antarctic Peninsula, sailing along ice-filled fjords and between spectacular icebergs, you will enjoy the company of sea birds, penguins, seals and whales. Your journey southwards will include visits to some of the most magnificent spots on the white continent, such as: Livingston Island, Port Lockroy, Petermann Island, Paradise Bay, Cuverville and Deception Islands amongst others. Your target will be the crossing of the Lemaire Channel and latitude 65° South. Your adventure will be very active, with several daily landings and cruises in Zodiac boats, lectures and a very enjoyable time onboard.
Day 7: Disembark / Fly to Punta Arenas
Return to King George Island and bid farewell to Antarctica before boarding the flight back to Punta Arenas. Upon arrival, transfer to your hotel for the night. (Note: Meals in Punta Arenas are at your leisure and not included in the program.)
Day 8: Punta Arenas depart
After breakfast, transfer to the Punta Arenas airport for your onward flight.
---
Notes:
Read this itinerary as a guide only; the exact route and program varies according to ice and weather conditions - and the wildlife you encounter. Flexibility is the key to the success of this expedition.
Mandatory Travel Insurance:
As a requirement of participation on this expedition, all passengers must purchase insurance that includes medical evacuation and repatriation in remote areas, including Antarctica. Other conditions may apply based on pre-existing conditions. We strongly recommend at least $200,000 Emergency Medical/Evacuation coverage which includes coverage for cancellation, trip disruption, baggage and personal property. We can assist U.S. residents with travel protection options.
Getting There & Getting Home:
Arrive in Punta Arenas on Day 1, no later than 2 p.m. The same deadline applies to travelers arriving directly to the hotel on Day 1. That afternoon, all travelers must attend a mandatory safety and Antarctic briefing session covering important practical details. You must also attend a fitting session for your expedition boots. Participation in these activities is essential for the success of the expedition. Travelers who miss the 2 p.m. deadline will be considered 'no shows'—they will not be able to participate in the expedition and will not receive a refund. Tight connections during an Antarctic expedition are not recommended. Therefore, it is strongly recommended that a flexible air ticket be held for your journey home. In addition, booking a departing flight on the same day as the return flight from Antarctica is not recommended.
The Aircraft:
The BAE 146-200 was manufactured in the United Kingdom by British Aerospace and is equipped with 4 turbofan Honeywell engines. It is a high-wing aircraft with very short runway requirements which makes it particularly suited for this kind of destination. It is operated by Aerovias DAP, which has more than 20 years of experience flying in Patagonia and Antarctica.
Luggage Weight Restriction:
Due to the limited carrying capacity of the aircraft, passengers can only carry 20-kg / 44-lbs of personal luggage, including carry-on. This weight restriction is strictly enforced—it is not possible to purchase extra allowance. Note that ALL luggage will be weighed. Soft-sided luggage is recommended.
Contingency Plan:
Some departures in the past have experienced delays. Based on past experience, the estimated chance of delay is very low. Still, it is important that prospective participants understand that flights to and from Antarctica operate based on weather conditions. Travelers are responsible for any expenses associated with the rescheduling of airline tickets or onward travel plans. In the unlikely event that the flight to Antarctica cannot operate due to unfavorable conditions, whether at point of origin in Punta Arenas and/or at the destination in Antarctica, the following contingency plan applies.
Antarctica-bound Flight: (Flight from Punta Arenas to King George Island):
The group will remain in Punta Arenas while waiting for an improvement in the weather and for the opportunity to fly to Antarctica. Included are accommodations at the Cabo de Hornos Hotel or similar, meals, and guided excursions to local attractions. If by 2 p.m. on Day 4 of the itinerary it is still not possible to reach Antarctica, the trip will be interrupted and the cruise fare will be refunded. Between Day 1 and until 2 p.m. on Day 4, every effort will be made to transport passengers to Antarctica, taking into consideration their safety and the safety of the aircraft. The daily program described below will apply: Day 2: Guided tours to sites of historic and wildlife interest in Punta Arenas will be provided. Meals are included as well as accommodation at the same hotel included on Day 1 of the itinerary. Day 3: Guided tours to sites of historic and wildlife interest in Punta Arenas will be provided. Meals are included as well as accommodation at the same hotel included on Day 1 of the itinerary. Day 4: If by 2 p.m. the shipping company cannot transport passengers to Antarctica, the trip will be interrupted. Accommodation with breakfast in a 3-star hotel in Punta Arenas will be provided. No other services or meals will be included. The shipping company will refund each passenger 100% the cruise fare paid for the expedition. Day 5: Group airport transfers are provided. No other services or meals are included.
Return Flight: (Flight from King George Island to Punta Arenas)
In case the return flight to Punta Arenas is moved forward, passengers will disembark the ship and fly to Punta Arenas up to one day earlier than indicated in the itinerary. On arrival, accommodation at the Cabo de Hornos Hotel or similar will be provided. All other inclusions will remain per the original itinerary. In case the return flight from Antarctica to Punta Arenas experiences a delay, passengers on board the ship will continue cruising to nearby places until the return flight to Punta Arenas is authorized. In such case, shipboard accommodation, full board, and all excursions are included. No refund will be extended for any reason whatsoever.
Kayaking:
Limited to 10 participants per cruise. Prior kayaking experience and the ability to swim are required. Kayakers will be under the guidance and leadership of an experienced Kayak Master at all times. Minimum age for participation is 16. Space is limited, however, so be certain to book in advance. Please contact us for additional details.
Hiking & Snowshoeing:
Limited to 12 participants, no previous experience required. Available on a per excursion basis. No advance payment; must be paid onboard the ship. Participants will be led by an experienced mountain guide. Requires a good level of physical fitness. Minimum age for participation is 12. Please contact us for additional details.
Citizen Science:
From whale sightings and identification to seabird surveys, each trip offers the opportunity to assist in data collection to benefit a variety of research studies. Please contact us for additional details.
Single Hotel Accommodation:
Single travelers who book a shared twin cabin will be accommodated in single rooms at the hotel and must pay a single hotel room supplement. Note: Passengers who use CPAP machines or other assistive devices, as well as those with conditions that could disturb their traveling companion, cannot book on a twin-share basis. Please contact us for additional details.
Antarctic Flight Preferred Seating:
Travelers can purchase preferred seats on their Antarctic flight. This option offers travelers an extra level of comfort and a guaranteed aisle or window seat at the front of the aircraft, as well as a guaranteed empty middle seat. Priority boarding in Punta Arenas and an amenities kit are included. Capacity is limited to a maximum of 8 aisle seats and 8 window seats (aisle 2, 3, 4, and 5). Please contact us for additional details.
Additional Hotel & Transfer Package:
Travelers can purchase a hotel and transfer package that includes: one night hotel accommodation at the Cabo de Hornos (or similar) in Punta Arenas, shared airport-to-hotel transfer, breakfast, and a drink voucher. Available as a pre- or post-expedition package.
Included:
Round-trip flights between Punta Arenas and Frei Station, King George Island; one pre-expedition hotel night with welcome dinner, drinks, and breakfast in Punta Arenas at the Cabo de Hornos Hotel or similar on Day 1; one post-expedition hotel night with breakfast in Punta Arenas at the Cabo de Hornos Hotel or similar on the day of the scheduled return flight from Antarctica; group transfer airport/hotel on Day 1; group transfer airport/hotel on day of scheduled return flight from Antarctica; group transfer hotel/airport on last day of the air-cruise; shipboard accommodations; guided shore excursions; onboard lectures and entertainment; comprehensive pre- and post-voyage information material; gear on loan (waterproof boots); all meals onboard the ship; wine, beer, juice, and soft drinks served with lunch and dinner aboard the ship; coffee, tea, chocolate, cappuccino, water, and snacks aboard the ship throughout the expedition; contingency plan (outlined below); IAATO passenger fee. Subject to change without notice.
Not Included:
Airfare, accommodation, meals, excursions and transfers other than those included in the itinerary and the Contingency Plan; preferred seating on Antarctic flights; optional activities such as sea kayaking or hiking and snowshoeing; dinner in Punta Arenas upon return from Antarctica; mandatory evacuation insurance; personal travel insurance; recommended travel protection policy; personal expenses (beverages purchased at the ship's bar, communication, laundry, souvenirs, etc.); gratuities; visas for Chile and/or Argentina; passport expenses; any arrival and/or departure tax, if applicable; fuel surcharge may apply.
Antarctic Peninsula - Sample Cruises - 2020 / 2021
Trip
Highlights
Prices USD*
Days
Adventures in Antarctica
South Shetlands, Antarctic Peninsula, Penguin Rookeries, Optional kayaking
$8,995 -
$15,735
12
Antarctic Peninsula with Circle Crossing
Classic Antarctica, pristine scenery, classic sites of scientific and historic interest, experienced naturalist guides. Optional kayaking, camping, cross-country skiing and mountaineering
$11,995 -
$26,195
15
Classic Antarctica Air-Cruise
Fly over the Drake Passage in both directions, Antarctic Peninsula, South Shetland Islands, Wildlife, Scenery, Ice Optional kayaking and snowshoeing
$11,495 - $21,495
8
South Georgia / Falkland Islands / Antarctica - Sample Cruises - 2020 / 2021
Trip
Highlights
Prices USD*
Days
Antarctica, South Georgia and the Falkland Islands
Vast Colonies of King Penguins, Breathtaking Scenery, Historic sites, optional kayaking
$25,940 -
$45,990
24
Antarctica and South Georgia and the Falklands
Two great destinations, anticipate penguins, whales, seabirds and seals as well as scenic highlights
$14,070 - $26,480
20
Notes
*
Prices
are based per person, the lowest price is usually for triple occupancy in a basic cabin, the highest for double occupancy in the best available suite.
Options
may be at additional cost and are usually booked when the cruise is booked - it may be too late once the cruise has started.
---
Contact me about a trip to the Antarctic!
Our partner company, Ice Tracks
UK based and ATOL protected, will help you find the perfect trip to Antarctica, all enquiries will be answered from our office in Warwickshire, England.
Please complete the form
and an Antarctic Expert will contact you
Please note - we cannot help directly to find employment in Antarctica, please do not use this form to request any other information than for Antarctic tourist trips
Departures from late October to early March
Dozens of trips - unique combinations of ship + itinerary
Choice of ships - 108 to 139 passenger capacity
$8,050 to $40,000
10 to 33 days