Antarctic Peninsula
Antarctic Peninsula, Penguin Rookeries, South Shetlands - optional kayaking and camping
9-12 Days | Departures: Jan-Feb '22, Nov '22-Mar '23 | From: $6,895
Information: Antarctic travel basics | more travel details | fly to Antarctica | FAQ's | Request Contact | clothing | boots
Regions: Antarctic Peninsula | South Georgia | South Shetland Islands | Falkland Islands - Arctic
---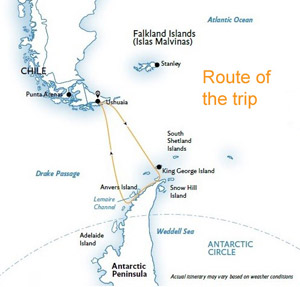 A range of cruise ship choices
Rates: $11,795 - $42,076
Kayaking and camping options depending on departures, may be subject to supplements.
Summary
Our South Georgia and Antarctica: Penguin Safari itinerary is the fastest way to get to the seldom visited South Georgia Island while also setting foot on the 7th continent. As we set sail, photograph massive albatross and beautiful pintado petrels as they swoop and soar around the ship, guiding us toward South Georgia. Beaches teeming with king penguins and elephant seals greet us on this fabled island, where we'll pay our respects to famed explorer Sir Ernest Shackleton. Antarctica awaits, with its soaring peaks and staggering expanse. Go further into the Antarctic sea on a Zodiac, experience the rugged peninsula from a sea kayak, undertake an exhilarating hike up a sparkling glacier, or share an endearingly comical moment with an inquisitive gentoo, chinstrap and Adélie penguin. In these ways and countless others, Antarctica will amaze, surprise and delight.
---
---
---
Sample Itinerary
Day 1: Ushuaia
Arrive in Ushuaia, Argentina at any time. Arrival transfer included. Enjoy the sights and sounds of the world's most southerly city.

Days 2: Ushuaia / Embark / Drake Passage
Enjoy a free morning in Ushuaia. Complete last-minute shopping, explore the town, or visit the surrounding countryside. Embarkation on the Expedition begins in the afternoon at the port in Ushuaia. Enjoy the evening sailing through the Beagle Channel.
Days 3-4: Drake Passage / South Shetland Islands
The adventure begins with a 621-mile crossing of the passage named in honor of the 16th-century English sea captain and privateer, Sir Francis Drake. Take in daily lectures from the expedition team and keep an eye out for the first sightings of icebergs, whales, and albatross following in the Expedition's wake.
As the Expedition crosses the passage there will be time to become acquainted with the ship and frequent the common areas including the lounge, dining hall, library, and lecture hall where you'll meet your guides, ship's crew, and expedition staff.
Begin lectures and information sessions to learn the extraordinary human and natural history of the Antarctic region.
Days 5-8: South Shetland Islands / Antarctica Peninsula
This is what you've all been waiting for: a chance to set foot on the Great White Continent! Over the next four days the Expedition will navigate southwards making stops in the South Shetland Islands then through the Bransfield Strait and on to the Antarctic Peninsula.
Experience some of the most unique wildlife viewing and inspiring scenery in the world. Encounter gentoo, chinstrap and Adelie penguin rookeries; Weddell, crabeater, and leopard seals; and orca, humpback, and minke whales in the cold Antarctic waters. During the voyage, learn about the peninsula's remarkable history.
The goal is to attempt two excursions per day while navigating through the area, but the itinerary and daily schedule will be based on the local weather and ice conditions.
During the voyage, learn about the peninsula's remarkable history.
Days 9-10: Drake Passage / Ushuaia
Begin the journey north to the home port of Ushuaia. Review the highlights of the Antarctic experience with the lecturers and staff. Keep sharp eyes on the observation deck for some last-minute whale sightings.
Day 11: Ushuaia / Disembarkation
Disembark the Expedition after breakfast.
Read this itinerary as a guide only; the exact route and program varies according to ice and weather conditions - and the wildlife you encounter. Flexibility is the key to the success of this expedition.
---
Notes:
The above itinerary is a guide only, as the exact program depends on weather and ice conditions and the wildlife you encounter. Flexibility is the key to the success of this expedition, we are not responsible for itinerary changes.
Mandatory Insurance:
As a requirement of participation with this shipping company, all passengers must purchase travel insurance with a minimum medical, evacuation, and repatriation coverage of $200,000 and this insurance must cover personal injury and emergency medical expenses. Passengers must be able to provide proof of insurance purchase and adequate coverage as per the required amounts above. Passengers are responsible for advising their insurer of the type of travel, destination(s), and activities included in their booking so that the insurer may provide appropriate coverage. It is the passenger's responsibility to ensure that they have sufficient coverage and comply with the terms of the applicable insurance plans. Other conditions may apply based on pre-existing conditions. We strongly recommends that all passengers also purchase comprehensive travel protection that includes cancellation, trip disruption, baggage and personal property. We can assist U.S. residents with travel protection options.
Camping:
Overnight camping is an opportunity for passengers to participate in a unique adventure while on their Antarctic trip. No prior experience needed. Spend one night sleeping onshore with a group of up to 60 fellow campers to experience the sights, sounds, and isolation of the coldest, driest, windiest continent on the planet. A mandatory waiver must be signed by participants, indicating that they are aware of and accept the increased risks that are associated with being off the ship overnight. Advance booking required. Please contact us for details.
Kayaking
Limited availability; advance booking required. Restricted to 20 kayakers and two guides per outing. Venture out to sheltered bays and areas known for calmer waters on small group kayaking excursions led by expert kayaking guides. Passengers who participate in the sea kayak program should have a working knowledge of sea kayaking strokes, entries, and exits (including a "wet exit"). Outings last approximately 2-4 hours and are guided and supervised by professional kayak guides who have experience in cold-water regions paddling near ice and marine mammals. Please contact us for details.
Included (example)
One pre-expedition hotel night in Ushuaia, on a twin share basis; arrival and departure transfers; shipboard accommodations; shore excursions and Zodiac cruises; services of the Expedition staff and naturalists; lecture and educational programs; gear to keep (expedition parka); gear on loan (waterproof boots supplied for US sizes 4-16); all meals onboard the ship; coffee, tea, and water. Subject to change without notice.
Not Included:
Airfare; mandatory travel insurance; passport and visa fees; discretionary gratuities; items of a personal nature including laundry, Wi-Fi, alcoholic and non-alcoholic beverages except coffee, tea and water; optional excursions such as Tierra del Fuego National Park; camping; kayaking; fuel surcharge may apply.
Antarctic Peninsula - Sample Cruises - 2022 - 2023
Trip
Highlights
Prices USD*
Days
Antarctic Peninsula Expedition
South Shetlands, Antarctic Peninsula, Penguin Rookeries, Lemaire Channel.
$6,895 -
$34,716
9-12
Antarctica Basecamp
Antarctic Peninsula Basecamp cruise offers hiking, snowshoeing, kayaking, mountaineering, and camping out under the Southern Polar skies.
$5,460 -
$16,800
11 or 12
Antarctic Circle Quest
Sail down the Antarctic Peninsula and cross the Antarctic Circle, South Shetland Islands, Wildlife, Scenery.
$7,550 - $33,446
10-14
South Georgia / Falkland Islands / Antarctica - Sample Cruises - 2022 / 2023
| Trip | Highlights | Prices USD* | Days |
| --- | --- | --- | --- |
| South Georgia, Falkland Islands and Antarctic Peninsula | All the major Antarctic highlights, anticipate penguins, whales, seabirds and seals as well as magnificent scenery. | $13,000 - $35,175 | 18-21 |
| Antarctica, South Shetlands, South Georgia and the Falkland Islands | All the major Antarctic highlights, anticipate penguins, whales, seabirds and seals as well as magnificent scenery. | $11,795 - $42,076 | 15 |
Notes
*
Prices
are based per person, the lowest price is usually for triple occupancy in a basic cabin, the highest for double occupancy in the best available suite.
Options
may be at additional cost and are usually booked when the cruise is booked - it may be too late once the cruise has started.
---
Contact me about a trip to the Antarctic!
Please complete the form
and an Antarctic Expert will contact you
Departures from late October to early March
Our partner company, Antarctica Travels, have been passionately helping people to reach their ultimate destination.
All enquiries will be answered from our office in Patagonia, Argentina.
Dozens of trips - unique combinations of ship + itinerary
Choice of ships - 108 to 139 passenger capacity
$8,050 to $40,000
10 to 33 days
Please note - we cannot help directly to find employment in Antarctica, please do not use this form to request any other information than for Antarctic tourist trips