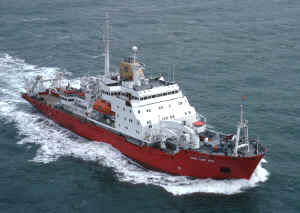 Most of the ships that supply Antarctic bases are ice strengthened rather than full blown ice breakers.
Double hull, with a gap between them, the gap may be air or filled with water ballast. If the outer hull is punctured the inner will hopefully not be.
Flat hull shape with a rounded rather than pointed bow. This allows the front of the ship to drive forwards, rise above the ice and then let the weight of the ship break the ice.
Specially formulated hull polymer paints for strength and also low friction when in contact with ice.
Special engine cooling arrangements so that the inlet for water taken on board to cool the engine doesn't get blocked with ice - likewise the water outlet.
No stabilizers or any other kind of hull protuberance that might get ripped off by ice
Helicopter, for scientific work, but also for spotting leads and open water in the ice to guide the ship.
Rudder and propeller protected by the shape of the hull, so that ice moving backwards is less likely to cause damage.
Thicker than normal steel, particularly at the bow and at the level of the water-line
Reinforced "ice belt" that typically extends about 1m above and below the water line. This is where the hull has thicker steel and also has extra internal ribs to help the stiffening. These are usually twice as many of these ribs than in a comparable "normal" ship.
Powerful bow and stern thrusters to help maneuvering in tight spaces such as pack ice.