Antarctica Books - Recent Releases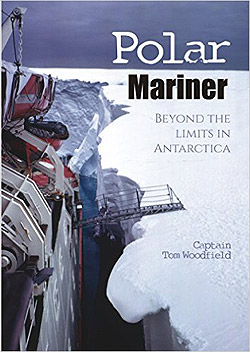 Polar Mariner
Beyond the Limits in Antarctica
Captain Tom Woodfield

Buy USA

Buy UK
Free world delivery
A story of 20 years at sea in Antarctica initially with The Falkland Islands Dependencies Survey which later became the British Antarctic Survey. An era that started with under powered ships that were not really suited for the job they were asked to do and ended with purpose built ships for the job in hand.
For ex-FIDs like me this is a fascinating description of the "other side" of Antarctic research and logistical support that we encountered usually only briefly on our way to or from our Southern posting. It is remarkably detailed and full of things you will recognise with plenty of tales to keep you turning the pages. The author clearly has a great experience of and and enthusiasm for Antarctica. For anyone who has been to Antarctica or enjoys tales of adventure that are usually hidden behind the "Continent for Science" official record of what happens, drop hints at birthday or Christmas time, or treat yourself.
Excerpts:
"When not laboriously collecting blocks of ice from the pack ice, we sunbathed, shirts off in temperatures well below zero. As usual we had run short of water, and boiling ice don on the deck over diesel oil fires provided some, it mostly composed of fresh water, though the resultant water tasted of diesel and was distinctly brackish."
"... a 60 -plus professor of cartography, on a summer visit to oversee the groundwork for the aerial survey of the Dependencies. Having been ashore, he was returning in the motorboat and against all the rules, he stood on the foredeck holding on only to the painter, leaning back as he did so, as the boat weaved between comparatively small ice floes, when it hit some ice and stooped abruptly. He shot over the bow and disappeared under a floe. Despite immediate efforts by those in the boat, it took a full 20 minutes before he could be retrieved and brought aboard, and he was thought to be dead."
- he did survive!
Paul - webmaster
---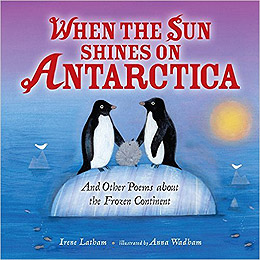 When the Sun Shines on Antarctica
And Other Poems about the Frozen Continent
Irene Latham, illustrated by Anna Wadham
Ages 8-12

Buy USA

Buy UK
Free world delivery
This poetry collection takes readers to the bottom of the world to experience summer as they've never seen it before.
Each double page spread has a poem, a fact box and stunning illustrations.
I meant to list this book here much earlier, but when it arrived my wife borrowed it to take with her when she looks after a neighbour's daughter for a while until her mum gets home from work. It turned out it was one of her favourite books to look at while she was being read to, so it was only after a few weeks that I remembered I hadn't seen it for a while that it came back and it got listed. Highly recommended by Catherine to read to Chloe, highly recommended by Chloe to have read to her. A lovely sharing book or for children to enjoy on their own.
Paul - webmaster
---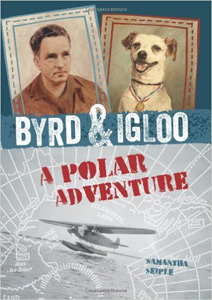 Byrd & Igloo: A Polar Adventure
Samantha Seiple

Ages 8 - 12

Buy USA

Buy UK
Free world delivery
BYRD & IGLOO is the first narrative nonfiction book to tell the daring adventures of legendary polar explorer and aviator Richard Byrd and his lovable dog explorer, Igloo. Byrd is known for being the first to fly a plane over the North and South Poles, while Igloo is famous for being the only dog to explore both the North and South Poles. The adventures of Byrd and Igloo opened the door for science and research in the Antarctic. Featuring direct quotes from letters, diaries and interviews, newspaper clippings, expedition records, maps, charts, as well as never-before-seen photos, it will give the complete story of the explorers' journey. Though rooted in history with evidence from many museums and research centers, Byrd & Igloo will be exciting in tone, making it accessible and interesting for young readers.
---
Publishers
- please to feature your new release on this page.