Winter Gloves - Protecting the Extremities
There's no such thing as bad weather, only the wrong clothes. Keeping your hands warm in cold temperatures.
---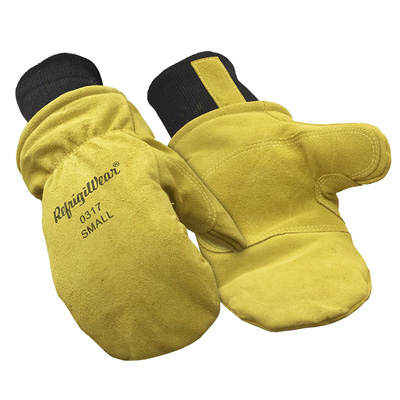 Calfskin Extreme Cold Weather Mitt
Removable Liner and Fleece Cheek Warmer, 17" Length
guide price
$30
Your hands have a large surface area compared to their volume, this means that they lose heat rapidly in cold conditions. The muscles that operate your hands are mainly located in the forearm, you can sense this by holding your forearm with the other hand then and alternately tensing and relax a fist, so even when your hands are used extensively, the heat generated is not directly operating the fingers.
This means that gloves or mittens are essential in cold conditions and indispensable unless you walk around all of the time with your hands in your pockets. Mittens will always be warmer than gloves if made out the same material, but of course reduce dexterity. It is possible to get better gloves though the expense soon rises, and of course, they will never be as warm as the same materials made into mittens.
As temperatures start to cool, the first effective gloves are thin and soft without a wind or waterproof outer layer. This will give you good dexterity and enable operation of an electronic device such as phone or camera for instance. If you can put your hands in your pockets when not needed, this will be sufficient for quite a while. If your hands need to be out in the open, thin mittens will keep them warmer for longer and be smaller and lighter to stow away.
As the temperature falls, then there is the option of heavier weight gloves with an outer layer that is wind proof and water resistant, ski gloves or similar are good, though are more expensive for what they are, if you need the manual dexterity, then these will be ideal. If you need a greater degree of warmth then you need mittens, or less expensive mittens will suffice if you don't need the dexterity.
In the very coldest temperatures a pair of insulated glove liners with substantial over mittens are needed. If you need to, you can slip off the mittens for finer handling abilities using the gloves, with mittens alone you would be bare handed without the mittens which could be uncomfortable, painful or even dangerous.
Reasonably sized cuffs for all gloves and mittens make them more effective, short gloves that expose the wrist can make you feel noticeably colder and more uncomfortable than cuffs that can be tucked under a sleeve for thinner gloves or over the sleeve for more substantial items. The most effective and warmest gloves and mittens have significant cuffs that are elasticated or have draw cords that extend part way up the forearm.
Finally, some gloves and mittens have a patch of fur on the back (often synthetic) that can be placed against cheeks or nose if they start to turn pasty white with frostnip.
For extra dexterity, fingerless gloves are available and I once had a pair of mittens with a slit in the palm and thumb allowing me to put my fingers out for a while and then, back inside again to warm up. Unless you know you like them, don't bother giving them a go, the great majority find them next to useless - I hated them!
In selecting clothing for cold and extreme weather the priorities are:
Keep the body warm, particularly fingers and toes
Allow for free removal of perspiration
Allow free movement
Be comfortable at all times, whatever the weather
---