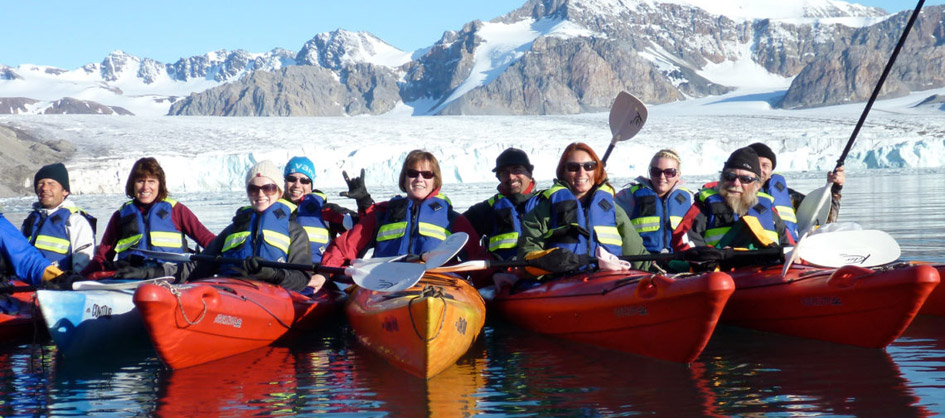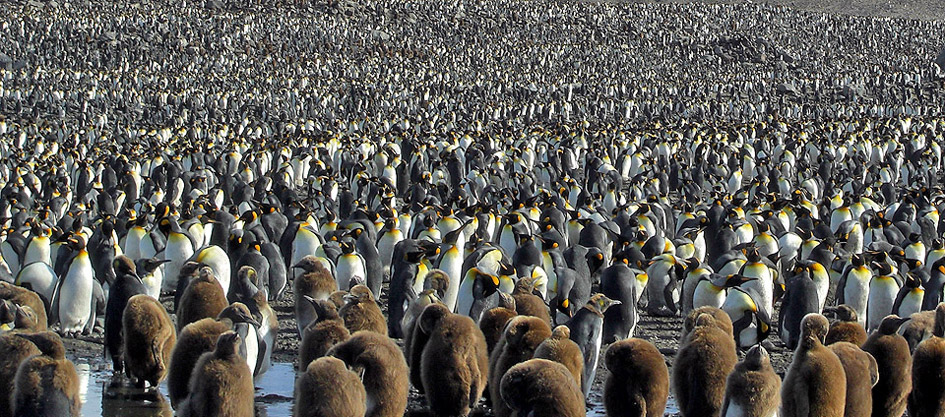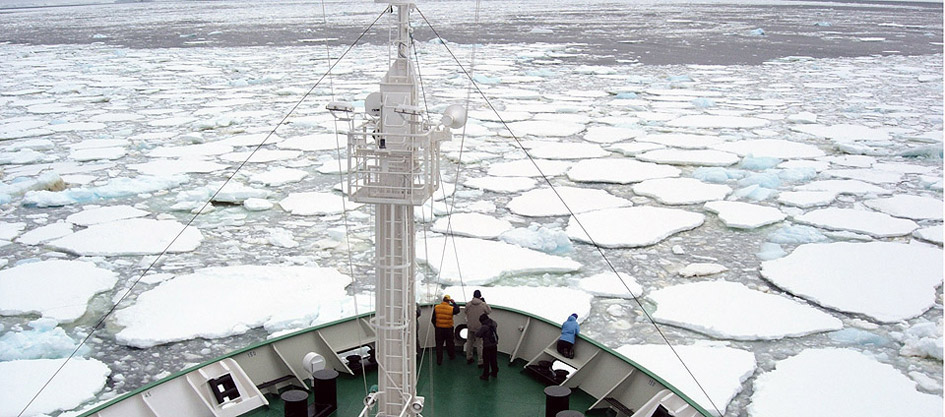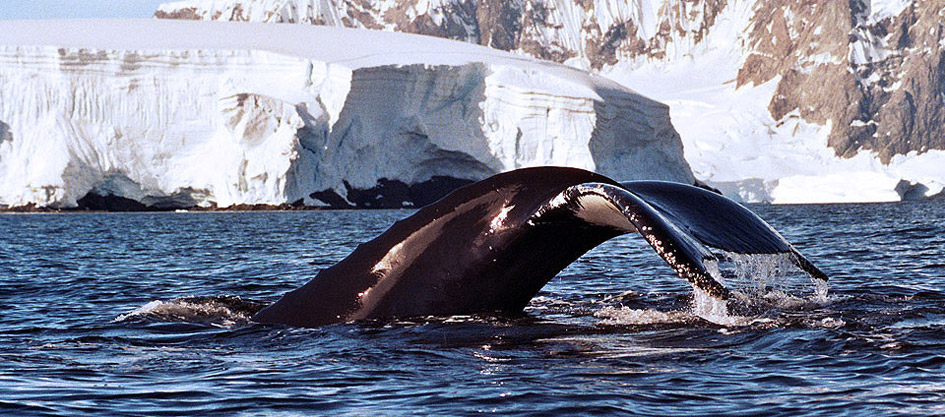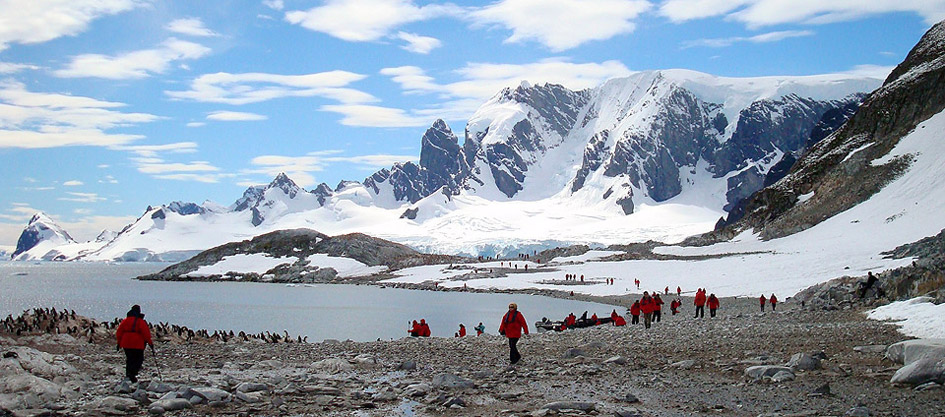 Antarctica Cruise and Travel Guide - Page 2 - Details
Antarctica Cruise and Adventure Travel With Cool Antarctica and Expedition Trips
Tourism in Antarctica - What will I do and what will I see?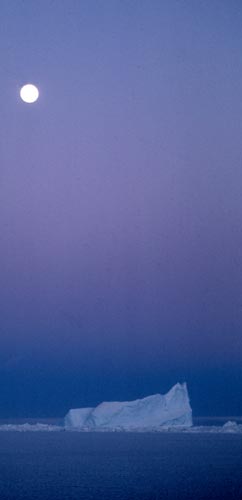 First of all you will cross some of the most excitable seas that there are, The Drake Passage.
This may happen in the night and you may be blissfully unaware of it. It may happen during the day time when you are very aware of it. Make the most of the experience, it's like a rite of passage, earning you your place in the South. Alternatively there is now an opportunity to
fly across the Drake's passage
in one or both directions if you want to save time or can't face the potential sea state, which incidentally may be contrary enough to be like a mill pond the time you go across it.
You will cross the Antarctic convergence,
an area of upwelling sea water where deep water flowing north from the edge of the Antarctic continent meets deep south-flowing water, the two then flow upwards bringing dissolved nutrients to the surface to power the huge seasonal biological abundance during the long dark-free summer days. The circumpolar convergence is a barrier that moves backwards and forwards, but is very real and stable in the long term. So much so that virtually no fish species have managed to travel in either direction in the 25 million years since it arose. The convergence has also acted as a barrier to Decapod Crustaceans - crabs, crayfish, lobsters etc. These abound elsewhere in the world's seas, but are very rare in the Antarctic.
South of this you are in the "Southern" or "Antarctic" ocean,
this is where Antarctica starts. You will see ice-bergs in quantity, and other types of ice too with a multitude of names, pack-ice, brash-ice, bergy bits and growlers to name but a few.
Albatrosses, seals, penguins, myriad other birds and if you're lucky - whales, will follow the ship for a while or just come for a look.
You will see some of the most beautiful scenery that the planet has to offer,
seascapes, icescapes and landscapes that you only dream about. Except there you are - part of it all.
You will go on visits ashore generally of short duration (around 3 hours),
of moderate intensity (less than 100 people), and of a frequency that depends on your tour operator. Typically there are 1-2 landings per day. Landings are made using Zodiacs (rubber inflatable boats) or if the ship is so equipped also by helicopter. Other activities by visitors to Antarctica include mountain climbing, camping, kayaking and scuba diving, there is even the occasional Antarctic marathon (yes honestly!).
Tour operators usually co-ordinate their itineraries so that ships do not see each other or allow shore parties from different ships overlap, this helps to maintain the "wilderness experience".
On your trips ashore you will see Antarctic wildlife up close and personal.
You can expect to see
Colonies of Adelie, Gentoo and Chinstrap penguins - that vary between large and huge, in the summer months, they will be anywhere from courting and nesting building to nearly fledged chicks depending on the time you go. You will probably also see King, and Macaroni penguins if you visit sub-Antarctic islands such as South Georgia. If you go far enough south you may even see Emperor penguins.
Seals - Crabeater, Southern Elephant, Leopard and Weddell seals are to be found here, chilling out in the ocean, floating around on ice-floes or relaxing on rocky Antarctic shores.
Whales - humpback whales and killer whales are present and may pose for visitors, if you are lucky you may see other whale species, even the blue whale, the largest animal that has ever lived.
Albatrosses - the "bird which made the wind to blow" with the largest wingspan in the world. Antarctic skuas, snow petrels, blue eyed shags, American sheathbills, cape pigeons, giant petrels, and tiny dancing Wilson's storm petrels amongst others may pass by.
Just remember that unlike in a zoo, you're in the cage and in an environment where you don't belong. This was the animals home long before we realised that it even existed.
Popular places to visit
Deception Island - a collapsed volcano that forms a natural harbour. It is situated among the South Shetland Islands at the tip of the Antarctic Peninsula. The main attraction for tourists is the thermally heated water of Pendulum Cove. There are also the remains of scientific bases abandoned after a volcanic eruption in 1969.
Lemaire Channel - this used to be known as the 'Kodak Gap' because of its popularity with tourists and usage of photographic film that resulted. The Lemaire Channel is a narrow waterway formed between the cliffs of the Antarctic Peninsula and offshore Booth Island.
Paradise Harbour - Spectacular glaciers and scenery - once you've been, the name will make obvious sense.
What do I need to take?
Clothing
When your feet are cold, cover your head. - Inuit saying.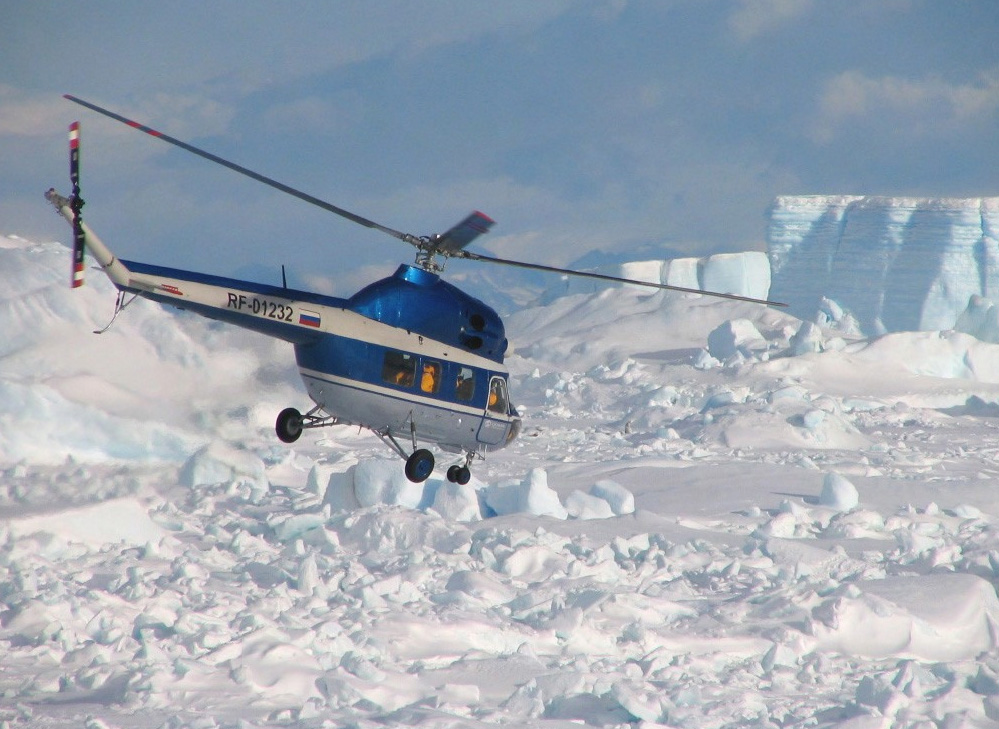 As your trip will be in the Antarctic summer, you won't need to take any real extreme cold weather gear.
Temperatures on many or most days will hover around freezing point, maybe dropping to an extreme of -10°C (20F) or rising to +10°C (50F). Obviously people adapt to the cold in different ways and I've seen some tourists in the Antarctic in light-weight clothing while others are wrapped up like the Michelin man in the same conditions. Layering is the key, then you can be flexible according to conditions.
Rain wear is the best bet for your outer layer, even though you probably won't get any rain, you may well get some not especially cold (and therefore quite wet) snow and will almost certainly get splashed significantly by sea water at some point while riding on a zodiac, you'll probably have to sit in a wet zodiac too at some time, so pants/trousers as well as a jacket are also needed.
Boots are very important,
the neoprene-topped super-welly type are an excellent choice. These have a good solid rugged sole that can deal with rough terrain, are waterproof for wet zodiac landings and are close fitting around the calf so are much warmer than traditional style rubber wellington boots that pump warmed air out as you walk along. These neoprene topped boots can be worn with a single pair of socks which will be enough to keep your sufficiently warm through-out your trip. We've also found that on return they are ideal for winter walking in the cold and wet back home.
Hire Gear
- Many ships cruising Antarctica will have equipment for hire. You will need to make your requirements known in advance especially for sizes. As well as not spending money buying things you may rarely if ever need again, hiring gear cuts down your luggage weight and bulk considerably which can be an important factor if you have a charter flight with a strictly restricted baggage allowance and can be far and away the more environmentally friendly option.
Essentials
More details on clothing for your Antarctic trip
Other Stuff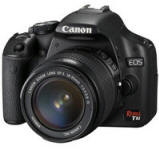 Camera.
Get a good quality camera, this means digital for most unless you have a reason to use film in which case you are probably already an enthusiast. Most people are fine with a digital camera of about 15-25 mega pixels. This will give plenty of scope for cropping the pictures later and allow enlargements up to about A3 size (11" x 14") of good quality and a very impressive image on a screen or projector.
A digital single lens reflex (DSLR) is preferable (but more expensive) with at least a wide angle to short telephoto lens, 25-50mm ish, and a short telephoto zoom 50-200mm ish. Anything over a 300mm lens is an extravagance for Antarctica that you'll hardly ever use and will be much heavier to carry.
More information.
Spare batteries, and spare spare batteries. Lots of memory cards! More than you think you'll need.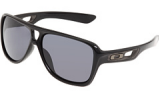 Good quality sun-glasses
with u.v. protection.
It gets really bright in Antarctica, especially when the sun reflects off the sea and ice or snow.
High factor sun-cream
for the same reason. If you've never been burnt under your nose from reflections from snow or sea now's your chance.

Lightweight waterproof backpack
to carry your stuff ashore while leaving arms free to clamber in and out of the Zodiacs. Around 1500-2000 cu. in. / 25-30L is a useful size.
Full size waterproof liners for your backpack will protect everything inside from the sea splashing on a bumpy zodiac ride or in case you drop it in the sea (a rare occurrence but not entirely unknown).
These may be available to hire from your ship or tour operator, though they also make ideal carry-on bags for the flight to your ship, much more flexible and versatile than the usual carry-on luggage.

Luggage
- you'll need something to lug your stuff around in.
Ships cabins are smaller than hotel rooms, so space matters. Soft bags can be compressed and pushed under beds whereas large rigid cases can be more troublesome.
They also tend to weigh less, so making them easier to carry and taking up less of your baggage allowance.

Take a good pair of
binoculars
essential if you're an avid wildlife watcher and also pretty useful if you're not. When those whales or seals or penguins, or albatross or.... etc. etc. turns up, you'll be wishing you had your own too!
"Incidentally, I see you recommend avid wildlife watchers should take binoculars - everyone should have them! It is very annoying having to share your binos with someone for that rare glimpse of a distant blue whale or even just getting a better view of scenery!"
- Robert Burton Antarctic tour guide and lecturer.
I prefer a compact pair, mine are 10 x 25 as I'm more likely to actually have them in my pocket than bigger ones. The first number is the magnification (8x or 10x is as much as most people can hand-hold steadily) the second is the diameter of the front lens which dictates how much you can see at that magnification, this second figure also largely determines the size and weight of the binoculars. 25 makes for compact binoculars, 40-50 means you see more but they are much bigger and heavier.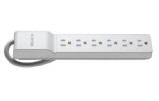 Powerstrip
- Powerpoints in ships cabins are very thin on the ground and we are increasingly addicted to our gadgets. A lightweight short cabled powerstrip (preferably with surge protect) enables you to charge everything up at the same time with just the one adaptor to plug into the wall. It can be very frustrating having spent the last 8 hours charging the wrong device when the battery light on what you are using turns red.
Tourism
Questions about trips to Antarctica
International Association of Antarctic Tour Operators (IAATO)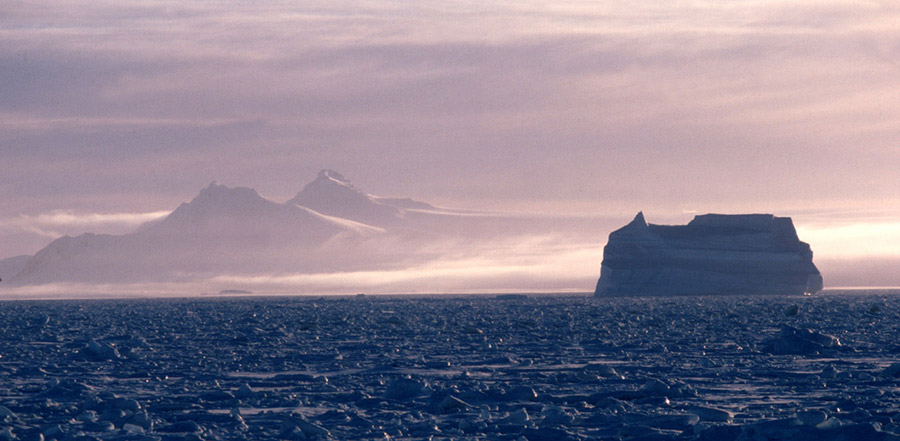 Antarctic Peninsula - Sample Cruises - 2015 / 2016
Trip
Highlights
Prices USD*
Days
Antarctica Cruise - Discovering the 7th Continent
South Shetlands, Antarctic Peninsula, Penguin Rookeries, Lemaire Channel Optional kayaking, camping and snowshoeing
$6,995 -
$14,995
12
Antarctica Cruise - The Peninsula
Classic Antarctica, pristine scenery, classic sites of scientific and historic interest, experienced naturalist guides. Optional kayaking, camping, cross-country skiing and mountaineering
$6,795 -
$16,995
12
Classic Antarctica Air-Cruise
Fly over the Drake Passage, Antarctic Peninsula, South Shetland Islands, Wildlife, Scenery, Ice Optional kayaking and snowshoeing
$9,995 - $18,995
8
Antarctica Ross Sea Region - Sample Cruises - 2015 / 2016
Trip
Highlights
Prices USD*
Days
The Ross Sea Region - In the Wake of Scott and Shackleton
Auckland Islands, Macquarie and Campbell Islands, Explore the Ross Sea, Historic Huts, Ross Ice Shelf, McMurdo base.
$20,000 -
$30,200
30
East Antarctica - In the Wake of Mawson
Antarctic Peninsula to Ross Sea, Historic Huts, remote East Antarctica, Emperor penguins, sub-Antarctic islands, helicopter excursions
$13,500 -
$21,000
26
South Georgia / Falkland Islands / Antarctica - Sample Cruises - 2015 / 2016
Need a Little Guidance? contact our travel partners who will help you find the best cruise for your requirements
Notes
*
Prices
are based per person, the lowest price is usually for triple occupancy in a basic cabin, the highest for double occupancy in the best available suite.
Options
may be at additional cost and are usually booked when the cruise is booked - it may be too late once the cruise has started.