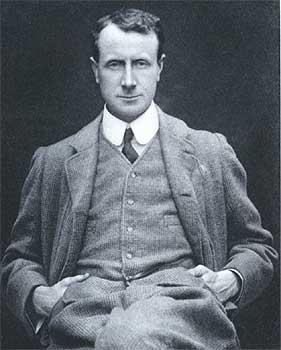 Assistant surgeon Discovery 1901-04
Chief of scientific staff and biologist Terra Nova 1910-13
Edward Wilson - "Uncle Bill" - is one of the most prominent figures of early Antarctic exploration because of his easy manner and the great respect he received from the men he worked with, because of the paintings and drawings he made and because he was one of the five men making up Scott's team that reached the South Pole, but died on the return journey.
He was born in Cheltenham, England, and educated at Cheltenham College, then moving on to Caius College Cambridge where he read Zoology before qualifying in medicine at St. George's Hospital London. Shortly after he qualified as a doctor, Wilson became ill with tuberculosis and it was during the long convalescence from this illness that he practiced and developed his skills as an artist.
In 1901, Wilson applied to be doctor on Scott's Discovery Expedition to Antarctica, he was the second doctor to be appointed, originally because there was to be a detached landing party separate from the main expedition - this never happened however and both doctors stayed with the expedition. He was not fully recovered from his illness when first appointed, but Scott saw his potential and took him on as vertebrate zoologist and artist as well as doctor.
Expeditions, then and now take doctors, but it is expected that with the high level of fitness of the men, the doctor should have relatively little to do in the way of medicine, with the exception of accidents or the unforeseen, so there is always a secondary occupation that the doctor can fulfill until such time that the medical skills are needed. Wilson's specific job was to deal with the birds and seals that the Expedition came across and to write the appropriate section for publication in the report of the expedition. A longer lasting and more widely acclaimed legacy was the collection of water colour pictures that he made during this and the next expedition. E. A. Wilson's watercolours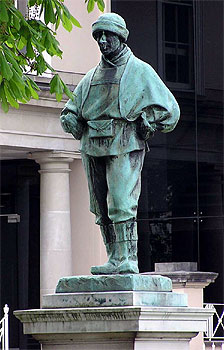 Statue of Edward Wilson, in Cheltenham town centre.
The plinth reads:
Edward Wilson of the British Antarctic Expedition reached the South Pole on January 17th 1912 and died with Captain Scott on the Great Ice Barrier in March 1912.
Photo - Adrian Pingstone 200
Landmarks named after Edward Wilson
Feature Name: Wilson Hills
Type: range
Latitude: 69°40´S
Longitude: 158°30´E
Description: A group of scattered hills, nunataks and ridges that extend NW-SE for about 70 mi between Matusevich Glacier and Pryor Glacier. Discovered by Lt. H.L.L. Pennell, RN, on the Terra Nova in Feb. 1911 during Scott's last expedition.
Feature Name: Wilson Piedmont Glacier
Type: glacier
Latitude: 77°15´S
Longitude: 163°10´E
Description: A large piedmont glacier extending from Granite Harbor to Marble Point on the coast of Victoria Land. Discovered by the British National Antarctic Expedition, 1901-04, but not named until the British National Antarctic Expedition, 1910-13.
Feature Name: Cape Wilson
Type: cape
Latitude: 82°14´S
Longitude: 163°47´E
Description: A bold, rocky, snow-covered cape, forming the SE end of the Nash Range and marking the northern entrance point to Shackleton Inlet on the western edge of the Ross Ice Shelf. Discovered by Capt. Robert F. Scott, RN, in December 1902, on his attempted trip to the South Pole. He was accompanied on this trip by Lt. (later Sir) Ernest H. Shackleton, RNR, and Dr. Edward A. Wilson.