| | |
| --- | --- |
| Moleskin - Traditional Clothing and Materials | |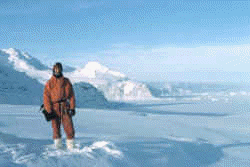 Pretty much the whole time I was in Antarctica I wore moleskin trousers - pants. They were versatile enough to be worn indoors and out. Contrary to the impression the name may give, they are made neither of the skin of moles nor the kin of moles. Any of the modern (not historical) pictures on this site that show people in Antarctica will show them wearing moleskin pants.
Moleskin is a wonderfully comfortable, tough and hard-wearing cotton fabric that is as tough as leather but as soft as velvet to the touch. Substantial on their own, extra warm with long underwear and warm and weather proof with windproofs or waterproofs on top.
100% cotton moleskin fabric embodies the endurance and tradition of the rugged lifestyle for which it was created. First developed in medieval Europe, this cloth was worn by farmers and the sporting gentry alike, offering warmth, protection, and comfort in varied conditions. Like corduroy, moleskin has a softer brushed nap that is very wind resistant. Though the pleasant feel of the fabric seems like a luxury, this sheared pile actually protects the surface from abrasion and wear. This texture resembles suede or the downy coat of the mole, its namesake.
Casual wear, if I could I'd wear them all the time, forget jeans or combats or slacks or anything else, these are the nicest practical leg-wear you can have for cooler climates. Lightweight moleskin pants have a surprisingly wide temperature comfort range, I wear mine perfectly well on their own up to about 75F and down to around 20F (for short shopping trips!).
Men's Moleskin Clothing Women's Moleskin Clothing
Moleskin Cotton Clothing
Stretch Moleskin L-Pocket Pants
$79
Softly brushed moleskin lends a luxurious feel to a best-selling pant style. Pure cotton with just a touch of spandex for movement and ease. Hidden flat elastic in the waist ensures complete comfort and fit. L-shaped front and back spade-shaped pockets. O
more...
---
Stretch Moleskin Boot Skirt
$89
The soft peached hand of cotton moleskin with just a smidgen of stretch makes this skirt perfectly comfortable and completely stylish in our best-selling boot skirt design. Flat-front waist, back elastic insets. Darts for smooth shape. Women's boot skirt
more...
---
Premium Moleskin Field Pants
$149
The highest-quality premium English moleskin, heavily washed for a soft and pliable hand without compromising its durability. The 100% cotton fabric is, at 11 oz., 40% more robust than our Ratcatcher moleskin for rugged wear. Our men's casual pants featur
more...
---
Original Moleskin Vest
$149
Cotton moleskin, a soft yet rugged shorn-pile fabric, holds up against brush and blunts the wind. Supple, comfortable, and quiet while hunting red grouse in the shadow of the Munros, Scotland's highest mountains. A design copied from the wardrobe of Edwar
more...
---
Original "Ratcatcher" Moleskin Pants
$139
Our midweight cotton moleskin trousers, slightly lighter in weight than our field moleskin pants for casual wear around town, sport the trademark brushed, suedelike hand and remain as tough as leather. Constructed in a venerable mill in England that has m
more...
---
Broken-In Moleskin Rancher's Vest
$149
Wear our soft yet rugged Australian moleskin vest all on its own or under your favorite jacket. Superwashed for a broken-in look, our Rancher's Vest will serve you well for many seasons to come. Four exterior pockets. In brown. Cotton/polyester/polyuretha
more...
---
Barbour Moleskin Liddesdale Jacket
$199
Moleskin is a proven rugged, wind-resistant, yet comfortable outdoor material used for generations by sportsmen. This classic jacket sports a 100-gram soft polyester wadding and a smart Barbour tartan cotton lining. Studded front, corduroy collar with lea
more...
---