OAE's
Palmer 64°46.50'S 064°03.07'E occupied since 1965
Siple 75°55'S 84°55'W established 1969, summer from 1985 only to closure in 1988
---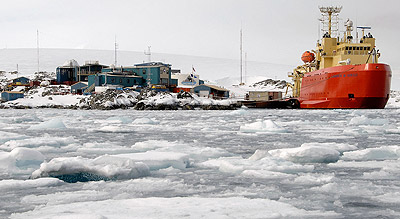 Above - Lawrence M Gould at Palmer Station on the Antarctic Peninsula in 2010
Right - Palmer station residents use their red parkas to say Hi to a plane flying over.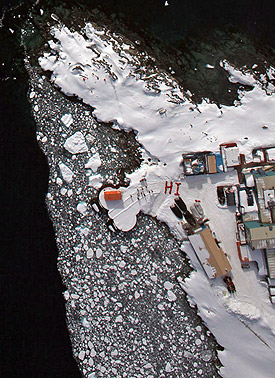 ---
Please register at the bottom of the page to include your details. Who runs Cool Antarctica?
---
Palmer Station
David Blaine
(1992, 1993, 2008, 2009) - Camp Arifjan Kuwait I wintered over in 92-93 (Frozen Chosen) then I wintered again in 2008 at Palmer Station and Summered in McMurdo in 2009. Currently in Kuwait until 2015.
David M Bresnahan
(McMurdo, South Pole, Palmer - 1967-2007) - Worked in the US Arctic Program for forty years. Currently working as Antarctic Expedition Leader for Holland America.
John Clampet
(CBU 201, 1968) - Miford - Spent 2 seasons at Palmer 68/69, 69/70. Worked for ASA and Raytheon at McMurdo from 96 to 2008. Miss all the great people.
Ed Davis
(1969) - Telford, Pa

John Da Wolf
Wolfe (McMurdo, Palmer, Hero - 1972) - Green Bay WI Winter over 71-72 at the Transmitter site with Butch Crandall (deceased), John Porter and Terry Nichols. Helped set up WASA radio station and was one of the DJ's through the winter. Married Bob May's (YN1) stepdaughter. Wintered at Palmer in 81 and was the radio operator on the R/V Hero in 82.

Scott Mosher
(McMurdo - 2007) - Scituate MA, Started at McM WinFly 2007 - worked McMurdo, Pole and Palmer from then until at least 2016 (and counting...)
Elizabeth Slizz Linsey
(McMurdo 85 to 94 and Palmer w/o 92) - Aberdeen North Carolina Loved my time on the ice. Love to hear from ice friends.
James N. (Jim) Turner
(1966-1968) - Townville SC I went through Basic Training beginning April 29, 1966 at Dacusville, RI. My first deployment was with a 25 man team to a location on Palmer Peninsula in December of 1966. There we set up a camp and cleared an area for the Station, built a Dock, 2 Fuel Oil Tanks, a water intake structure and the foundation for the Research Building. We returned to the States in April, 1967. I deployed again in December of 1967 with about the same number of SeaBees and built a three Story Research facility returning home in April 1968.
Siple Station
Jeff Down
(1981) - Bellingham WA My brother, Ken Down, also spent two summers at Siple (1980, 1982) one of which was during the rocket program. We had both worked for the Stanford Radioscience Lab in High School. John Katsufrakis was a PI on the Stanford VLF Group at Siple.
Lee Larson
(Siple - 78-86) - Washington DC - Summer 78 doing decontamination on the PM3A, wintered 82-83 and 85-86 at Siple. Wintered as an HMC retired as HMCM/CMDCM.
Len Paine - Cookie
(NMCB '71, NSFA w/o '79) - Rustburg, Va - Siple sta.72/73 summer, South Pole 73/74 summer, w/o 79 McMurdo sta, cook and baker. Experience no money could buy.
Mike Whelan PA 9
(Siple Station One 1978) - Jupiter Fl. Last five man team at Siple. Had a blast.
---
Trying to find... To use this option, fill in the registration form, but include your own name and email as a contact, requests kept online approx. 2 years

I'm sure I did this already... every now and then I send out emails, a proportion of these bounce back as "not found", often because it was a former work email or an ISP that no longer exists, as there is no longer any way to make contact I delete the record to keep things as current as I can.