---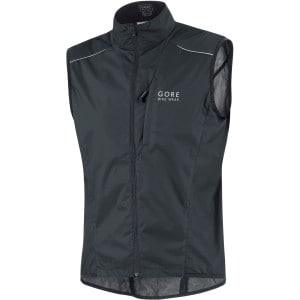 Gore Bike Wear Path AS Vest - Men's


On sale - now $76.97




- was

$109.95



If you're a serious cyclist and don't have a vest in your wardrobe, you're missing an essential piece of gear. The Gore Bike Wear Countdown AS Vest has everything you need in a sleeveless, windproof-front, zip-up garment. What separates this vest from the others are the materials and the details. Firstly, it's made of Gore Windstopper Soft Shell -- it's windproof, highly water resistant, breathable, and supremely comfortable. Secondly, the multiple panels are designed with an adherence to Gore's more...




---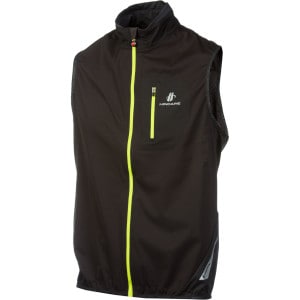 Hincapie Sportswear Tour LTX Vest


On sale - now $32.99




- was

$109.95



Instead of a jacket, put on the Hincapie Sportswear Men's Tour LTX Vest on before you hop in the saddle. Its lightweight, four-way stretch Advanced LTX Wind Repel provides unparalleled warmth and wind protection for your core while giving you unrestricted reach. To further ensure you don't overheat, this vest features the RegularTek fabric with Thermocool, which optimizes your body temperature regardless of your activity level. Breathable TempoMesh super-stretch panels give you plenty of breatha more...




---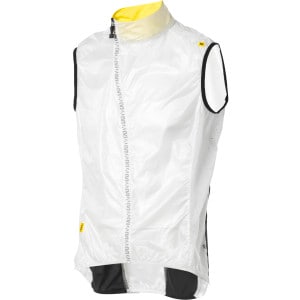 Mavic Helium Vest - Men's


$109.95



The Mavic Helium Cycling Vest stuffs in your saddle bag or back pocket for the climb, and then comes out for protection during the long, cold descent. This three-season essential offers some of the best protection you'll find anywhere for a garment that's so amazingly lighweight and packable. more...




---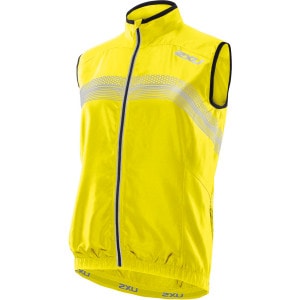 2XU Microclimate Reflector Vest - Men's


$119.95



It's always prudent to have a reflective layer on when it starts to get misty and visibility evaporates in evening fog. But, we don't always like to dress in fluo from head to toe for our whole ride. 2XU's Microclimate Reflector Vest is the perfect compromise between visibility and style. Lightweight and flexible -- it's capable of folding up into a jersey pocket, the Microclimate vest features Vapor+ fabric with mesh inserts. This combination allows moisture to wick and evaporate so that you st more...




---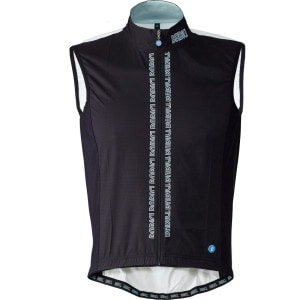 Babici Leggero Gilet


On sale - now $47.98




- was

$119.95



Vest, sleeveless jacket, pocket parka -- whatever you want to call it, it will eternally be called a gilet to the cycling romanticist. And when it comes to cycling apparel that's in-tune with the storied history of the road, while obeying the rules of modernity, no one compares to Babici. Accordingly, it came as no surprise that the Babici Leggero Gilet created the axis on which the old and new turn. Babici's Leggero Gilet is more than just a pretty face. In fact, as hard as it is to believe, fo more...




---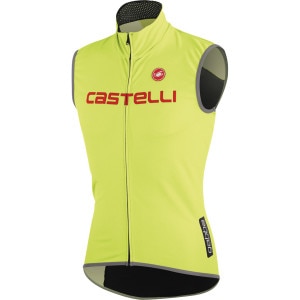 Castelli Fawesome Vest


On sale - now $71.97




- was

$119.95



Another product resulting from the company's partnership with the Cervelo TestTeam and Garmin-Cervelo, the Castelli Fawesome Vest offers a high-performance blend of wind and water protection in a lightweight, aerodynamic package. Professional cyclists can be fickle creatures. For example, Castelli's professional riders wanted a vest that was snug, aerodynamic, and breathable; but they refused to compromise on the total wind and water protection offered in Castelli's other winter products. Not wa more...




---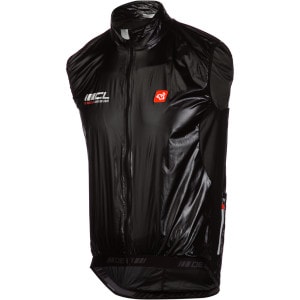 De Marchi CL Vest


On sale - now $59.98




- was

$119.95



Let's face it, poor weather has a mind of its own. It might be stormy and raining in the morning, and warm and sunny in the afternoon. That's why we always recommend riding with a packable piece like the De March CL Vest during the shoulder seasons. After all, it's better to be prepared than freezing. For the construction of the CL Vest, De Marchi went with a 6/6 micro rip-stop nylon. This fabric features a superfine construction that feels light against the skin. However, rip-stop is made with more...




---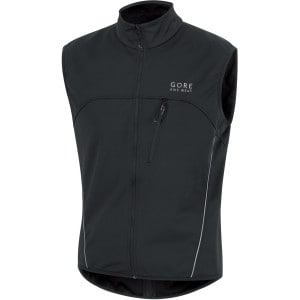 Gore Bike Wear Path Vest - Men's


On sale - now $83.97




- was

$119.95



Pull on the GORE Bike Wear Men's Function Vest for a pre-dawn ride and face that morning chill head on. This Windstopper Soft Shell vest blocks the wind while allowing maximum breathability. Its long back and close fit help keep the heat in and the cold out while abrasion-resistant binding on the hem and sleeve-holes prevents excessive wear and tear. Convenient zip tags help minimize fumbling when you're wearing gloves. Reflective piping and logo on the GORE Bike Wear Function Vest keep you visi more...




---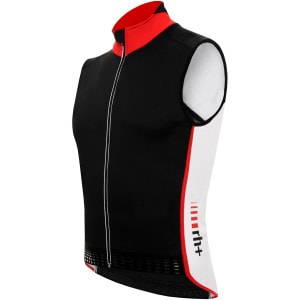 Zero RH + Outside Vest - Men's


On sale - now $98.36




- was

$122.95



Knowing that an element-blocking front panel is of the utmost importance in a well-designed vest, Zero RH+'s designers built the new Outside Vest with its proven Airdry fabric. They combined this paneling with an airy, lightweight mesh back panel, creating a purpose-built, torso-wrapping vest that you'll be glad you packed with you on your late-season rides. Starting at the front of the body, Zero RH+ used the Airdry Gold 150 fabric for its construction. As you might expect from its name, this m more...




---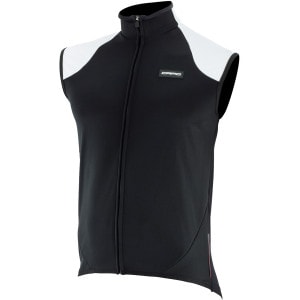 Capo Serie A Wind Vest


On sale - now $45.48




- was

$129.95



If you ride in a climate that could be considered as temperate, a winter jacket is too far-reaching for the amount of protection that you actually need. In fact, a vest and warmers suffices for most during the shoulder seasons and warmer winters. So, before you head out on crisp morning, either wear or stow the Capo Serie A Wind Vest. With a lightweight, breathable construction, the Serie A's wind- and water-resistant membrane will keep you riding dry and protected -- not hot and drenched. Being more...




---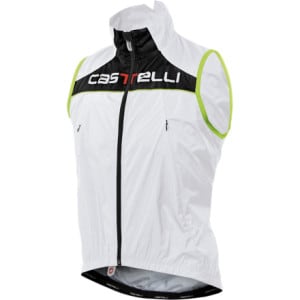 Castelli Fusione Vest - Men's


On sale - now $64.98




- was

$129.95



Warm your core on chilly rides with the Castelli Fusione Vest. Zippered vents in the front and back make sure your temp is always just right. A fleece collar locks out cold breezes, and a silicon waistband gripper keeps the Fusione in place. Match the Fusione Vest up with the Fusione Jersey for a wind-cheating, nasty-weather-slaying combo. more...




---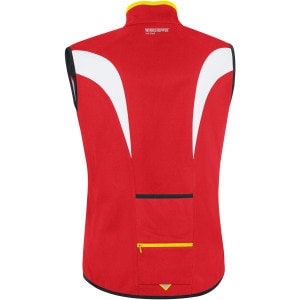 Gore Bike Wear Power SO Thermo Vest - Men's


On sale - now $90.96




- was

$129.95



Gore Bike Wear knows that cyclists prefer the full-upper body coverage provided by its softshell jackets, but it also knows that sometimes a vest is more in order. That's why it developed the new Power SO Thermo Vest, which uses the same proven WindStopper material as its element-blocking jackets, only in a more versatile and layer-friendly design. Similar to other protective outerwear layers in Gore's POWER line, the Power SO Thermo vest was constructed using WindStopper Soft Shell fabric. This more...




---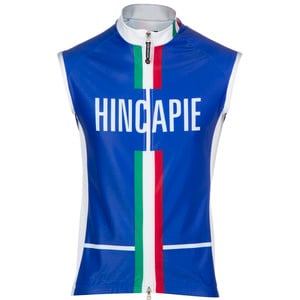 Hincapie Sportswear Ghisallo Vest


On sale - now $77.97




- was

$129.95



The Giro di Lombardia marks the end of the European race calendar each fall, standing in as one of the final major races of the season. The "Race of the Falling Leaves" was the inspiration for the new Ghisallo collection, as Hincapie Sportswear designed its Vest with a streamlined cut, Italian-themed graphics, and insulating materials to keep you protected and looking sharp while out on late season rides. Hincapie made the Ghisallo vest from the plush and stretchy BodE Thermal Loft fabric in ord more...




---
Hincapie Sportswear Power Tour Vest - Men's


On sale - now $103.96




- was

$129.95



Hincapie's new Power Tour Vest is the ideal core layer for all of your late and early season rides. Its lightweight and packable composition stays out of the way when it isn't needed, yet it quickly jumps into action when called upon. The Power Tour was constructed using a blend of Advanced LTX Wind Repel, RegulatorTek with ThermoCool, and TempoMesh. We understand that this sounds more in tune with an owner's manual than a vest, and granted, what's really important is what the fabrics do. Using more...




---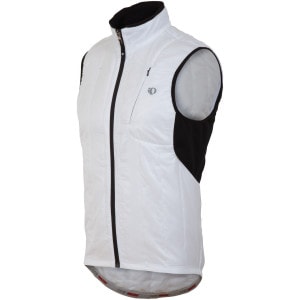 Pearl Izumi P.R.O. Prima Vest - Men's


On sale - now $51.98




- was

$129.95



You spend hundreds, even thousands of dollars making sure that your bike is as light as possible to make you faster and more efficient during your ride. Why shouldn't the same logic apply to your clothing? The Pearl Izumi P. R. O. Prima Vest sets a whole new standard in lightweight insulation, and this upgrade won't cost thousands of dollars.Pearl Izumi lined the vest with P. R. O. Primaloft synthetic insulation for impressive warmth retention whether you choose to use the vest as a mid-layer fo more...




---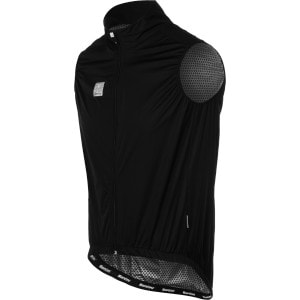 Santini Gaurd Vest - Men's


On sale - now $103.96




- was

$129.95



With a close, race-fit cut, the Santini Gaurd Vest layers over jerseys to provide added wind protection during long descents. A highly weather-resistant and windproof fabric, with welded seams and a waterproof zip help to keep your core comfortable. It also has a silver membrane to add breathability to keep you comfortable when working hard. Reflective elements ensure low-light safety. The Santini Gaurd Vest comes in Black with sizes ranging from Small through 3X-Large. more...




---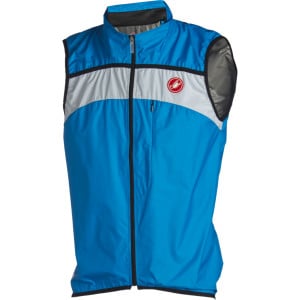 Castelli Compatto Rain Vest


On sale - now $55.98




- was

$139.95



Nothing cuts a ride short faster than a surprise deluge. Stay prepared, keeping your core warm and dry, but more importantly, your ride intact with the Castelli Compatto Rain Vest. Gore Windstopper Vega fabric retains all of the weather protection and breathability of its namesake, while remaining exceptionally packable. If you have at least enough room in your jersey for a spare tube, you have enough room for the Compatto Rain Vest to ensure you never have to take the short way home. Chest pock more...




---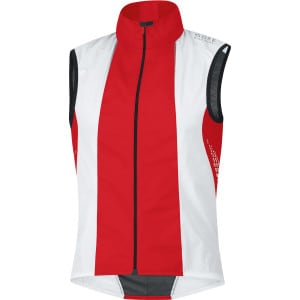 Gore Bike Wear Xenon 2.0 AS Vest - Men's


$139.95



One of the lightest offerings from Gore Bike Wear, the Xenon 2. 0 AS Vest is the perfect way to quickly enhance your core warmth during a mountain descent. Using the Xenon jacket as a base, Gore engineered the vest to offer excellent wind and water protection and better breathability. The key to this is the Gore-Tex Active Shield fabric. The Gore-Tex Active Shield fabric offers extreme breathability with water and windproof protection. Lightweight three-layer construction is soft on the skin, ye more...




---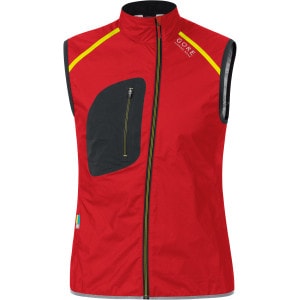 Gore Running Wear X-Run Ultra Active Shell Light Vest - Men's


On sale - now $111.96




- was

$139.95



Leave the stifling raingear at home and hit the trail with the Gore Running Wear Men's X-Run Ultra Active Shell Light Vest instead. The windproof, water-resistant, highly breathable WindStopper technology in this 3. 5-ounce vest acts as an insurance policy against unexpectedly chilly or damp weather without overwhelming you with excess fabric or more protection than you need. more...




---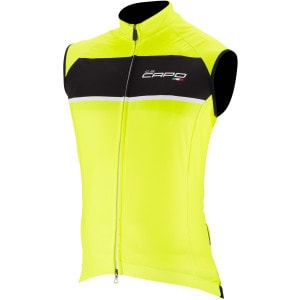 Capo GS-13 Wind Vest


$149.95



The utility-knife-like versatility provided from a quality vest cannot be stressed enough, which is why we always make sure to take one along on our rides when the weather begins cooling down. Capo knows this too, which is why it designed the lightweight and versatile new GS-13 Wind Vest. It was built with a blend of Capo's advanced fabrics and a streamlined race fit in order to keep you protected from the elements while logging base miles this season. As an integral part of Capo's "Gruppo Sport more...




---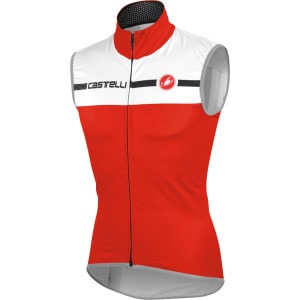 Castelli Velocissimo Equipe Vest


On sale - now $74.97




- was

$149.95



For the days where you catch a lucky break in the crawl of winter weather, the Castelli Velocissimo Equipe Vest is your go-to for lightweight protection from temperate weather. The Velocissimo vest will keep you warm, without sweating buckets, by providing ample protection from tormenting winds. Choose the right gear, and get out on the road. The Castelli Velocissimo Equipe Vest uses the W. L. Gore Windstopper X-Lite Plus fabric -- the same fabric used for Roger Hammond's favorite jersey, the Ga more...




---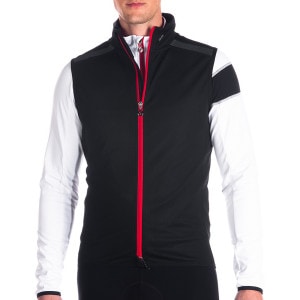 Hincapie Sportswear Arenberg Zero Vest - Men's


On sale - now $119.96




- was

$149.95



Layering in the shoulder seasons can be tough, but it's a little bit easier when you've got the Hincapie Arenberg Zero Vest in your arsenal. That's because it blocks wind and light precipitation to keep your core temperature from dropping, while still being breathable to fight overheating. Plus, it's packable, so you can stash it in your jersey pocket when the sun comes out and you start sweating. Don't leave this one at home. Through careful selection of materials, Hincapie is able to deliver a more...




---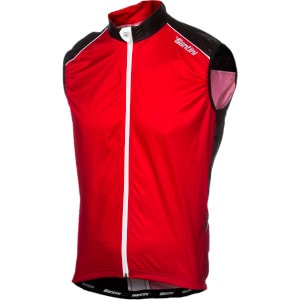 Santini Zone Vest


On sale - now $108.47




- was

$154.95



Let's face it, most outerwear is a drag, literally. It will always seem counterproductive to have a vest that's 'protecting you' from the wind while it's flapping away in it like mad. That's why the Italian icon, Santini, developed its Zone Vest. With the Zone vest, you still receive all of the warming and wind-protecting elements of protective outerwear with the fit and feel of a handmade, Italian jersey. To make the Zone vest a suitable protector from the elements, Santini constructed it from more...




---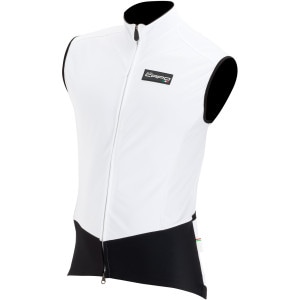 Capo Padrone Wind Vest


On sale - now $111.97




- was

$159.95



To be a padrone, or master, of your craft, you need the best gear at your disposal. This idea couldn't be more relevant then when the temperature drop threatens to bar you from the outdoors. However, Capo knows that there's always a right tool for the job, and that a winter jacket will only provide you a disservice in the fall and early spring. That's why Capo created its Padrone Wind Vest. With a fit that's reminiscent of a race-day jersey and materials that couldn't get better if they tried, t more...




---
Patagonia Men's Down Sweater Vest


$169



Patagonia Men's Down Sweater Vest Super light - windproof shell fabric with high tear-strength has a Deluge DWR (durable water repellent) finish Quilted construction stabilizes 800-fill-power premium European goose down Two zippered handwarmer pockets; One internal zippered stretch-mesh self-stuff pocket with a reinforced carabiner clip-in loop Elastic binding at armholes Adjustable drawcord hem seals in warmth SPECIFICATIONS of the Patagonia Men's Down Sweater Vest Weight: 9.2 oz / 261 g Slim f more...




---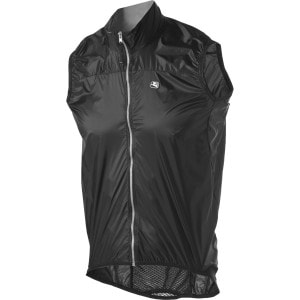 Giordana Triseason Wind Vest


$169.95



We use a vest year round. It packs smaller than a jacket and it takes care of the most essential wind blocking; protecting the chest from cold air. The one thing that bugs us about vests is that, despite all the paneling that we can find in cycling clothing, vests are usually pretty simple, and, between the cut and the typically non-stretchy windproof material, kind of baggy. This is where the Giordana Triseason Wind Vest differs most dramatically from the norm. There is extensive paneling, resu more...




---
Gore Bike Wear ALP-X AS Insulated Vest - Men's


On sale - now $118.96




- was

$169.95



Gore Bike Wear understands that the demands of proper temperature regulation for cold weather cycling aren't all that different from many other aerobic high-altitude pursuits, like ski touring or snowshoeing. Thus, Gore's new ALP-X AS Insulated Vest follows the principles of an intelligent layering system, while taking a few design cues from hardy backcountry outerwear. The ALP-X AS Insulated Vest is built around Gore's superlative WindStopper fabric, which blocks out wind's most valiant attempt more...




---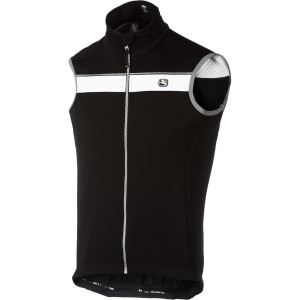 Giordana Silverline Winter Men's Vest


$194.95



Much like the snowflakes of winter, no winter day is the same. This means that your winter cycling wardrobe has to be adaptable to variances in the weather. Unfortunately, this accounts to owning one of everything, but we assure you that there's a better way. With the Giordana Silverline Winter Vest, you get a winter-weight vest and jacket, all in one piece. On cold days, wear the Silverline as a frost-fighting jacket, and on warmer days, simply remove the sleeves for the perfect amount of prote more...




---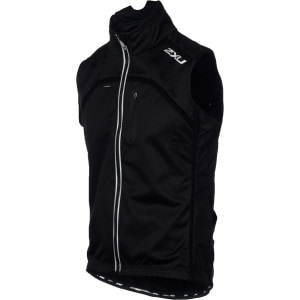 2XU Sub Zero Vest - Men's


$199.95



Not everyone wants, or even needs, a full-sleeved jacket for winter riding. We know a few people who insist a vest is all they need. In rain, wind, or sub-30 degree weather, you'll find them in lightweight gloves and a waterproof vest, looking at us like we're about to embark on an Antarctic expedition with Ernest Shackleton. 2XU made the Sub Zero Cycle Vest with these light layering cyclists in mind, incorporating fully waterproof and breathable material to keep your core warm and dry when the more...




---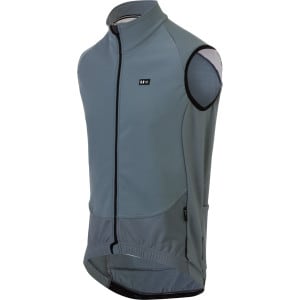 De Marchi Windproof Front Vest - Men's


On sale - now $119.97




- was

$199.95



De Marchi developed its new Windproof Front Vest to be a streamlined, packable layer for those unpredictable, late season riding conditions. The vest was made using a strategic blend of De Marchi's element-blocking materials, meaning that your core will remain shielded regardless of how nasty it gets out there. For the construction, De Marchi used its proprietary ThermaShield 3L fabric for the front panel. This material provides a triple layer of protection against the elements. The exterior of more...




---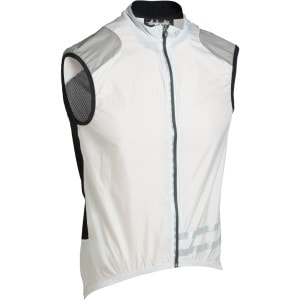 Campagnolo Sportswear Heritage Vest


On sale - now $61.19




- was

$203.95



Pull on the Campagnolo Sportswear Heritage Vest when the day starts out chilly. The full-length zipper and vented back team up to offer superior airflow when you start to heat up. more...




---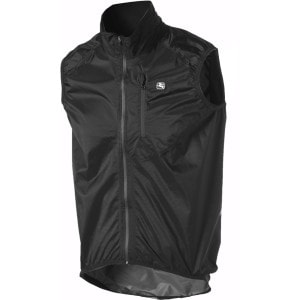 Giordana Hydroshield Taped Rain Vest - Men's


$224.95



For the most immortal of cycling greats, rain clouds can easily be outrun. For the rest of us, there is the Giordana Hydroshield Taped Rain Vest. Super lightweight Sentry fabric packs down easily, taking up only a small fraction of a jersey pocket. And when those damned rain clouds finally catch up with you, the Hydroshield's fully waterproof outer, taped interior seams, and adjustable waterproof hood go to work, protecting your core from the elements. Helmet-compatible hood detaches via non-sti more...




---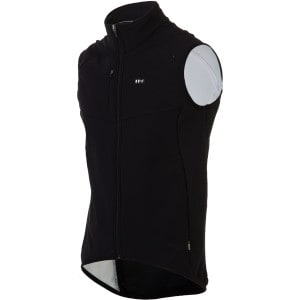 De Marchi Softshell Vest - Men's


On sale - now $149.97




- was

$249.95



Similar to De Marchi's Jacket bearing the same name, the Softshell Vest was made to keep your core protected in a stretchy, streamlined, and detail-packed design. The sleek vest was also constructed with versatility in mind, which means that its lightly insulated composition works to keep you comfortable and warm in a variety of riding conditions. For the construction of the Softshell, De Marchi used its proprietary ThermaShield 3L fabric. This material provides a triple layer of protection agai more...




---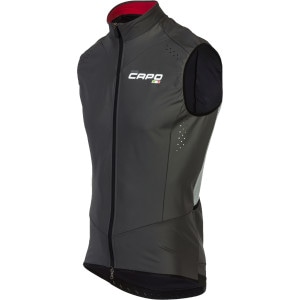 Capo Padrone HV W Vest


$269.99



Capo's new HV series relies on the same proven fit and detailing as the original Padrone collection, but with the addition of the latest in reflective fabric technology. The Padrone HV (high visibility) W Vest stands in as the ideal lightweight protective riding layer, as its paneling was made to remain subtle during the daylight hours, yet become fully illuminated when light hits its surface. The Padrone vest was constructed from a blend of Capo's latest fabrics: Super Black and P-10 Membranes. more...




---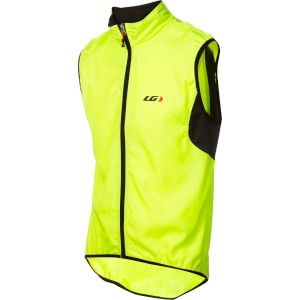 Louis Garneau Nova Vest - Men's


On sale - now $31.99




- was

$39.99



Changing ride conditions are a nightmare. After all, many of us stock our closets with a kit for nearly every climate, and we're so practiced at deciphering radar that meteorology could be our second calling. But there are times when you simply can't plan for what you'll face out on the roads. That's why a packable vest is an essential part of anyone's wardrobe -- you can take it along, just in case. And the Louis Garneau Nova Vest proves that you don't have to spend a lot of cash for a little a more...




---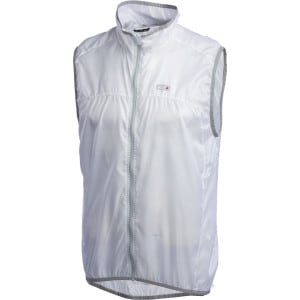 Louis Garneau Super Lite Vest - Men's


On sale - now $47.99




- was

$59.99



The Louis Garneau Super Lite Vest is super wind-resistant, super packable, and a super choice for heading out on the bike when the weather starts to cool. Did we already mention it was super light?DWR treatment repels light moisture if it starts to rainRear zippered media pocket keeps your tunes close more...




---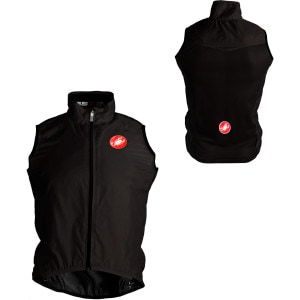 Castelli Leggero Vest


On sale - now $31.48




- was

$69.95



Stuffing pockets before a ride sometimes calls for careful thinking. When you're facing a cool morning that will most likely turn into a beautiful day, you have to balance your nutritional requirements with baggage of civilization and leave room for the warmers covering your knees and arms as well as a spot for your vest. Castelli has made this job easier with their Leggero vest. The vest weighs about 50g. The key is the windproof, water-resistant, breathable Forcefield fabric. If you stuff it i more...




---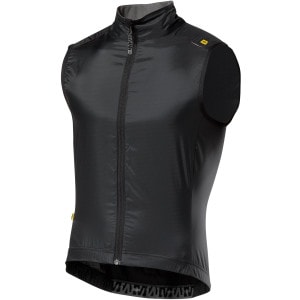 Mavic Espoir Vest


$69.95



Mavic designed the Espoir Vest so you could have wind protection handy whenever you need it. Just shove the Espoir in your jersey pocket before your next cool-weather ride and it will be there for you. Wind-resistant Dura-Lite fabric on the front keeps the wind from bringing your temperature down, and an Air Mesh back panel lets moisture and excess heat escape. The Espoir will gladly fend off ferocious gusts of wind, thanks to its Wind Ride windproof fabric treatment. Because it blocks wind so e more...




---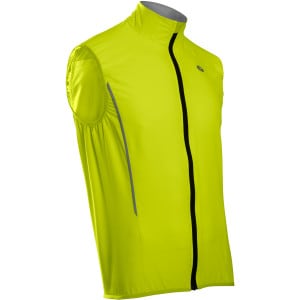 Sugoi Shift Men's Vest


On sale - now $55.96




- was

$69.95



When it comes to packable shelter, nothing's lighter or easier to stow than a vest. Carrying on with this theme, Sugoi made it a priority that you hardly notice its new Shift Vest, whether it's in your pocket or on your body. This reduces flapping at high speed when you're, say, dropping down the backside of a mountain pass. And when those winds are chilled, Sugoi's proprietary Shift fabric blocks them out in order to retain core warmth. The fabric is also treated with a durable water resistant more...




---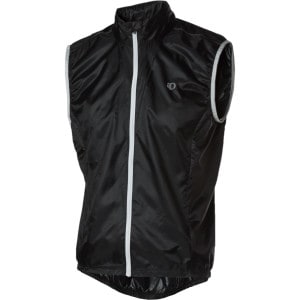 Pearl Izumi P.R.O. Barrier Lite Vest - Men's


On sale - now $29.98




- was

$74.95



A good wind-breaking vest should be extremely packable while still offering effective protection against the wind. The Pearl Izumi P. R. O. Barrier Lite Vest succeeds on both counts; it manages to keep the wind and rain off you, yet is so unobtrusive when tucked away in your back pocket, you won't think twice about stuffing in there alongside your pump and gel packs. The Pearl Izumi Barrier fabric is a lightweight, breathable material perfectly suited for the sort of weather changes we often fac more...




---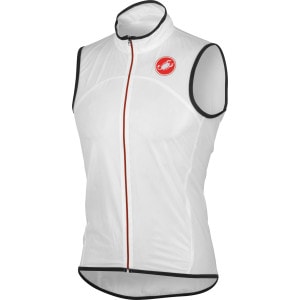 Castelli Sottile Due Vest - Men's


$79.95



Castelli's Sottile Due Vest is the lightest, most packable vest in its 2013 lineup. At around 64 grams, it's the race-weight vest that you can easily retrieve from your rear pocket the moment that you're confronted with either light rain or a long descent.The Sottile Due Vest is made from a semi-transparent, slightly stretchable fabric that is rated at 10,000 mm of waterproofness, is wind-resistant, and is highly breathable. And in case you're wondering, this rating means that a 10,000mm fabric more...




---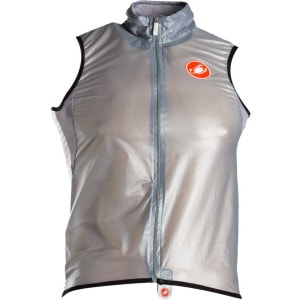 Castelli Sottile Vest


On sale - now $31.98




- was

$79.95



Throw on the Castelli Men's Sottile Vest when the rain rears its ugly head. The Sottile is made of transparent, breathable stretch material so your jersey is visible and your body can regulate temperature. Mesh inserts add breathability, and a zippered side pocket gives you convenient, weatherproof protection for the essentials that you like to keep handy. more...




---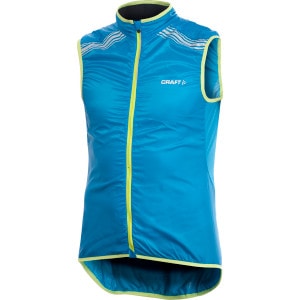 Craft PB Featherlight Vest - Men's


On sale - now $39.98




- was

$79.95



Ultra compact, the Craft PB Featherlight Vest stashes nicely in a jersey pocket for instant wind protection. more...




---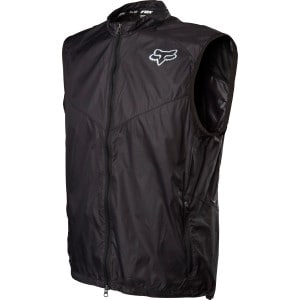 Fox Racing Dawn Patrol Vest


$79.95



We all know that the shoulder seasons are prime time for putting your knobbies on some pristine dirt. However, with the shoulder seasons comes variable weather -- the kind that quickly puts a damper on your ride if you're not prepared. But if you're covered in the Fox Racing Dawn Patrol vest, your odds of ending the ride warm and stoked just got better. Built around a nylon shell, the Dawn Patrol vest will block out both light precipitation and heavy wind. However, it's worth noting that it does more...




---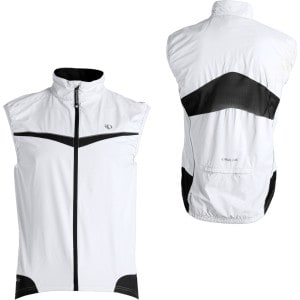 Pearl Izumi Elite Barrier Vest - Men's


On sale - now $39.98




- was

$79.95



For warmth without constriction on your cool-weather rides, turn to the lightweight Pearl Izumi Men's Elite Barrier Vest. The Elite Barrier fabric provides shelter from wind and water, while the Direct-Vent panels add extra breathability. Specifically designed for cycling, the vest offers a semi-form fit and a collar that is tapered from front to back so it doesn't bunch when you're bent over the bars on your bike. The elasticized hem and armholes help keep the vest in place, while reflective el more...




---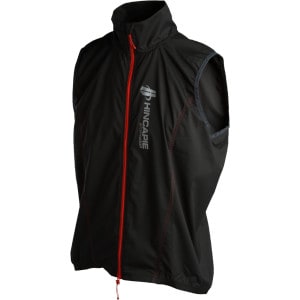 Hincapie Sportswear Elemental Rain Vest


On sale - now $44.98




- was

$89.95



Protect your core from wind and rain this winter with the Hincapie Men's Elemental Rain Vest. E5 2-layer Barrier Rainshell is windproof and highly water-resistantSoft, pliable ripstop fabric is durable and quietWeather protective hem, neck and sleeves to seal out Mother NatureLarge, weather protective back pocket protects your valuablesReflective piping for added visibility in low light more...




---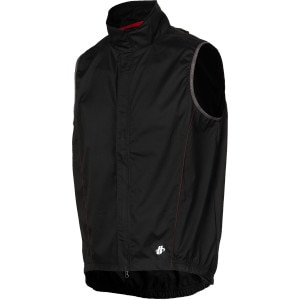 Hincapie Sportswear Elemental Rain Vest - Men's


On sale - now $44.98




- was

$89.95



A sudden deluge puts an end to a long ride; either you turn around and rush home or you huddle in the nearest coffee shop hoping it will pass. Carry the Hincapie Elemental Rain Vest, and you'll be prepared no matter what Mother Nature throws your way. The Elemental Rain vest was constructed of E5 2-layer barrier rainshell, which is windproof and highly water resistant. So while we can't guarantee that you'll stay dry to the bone, your core won't be subjected to wind. That way, even if you do get more...




---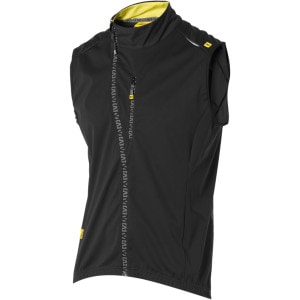 Mavic HC Vest


$99.9



It can't be 70 degrees and sunny every day. Variety is the spice of life, after all. Mavic invites you to embrace variety with the HC Vest. This cool/foul weather vest fights off the chill with wind- and water-resistant Tech Dry ST fabric. Mesh back insert for breathability and moisture releaseZip chest and rear security pockets for valuablesStretch fabric construction for aerodynamic form-fitReflective highlights to make you more visible in rain or low light more...




---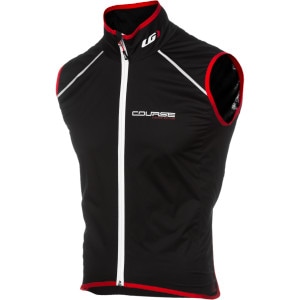 Louis Garneau Course Speedzone Vest - Men's


$99.95



Louis Garneau's Course Speedzone Vest is a direct result of its sponsorship of Team Europcar. The pro riders had been requesting a vest with less focus on aerodynamics, and more attention paid to race-day practicalities. So, the result is a vest that's wind- and water-resistant, features an exceptional fit, and has a patent-pending pocket design. Garneau made the Course Speedzone from multiple materials in order to strike the ideal balance between comfort and element protection. Accordingly, the more...