Antarctica and South Georgia
Classic Antarctica and South Georgia - Vast Colonies of King Penguins, Breathtaking Scenery, Historic sites, Birding, Hiking, Kayaking, Photography
16 Days | Departure: 02/09/17 | From $9,995
---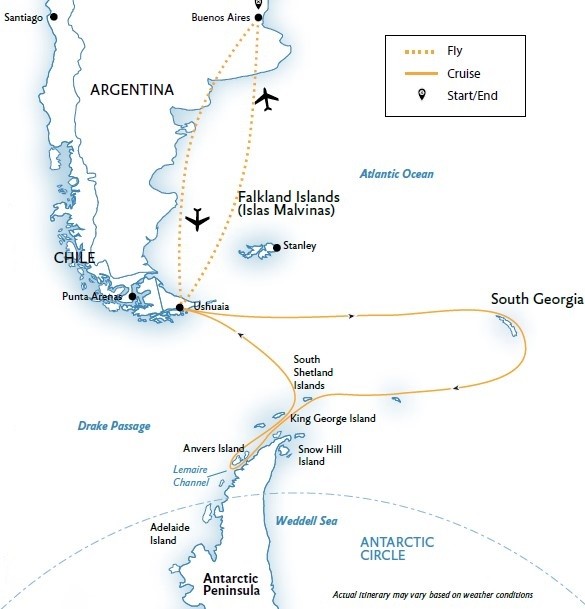 Southwards, a magnificent Alpine country, illuminated by the rising sun, rose slowly from the sea; there were mighty fells with snowy crowns and with sharp, uncovered teeth, around the valleys through which enormous, broad rivers of ice came flowing to the sea.
J. Gunnar Andersson, 1902 - describing South Georgia

Highlights: This voyage combines two great destinations, you can anticipate penguins, whales, seabirds and seals as well as scenic highlights such as mesmerizing icescapes and towering mountains.
Rates: $9,995 - $22,995
Single: Please enquire for shared opportunities or solo cabin rates.
Transfer Package: $800 per person
Must be purchased in conjunction with the cruise. One night pre-voyage hotel accommodation in Buenos Aires with breakfast; group transfer from the hotel to the airport in Buenos Aires; charter flight from Buenos Aires to Ushuaia, and return; group transfer from Ushuaia airport to the ship, and return; combined airport transfer and express bus tour of Tierra del Fuego National Park after disembarkation.
Sea Kayaking: $950 per person
Stand-Up Paddleboarding: $150 per person

Ship - Ocean Endeavour - Expedition Ship
Passengers: 199
Introduction
This voyage combines the comfortable adventure cruises of Classic Antarctica with a visit to the spectacular South Georgia. Enjoy penguins, whales, seabirds and seals as well as scenic highlights such as mesmerizing icescapes and towering mountains. These expeditions are designed to include as much wildlife viewing as possible, visits to old whaling stations and allow plenty of time to enjoy the breathtaking scenery of icy waterways, glaciers, and icebergs. Passengers electing to participate can take part in yoga and stretching classes, enjoy healthy meals, a fresh juice bar, indulge in a massage therapy session or take advantage of the sauna or gym in addition to experiencing great daily expedition activities.
Itinerary
Day 1: Buenos Aires, Argentina
Upon your arrival in this splendid city, known for its rich architecture and European heritage, you will independently transfer to your included group hotel.
Day 2: Buenos Aires / Ushuaia, Argentina
After breakfast, your cohort will transfer to the airport and board a charter flight to Ushuaia, Argentina. Upon arrival, enjoy a little time to explore this quaint port town before heading to the pier.

Embarkation will occur in the late afternoon, after which your vessel will sail down the historic Beagle Channel. This famous channel transects the Tierra del Fuego archipelago in the extreme south of South America. Get out on deck and keep your eyes open as there are several bird species to capture your attention and test your photography skills.
Day 3 - 5: At Sea
The Expedition Team will keep you busy by enhancing your knowledge of seabirds, penguins and the history of South Georgia as they begin their educational lecture program. Your first days will include time to get acquainted with fellow travelers and learning about the shore landings, Zodiac excursions and kayaking opportunities that await you.
Day 6 - 8: South Georgia
South Georgia's exceptional quantity wildlife will captivate you! Each landing you make on South Georgia will leave you in awe. One day you may see rookeries with a 100,000 pairs of king penguins waddling on the beach; the next you may visit a beach with thousands of fur or elephant seals. The grasses, mountains and beaches of South Georgia all play an important role in the breeding and survival of different bird and animal species. Your Expedition Team will be happy to share their knowledge of how these vulnerable relationships all play out on the island.

This remote outpost was a popular stop for many historic Antarctic expeditions and was once a haven for hunting whales and elephant and fur seals. Today, South Georgia Island wildlife populations have rebounded, but you'll still see remnants of those old whaling stations and other abandoned outposts. One significant and historic site that will be of interest is the grave of the great explorer, Sir Ernest Shackleton. You can visit his grave at the settlement of Grytviken, which is also home to an old whaling station, a museum, gift shop, church and a small research station.
Day 9 - 10: At Sea
Antarctica awaits, along with its own penguin and seal species. While you're at sea, you can enjoy quiet time or take in presentations by the Expedition Team, which will cover everything from the history and geology of Antarctica to tips on identifying different species and what makes each of them unique.
Day 11 - 13: Antarctic Peninsula
The most common reaction to arriving at the White Continent is a sense of reverence and awe. The experience is hard to put into words, as few places are as untouched, unique and enduring as Antarctica. You will discover that Antarctica is a land of extremes. At one moment you'll be overcome with a feeling of complete desolation and silence, at the next moment you'll be inspired by nature as a calving glacier crashes into the brilliant blue sea or the comical antics of a curious penguin.

Your Expedition Team will take care of you at each landing, whether you are trekking up a glacier, visiting a research station or consorting with penguin colonies. Chinstrap, Adelie and Gentoo penguins are found here, along with Weddell, fur, crabeater and leopard seals. Curious whales, such as minkes, are often attracted to our Zodiacs, giving you a chance to get within reaching distance of these majestic animals. Each day and every landing will present a new collection of creatures at which to marvel and keep your camera shutter busy!
Day 14 - 15: Drake Passage
Crossing the Drake Passage is your unofficial rite of passage, which will complete your Antarctic adventure.
Day 16: Ushuaia / Buenos Aires, Argentina
Arrive in Ushuaia in the morning after breakfast and disembark. Take a short tour of Tierra del Fuego National Park before transferring to the airport for your charter flight back to Buenos Aires.
Notes:
Read this itinerary as a guide only; the exact route and program varies according to ice and weather conditions - and the wildlife you encounter. Flexibility is the key to the success of this expedition.
Mandatory Travel Insurance:
All guests are required to have comprehensive travel insurance coverage. Due to the remoteness of the areas in this itinerary, travelers must have a minimum $50,000 of emergency medical coverage. Proof of coverage is required prior to embarkation. The shipping company will not be held responsible for delays due to force majeure. Any additional costs accrued will be the responsibility of the traveler. ExpeditionTrips strongly recommends at least $200,000 Emergency Medical/Evacuation coverage for Antarctic trips which includes coverage for cancellation, trip disruption, baggage and personal property. ExpeditionTrips can assist you with this.
Sea Kayaking Option:
Not included in cruise rate. Must be pre-booked prior to the departure. Taken in small groups of 16 people, multiple times per voyage, kayaking adventures are only conducted during calm weather conditions. Minimum age 16 years. It is recommended you have some prior kayaking experience, including the capability to do a wet exit.
Stand-Up Paddleboarding Option:
Not included in cruise rate. Signup on board the ship on a first-come, first-served basis. Prior experience is necessary. Taken in small groups in good weather conditions on a calm bay or harbor, with Zodiac accompaniment. One session per person.
Photography Program:
Included in the price. Whether you own a serious SLR or a simple point-and-shoot, the on-board photography expert will provide you with hands-on instruction and technical tips to ensure that you capture the best of your Antarctica experience.
Included:
Shipboard accommodation with daily housekeeping; breakfasts, lunches and dinners on board ship; shore landings per the daily program; Zodiac cruising per the daily program; photographic journal; waterproof expedition boots on loan for shore landings; parka to keep; coffee, tea, and cocoa available around the clock; miscellaneous service taxes and port charges; luggage handling aboard ship; emergency Evacuation Insurance to a maximum benefit of $100,000 per person. Subject to change without notice.
Not Included:
Airfare; mandatory Transfer Package; arrival transfer in Buenos Aires from airport to hotel on Day 1; passport and visa expenses; government arrival and departure taxes, Argentina's Reciprocity Fee; meals ashore; kayaking and stand-up paddleboarding; alcoholic and non-alcoholic beverages, except for ones mentioned as included; baggage, cancellation and medical travel insurance; excess baggage charges; laundry, bar, massage and other personal charges; phone and internet charges; gratuity for shipboard staff and crew; fuel surcharge may apply.
*Emergency Evacuation Insurance:
Emergency evacuation coverage to a maximum benefit per paying passenger of $100,000 is included in the cost of this expedition. Included coverage is applicable only to travel between the first and last day of the expedition purchased. Additional days of travel prior to the expedition and/or after the expedition are not covered by the included emergency evacuation insurance. We strongly advise all passengers to purchase medical, cancellation and baggage insurance, and additional emergency evacuation coverage.
South Georgia / Falkland Islands / Antarctica - Sample Cruises - 2016 / 2017
Trip
Highlights
Prices USD*
Days
Antarctica, South Georgia and the Falkland Islands
Vast Colonies of King Penguins, Breathtaking Scenery, Historic sites, optional kayaking
$23,100 -
$40,690
24
Antarctica and South Georgia
Two great destinations, anticipate penguins, whales, seabirds and seals as well as scenic highlights
$9,995 - $20,995
16
Notes
*
Prices
are based per person, the lowest price is usually for triple occupancy in a basic cabin, the highest for double occupancy in the best available suite.
Options
may be at additional cost and are usually booked when the cruise is booked - it may be too late once the cruise has started.