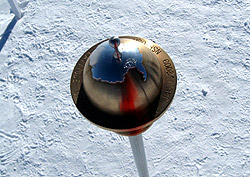 Ceremonial South Pole Marker
replaced annually with a new design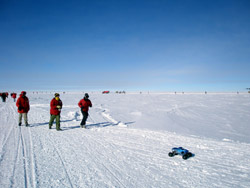 The race around the world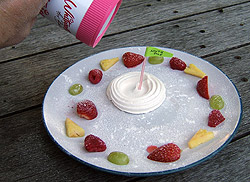 On Christmas Day at the Amundsen-Scott South Pole Station, Antarctica (that's the big grey building you can see in the video above) of a race Around the World: 3 laps around the world (through every longitude), about 2 miles total. Walkers, runners, and every sort of conveyance allowed.

Recipe

I'm a bit embarrassed to use the word "recipe" to be honest, it's more of just a list of ingredients put together with no cooking ability involved, though that may be a good thing.

Ingredients:

Straw and flag to denote the South Pole in the middle of the next ingredient.

Meringue base, I bought a box of 8 from the supermarket for not a lot, you could make your own of course.

Small amounts of a variety of fresh fruits. I did this in August so there was a lot of choice, I used:

Pineapple
Grapes
Strawberries
Raspberries

Cut them into pieces that look like they are pointing in the same direction and racing around the South Pole marker.

Icing sugar, I bought it in a shaker for about 4 times as much as a bag of plain icing sugar. I did this to avoid hunting in the corner cupboard in the kitchen for the sieve I am 50% certain we have. Use it as snow - obviously.

Double cream, to go in the middle of the meringue base, I like double cream, alternatives are available.

Plate to put it on, I imagine this would look very odd unless it was a white plate.