John Henry Collinson Close (1871 - 1942)
Biographical Notes
---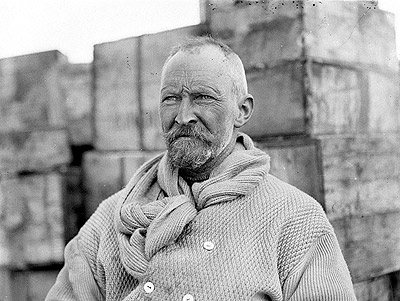 From David Deasey
"His service history has become somewhat garbled on some websites, here is a better synopsis:
Enlisted in BSAP (British South Africa Police - Rhodes own private army for control of Rhodesia) during the Matabele revolt 1896 awarded British South African Co medal with clasp Rhodesia 1896
He was possibly a Jamieson raider?
Enlisted Kitchener's Fighting Scouts during the Boer war as a Squadron Sergeant Major
CLOSE, John Henry 120 Sqn. Sergeant Major 1st Kitchener's Fighting Scouts WO127/12 Extract (Colin Roe) Roll Images
Awarded Queens South African Medal (QSA) and clasps Tvl, OFS and CC
After the Boer War he was teaching physical culture in Sydney.
An Antarctic expeditioner with Sir Douglas Mawson from 1912-1914, Close was a member of the Main Base Party (Adelie Land) and several sledging parties.
He spent two summers and one winter in the Antarctic.
In one of the sledging journeys, Close was instrumental in saving his own life and that of his two companions, Frank Stillwell and Charles Laseron. The group were about to enjoy a hot breakfast at 'Aladdin's Cave' - a shelter dug out of the snow on the plateau above Cape Denison - when Stillwell and Laseron suddenly collapsed unconscious. Realising that accumulating carbon monoxide was threatening their lives, Close thrust an ice axe through the snow blocking the cave's entrance before blacking out himself. The deadly gas escaped through the small hole, allowing the three men to regain consciousness and make a slow recovery.
Polar Medal & clasp ANTARCTIC 1912 & 14 The Museum of Victoria holds his medals and Memorabilia."
---
From Chris Davies
D.H.C Close with almost 100% certainty trained the Aurora crew members as he was a Physical Culture instructor.
My great-grandfather was Eugen Sandow the famous Body-Builder ( 1867-1925 ) who donated to both Shackleton and Mawson. Sandow was at the Royal Theatre in Drury Lane, London with Mawson in May 1911 watching Lytton-Bulwer's comedy " Money " . Sandow subsequently donated £1050 to Mawson who he saw as the ideal physical type !
Sandow's methods were used by expedition members Adams and Marshall on Shackleton's Nimrod expedition (see page 144 "Heart of the Antarctic"), and I am as good as certain that D.H.Close was a devotee of Sandow and used his methods in Sydney at the Australian School of Physical Culture 1911. Certainly he would have been the obvious candidate to get the men fit for Mawson's arduous and rather ill-fated adventure in the windy wastes of East Antarctica. Sandow did a much publicised tour of Australia and New Zealand in 1904-5 and his influence was without parallel.
However I do not have much detail on Close with regards to his Physical Culture exploits and what he actually might have done with regards to training the men. I would be particularly interested in whether they took Sandow Expanders and Spring-Grip Dumbbells on board, or an exercise chart from Sandow's bestseller "Strength and how to Obtain it" !
---
Landmarks named after John H. Close
Feature Name: Close Islands
Feature Type: island
Latitude: 6701S
Longitude: 14427E
Description: A cluster of about three small islands lying in the western part of the entrance to Buchanan Bay. Discovered by the AAE (1911-l4) under Douglas Mawson.
---
---
Biographical information

- I am concentrating on the Polar experiences of the men involved. Any further information or pictures visitors may have is gratefully received. Please email - Paul Ward, webmaster.

What are the chances that my ancestor was an unsung part of the Heroic Age of Antarctic Exploration?