Whaling Cards 6-10


Ogden's 1927 Cigarette Cards as a summary of the whaling industry at the time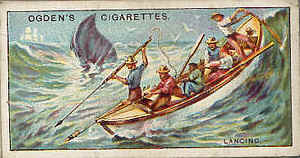 6 Lancing

The lance used by whaling vessels of the old type was a slender spear of malleable iron about four feet long attached to a handle of equal length. This was the weapon used for killing the whale, the harpoon being the only means of attaching the boat to the creature. When the harpooner had made fast, he went aft, and took the steering oar, changing places with the mate who took his place in the bow, lance in hand, ready to strike and finish the business.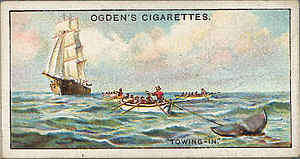 7 "Towing - In"

The death of the whale is signaled by the spouting of blood, and the next procedure is to tow the carcase to the ship. Sometimes a hole is cut through the gristle of the tail, through which a line is rove, sometimes a line is passed round the small where the flukes of the tail join the body. The carcase is then towed alongside the ship, with the tail fastened near the bow, and the head under the gang-way, in the position for the process known as cutting in.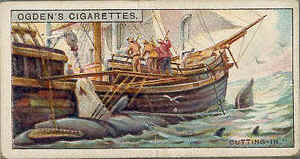 8 "Cutting - In"

The flensing or Cutting-in is accomplished from a platform projecting from the ships side, enabling the men engaged in stripping the whale of its blubber to work several feet above the carcase. The lower jaw, head, and blubber are cut away by means of a whaling-spade, a knife a foot or so in length, attached to a flexible sapling handle perhaps eighteen feet long. In heaving seas the process is one of great difficulty.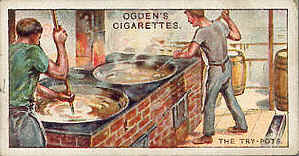 9 The Try-Pots

In the old-type whaling vessels the minced blubber was placed in large pans called the Try-pots, and the oil extracted by heat. The pots were set in brick work abaft the foremast, a deep tank of water being arranged beneath. The smoke stacks were built either of sheet iron or of copper and were usually rectangular. The extraction of the oil continued unceasingly until it was completed, the whole crew being divided into watches. In a modern whaler the sliced blubber is conveyed by an elevator to the steam boilers, from which the clear oil is finally pumped into enormous storage tanks in the lower hold.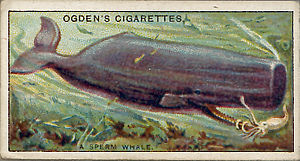 10 A Sperm Whale

The whale of the southern seas is the Sperm Whale. It has no "whale bone" in its mouth, but has a long jaw fitted with conical hard teeth It feeds in the ocean depths principally upon squid or great cuttle-fish some of which are of enormous size. Mr. F. T. Bullen speaks of a fragment disgorged by a whale, the tentacle of which was as thick as a mans body, and the sucking discs, as large as saucers. The Sperm Whale sees well in front but not behind, and this fact is remembered by the whaler in his method of attack.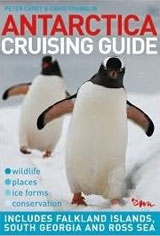 Antarctica Cruising Guide


USA |

UK


Free world delivery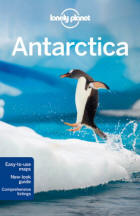 Lonely Planet travel guide Antarctica


USA |

UK


Free world delivery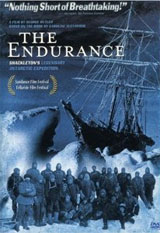 The Endurance - Shackleton's Legendary Expedition
Dramatization with original footage


DVD |

DVD