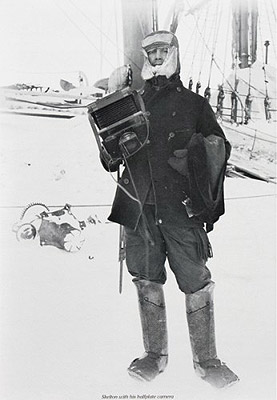 Chief engineer - Discovery 1901-04
Reginald Skelton had served with Scott aboard the Majestic, Scott's posting immediately prior to the Discovery Expedition when the two men grew to know each other well. Like several others of the officers and crew who joined the Antarctic journey from this ship, Scott was impressed with his manner and abilities.
Skelton came from Norfolk and had joined the navy as an engineer-student in 1887, he had risen to the position of senior engineer on the Majestic so the Discovery posting was a promotion as well as a new adventure. Scott continued to be impressed with Skelton's duties throughout the expedition (he had been one of the first men that Scott had asked for when assembling the ship's company) and there were no serious difficulties with any of the machinery under Skelton's care throughout.
Once in Antarctica and particularly in the winter, there was less need for Skelton to be active as ship's engineer, so like many other men, he assumed other duties for the good of the expedition. He became "photographer-in-chief" to the expedition and produced some of the best pictures of Antarctica obtained up to that date.
On return from Antarctica, Skelton married New Zealander Sybil Devenish-Meares to whom he was engaged, they had a son and two daughters.
Skelton served in the submarine service between 1906 and 1912 and again from 1916 to 1918. He had hoped to be Scott's second in command of the Terra Nova Expedition of 1910-1913. Instead the position went to Edward Evans who had been persuaded to join Scott as second-in-command rather than continue with his own trip to Antarctica that he was planning.
He was awarded the DSO (Distinguished Service Order) during the Battle of Jutland on the 31st of May 1916. He rose through the service becoming Engineer Rear-Admiral in 1923, Engineer Vice-Admiral in 1928 and Engineer-in-Chief of the Fleet, Admiralty, 1928–32. He was knighted in 1931 and retired in 1932. He died on 5 September 1956.
Landmarks named after Reginald Skelton
Feature Name: Skelton Inlet
Type: stream
Latitude: 78°54´S
Longitude: 162°15´E
Description: An ice-filled inlet at the terminus of Skelton Glacier, along the western edge of Ross Ice Shelf. The feature is about 10 mi wide at the entry points between Cape Timberlake and Fishtail Point. Discovered by the British National Antarctic Expedition, 1901-04.
Feature Name: Skelton Glacier
Type: glacier
Latitude: 78°35´S
Longitude: 161°30´E
Description: Large glacier flowing from the polar plateau into Ross Ice Shelf at Skelton Inlet. Named after Skelton Inlet by the N.Z. party of the CTAE, 1956-58. The glacier was chosen in 1957 as the N.Z. party's route from the Ross Ice Shelf to the polar plateau.
Feature Name: Skelton Icefalls
Type: glacier
Latitude: 78°14´S
Longitude: 158°19´E
Description: Prominent icefalls extending in an arc some 15 mi from Portal Mountain to the N end of Warren Range, in Victoria Land. Named by US-ACAN in 1964 in association with Skelton Névé and Skelton Glacier.
Feature Name: Skelton Névé
Type: glacier
Latitude: 78°20´S
Longitude: 160°00´E
Description: The immense névé of the Skelton Glacier, lying on the W side of the Royal Society Range. Almost circular in outline, it is about 40 miles in diameter and has an area of about 1,300 square miles. Surveyed by New Zealand parties of the CTAE (1956-58), who named it for its relationship to the Skelton Glacier.