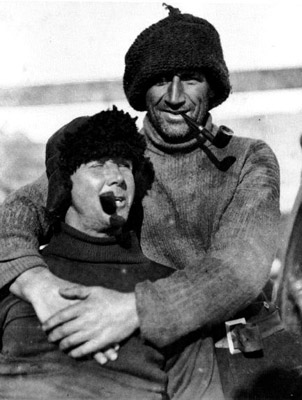 Alf Cheetham (left) with Tom Crean on the Endurance, 1914
Alfred Buchanan Cheetham

Morning - relief ship for the Discovery 1902

Third officer and boatswain Nimrod 1907-09

Boatswain, R.N.R. Terra Nova 1910 - 13

Third officer Endurance 1914-17
The Endurance Expedition
Alf Cheetham was an old hand on Antarctic expeditions when he joined the Endurance at the age of 47, he was well known for his positive attitude and was a popular member of crews on which he served.
While on the Terra Nova expedition, he had volunteered to help search for Scott and his missing south pole party, but had been turned down as he was a married man with children.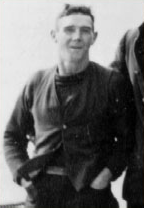 Alfred Cheetham was born in Liverpool, and the family moved to Hull around 1877. Hull was a great fishing port and he ran away to sea as a teenager working in the fishing fleet of the North Sea. He became a merchant navy boatswain working out of Hull and a Royal Naval Reservist. Alf married Eliza Sawyer and they produced 13 children.
On return from the Antarctic he enlisted in the Mercantile Marine and while serving as second Officer on the S.S. Prunelle on Thursday 22nd August 1918, at the age of 51, his ship was torpedoed in the North Sea by a German U-Boat . Alf went down with the ship.
References to in Shackleton's book "South!" buy USA buy UK
Three emperor penguins made their appearance in a lead west of the ship on May 3. They pushed their heads through the young ice while two of the men were standing by the lead. The men imitated the emperor's call and walked slowly, penguin fashion, away from the lead. The birds in succession made a magnificent leap 3 ft. clear from the water on to the young ice. Thence they tobogganed to the bank and followed the men away from the lead. Their retreat was soon cut off by a line of men.

"We walk up to them, talking loudly and assuming a threatening aspect. Notwithstanding our bad manners, the three birds turn towards us, bowing ceremoniously. Then, after a closer inspection, they conclude that we are undesirable acquaintances and make off across the floe. We head them off and finally shepherd them close to the ship, where the frenzied barking of the dogs so frightens them that they make a determined effort to break through the line. We seize them. One bird of philosophic mien goes quietly, led by one flipper. The others show fight, but all are imprisoned in an igloo for the night. . . . In the afternoon we see five emperors in the western lead and capture one. Kerr and Cheetham fight a valiant action with two large birds. Kerr rushes at one, seizes it, and is promptly knocked down by the angered penguin, which jumps on his chest before retiring. Cheetham comes to Kerr's assistance; and between them they seize another penguin, bind his bill and lead him, muttering muffled protests, to the ship like an inebriated old man between two policemen. He weighs 85 lbs., or 5 lbs. less than the heaviest emperor captured previously. Kerr and Cheetham insist that he is nothing to the big fellow who escaped them."

My anxiety, as a matter of fact, was groundless. I will quote Worsley's own account of what happened to the Dudley Docker:

"About midnight we lost sight of the James Caird with the Stancomb Wills in tow, but not long after saw the light of the James Caird's compass-lamp, which Sir Ernest was flashing on their sail as a guide to us. We answered by lighting our candle under the tent and letting the light shine through. At the same time we got the direction of the wind and how we were hauling from my little pocket-compass, the boat's compass being smashed. With this candle our poor fellows lit their pipes, their only solace, as our raging thirst prevented us from eating anything. By this time we had got into a bad tide-rip, which, combined with the heavy, lumpy sea, made it almost impossible to keep the Dudley Docker from swamping. As it was we shipped several bad seas over the stern as well as abeam and over the bows, although we were 'on a wind.' Lees, who owned himself to be a rotten oarsman, made good here by strenuous baling, in which he was well seconded by Cheetham. Greenstreet, a splendid fellow, relieved me at the tiller and helped generally. He and Macklin were my right and left bowers as stroke-oars throughout. McLeod and Cheetham were two good sailors and oars, the former a typical old deep-sea salt and growler, the latter a pirate to his finger-tips. In the height of the gale that night Cheetham was buying matches from me for bottles of champagne, one bottle per match (too cheap; I should have charged him two bottles). The champagne is to be paid when he opens his pub in Hull and I am able to call that way. . . . We had now had one hundred and eight hours of toil, tumbling, freezing, and soaking, with little or no sleep. I think Sir Ernest, Wild, Greenstreet, and I could say that we had no sleep at all. Although it was sixteen months since we had been in a rough sea, only four men were actually seasick, but several others were off colour. "

A strong south-westerly wind was blowing on October 20 and the pack was working. The Endurance was imprisoned securely in the pool, but our chance might come at any time. Watches were set so as to be ready for working ship. Wild and Hudson, Greenstreet and Cheetham, Worsley and Crean, took the deck watches, and the Chief Engineer and Second Engineer kept watch and watch with three of the A.B.'s for stokers.

Landmarks named after Alfred Cheetham

Feature Name: Cheetham Ice Tongue
Feature Type: glacier
Latitude: 7545S
Longitude: 16255E
Description: A small ice tongue on the E coast of Victoria Land between Lamplugh Island and Whitmer Peninsula. It projects eastward into Ross Sea. The tongue appears to be nourished in part by Davis Glacier and partly by ice draining from Lamplugh Island and Whitmer Peninsula. First charted by the BrAE, 1907-09, under Shackleton - Nimrod expedition.
Variant Name(s) - Cheetham Glacier Tongue, Cheetham Ice Barrier Tongue.

Feature Name: Cape Cheetham
Feature Type: cape
Latitude: 7018S
Longitude: 16242E
Description:
An ice-covered cape forming the NE extremity of Stuhlinger Ice Piedmont. First charted by members of the BrAE, 1910-13, who explored this coast in the location assigned on maps of the ANARE (Thala Dan), 1962.
Endurance
Personnel
Bakewell, William
Able Seaman
Blackborow, Percy
Steward (stowaway)
Cheetham, Alfred
Third Officer
Clark, Robert S.
Biologist
Crean, Thomas
Second Officer
Green, Charles J.
Cook
Greenstreet, Lionel
First Officer
Holness, Ernest
Fireman
How, Walter E.
Able Seaman
Hudson, Hubert T.
Navigator
Hurley, James F. (Frank)
Official Photographer
Hussey, Leonard D. A.
Meteorologist
James, Reginald W.
Physicist
Kerr, A. J.
Second Engineer
Macklin, Dr. Alexander H.
Surgeon
Marston, George E.
Official Artist
McCarthy, Timothy
Able Seaman
McIlroy, Dr. James A.
Surgeon
McLeod, Thomas
Able Seaman
McNish, Henry
Carpenter
Orde-Lees, Thomas
Motor Expert and Storekeeper
Rickinson, Lewis
First Engineer
Shackleton, Ernest H.
Expedition Leader
Stephenson, William
Fireman
Vincent, John
Able Seaman
Wild, Frank
Second in Command
Wordie, James M.
Geologist
Worsley, Frank
Captain