Antarctica
Pictures, Facts and Travel

Maybe you've been to Antarctica on a cruise or to work and want to reminisce

Perhaps you haven't been but would love to travel to the Antarctic

Possibly you have no intention of going, but just think Antarctica is a cool place

If you like pictures - we've got stacks of pictures of Antarctica and photographic advice

You may have homework to do so you need facts about Antarctica or its animals

Maybe you're planning an Antarctic cruise or vacation

Find out what you will see, where you'll go and what you need to take in the
Antarctica travel guide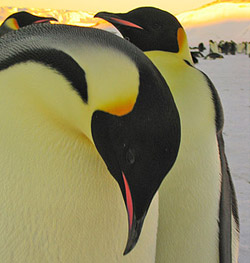 Emperor penguin fact file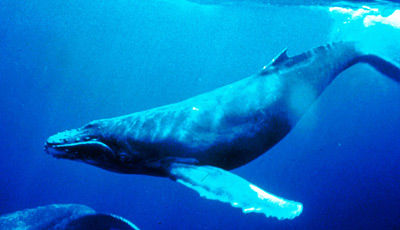 Whale species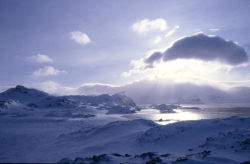 Antarctic Pictures Gallery - Clouds go scurrying by in Antarctica most days, it's the windiest and highest continent as well as the coldest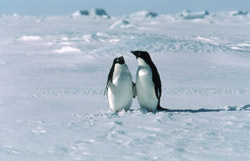 Pictures of Penguins in Antarctica

Christmas in Antarctica, the natives get ready for the big day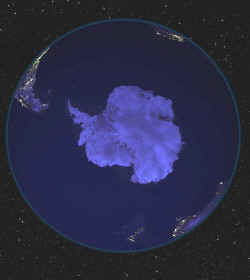 Use of picture courtesy of NASA
Composite image of Antarctica and southern hemisphere at night showing lights from major cities on South America (top left), Africa (top right) and Australia / New Zealand (bottom right). The earth could never be viewed in this way as in reality one half of this view would be in daylight and the other in darkness.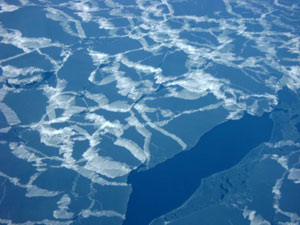 Most recently added and updated pages
Antarctica: Cold Weather Health | Polar Bear | Franklin North West Passage Map | Franklin time-line | Arctic Tern | Arctic animals list | Arctic Fox facts | Arctic Wolf | The USA in Antarctica | The UK in Antarctica | Cool and fun things to do in freezing weather | Cold Acclimatization in Humans
Travel: Antarctic Travel | Trips to Antarctica from Australia and New Zealand | Fly to Antarctica | Chinese New Year trip with Chinese guides | Shackleton Centenary Antarctic Cruise
Buy: Russian Fur Hats | Russian Military Fur Hats | Extreme Cold Weather Clothing | Kid's Cold Weather Clothing | Women's Boots | Men's Winter Boots | Women's Winter Boots | Dresses | Handbags / Bags

Antarctica Travel
Send me Antarctic trip details
Featured trips
Fly - Cruise Antarctica
100 Years Ago in Antarctica

Shackleton's 1914-17 Trans-Antarctica Expedition on Twitter - follow us now to get the story 100 years to the day later. @danthewhaler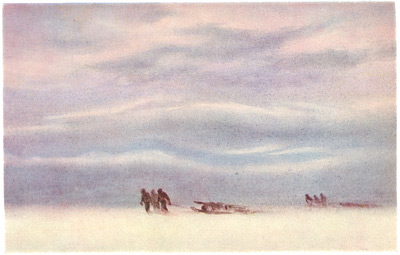 Sledging - Edward Wilson, watercolour
South - Ernest Shackleton: 1914 - Heavy floes held up the ship from midnight till 6 a.m. on December 25, Christmas Day. Then they opened a little and we made progress till 11.30 a.m., when the leads closed again. We had encountered good leads and workable ice during the early part of the night, and the noon observation showed that our run for the twenty-four hours was the best since we entered the pack a fortnight earlier. We had made 71 miles S. 4° W. Grog was served at midnight to all on deck. There was grog again at breakfast, for the benefit of those who had been in their bunks at midnight. Lees had decorated the wardroom with flags and had a little Christmas present for each of us. Some of us had presents from home to open. Later there was a really splendid dinner, consisting of turtle soup, whitebait, jugged hare, Christmas pudding, mince-pies, dates, figs and crystallized fruits, with rum and stout as drinks. In the evening everybody joined in a "sing-song." Hussey had made a one-stringed violin, on which, in the words of Worsley, he "discoursed quite painlessly." The wind was increasing to a moderate south-easterly gale and no advance could be made, so we were able to settle down to the enjoyments of the evening.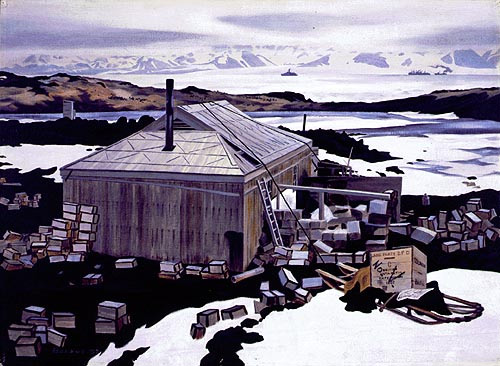 The Antarctic Shrine - Standish Backus
Sir Ernest Shackleton's historic British Antarctic Expedition of 1907 chose Cape Royds on Ross Island as the site of their headquarters. In the painting, units of Task Force 43 may be seen several miles off Cape Royds fighting their way through frozen McMurdo Sound behind an icebreaker toward the base at Hut Point, thirty miles to the south. In the background the great mountains fifty miles away in Victoria Land peer under the overcast. Picture courtesy The Naval History & Heritage Command - USA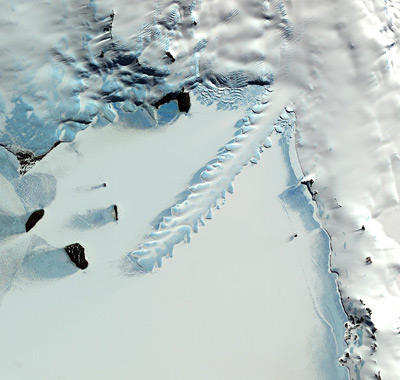 The Erebus glacier in Antarctica comes down from Mt. Erebus and protrudes off the coast of Ross Island, forming an 11-12 km long ice tongue - a long and narrow sheet of ice projecting out from the coastline. It is a serrated, blue-rimmed "knife" extending toward image center from the upper right out into snow- and ice-covered McMurdo Sound. Beneath the smooth white expanse is the Southern Ocean. Photograph courtesy of NASA / GSFC / METI / ERSDAC / JAROS, and the U.S./Japan ASTER Science Team.