---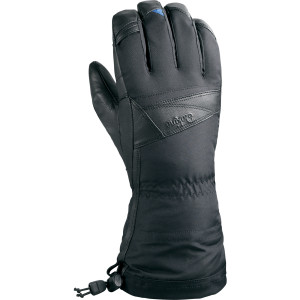 DAKINE Sahara Glove - Women's


On sale - now $82.46




- was

$109.95



Every year you deal with perpetually cold hands, and every year you swear you'll do womething about it. Well, here's your chance. Sliding your hand into the DAKINE Sahara Glove is like sliding your cold, wet hand into the desert of the same name. A guaranteed waterproof breathable Gore-Tex insert keeps the weather off you while letting moisture out to avoid clamminess, and toasty Primaloft insulation keeps your hand warm even when it's wet. more...




---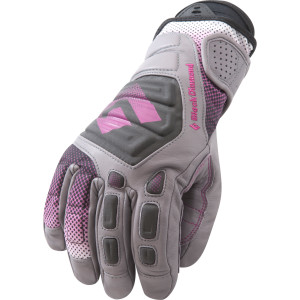 Black Diamond Legend Glove - Women's


On sale - now $83.97




- was

$119.95



When you need gloves that'll last season after season and that'll keep your hands dry and warm, reach for the Black Diamond Women's Legend Gloves. more...




---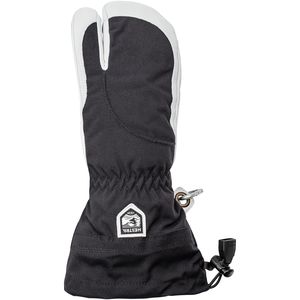 Hestra Heli 3-Finger Glove - Women's


On sale - now $95.96




- was

$119.95



Hestra built the big-mountain Womens Heli 3-Finger Glove out of Triton, its most hard-wearing fabric, to give you full patrol support as you rip huge lines, assault the trees, and drop cliffs like a psychotic lemming. A removable liner regulates temperature and Hestras Eagle Grip shape follows the form of your hand rather than the form of a stiff board. Handcuffs hold in heat and block snow, and Quallofil insulation keeps you warm when the thermometer goes into the negative. more...




---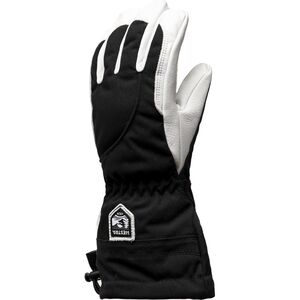 Hestra Heli Glove - Women's


On sale - now $95.96




- was

$119.95



The Hestra Womens Heli Glove gives you warmth and waterproof protection whether youre hopping out of a \221copter in the Chugach or cutting icy lines at your local hill. The Triton and Entrant shell and Quallofil synthetic insulation keep the wet, cold conditions at bay, and the leather palm with an Eagle Grip preformed fit helps you grasp your ski poles on the gnarly descent. A removable liner glove works great for base camp tasks or apr\350s ski cocktails. more...




---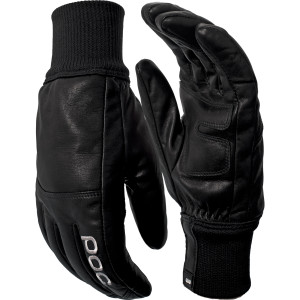 POC Glove - Women's


On sale - now $77.97




- was

$119.95



Supple goatskin, warm insulation, and clean-as-a-whistle styling set the POC Women's Glove apart from the crowd. Inside this glove, you'll discover a smooth, contoured fit designed specifically to mimic the curves of a woman's hand. POC even used compressed insulation to provide warmth at the palm without inhibiting pole gripa nice touch for woman who like extra insulation but hate to sacrifice mobility. more...




---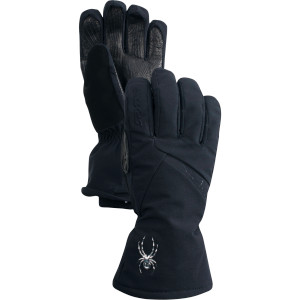 Spyder Sestriere Gore-Tex Glove - Women's


On sale - now $83.97




- was

$119.95



In a dream world, snow would be a comfy 70 degrees, and you could ski all winter in nothing but a tee and your favorite shorts. Back in the real world, you can enjoy that dream-like comfort with the Spyder Women's Sestriere Gore-Tex Gloves, which keep your hands warm and dry even in wet, heavy winter snow. more...




---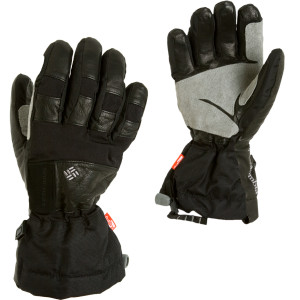 Columbia Mountain Monster Glove - Women's


On sale - now $97.47




- was

$149.95



There's no need to wear a bulky mitten if you don't want to; multiple technologies work together so the Columbia Women's Mountain Monster Glove can deliver outstanding warmth and protection in extreme conditions. On the outside, the highly waterproof and breathable OutDry membrane is laminated directly to the shell to stop moisture from penetrating even the top layer. Next to your hand, Columbia's breakthrough thermal reflective lining keeps your fingers toasty and dry. Between the two, a layer more...




---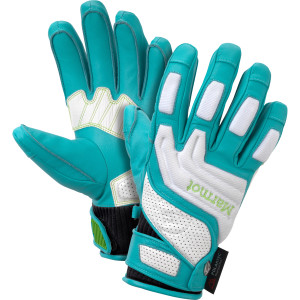 Marmot Armageddon Undercuff Glove - Women's


On sale - now $89.4




- was

$149.95



When it's nuking snow out on the slopes, give your hands some cover with the Marmot Women's Armageddon Undercuff Glove. A durable leather outer shell, Membrain waterproof breathable tech, and foam padding make the low-profile Armageddon the glove of choice of the Marmot Freeride Team. more...




---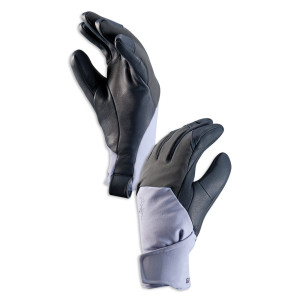 Arc'teryx Zenta LT Glove - Women's


$159.95



Backcountry touring gets your heart pounding and your body-heat rising. You still need bomber protection from the cold and the snow, but all that cardiovascular exercise negates the need for massive layers. The Arc'teryx Women's Zenta LT Gloves keep your hands warm without unnecessary bulk that can leave your hands overheating and sweaty. more...




---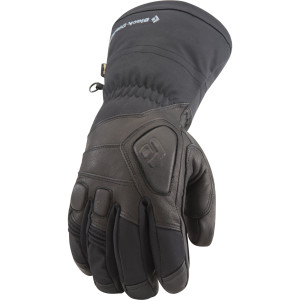 Black Diamond Guide Glove - Women's


$169.95



Sub-zero days call for Gore-Tex XCR waterproof breathable protection and smooth dexterity of the Black Diamond Women's Guide Glove. Whether you're slashing backcountry pow, leading a guide trip, or bumping chairs at the resort, this women-specific glove features PrimaLoft insulation to keep your hands exceptionally warm, while goat leather palms provide durable grip on your poles or ice axe. more...




---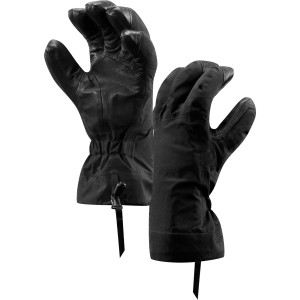 Arc'teryx Beta AR Glove - Women's


$224.95



Arc'teryx emphasized dexterity when it designed the Women's Beta AR Glove so you wouldn't have to pull off the glove every time a buckle or a zipper needs a bit of adjustment. Between the advanced Tri-Dex construction and the removable liner that features a thinner fabric on the palm, you'll be able to put your gear to rights without exposing your fingers to the cold. You'll also keep those digits nice and dry, thanks to the new Gore-Tex N80p-X waterproof breathable fabric. more...




---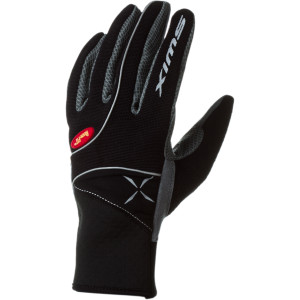 Swix Stride Glove - Women's


On sale - now $24.02




- was

$36.95



After a hectic morning, pull on the Swix Women's Stride Glove, grab your gear, and head to the track to expel some energy. Designed with race fit technology and Cool-prene cuffs, the Stride supplies optimal comfort, feel, and compression while you train and work up a sweat. more...




---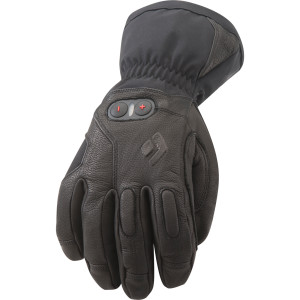 Black Diamond Cayenne Glove - Women's


On sale - now $279.96




- was

$399.95



Whether you ski bell-to-bell and average a 100-plus days a year on the resort or can only make it to the mountains a few weekends a year, rely on The Black Diamond Women's Cayenne Glove for all-day warmth and protection while you send it. This Gore-Tex XCR waterproof breathable glove features a Therm-ic 3-level heating system that provides up to ten hours of adjustable, added warmth. And for warmer days, you can count on its PrimaLoft One insulation when the heater is powered off. more...




---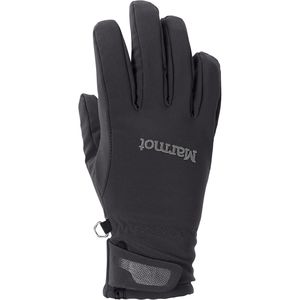 Marmot Glide Softshell Glove - Women's


On sale - now $32.47




- was

$49.95



Although you're a superhuman when it comes to multitasking, you only have two hands. Treat them right with the Marmot Women's Glide Softshell Glove. Great for layering or spring skiing, the Glide is lined with DriClime for superb comfort and moisture management. more...




---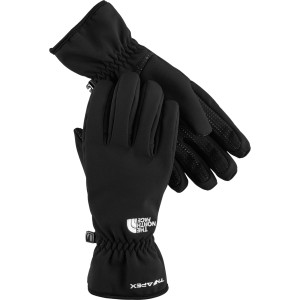 The North Face Insulated Apex Gloves - Women's


$54.95



Reach the height of comfort and utility with The North Face Women's Insulated Apex Glove. Built with the classic style and comfort you've come to know and trust, the Apex features The North Face's proprietary Apex ClimateBlock shell, backed by the warmth-trapping power of Heatseeker insulation for ultimate comfort. more...




---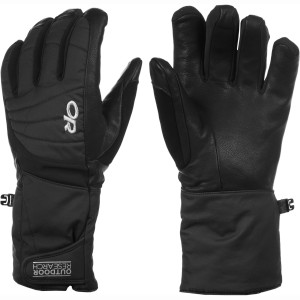 Outdoor Research Coup Glove - Women's


On sale - now $42.22




- was

$64.95



You don't just ski, you get after it. The Outdoor Research Women's Coup Glove isn't intended for the twice-up-the-lift ski bunny. The Coup is designed for intense, highly aerobic activity. The ultra-breathable softshell back lets your hand regulate its temperature naturally and allows water vapor to escape to eliminate the clammy feeling. Outdoor Research placed the insulation carefully to make sure you have warmth where you need it without added bulk. more...




---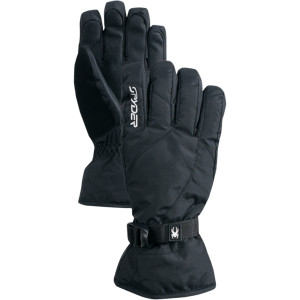 Spyder Traverse Gore-Tex Glove - Women's


On sale - now $45.47




- was

$64.95



Even if it's biting cold outside, the inside of the insulated Spyder Traverse Gore-Tex Glove will feel like a touch of toasty-warm paradise. This technical ski glove layers warmth-boosting materials inside a waterproof breathable Gore-Tex insert to create a happy micro-climate around your hands so cold, wet weather stays out, and warm dry weather stays in. more...




---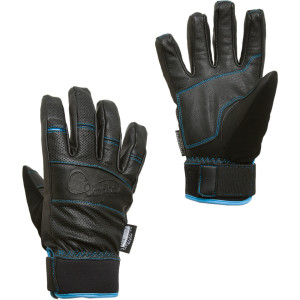 Empire Attire Winter Glove - Women's


On sale - now $43.52




- was

$66.95



Punch the idea of a 'ladies' tee' in the crotch when you slip on the Empire Attire Women's Glove and hurl your meat off every cliff and cornice you can find. This all-leather glove sheds snow as you pop off pillows and resurface like a pow-seeking sub in the landing. And with its feminine-shaped fit, contrast stitching, and cursive Empire branding, you can be sure you're wearing a glove that finally fits your hand and meets your stylish and technical demands. more...




---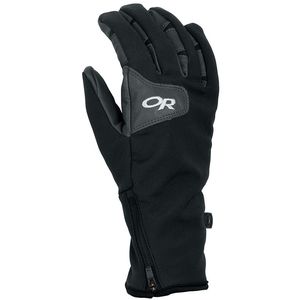 Outdoor Research StormTracker Gloves - Women's


$69.95



Get breathable yet wind- and water-resistant protection on your next backcountry adventure with the Outdoor Research Women's StormTracker Glove. This versatile glove features WindStopper Soft Shell fabric for comfortable, reliable protection from the elements; a tricot lining adds extra warmth an wicking capabilities. more...




---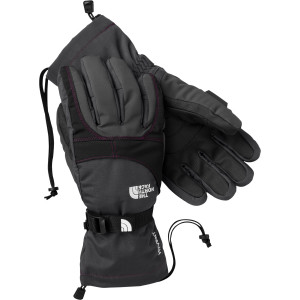 The North Face Montana Glove - Women's


On sale - now $45.47




- was

$69.95



The North Face has streamlined the fit of the Womens Montana Glove, so you get the same warm, waterproof breathable protection in a nimble, low-bulk ski and snowboard glove. When youre tightening a boot buckle or threading a snowboard binding, the womens specific 5-dimensional fit, radiometric articulation, and slightly reduced insulation in the palm give you the touch you need so you don't have to pull the glove off. On the back of your hand, extra insulation and high-loft pile lining keep you more...




---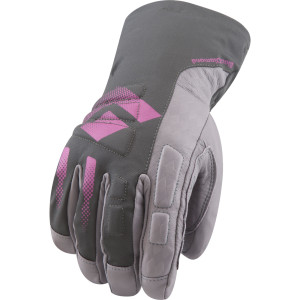 Black Diamond Squad Glove - Women's


On sale - now $62.97




- was

$79.95



You just cashed in a sick day to reap the rewards of the last huge storm, so now it's time to reach for the insulated Black Diamond Women's Squad Glove with a Gore-Tex membrane and keep your hand warm and dry. An over-the-cuff design cinches around your wrist to keep the snow out, and generous leather reinforcement protects your hand from damage when you dip into the trees. In-bounds riding just got a whole lot more enjoyable thanks to the Squad glove. more...




---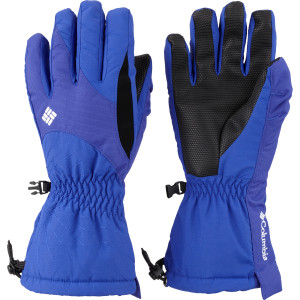 Columbia Majik Wand II Glove - Women's


On sale - now $51.97




- was

$79.95



With the Columbia Women's Majik Wand II Glove, you can go head-to-head with Old Man Winter without the need for spells and sunshine-conjuring incantations. You don't mind skiing in the height of the winter storm, because this glove's Omni-Heat insulation keeps your fingers warm, while the Omni-Tech waterproof breathable membrane keeps your fingers dry. more...




---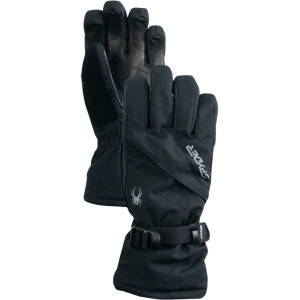 Spyder Synthesis Gore-Tex Glove - Women's


On sale - now $55.97




- was

$79.95



Thermore TMC Compact insulation and a waterproof breathable Gore-Tex inserts ensure that your hands stay dry and toasty when they're inside your Spyder Women's Synthesis Gore-Tex Gloves. Wear these high-tech paw covers when you're planning on long days on the hill or sidecountry forays when you're craving fresh powder. more...




---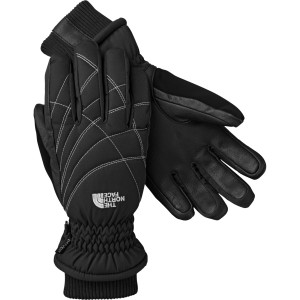 The North Face Purr Fect Glove - Women's


On sale - now $51.97




- was

$79.95



Slide your hand into the North Face Womens Purr Fect Glove and let it sweep you off your feet with its Heatseeker insulation that keeps the tips of your fingers to your palms toasty and comfy. The waterproof breathable HyVent fabric combats the elements, so you wont have to run into the warming hut to dry your gloves underneath the hand dryer. An articulated molded fit gives your hands dexterity to hold your ski poles or make a snowball. Rib-knit cuffs slide underneath your jacket sleeves for a more...




---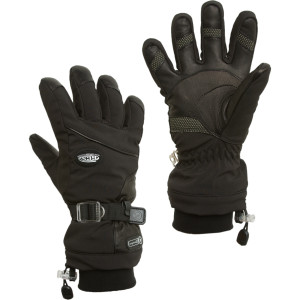 Grandoe GCS Primo Elite Glove - Women's


On sale - now $55.22




- was

$84.95



Wear the GCS Women's Primo Elite Glove with the fleece liner during chilly winter storms, and zip out the liner and wear just the shell on slushy spring days. more...




---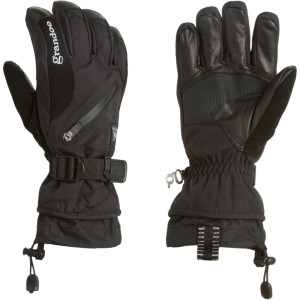 Grandoe Tundra Glove - Women's


On sale - now $55.22




- was

$84.95



The slopes may want to high-five you when they see your Grandoe Women's Tundra Gloves, but it's an elaborate ploy to steal from them. Don't blame the mountain: a shell comprised of proprietary GX4 and MicroVortex materials provides superb protection from alpine gusts, while WaterBlock sheepskin palms and Digital Power Grip technology maintain dexterity. Wrist cinches help keep the slopes from succeeding in their plan, so you can continue to rip down groomers with super-comfy hands. more...




---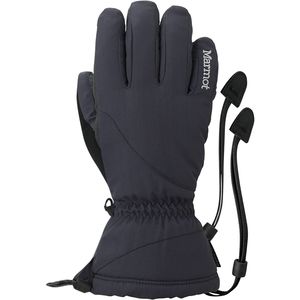 Marmot Flurry Glove - Women's


$84.95



Heavy snow, light flurries, or even (horrors) snow mixed with rainno matter what's coming out of the sky, the Gore-Tex insert in the Marmot Women's Flurry Glove keeps it out. And for those frigid bluebird days, count on the Thermal R insulation and cozy high-loft fleece lining to keep your digits happy as you lap the chairlift. more...




---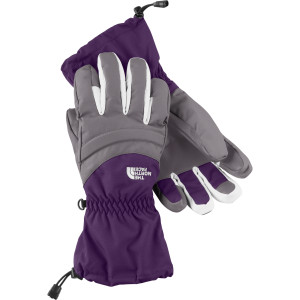 The North Face Etip Facet Glove - Women's


On sale - now $59.47




- was

$84.95



The North Face equipped the Womens Etip Facet Glove with a touchscreen-friendly liner glove, so you dont need to strip down to bare skin when you want to text your whereabouts on the mountain to the rest of your group. An insulated, waterproof breathable outer shell glove warms up your hand once youve finished your electronic business and are ready to get down to carving some turns. more...




---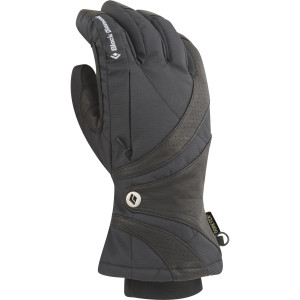 Black Diamond Fever Glove - Women's


On sale - now $59.97




- was

$99.95



You have powder sickness and the only prescription is the Black Diamond Women's Fever Glove, its Gore-Tex membrane, and endless days diving into waist-deep snow. Designed specifically for women who enjoy extra warmth, the Fever Glove rocks a heater pocket, supreme flexibility to help with circulation, and ample insulation. After all, the only thing worse than calling it early because of cold toes is calling it early because of cold fingers. more...