---
DAKINE Sahara Glove - Women's


On sale - now $60.47




- was

$109.95



Every year you deal with perpetually cold hands, and every year you swear you'll do womething about it. Well, here's your chance. Sliding your hand into the DAKINE Sahara Glove is like sliding your cold, wet hand into the desert of the same name. A guaranteed waterproof breathable Gore-Tex insert keeps the weather off you while letting moisture out to avoid clamminess, and toasty Primaloft insulation keeps your hand warm even when it's wet. more...




---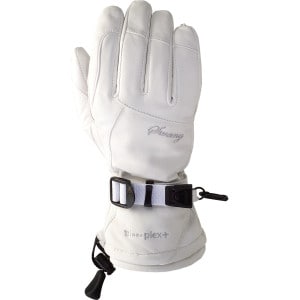 Swany Garland Ski Glove - Women's


$109.95



The Swany Garland Ski Glove for Women combines the clean styling and performance features required by ladies who ski hard from first chair to last. Three weights of Primaloft insulation work with the moisture-wicking Dyna-Therm liner to keep fingers warm and dry. The quick-release strap allows for easy on and off, and the barrel lock cuff keeps snow out when you're waist-deep in a hidden powder stash. more...




---
Hestra Heli 3-Finger Glove - Women's


On sale - now $56.8




- was

$119.95



Hestra built the big-mountain Womens Heli 3-Finger Glove out of Triton, its most hard-wearing fabric, to give you full patrol support as you rip huge lines, assault the trees, and drop cliffs like a psychotic lemming. A removable liner regulates temperature and Hestras Eagle Grip shape follows the form of your hand rather than the form of a stiff board. Handcuffs hold in heat and block snow, and Quallofil insulation keeps you warm when the thermometer goes into the negative. more...




---
POC Glove - Women's


On sale - now $53.98




- was

$119.95



Supple goatskin, warm insulation, and clean-as-a-whistle styling set the POC Women's Glove apart from the crowd. Inside this glove, you'll discover a smooth, contoured fit designed specifically to mimic the curves of a woman's hand. POC even used compressed insulation to provide warmth at the palm without inhibiting pole gripa nice touch for woman who like extra insulation but hate to sacrifice mobility. more...




---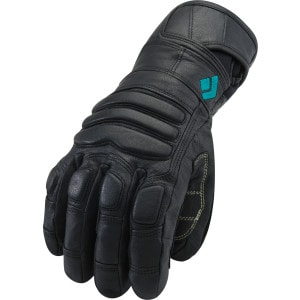 Black Diamond Legend Glove - Women's


$119.95



Not only is the Black Diamond Women's Legend Glove the warmest glove in Black Diamond's under-the-cuff glove selection, but it also wraps a solid fortress around your hand while you shred with intensity. The Gore-Tex XCR membrane provides guaranteed waterproof and breathable protection while you float through light powder or feel your way down the slopes during a wet, foggy storm. Your hand also gets 170g PrimaLoft One insulation at the back of your hand for maximum warmth and 133g in your palm more...




---
Spyder Sestriere Gore-Tex Glove - Women's


$119.95



The Spyder Women's Sestriere Gore-Tex Glove may have a simple, streamlined look, but under that sleek hood there's tons of tech to keep you motoring all day throughout the resort's snowiest runs. Topping the list of tech is the Gore-Tex insert that offers absolutely waterproof, breathable protection. The laser-cut and welded shell is make from 360 stretch nylon that gives your wiggly digits the dexterity they need to stay comfortable at the resort all day, while the goatskin palm delivers the gr more...




---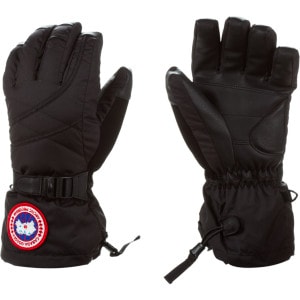 Canada Goose Down Glove - Women's


$124.95



Finally a toasty-warm way to keep your hands comfy and dexterous: the finger-freeing Canada Goose Women's Down Glove, with 525-fill down insulation and waterproof insert. No more of the clunky mitten-hand, where a simple task like buckling your boot forces you to expose the helpless digits to the cold, cruel world. Keep them covered and mobile in their own weather-resistant down chambers. more...




---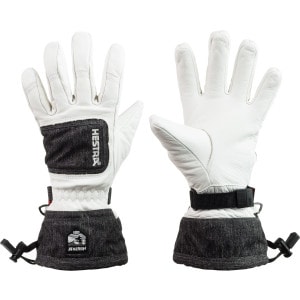 Hestra Leather Czone Powder Glove - Women's


$124.95



Hestra got its start making tough winter gloves for Swedish lumberjacks (no joke), but has since become synonymous with rugged, warm gloves that are the favorites of some of the world's best freeskiers and racers. It's also got some style, which is obvious if you take a peak at the Leather Czone Women's Powder Glove, which has all the warmth and durability Hestra's known for with a sleek leather look meant to stand out on the hill.The leather, called Aniline, is carefully dyed-through to retain more...




---
Marmot Access Glove - Women's


On sale - now $65.23




- was

$144.95



The Marmot Access Glove provides technology-backed protection and comfort for your out-of-bounds adventures. A Gore-Tex insert adds waterproof breathable comfort to a tech-heavy package. more...




---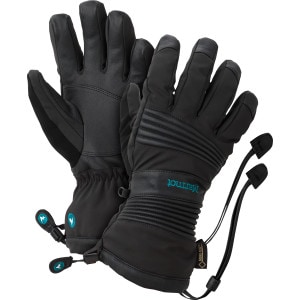 Marmot Ultimately Hers Glove - Women's


$144.95



The Marmot Women's Ultimately Hers Glove can tackle the gnarliest weather but with finesse and grace ... just like you. A waterproof breathable Gore-Tex insert protects your fingers because it's guaranteed waterproof and breathable. The polyester and elastane face fabric is tough, but has a little give, and the leather reinforcement will keep these gloves around for season after season. Marmot's falcon grip ensures dexterity and a firm grip, while a full-length gauntlet with drawstring closure k more...




---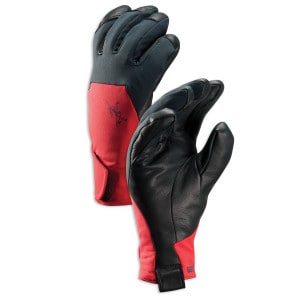 Arc'teryx Zenta LT Glove - Women's


$149.95



Backcountry touring gets your heart pounding and your body-heat rising. You still need bomber protection from the cold and the snow, but all that cardiovascular exercise negates the need for massive layers. The Arc'teryx Women's Zenta LT Gloves keep your hands warm without unnecessary bulk that can leave your hands overheating and sweaty. more...




---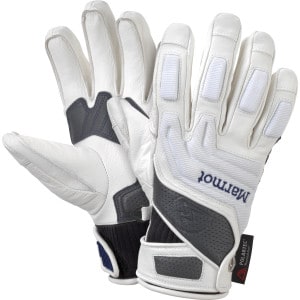 Marmot Armageddon Undercuff Glove - Women's


On sale - now $67.48




- was

$149.95



When it's nuking snow out on the slopes, give your hands some cover with the Marmot Women's Armageddon Undercuff Glove. A durable leather outer shell, Membrain waterproof breathable tech, and foam padding make the low-profile Armageddon the glove of choice of the Marmot Freeride Team. more...




---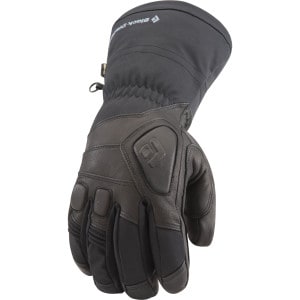 Black Diamond Guide Glove - Women's


$169.95



Sub-zero days call for Gore-Tex XCR waterproof breathable protection and smooth dexterity of the Black Diamond Women's Guide Glove. Whether you're slashing backcountry pow, leading a guide trip, or bumping chairs at the resort, this women-specific glove features PrimaLoft insulation to keep your hands exceptionally warm, while goat leather palms provide durable grip on your poles or ice axe. more...




---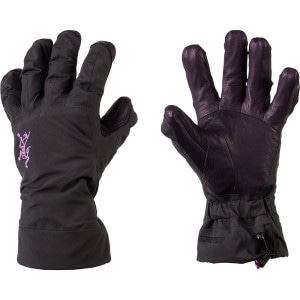 Arc'teryx Beta AR Glove - Women's


On sale - now $134.97




- was

$224.95



Arc'teryx emphasized dexterity when it designed the Women's Beta AR Glove so you wouldn't have to pull off the glove every time a buckle or a zipper needs a bit of adjustment. Between the advanced Tri-Dex construction and the removable liner that features a thinner fabric on the palm, you'll be able to put your gear to rights without exposing your fingers to the cold. You'll also keep those digits nice and dry, thanks to the new Gore-Tex N80p-X waterproof breathable fabric. more...




---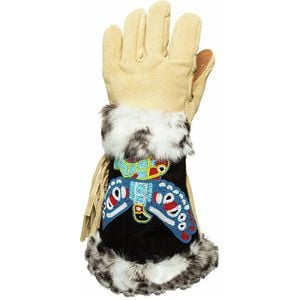 Astis Erling Glove


$224.95



Spread your one-of-a-kind wings in the Astis Erling Glove, with beautiful, hand-stitched beadwork in a Far North design. Keep your hands warm and dry with silicone-injected, high-quality suede and Polartec high-loft, cozy-comfy insulation. Sassy fur and fringe add to the untamed attitude of this glove, which will be apropos when charging hard in the freshies. more...




---
Black Diamond Cayenne Glove - Women's


On sale - now $179.98




- was

$399.95



Whether you ski bell-to-bell and average a 100-plus days a year on the resort or can only make it to the mountains a few weekends a year, rely on The Black Diamond Women's Cayenne Glove for all-day warmth and protection while you send it. This Gore-Tex XCR waterproof breathable glove features a Therm-ic 3-level heating system that provides up to ten hours of adjustable, added warmth. And for warmer days, you can count on its PrimaLoft One insulation when the heater is powered off. more...




---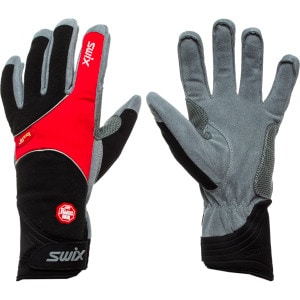 Swix Gore Spectrum Glove - Women's


$44.95



You're cruising so fast, you're kicking up a squall; good thing you have the Swix Women's Gore Spectrum Glove, with complete windproof protection. And you're working hard, so the high breathability of this hand warmer will keep you nice and dry. Since you're dry and warm, go for the distance; it will give you time to think of an excuse for your tardiness. more...




---
Rab Baltoro Glove - Women's


On sale - now $29.97




- was

$49.95



Just because your friends are guys doesn't mean you're a guy, or built like one. When the group is going ice climbing or snipe hunting on a sunny day, pull on the Rab Women's Baltoro Glove and don't lose an ounce of dexterity. Cut for a woman's hand, this glove has everything you want for full-fingered fun. The unlined, softshell design means this glove will dry quickly, and a longer cuff with drawcord prevents snow and ice from sneaking up your sleeve. The leather-lined palm and fingers make it more...




---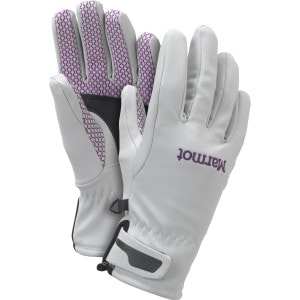 Marmot Glide Softshell Glove - Women's


$49.95



Although you're a superhuman when it comes to multitasking, you only have two hands. Treat them right with the Marmot Women's Glide Softshell Glove. Great for layering or spring skiing, the Glide is lined with DriClime for superb comfort and moisture management. more...




---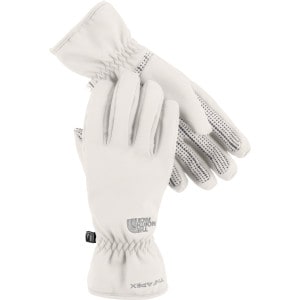 The North Face Insulated Apex Glove - Women's


$54.95



Reach the height of comfort and utility with The North Face Women's Insulated Apex Glove. Built with the classic style and comfort you've come to know and trust, the Apex features The North Face's proprietary Apex ClimateBlock shell, backed by the warmth-trapping power of Heatseeker insulation for ultimate comfort. more...




---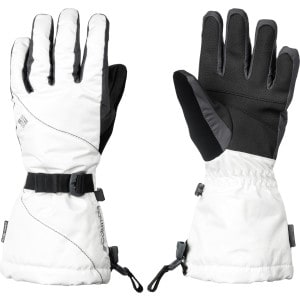 Columbia Torrent Ridge Glove


On sale - now $48.71




- was

$64.95



Nothing spoils your day on the mountain faster than freezing fingers. You won't have to worry about this problem with the Columbia Torrent Ridge Glove: it comes packed with features that ensure your hands stay nice and dry and toasty. The glove's breathable, waterproof membrane keeps moisture from getting in while keeping your hands from getting overly clammy inside. It comes equipped with a special heat-reflective thermal lining that keeps valuable body heat from escaping, yet still wicks moist more...




---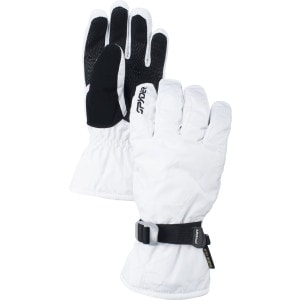 Spyder Traverse Gore-Tex Glove - Women's


$64.95



The Spyder Women's Traverse Gore-Tex Glove uses a platoon of weather-protective features to keep your hand dry in wet weather. First, a Gore-Tex membrane brings guaranteed waterproof breathable protection against snowy ski sessions. Then, the Xt coating prevents the tiniest water drops to seep through the outer fabric. Last but not least, Spyder's proprietary Spylon+ DWR treatment increases the durability and longevity of this glove's outer coating. Underneath all this water protection is 200g T more...




---
Black Diamond Spy Glove - Women's


On sale - now $38.47




- was

$69.95



Black Diamond gave the Women's Spy Glove a streamline shape and flexible neoprene cuff so you can easily slide the cuff of your jacket sleeve over this tough little freeride glove. On the inside, a BDry waterproof breathable insert keeps your hand bone dry when the snow turns soggy, and on the outside, tough goat leather and a stretchy nylon shell fends off damage from rope tows, branches, and sharp ski edges. Slide your hand inside the fleece lined interior and point yourself at something steep more...




---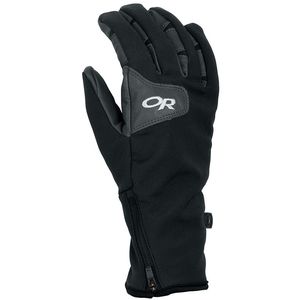 Outdoor Research StormTracker Glove - Women's


$69.95



Get breathable yet wind- and water-resistant protection on your next backcountry adventure with the Outdoor Research Women's StormTracker Glove. This versatile glove features WindStopper Soft Shell fabric for comfortable, reliable protection from the elements; a tricot lining adds extra warmth an wicking capabilities. more...




---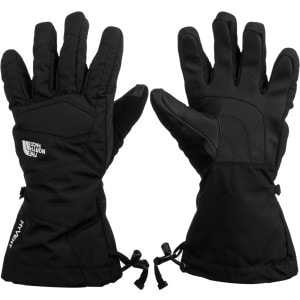 The North Face Montana Gloves - Women's


$69.95



Ski the slopes this winter wearing The North Face Women's Montana Gloves. A waterproof HyVent insert keeps your hands dry in the snowiest storms, and the durable nylon oxford shell makes sure you have the Montana for multiple seasons. 150g Heatseeker insulation keeps your palms nice and toasty while 200g warms the back of your hand during the coldest ski sessions. The plush polyester lining keeps your hands comfortably cozy, and the synthetic leather palm helps you hold on to your ski poles. The more...




---
Outdoor Research KnuckleDuster Glove - Women's


On sale - now $47.37




- was

$78.95



After what seems like forever, your friends finally show up. Stand up, dust the powder off your pants, pull on the Outdoor Research Women's KnuckleDuster Glove, and start skinning up to your secret stash of steep and deep. Ventia Dry construction prevents external moisture from entering your glove and removes internal moisture so your hands aren't a hot soggy mess when you get to the top. The leather palm, reinforced with perforated leather panels, gives you a solid grip on your pole or ice-clim more...




---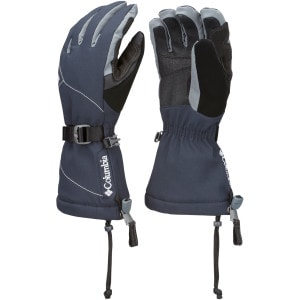 Columbia Retta Ridge Glove


$79.95



The Retta Ridge Glove for Columbia is designed to keep pace with your high-output winter activities. Skiing, snowshoeing, and sledding are loads of laughs when your fingers are warm. This insulated glove bathes your hand in warmth while whisking away palm sweat, all without leaving your fingers locked in place from over-insulation and tough materials. Supple fabric and Columbia's weather-busting tech combine to give you powerful paw protection for blinding snow or winter dates.Omni-Tech prevents more...




---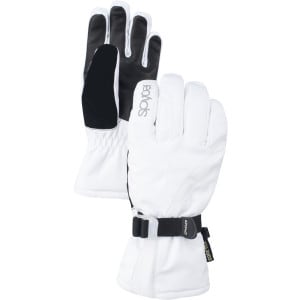 Spyder Synthesis Gore-Tex Glove - Women's


$79.95



You'd enjoy skiing a little bit more if your hands weren't cold and wet. Well, lucky for you, the Spyder Women's Synthesis Gore-Tex Glove lives to warm your digits right up with 150g 3M Thinsulate insulation. Your hand also stays dry in the wettest weather thanks to two highly waterproof protective surfaces: Gore-Tex and an Xt.L laminate. And Spyder added its Spylon+ DWR coating for extra water resistance and durability. You and your fingers will start to look forward to ski days more.A micro-be more...




---
Outdoor Research HighCamp Gloves - Women's


On sale - now $50.37




- was

$83.95



The Outdoor Research Women's HighCamp Glove takes your high-energy attitude towards work and play to a new level. You can bike to work year-round or nail a new climbing route in Ouray in this waterproof, breathable, and darn-tootin' warm glove. The removable liner and insulated, weatherproof outer glove add late-fall through early-spring versatility. The shell uses Ventia Dry, a breathable and waterproof barrier against rain, snow and wind when conditions demand nothing less. PrimaLoft One insul more...




---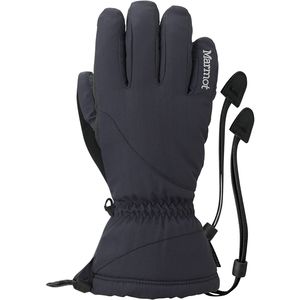 Marmot Flurry Glove - Women's


$84.95



Heavy snow, light flurries, or even (horrors) snow mixed with rain--no matter what's coming out of the sky, the Gore-Tex insert in the Marmot Women's Flurry Glove keeps it out. And for those frigid bluebird days, count on the Thermal R insulation and cozy high-loft fleece lining to keep your digits happy as you lap the chairlift. more...




---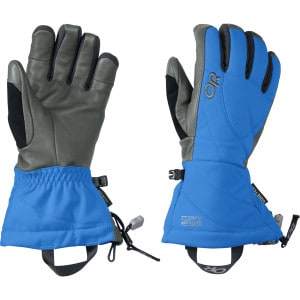 Outdoor Research Southback Glove - Women's


$84.95



The Outdoor Research Southback Glove is the kind of glove that you can wear every day of the season without having to worry if your hand is going to freeze off by lunch. Outdoor Research put the insulation exactly where you need it to concentrate the heat where you need it, then gave the Southback a guaranteed waterproof breathable membrane to let moisture out while guarding against Mother Nature's most insidious attacks. more...




---
Outdoor Research Arete Glove - Women's


On sale - now $53.37




- was

$88.95



Boasting a waterproof breathable Gore-Tex membrane and a removable 100-weight fleece liner, the Outdoor Research Women's Arete Gloves are ideal for skiing, snowboarding, winter travel, and backcountry adventures. more...




---
Black Diamond Squad Glove - Women's


On sale - now $46.28




- was

$89.95



You just cashed in a sick day to reap the rewards of the last huge storm, so now it's time to reach for the insulated Black Diamond Women's Squad Glove with a Gore-Tex membrane and keep your hand warm and dry. An over-the-cuff design cinches around your wrist to keep the snow out, and generous leather reinforcement protects your hand from damage when you dip into the trees. In-bounds riding just got a whole lot more enjoyable thanks to the Squad glove. more...




---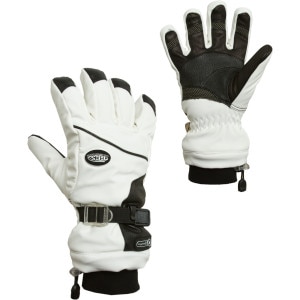 Grandoe GCS Primo Elite Glove - Women's


$89.95



Wear the GCS Women's Primo Elite Glove with the fleece liner during chilly winter storms, and zip out the liner and wear just the shell on slushy spring days. more...




---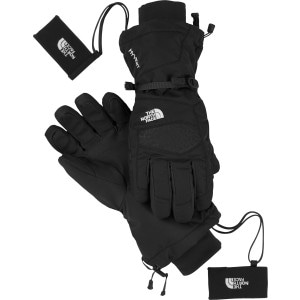 The North Face Triclimate Glove - Women's


$89.95



True to the Triclimate design, The North Face Women's Triclimate Glove features a removable liner for double the pleasurable comfort. The exterior shell is burly nylon oxford and faux leather palm armed with a HyVent waterproof, breathable insert to repel snow. Inside is cozy-warm Heatseeker insulation to prevent frozen finger-pops. And the four-way stretch FlashDry removable liner provides moisture-wicking comfort to keep your hands dry and happy from the inside-out. This Radimetric-articulated more...




---
Black Diamond Fever Glove - Women's


On sale - now $39.98




- was

$99.95



You have powder sickness and the only prescription is the Black Diamond Women's Fever Glove, its Gore-Tex membrane, and endless days diving into waist-deep snow. Designed specifically for women who enjoy extra warmth, the Fever Glove rocks a heater pocket, supreme flexibility to help with circulation, and ample insulation. After all, the only thing worse than calling it early because of cold toes is calling it early because of cold fingers. more...




---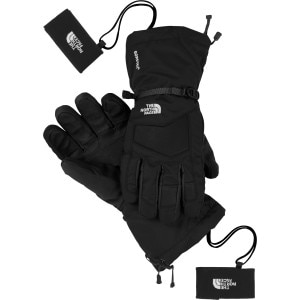 The North Face Powderflo Gloves - Women's


$99.95



The perfect powder day is all about being in the moment, forgetting about everything except that next turn, that next face shot. The North Face know that nothing ruins your pow-day zen like frozen fingers, so it designed the Women's Powderflo Glove to keep you warm and dry in the cold-smokiest conditions. Built with a women-specific design with full articulation, the Powderflo has Heatseeker insulation on the palm and back of the hand and a waterproof, breathable Gore-Tex insert to keep heat in more...