---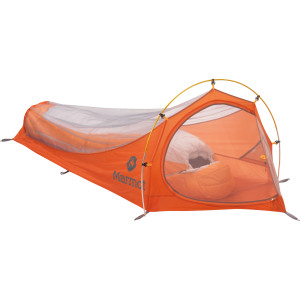 Marmot Mesh Bivy


$128.95



Wander off into the great unknown with the Marmot Mesh Bivy, and camp anywhere you please without worrying about mosquitoes sucking you dry. A pole provides head room so you don't have fabric in your face all night. more...




---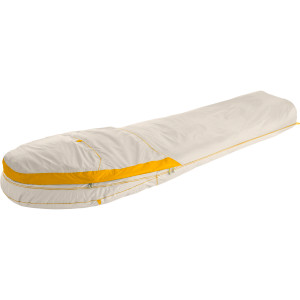 The North Face Simple Bivy - 1-Person 3-Season


$148.95



It's truly simple. When you're going ultralight and untethered, you go with The North Face Simple Bivy. This sleek bivy features DryWall, strong, weather-resistant, lightweight construction, so you stay dry and comfortable when conditions get rough and open mesh over the face, so you can breathe the pristine air. The extra-large head area offers enough space to store a small pack and gear, for a minimalist's version of essential shelter. more...




---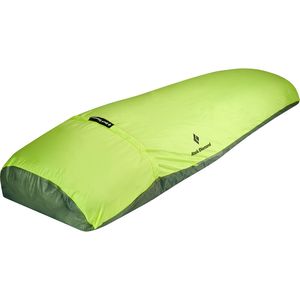 Black Diamond Twilight Bivy


$149.95



When the wind and rain start to blow during your solo mission, reach into your pack, and pull out the super-compact and lightweight Black Diamond Twilight Bivy. The water-resistant NanoShield fabric seals out the elements as it surrounds your sleeping bag and breathes better than virtually any water-phobic fabric on the market. A zippered opening at the shoulders provides easy access and lets you sit up to stretch your aching muscles in the middle of the night. more...




---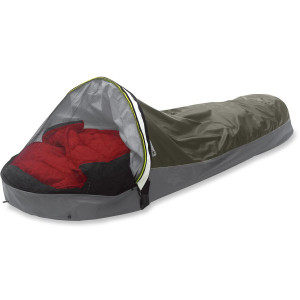 Outdoor Research Highland Bivy


$159.95



When 'making camp' involves rolling out your sleeping bag and promptly passing out after an exhausting day on the trail, add some weather and insect protection with the Outdoor Research Highland Bivy. This lightweight sack features waterproof breathable Pertex shell fabric as well as a mesh panel opening for full ventilation. more...




---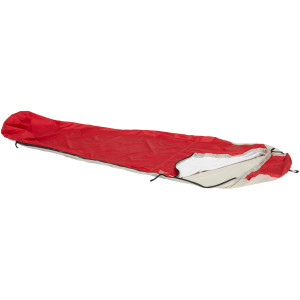 Mountain Hardwear Dry.Q Bivy Sack


$184.95



Stay warm and dry as you sleep under the stars in the Mountain Hardwear Dry.Q Bivy. The waterproof breathable Dry.Q Core fabric, taped seams, and DWR-treated zippers keep the weather out and boost the warmth of your bag. Just zip your mummy bag with a compatible 70-inch zipper into it, cinch down the hood, and recharge for another day on the trail. more...




---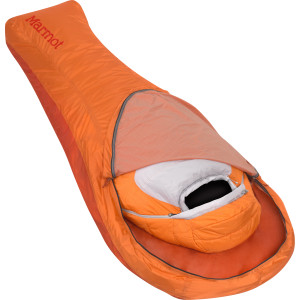 Marmot Alpinist Bivy


$198.95



Your kit is ultralight, you move fast, and you have to be ready to sleep anywhere from soggy snow caves to drippy granite slabs. Sounds like you're the perfect candidate for the Marmot Alpinist Bivy. Weighing in at just 14-ounces and packing down to about the size of a water bottle, this bivy offers serious light-and-fast advantages over your tent. Marmot's own waterproof breathable fabric fends off foul weather without leaving you sweating underneath when the skies clear. All you really need is more...




---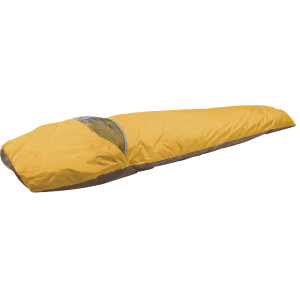 MSR AC Bivy


$199.95



No matter what the season, some prefer to go it alone in the mountains. And for minimalists of that mindset, MSR created the all-weather AC Bivy and outfitted it with a waterproof breathable top and a DuraShield-coated floor. Top and bottom protection from rain, sleet, snow, and wind is vital, but all is lost if you sweat to death during the first five minutes inside. To this end, the AC uses a zippered mesh closure that helps to vent some of that hot air out and away. Slide your sleeping bag in more...




---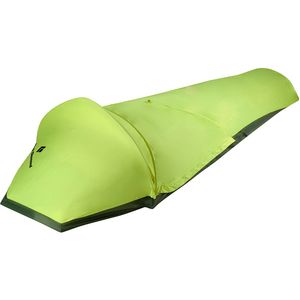 Black Diamond Spotlight Bivy


$219.95



If you count every gram but are still too claustrophobic to sleep with material hanging on your face, the Black Diamond Spotlight Bivy is the answer to your shelter needs. A single DAC featherlite aluminum pole slides in to provide you with plenty of headroom. The Spotlight's large zippered entry point makes it easy to slide in and out of. Breathing wont be a problem thanks to the ventilation of a mesh awning in combination with the performance of Black Diamond's highly breathable and waterproof more...




---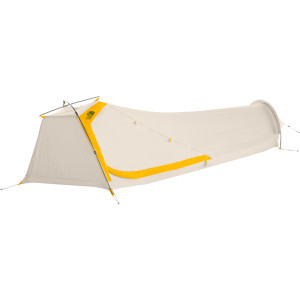 The North Face Asylum Bivy - 1-Person 3-Season


$228.95



Waking up to find your bivy sack in a puddle can bring your body and mind to the breaking point. That's why The North Face developed the three-season Asylum Bivy with highly water-resistant and breathable DryWall fabric. New for 2011, this lightweight, single-wall fabric prevents spring showers from getting in thanks to its fully taped seams and PU-coated floor. In addition to repelling the elements, DryWall fabic is also exceptionally breathable to prevent unwanted condensation during summer ni more...




---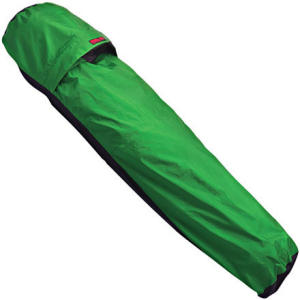 Black Diamond Hooped Bivy Sack


$229.95



The super light Black Diamond Hooped Bivy Sack is designed for climbers, bicyclists, and ultralight fanatics. The sewn-in flexible wire hoop keeps the top fabric vaulted above your face so that there are no poles to set up and no parts to lose. Todd-Tex waterproof breathable fabric provides protection from rain and snow while allowing the breathability necessary for a comfortable, moisture-free night. At just 26 ounces, this durable, storm-proof shelter also serves as an ideal insurance policy f more...




---
Black Diamond Big Wall Hooped Bivy Bag


$239.95



Over the years, the Black Diamond Big Wall Hooped Bivy has become a favorite for alpine and big wall climbers throughout the world. This minimalist shelter is designed for harsh environments and technical climbs. The wire reinforcement in the hood cuts down on claustrophobia, while the Todd-Tex fabric keeps you dry. Climbers love the Big Wall Hooped Bivy for its full-strength tie-in point, which allows you to stay clipped in and sealed off at the same time. more...




---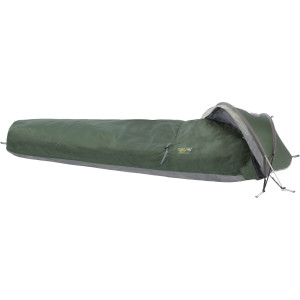 Mountain Hardwear Ethereal Bivy


$249.95



Mountain Hardwear designed the Ethereal Bivy to end the rainy-day blues for the ultralight crowd. The Ethereal sets up easily in a surprise storm and won't take up a ton of pack space. more...




---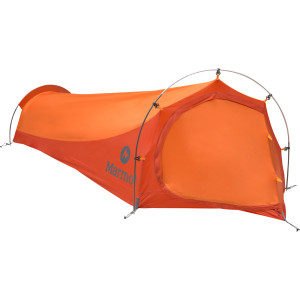 Marmot Home Alone Bivy


$268.95



The Marmot Home Alone Bivy weighs well under two pounds and manages to keep you protected from the elements and comfortably covered so you can sleep in peace. Landing somewhere between a roomy bivy and a solo tent, this shelter is lightweight and ready-to-move when it's time to cover lots of ground. more...




---
Black Diamond Bipod Bivy Bag


$269.95



The Black Diamond Bipod Bivy is supremely functional, plenty comfortable, and totally ready to help you take on your next solo trek. An aluminum pole arches over the head and shoulder area to provide a roomy space so you won't feel claustrophobic. A large zippered entry on the Bipod Bivy provides easy access and great ventilation, and it rolls back to reveal a generously sized, no-see-um net panel. ToddTex waterproof breathable fabric provides protection from rain and snow while allowing the bre more...




---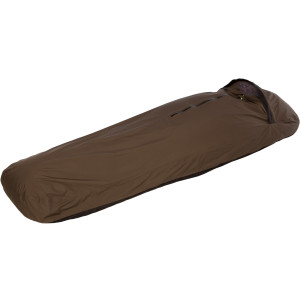 Integral Designs Bugaboo II Bivy


$274.95



The joy of sleeping directly beneath the stars melts away when a storm rolls in overnight. But if you slip your bag and your tired self inside the Integral Designs Bugaboo II Bivy then you can keep snoring as the rain beads off and rolls onto the ground. Built for most backpacking or climbing situations, this wide bivy can fit your puffy down sleeping bag during big wall ascents as well as help to keep the bugs away during summer light-packing trips. Weatherproof breathable fabric, zippered T-en more...




---
Integral Designs South Col II Bivy


$279.95



When battling a giant rock face for a few days, sleep is mandatory. The Integral Designs South Col II Bivy lets you hunker down for some shut-eye while out on a ledge. Its venting armholes enable comfort once you zip up the center water-resistant zipper, and a weatherproof tie-in hole keeps you anchored if the storm blows in overnight. Weighing in at just over a pound, this bivy provides overnight protection with minimal weight for big-wall climbing or mountaineering. more...




---
Adventure Medical SOL Thermal Bivvy


$29.95



The lightweight Adventure Medical Thermal Bivvy reflects 80% of your body heat right back at you, so you can stay warm whether you're backpacking in summer weather or 'enjoying' an unexpected night or two in the woods. The non-woven material is stronger and more durable than typical Mylar survival blankets, so you can use it more than once. more...




---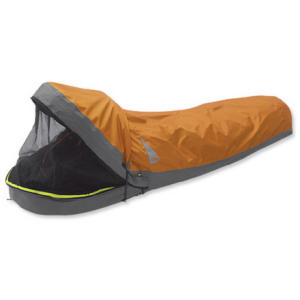 Outdoor Research Advanced Bivy


$319.95



Take a break from the storm in the Outdoor Research Advanced Bivy, a lightweight option for solo backpackers and peak baggers. The innovative two-pole design creates an adjustable awning. This adjustability allows you to modify the angle of the overhead roof, and thus the size of the zipper opening, to match your environmental conditions. Rain or snow runs down the roof off this waterproof, windproof bivy's wide storm flap and onto the ground. When wind kicks up, reduce the zipper opening to pre more...




---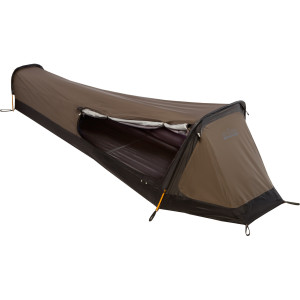 Integral Designs Nestor Bivy


$359.95



If sleeping in a glorified body bag doesn't feel right, you can pitch the weatherproof Integral Designs Nestor Bivy and get the space you desire without carrying the weight of a tent while backpacking or climbing. This tunnel-like bivy keeps the showers off and your claustrophobia at bay, and uses two poles to provide a comfortable 23.6-inch ceiling. A large mesh window and breathable fabric provide ventilation during summer backpacking trips while the long length provides a little room to keep more...




---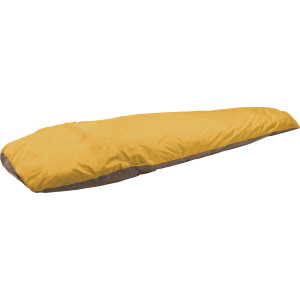 MSR E-Bivy


$99.95



MSR increased the breathability of the 9-ounce E-Bivy so you can slumber soundly with minimal condensation inside this compact and ultralight shelter. A silnylon top fends off precipitation, while the DuraShield-coated bottom protects your sleeping bag from dew and frost. Those who fret over pack space can rest easy; the E-Bivy packs down to about the size of a soda can, but unpacks to a length fit for a wide range of high-loft sleeping bags. It's simple and effective, and it represents less of more...