Mens Clothing - Wind Pants
These Mens Clothing - Wind Pants are available from Backcountry.com ...who provide free shipping for orders over $50 and have an Unlimited Return Policy.
Prices correct at time of writing - subject to change
---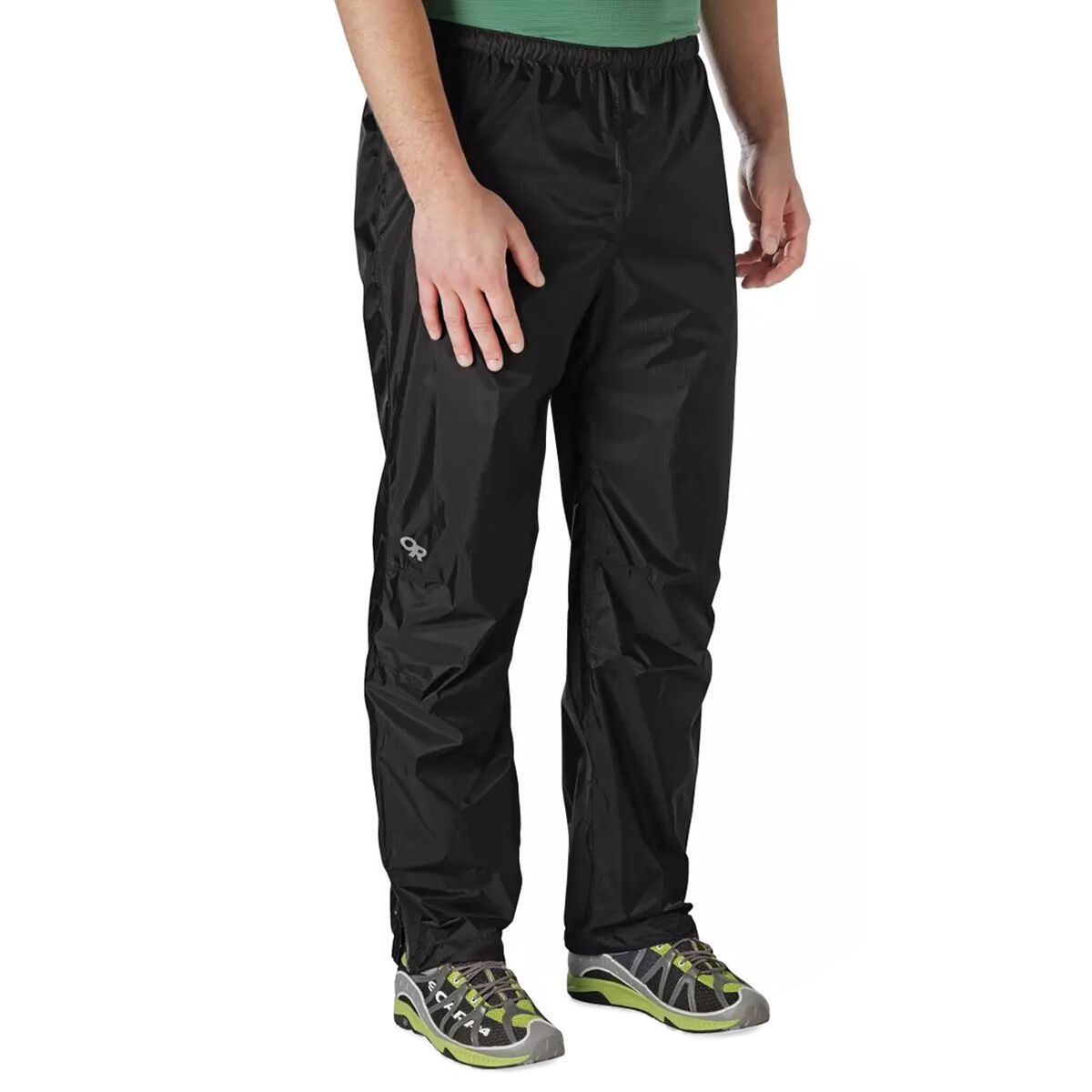 Outdoor Research Helium Pant - Men's Black
$118.95

The Outdoor Research Men's Helium Pant provides protection from both passing showers and all-day deluges on the trail. This ultra-light and highly packable pant weighs a mere 5. 9 ounces, and it compresses to the size of a granola bar--making it ideal for
more...

---
Marmot Essence Pant - Men's Black
$129.95

The Marmot Men's Essence Pant has the protection you need to hike or trail run in rainy weather. A NanoPro MemBrain gives the Essence waterproof protection that remains highly breathable for intense activities, and fully taped seams enhance the Essence's
more...

---
Mountain Hardwear Stretch Ozonic Pant - Men's Black
$149.95

Don't get caught out in the rain unprepared. Take along the lightweight Mountain Hardwear Men's Stretch Ozonic Pants and hike with confidence. A DWR treatment on the Dry. Q Active stretch material helps to shed moisture and lets your body release its own
more...

---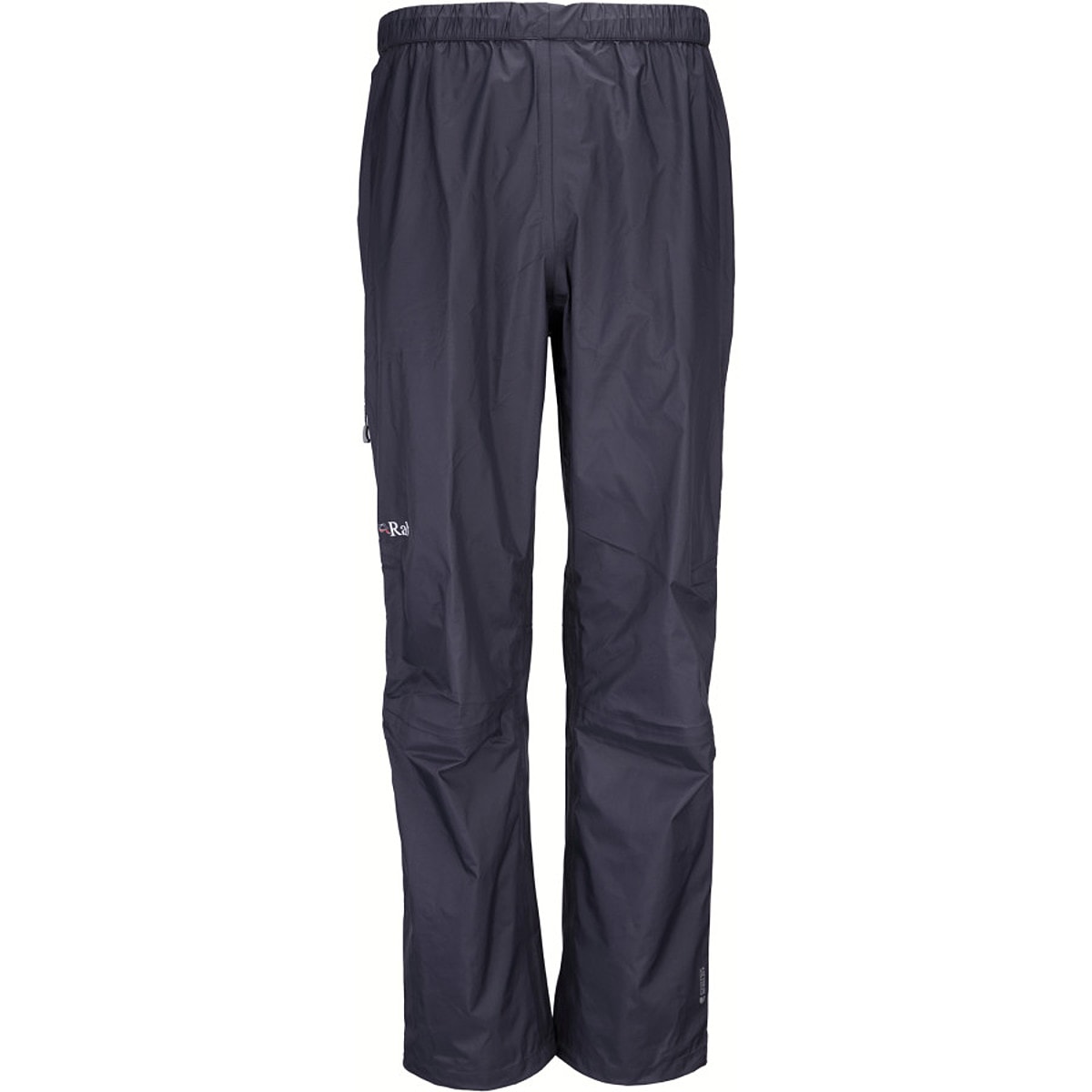 Rab Xiom Pant - Men's Beluga
On sale - now $119.96 - was $149.95

Slip on the Rab Men's Xion Pant for protection from heavy rain and gusty winds when you're trekking. These pants feature a waterproof Pertex Shield+ (3-layer) membrane to prevent all-day deluges from soaking your legs. Side 3/4-length zippers allow you to
more...

---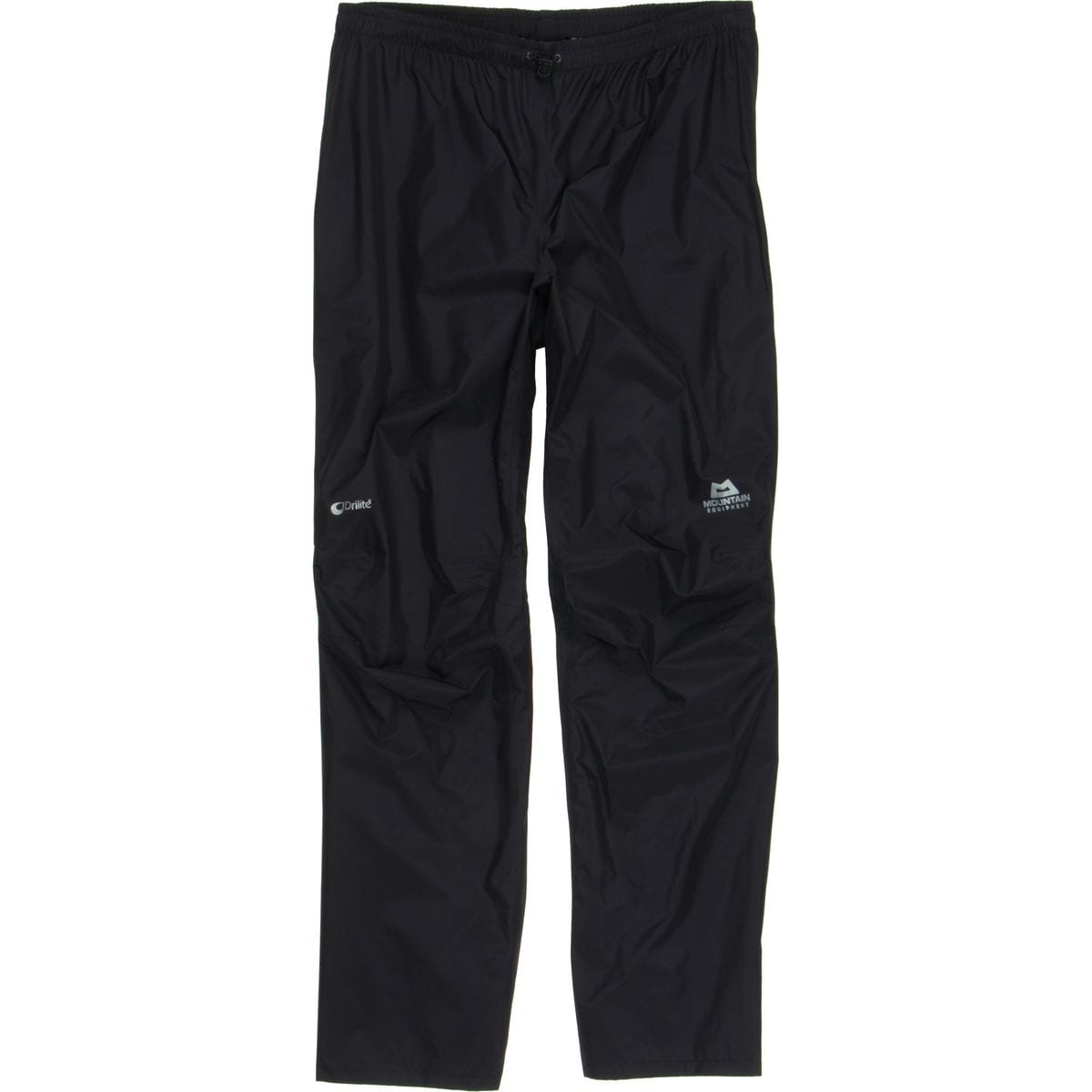 Mountain Equipment Aeon Pant - Men's Black
$159.95

Keep the Mountain Equipment Men's Aeon Pant easily accessible in your backpack just in case it starts raining while you're hiking. Mountain Equipment inserted a highly rated waterproof breathable Drilite membrane to keep your lower half dry. An alpine fit
more...

---
Marmot Minimalist Pant - Men's Black
$164.95

When you want protection from the elements without extra bulk, pull on the Marmot Minimalist Pant. Marmot built the Minimalist with Gore-Tex Paclite fabric for the adventurer who knows they want to make miles without lugging extra weight. Fully -taped sea
more...

---
Montane Minimus Pant - Men's Black
$164.95

Montane believes you shouldn't have to choose between being wet from the rain or being wet from sweaty, heat-trapping rainpants. That's why it built the Minimus Pant. Take the water-resistant, breathable Minimus on your next alpine adventure and don't wor
more...

---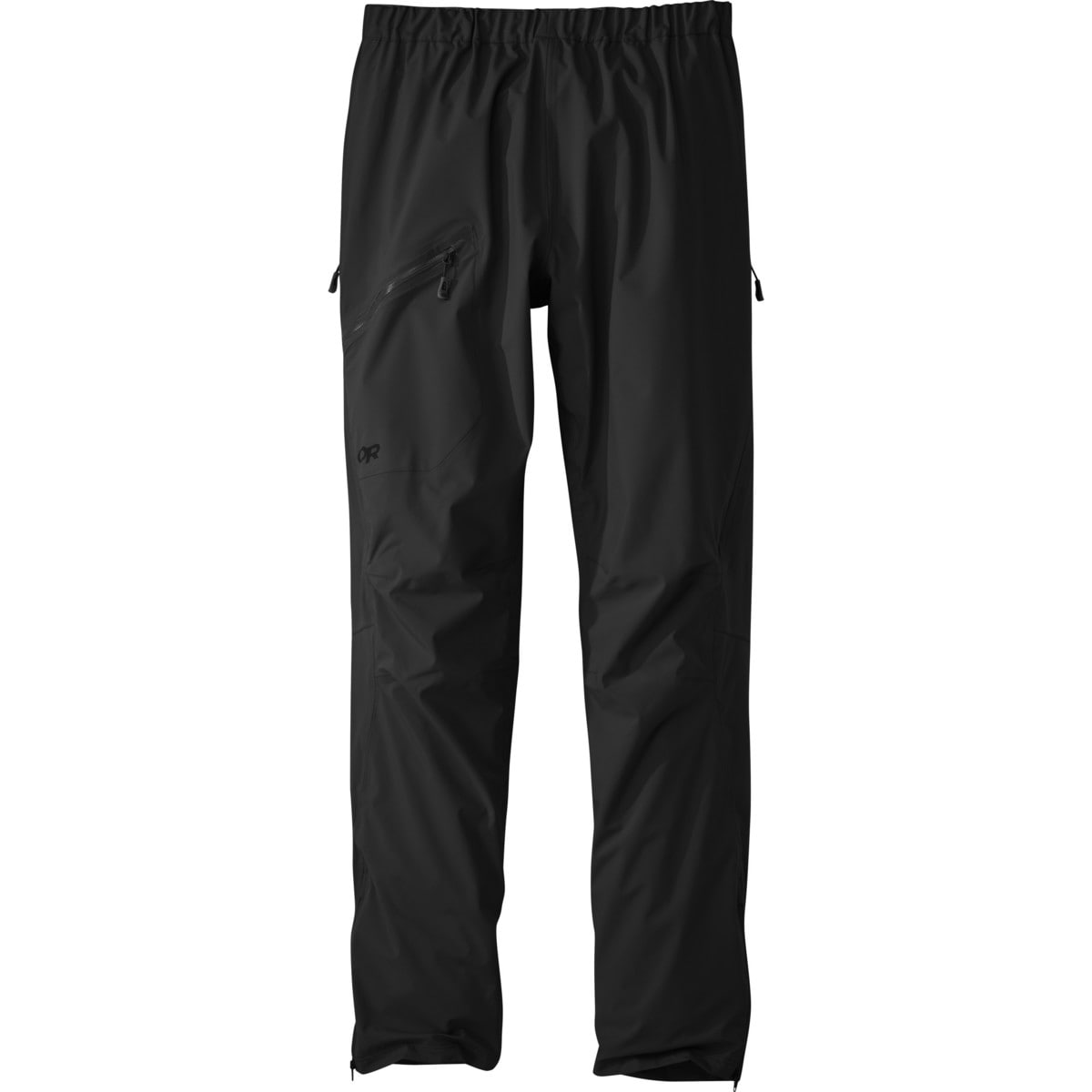 Outdoor Research Allout Pant - Men's Black
$168.95

Outdoor Research designed the Men's Allout Pant for fast pursuits in the alpine, whether you're climbing, skiing, or running. Its three-layer Ventia softshell fabric stretches for mobility and offers high levels of breathability for comfort. Fully taped s
more...

---
Outdoor Research Foray Pant - Men's Pewter
$174.95

Outdoor Research designed the Foray Pant to always be there when the sky opens up and you have nowhere to run. A guaranteed waterproof breathable Gore-Tex Paclite membrane makes the Foray impervious to weather while remaining lightweight and extremely pac
more...

---
Arc'teryx Beta SL Pant - Men's Black
$198.95

When sudden cloud bursts send everyone running for cover, pull the Arc'teryx Men's Beta SL Pant out of your pack and keep your legs dry while you push on towards the hut. Gore-Tex Paclite will shield you from the rain and, since it's the lightest fabric G
more...

---
Black Diamond Liquid Point Pant - Men's Black
On sale - now $139.3 - was $199

The lightweight Men's Liquid Point Pants from Black Diamond are easily packable, making them ideal for adventurous forays into unknown territory. A Gore-Tex PacLite membrane keeps you protected from weather, and the nylon outer fabric is treated with a du
more...

---
Patagonia Super Cell Pant - Men's Black
On sale - now $159.2 - was $199

You never know when that perfect sunshiny day of trekking in the Sierras is going to turn into a deluge. Pack the Patagonia Men's Super Cell Pant and be ready for it. This versatile Gore-Tex pant features Paclite Technology and is both waterproof and brea
more...

---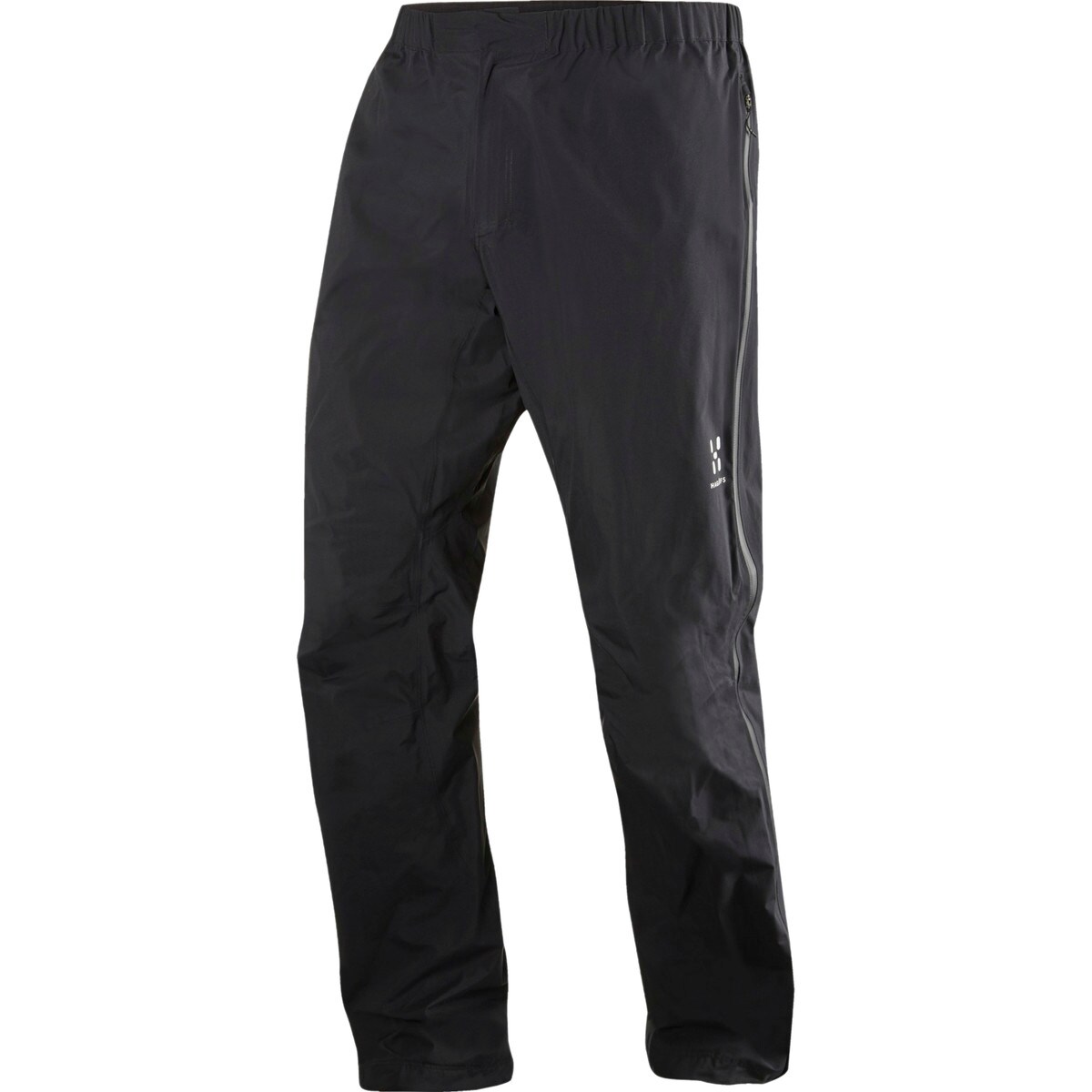 Hagl L.I.M. III Pant - Men's True Black
$239.95

When the only constant on your backpacking trip will be rain, be sure to bring the Haglofs Men's L. I. M. III Pants along. Lightweight, packable, and waterproof, these pants will provide on-demand protection from rain and wind. Their Gore-Tex Paclite shel
more...

---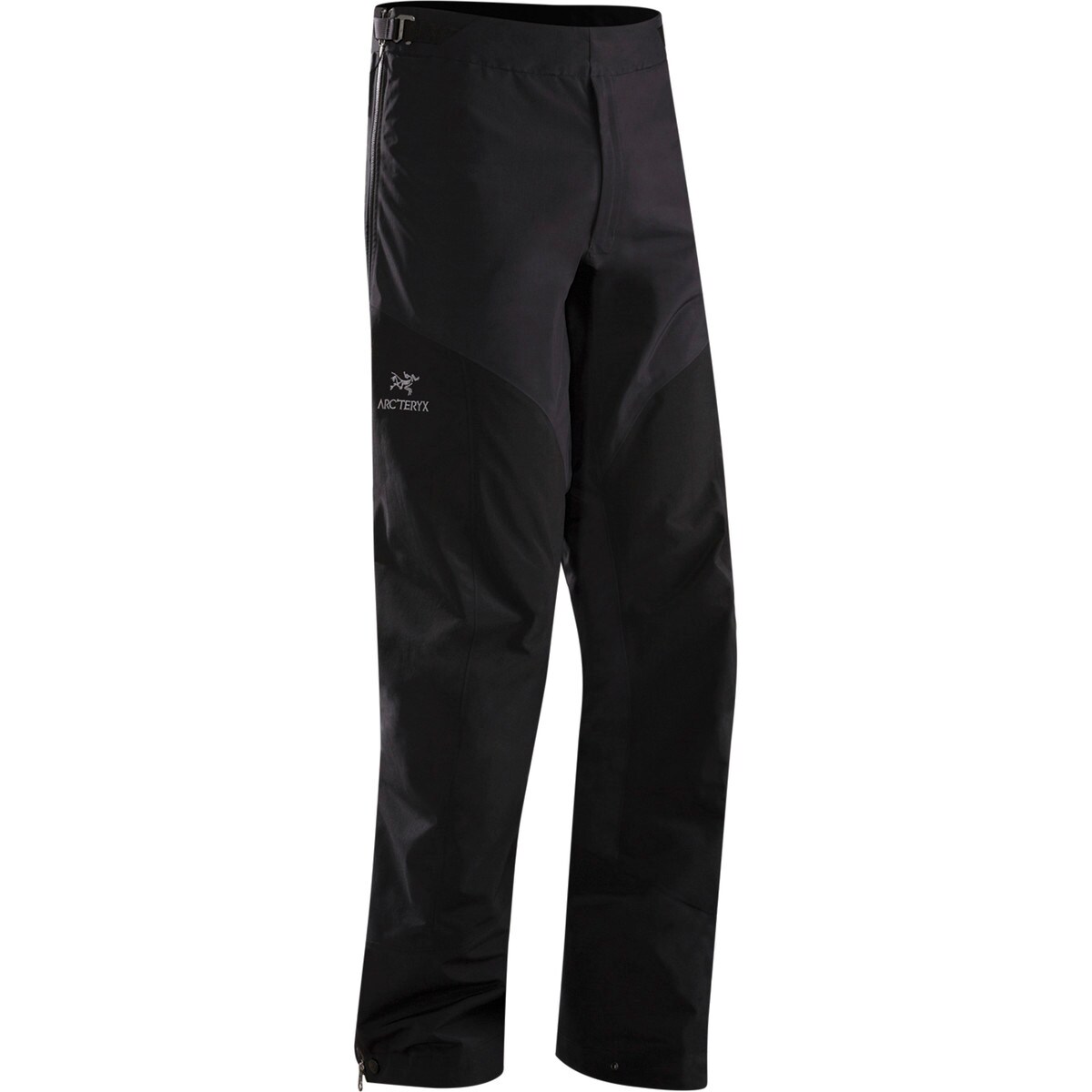 Arc'teryx Alpha SL Gore-Tex Pant - Men's Black
$258.95

It may be sunny, but the weather can change on a dime, so equip yourself with the Arc'teryx Men's Alpha SL Gore-Tex Pant when you head out into the backcountry. The windproof, waterproof, and breathable Gore-Tex Paclite 2L membrane protects you from the w
more...

---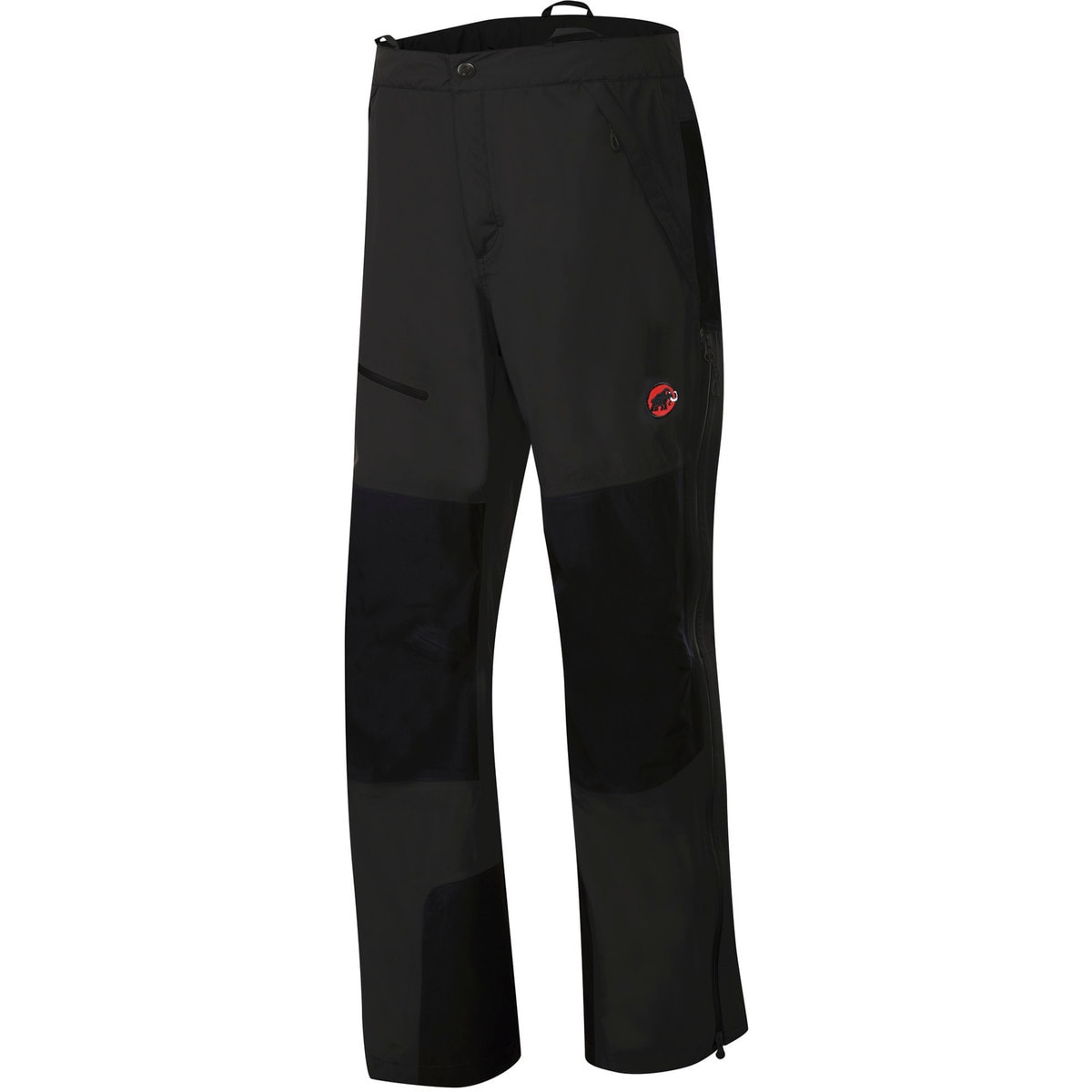 Mammut Convey Pant - Men's Graphite/Black
$259.95

The Mammut Men's Convey Pant features waterproofing for any condition, and it's lightweight and compressible for backpacking into the alpine. Mammut made the majority of the Convey with Gore-Tex's Paclite 2. 5-layer fabric for increased packability that d
more...

---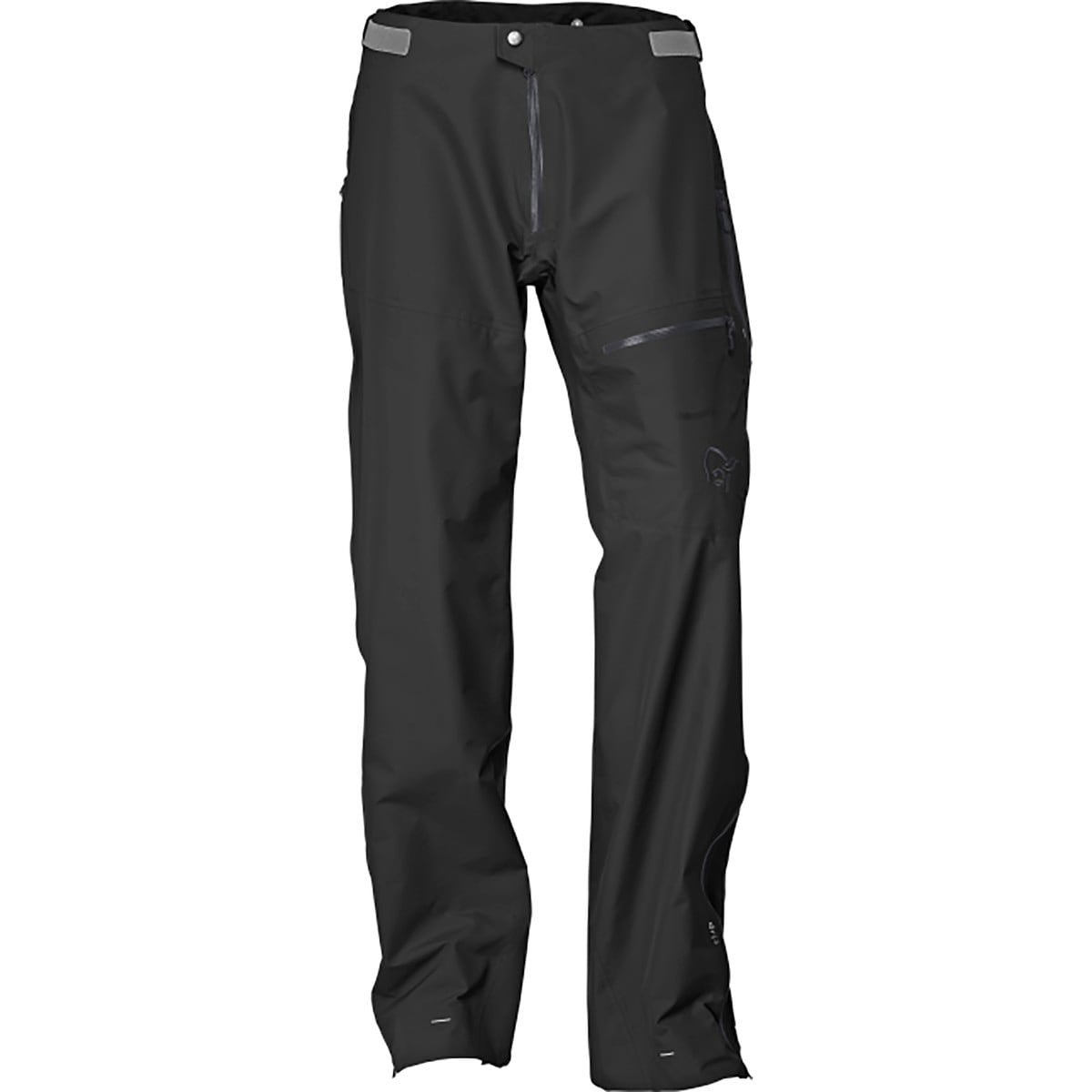 Norr Bitihorn Dri3 Pant - Men's Caviar
$268.95

If you consider grueling treks up steep slopes and dense underbrush a mellow day hike, then Norrona made the Men's Bitihorn Dri3 Pant for you. Designed for serious mountain enthusiasts, it features a Dri3 fabric that keeps weight to a minimum while provid
more...

---
Arc'teryx Zeta AR Pant - Men's Black
On sale - now $239.16 - was $298.95

You were not a den member but you firmly believe in always being prepared. The Arc'teryx Men's Zeta AR Pant is crafted from a mix of Gore-Tex fabrics for guaranteed waterproof and breathable protection so you're ready for whatever Mother Nature throws you
more...

---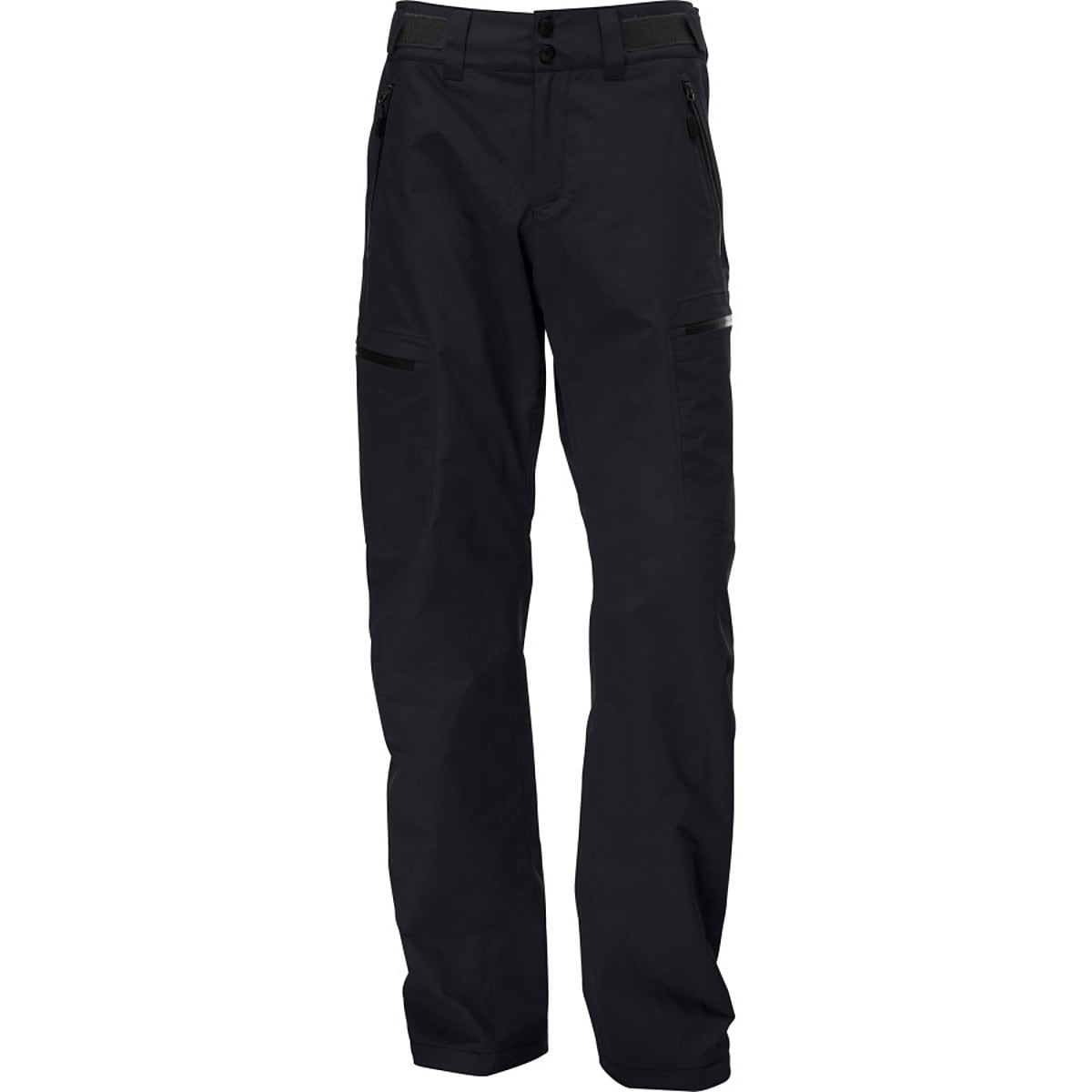 Norr Svalbard Gore-Tex Pant - Men's Caviar
On sale - now $232.46 - was $309.95

You never know where your next adventure is going to take you or what it's going to bring, so prepare yourself for anything with the Norrona Svalbard Men's Gore-Tex Pant. Featuring waterproof breathable Gore-Tex to keep you dry, the Svalbard is versatile
more...

---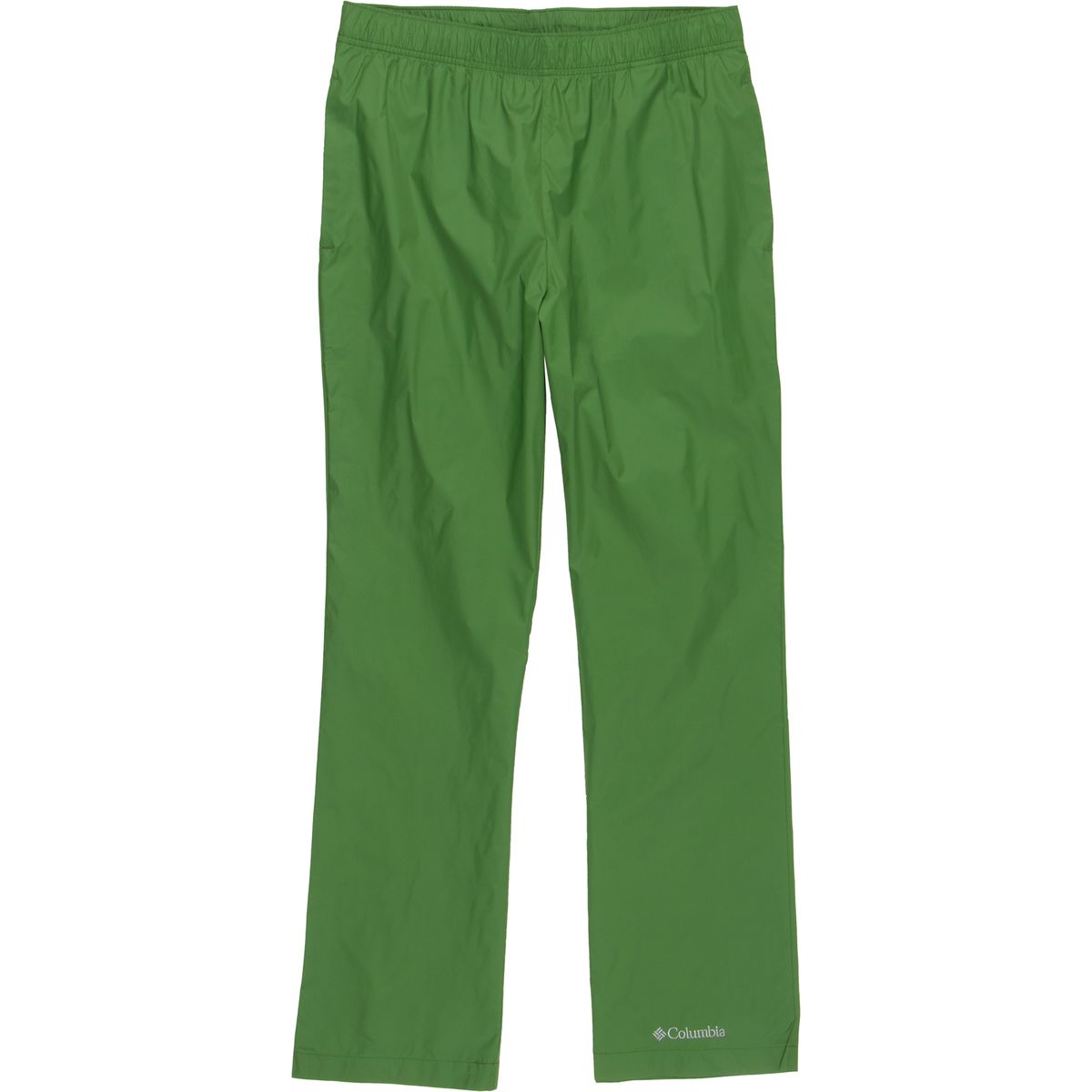 Columbia Glennaker Lake Rain Pant - Men's Dark Backcountry
On sale - now $27.99 - was $34.99

Throw a pair of Columbia Men's Glennaker Lake Rain Pants in your backpack when there's a chance of rain in the forecast. These pants pack into their back pocket, so you can be prepared without sacrificing a ton of space, even when you're only hiking with
more...

---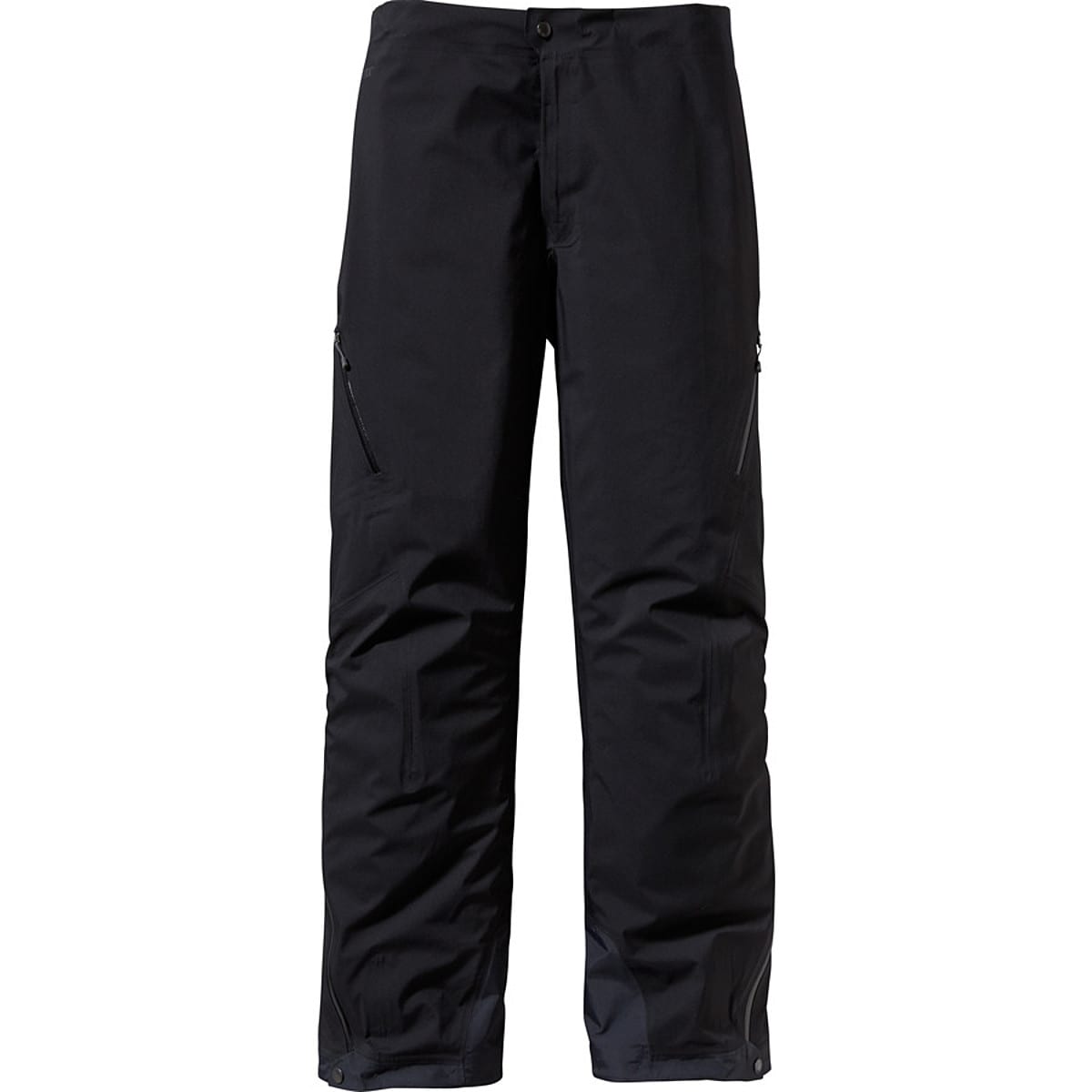 Patagonia Leashless Pant - Men's Black
$349

Weather windows slam shut faster than you can chug a post-climb beer, so you've got to be ready to put the hammer down when the clouds break and a few rays of sunshine hit the wall you've been lining up. Odds are the good weather will be gone again before
more...

---
Carhartt Mayne Bib Overall - Men's Green
$39.99

Rain gear should be designed to work, not be a bank-emptying fashion statement. The Carhartt Mayne Men's Bib Overall is simple, durable, and effective, with completely waterproof PVC fabric and electronically welded seams to keep you totally dry even in t
more...

---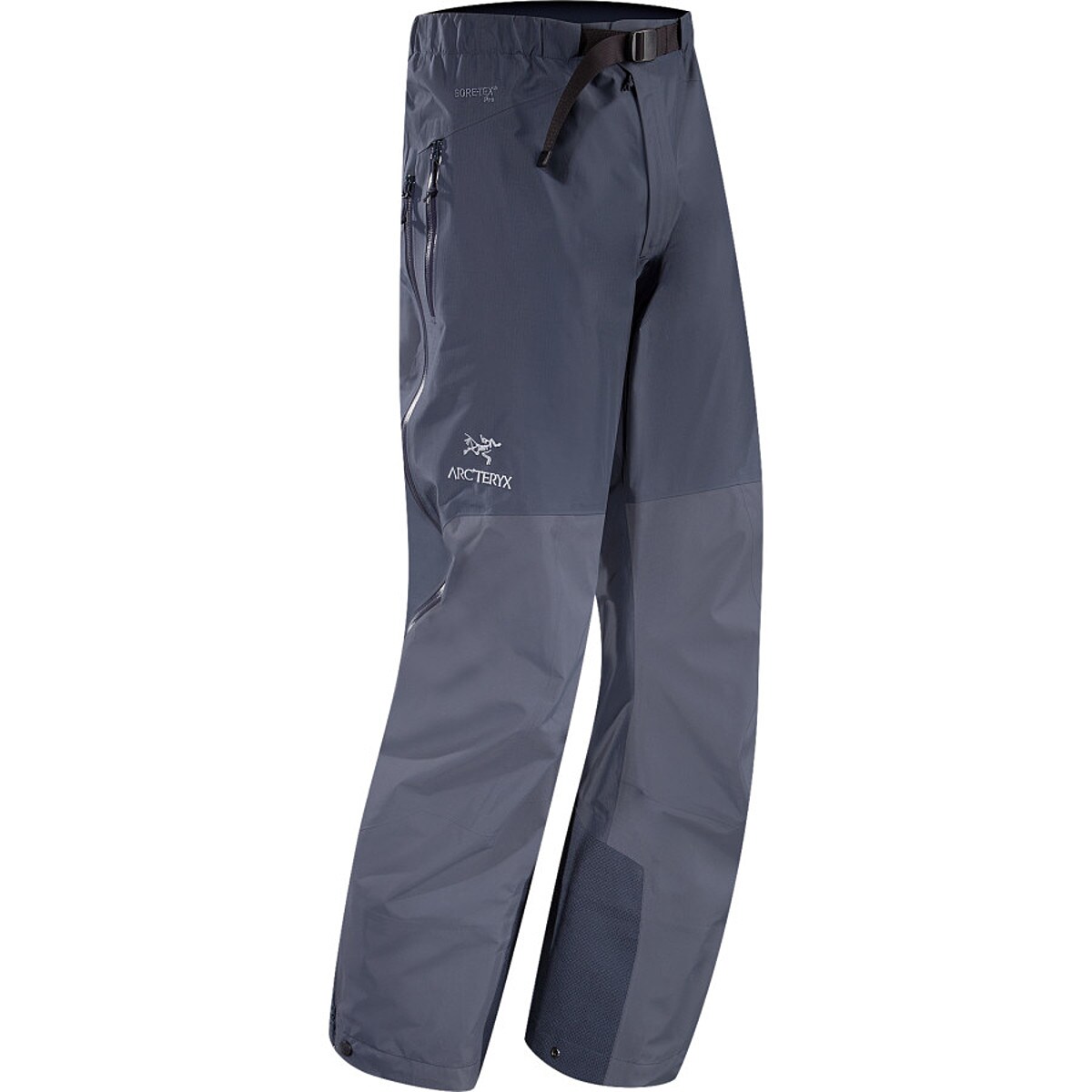 Arc'teryx Beta AR Pant - Men's Heron
On sale - now $319.16 - was $398.95

When you are the Arc'teryx Men's Beta AR Pant, life is pretty dang good. You relish in the fact that you are an elite snow pant that can take whatever hellish winter conditions your owner or the world can throw at you. No biggie. You were made with a thre
more...

---
Sierra Designs Microlight 2 Pant - Men's Black
$44.95

The lightweight and water-resistant Sierra Designs Men's Microlight 2 Pant blocks wind and moisture on in-town bike commutes and light rain on long day hikes. It's an ideal layer for traipsing around the globe because it is versatile, yet it packs down sm
more...

---
Columbia Rebel Roamer Pant - Men's Black
$50

You're not the average Joe who settles for getting wet in the rain--you expect more from your pants, which is why you wear the Columbia Rebel Romer Pant. The waterproof Omni-Tech, 70D nylon fabric keeps you dry when the weather is less than ideal, and the
more...

---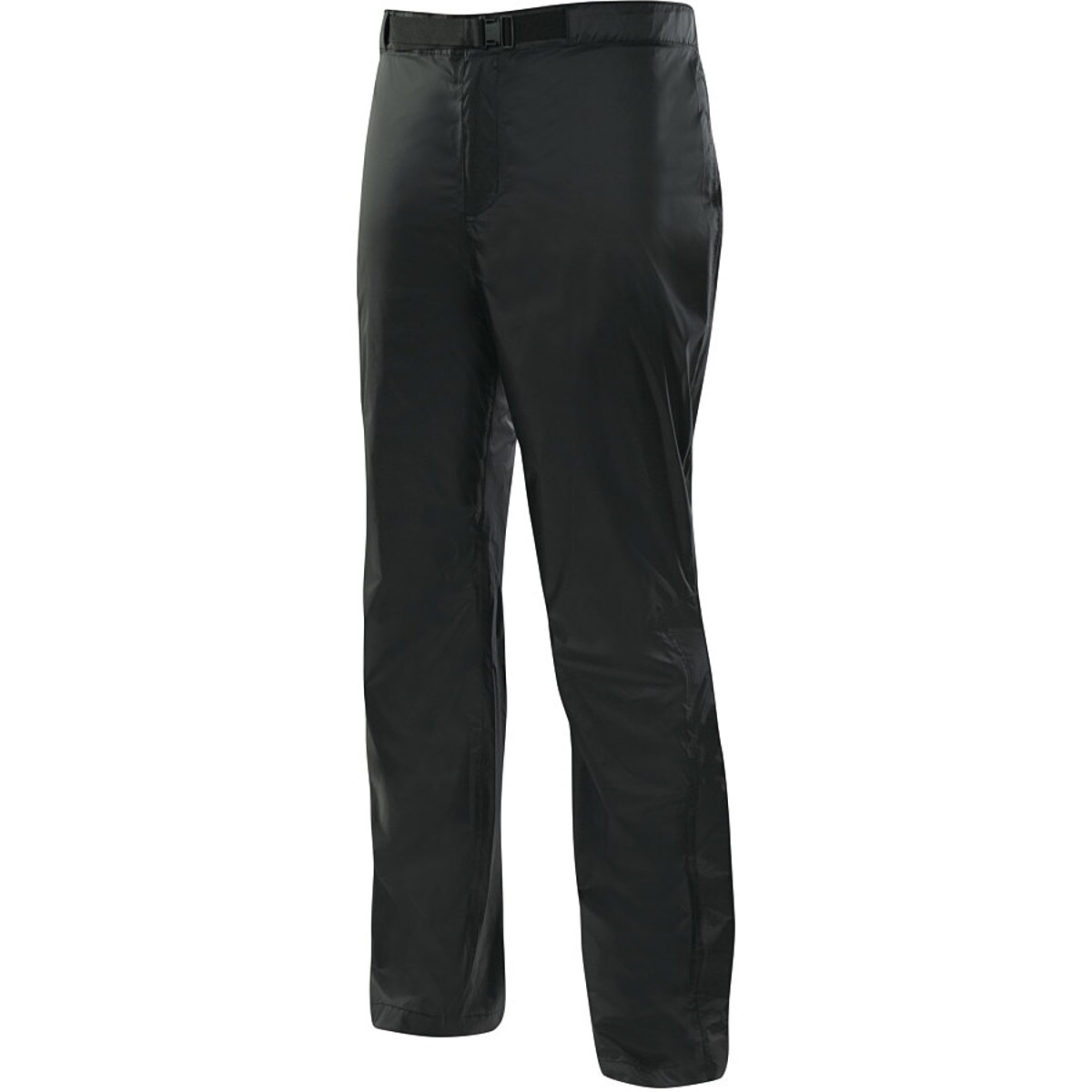 Sierra Designs Hurricane Pant - Men's Black
$68.95

When a storm strikes near the summit, grab the Sierra Designs Men's Hurricane Pant out of your pack and brave the weather. This lightweight rain pant has a durable nylon ripstop fabric with a DWR coating and a PU clear coat to keep you dry during a downpo
more...

---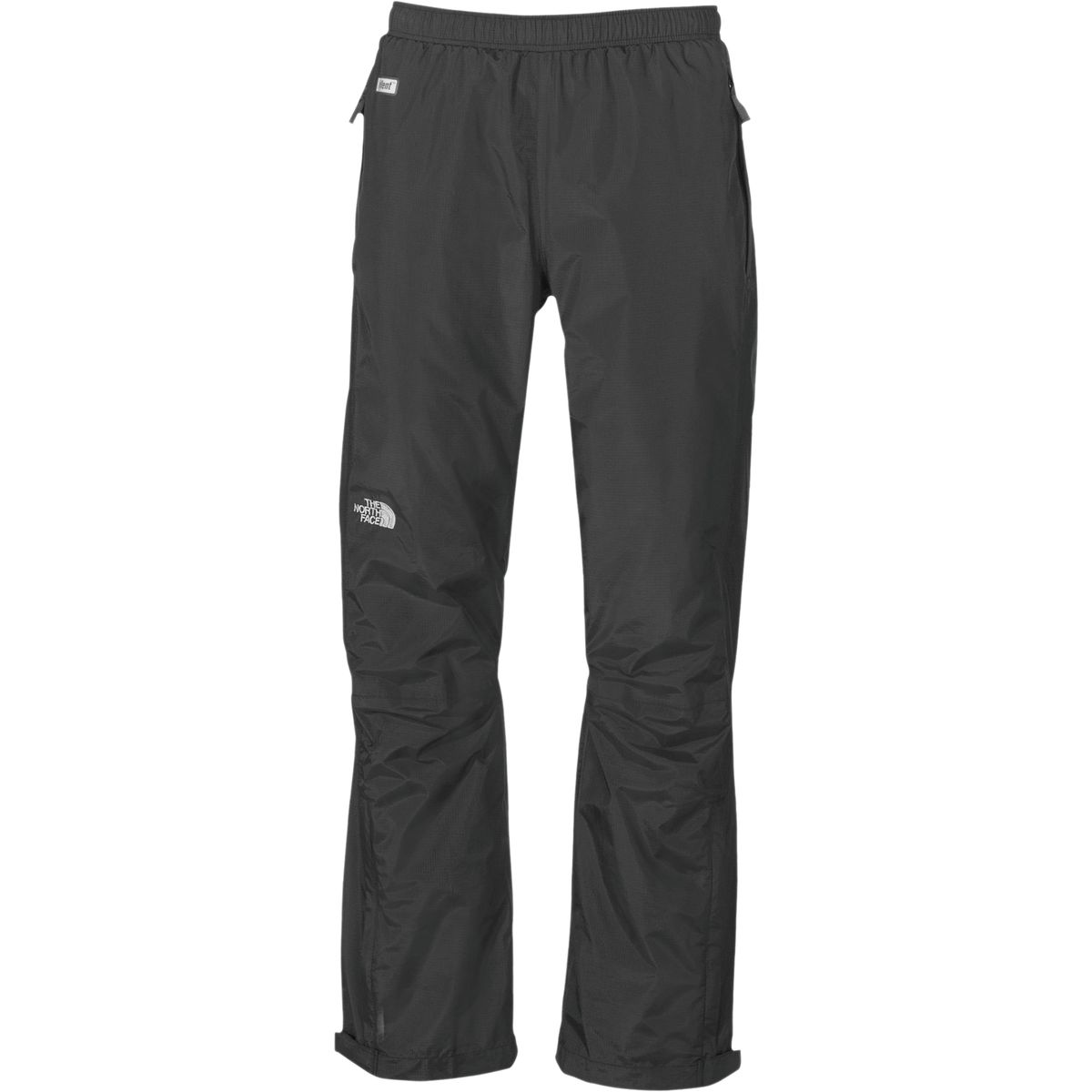 The North Face Resolve Pant - Men's Asphalt Grey
$69.95

Cram The Noth Face Men's Resolve Pant in your pack before your hike because those clouds rolling out over the mountains are starting to look pretty menacing. The tough nylon ripstop HyVent material is durable and lightweight, and the mesh lining is design
more...

---
Outdoor Research Rampart Pant - Men's Black
$74.95

The Outdoor Research Men's Rampart Pant offers no-frills performance in wet conditions and nasty weather. This two-layer pant features a waterproof Barrier membrane and fully taped seams to repel outside moisture when you're hiking and backpacking. Double
more...

---
Marmot PreCip Pant - Men's Black
$79.95

Sometimes, it rains. C'est la vie. The best thing you can do is be prepared and bring the Marmot PreCip Men's Pants with you when you're wandering around in the wilderness. Weighing under nine ounces, they won't slow you down, and they won't let you get s
more...

---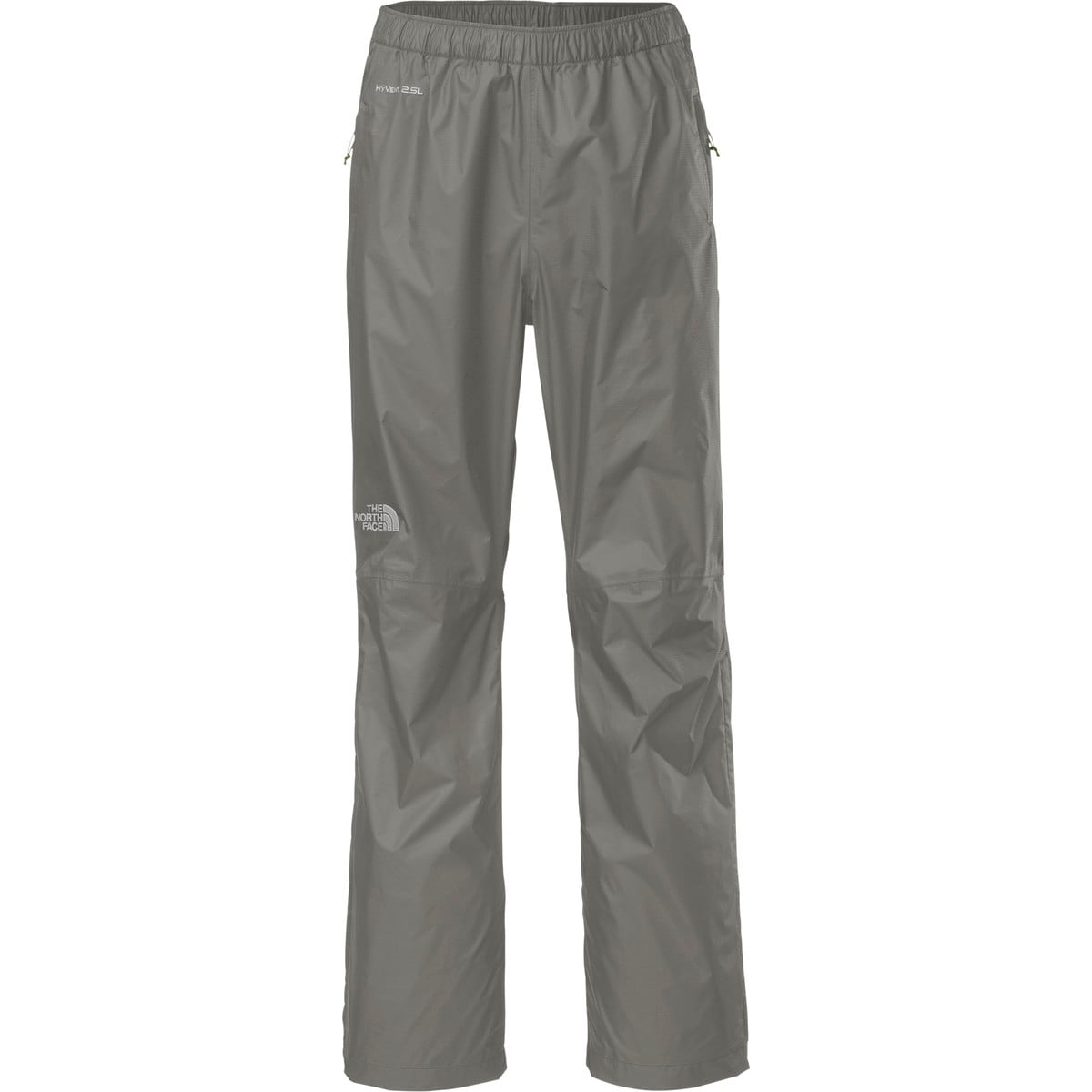 The North Face Venture 1/2-Zip Pant - Men's Sedona Sage Grey
$79.95

The North Face Men's Venture 1/2-Zip Pant thrives in rainy weather so you can hike, backpack, and camp in less-than-prime conditions comfortably. A fully taped HyVent shell gives the Venture the same waterproof protection that most ski pants have, and zip
more...

---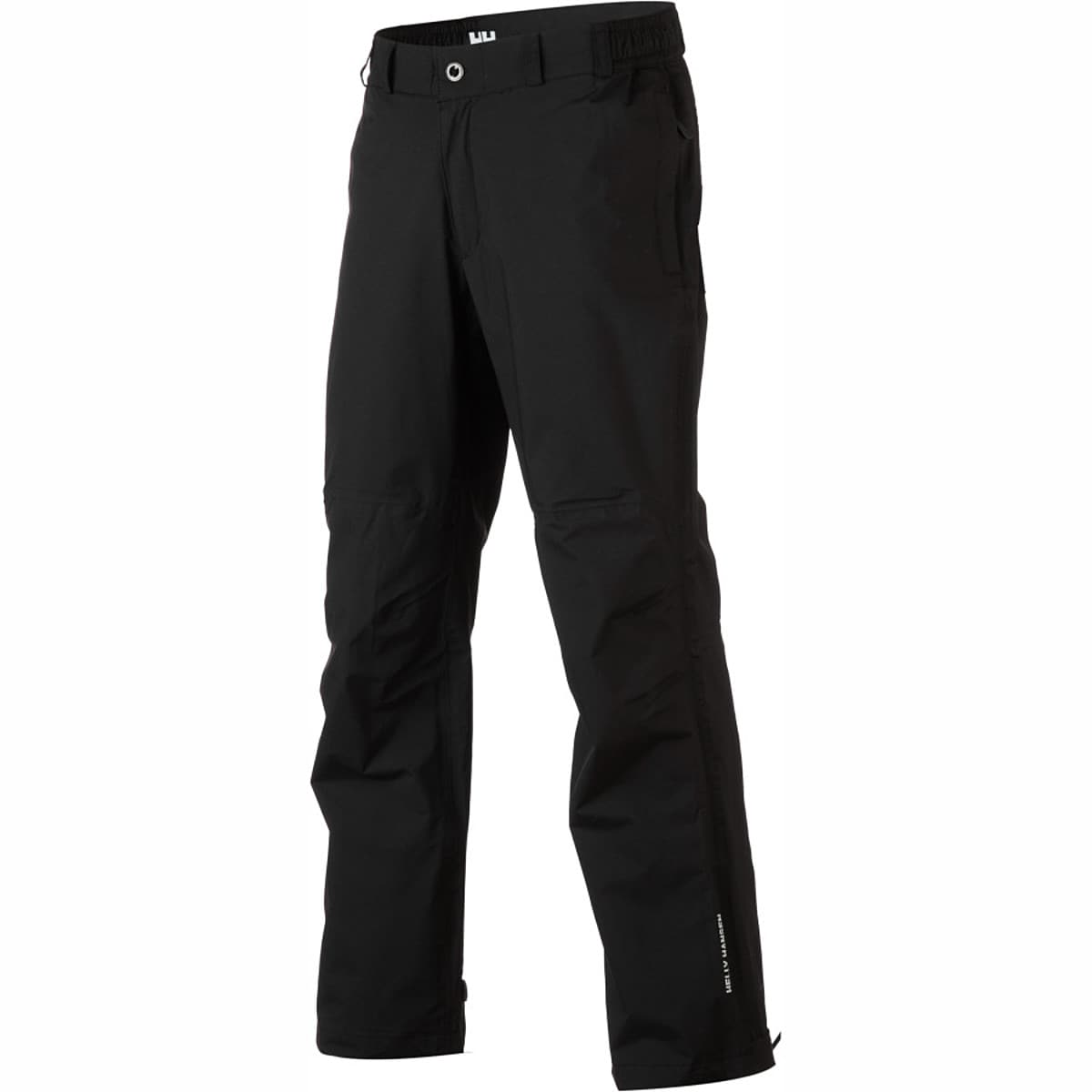 Helly Hansen Packable Pant - Men's Black
$84.95

The Helly Hansen Packable Pants give you portable protection from the rain so you stay dry in sudden storms or when tromping through rain-soaked vegetation. Breathable, Helly Tech 2ply fabric gives you burly protection, while the packable design means you
more...

---
Montane Featherlite Pant - Men's Black
$88.95

The Montane Men's Featherlite Pant provides lightweight protection when Mother Nature tries to rain on your parade. This 4oz (yes, you read right), windproof pant packs down to the size of an apple in the included stuff sac when skies are clear. Montane's
more...

---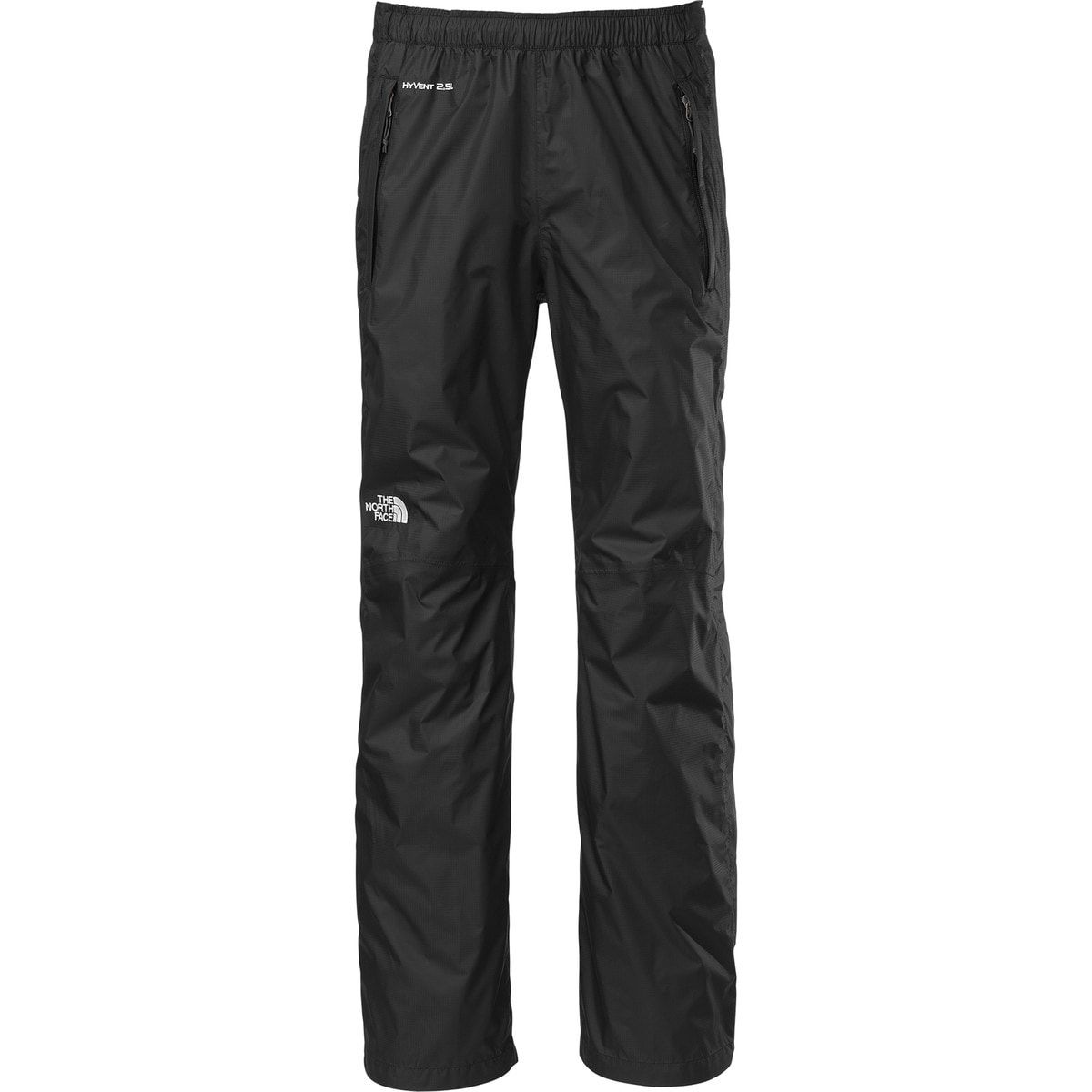 The North Face Venture Full Zip Pant - Men's TNF Black
On sale - now $79.16 - was $98.95

Full-length side zips make it quick and easy to pull on The North Face Men's Venture Side Zip Pant without having to take your boots off. Hikers and backpackers will love that this pant stashes into its own pocket, which makes packing it along on all your
more...

---
Patagonia Torrentshell Pant - Men's Black
$99

For your next backpacking trip, be prepared for rainy weather with the Patagonia Men's Torrentshell Pant. Made with Patagonia's highest level of waterproof protection, the Torrentshell Pant works to keep you bone-dry, has articulated knees for freedom of
more...

---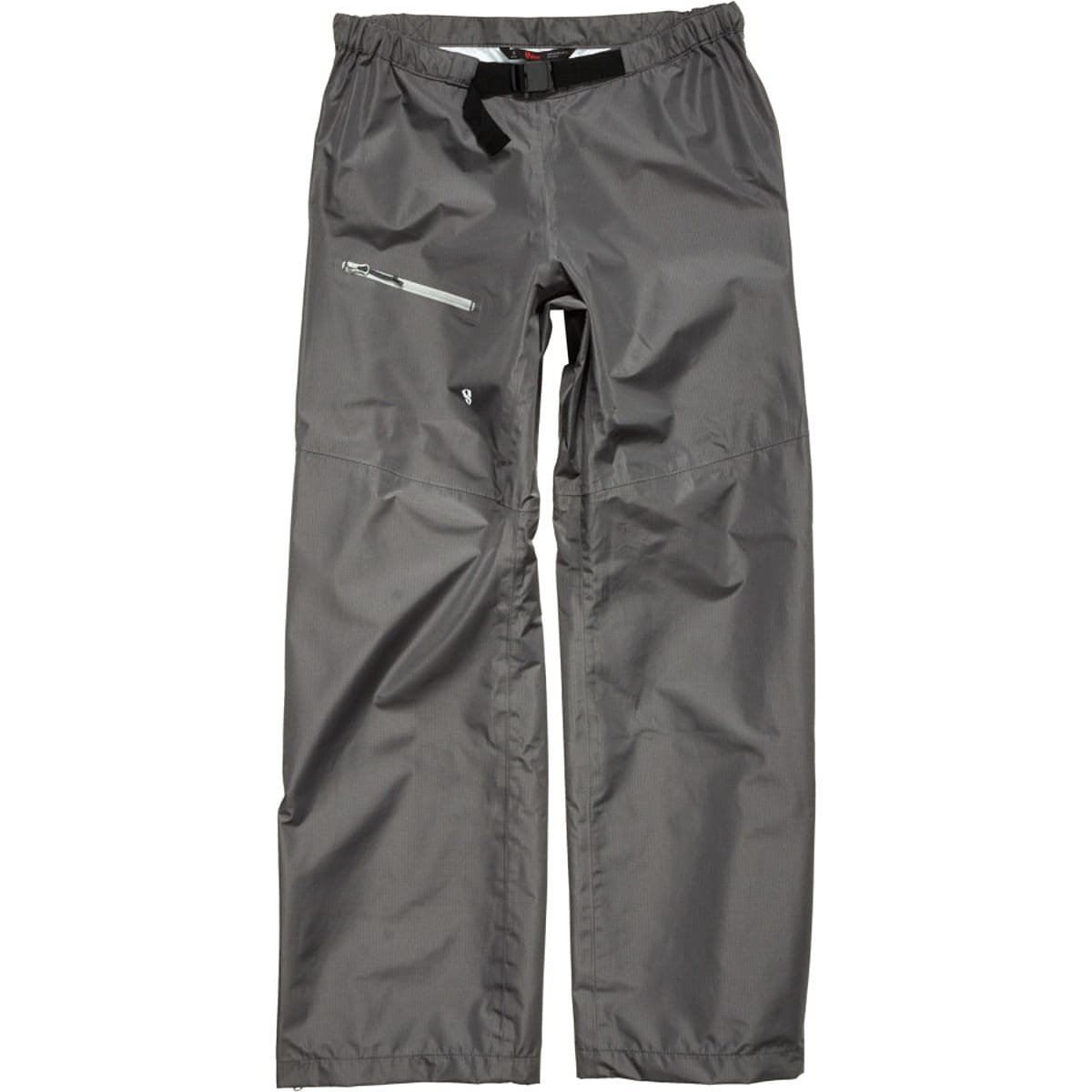 Stoic Vaporshell 3L Pant - Men's Charcoal/Nickel
On sale - now $74.25 - was $99

Push through driving rain and torrential downpours while the waterproof and highly breathable fabric of the Men's Vaporshell 3L Pant keeps you bone dry and comfortable. Stoic used fully welded construction in order to improve overall durability and weathe
more...

---
Patagonia Houdini Pant - Men's Black
$99

Now you don't see it, now you dowhen the wind kicks up and rain threatens in the middle of your run, unclip the little pouch attached to your hydration pack, unfurl the Patagonia Men's Houdini Pant, pull on instant protection. Weighing a magically low 3.
more...

---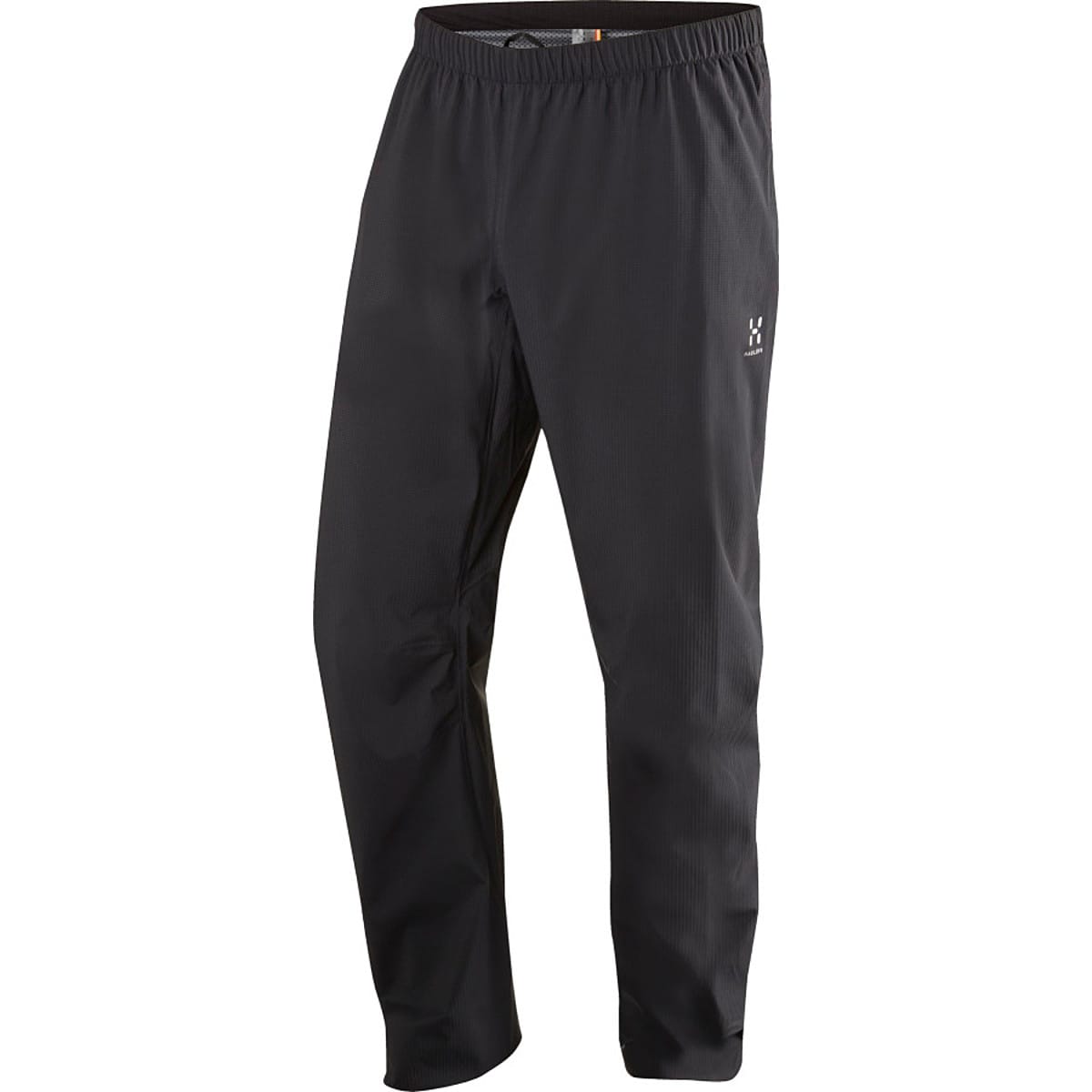 Hagl L.I.M Proof Pant - Men's True Black
$99.95

You're two days into your latest backpacking adventure and all of a sudden the skies have opened up something fierce. You could either run for cover and wait it out, wasting most of your day, or throw on the Men's L. I. M Proof Pants from Haglofs and laug
more...

---
Marmot PreCip Full-Zip Pant - Men's Black
$99.95

Worth their weight in gold (12oz of gold is worth a lot, right?), the Marmot PreCip Full-Zip Men's Pants will keep you drier than a Saharan summer for about the cost of a pound of sand. Marmot's NanoPro membrane is rated 10K waterproof and 17K breathable,
more...

---
Mountain Hardwear Plasmic Pant - Men's Black
$99.95

The Mountain Hardwear Men's Plasmic Pant seals out heavy rain when you're hiking or backpacking without leaving you drenched in perspiration, thanks to its Dry. Q Evap technology. The pant's Dry. Q Evap (2. 5-layer) membrane keeps outside moisture from da
more...