---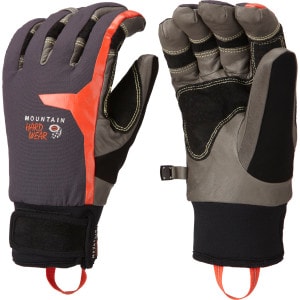 Mountain Hardwear Hydra Pro Glove


On sale - now $62.48




- was

$124.95



If you've ever wasted energy and patience wrestling with your gloves during a difficult climb, then you're going to really dig the Mountain Hardwear Men's Hydra Pro Gloves. Designed specifically for alpine or ice climbing, the Hydra features a short gauntlet, flexible softshell fabric, and water- and windproof OutDry technology that offers the ideal amount of comfort and protection. more...




---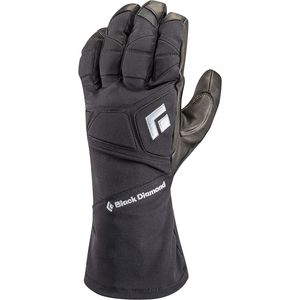 Black Diamond Enforcer Glove


$139.95



The Black Diamond Enforcer Glove is the top-shelf ice climbing glove from the top-shelf ice climbing glove manufacturer. In other words, the Enforcer is the balls. Weather protection is taken care of by an impenetrable combination of Gore Tex XCR insert and 170g PrimaLoft synthetic insulation. The extra-long gauntlet cinches tight to keep snow and drafts out. To keep your hands from taking a beating against the ice, Black Diamond included EVA foam inserts at the knuckles, and to make sure the En more...




---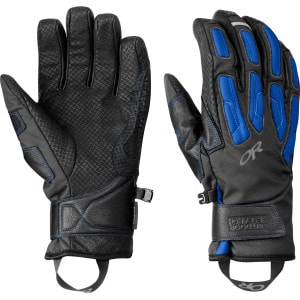 Outdoor Research Warrant Glove


$144.95



The Outdoor Research Warrant Glove was constructed for those situations where you need a high level of protection and optimal dexterity. The glove's Gore-Tex membrane provides waterproof breathable protection while 100g PrimaLoft insulation keeps your hands warm. Grip-enhancing, water-repellant leather on the palm and fingers allows you to securely grip tools. Padding on the back of the hand and fingers provides impact protection and is placed to enhance movement. The pre-curved construction and more...




---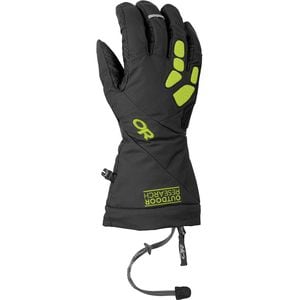 Outdoor Research Alpine Alibi II Glove


$178.95



When you're hanging onto a frozen waterfall by a couple of pieces of metal, you want all the grip and comfortable dexterity you can get. The Outdoor Research Alpine Alibi II Glove is purpose-built for ice climbing and doesn't compromise anything in the pursuit. For weather protection it has a waterproof, breathable Gore-Tex insert with X-trafit technology and a nylon stretch soft shell exterior. Pittards Oiltac goat leather palm and fingers provide supple, durable grip. Inside this bomber glove more...




---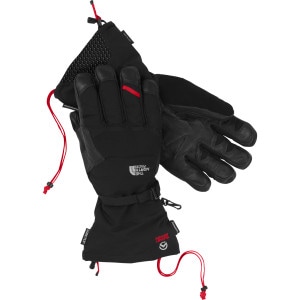 The North Face Meru Glove


On sale - now $143.96




- was

$179.95



The design for The North Face Meru Glove was inspired by the 2008 attempt to summit the unclimbed Meru Shark's Fin by Conrad Anker, Renan Ozturk, and Jimmy Chin. After struggling for 19 days on some of the most technical high-altitude climbing on the planet, the trio was forced to retreat only 100 meters from the summit. Their hard-earned feedback went into making the Meru Glove, which is capable of performing in the most extreme climbing and winter situations imaginable. If the Meru Glove can p more...




---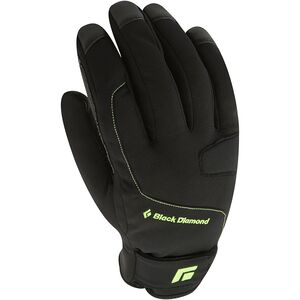 Black Diamond Torque Glove


$59.95



Black Diamond created the ultralight Torque Ice Glove for ice, mixed, and dry-tool climbing on the most demanding pitches on earth. Stretchy and abrasion-resistant softshell material allows total dexterity, and the ultra-grippy Slip-Stop synthetic palms stick to your tools like glue when you need to match, steinpull, or crank for a distant hook. The articulated hook-and-loop neoprene cuff keeps water out, and the EVA padding keeps your knuckles from getting bashed to smithereens. more...




---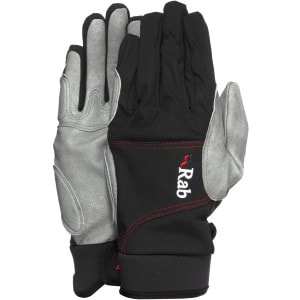 Rab M14 Glove


$64.95



If dry-tooling fanatics and ice climbers could agree on one thing about their sports it would be to never let go of their axes. That's what Rab had in mind with its M14 Glove. Rab integrated Pittards Oiltack leather onto the palm of this lightweight glove so you have a sticky grip on any surface--this means you'll sure as hell stick to your axe even when your forearms are pumped out. The main component of the glove is made out of Polartec Power Shield Pro fabric. This fabric blocks 98% of wind s more...




---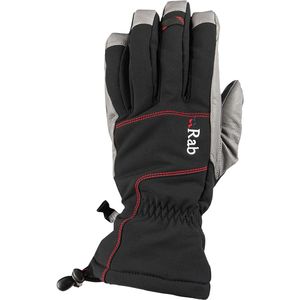 Rab Baltoro Glove


$69.95



The Rab Baltoro Glove will make a great addition to your ice climbing kit, and you can use it for any cold and dry condition when keeping your hand warm is a priority. Its Matrix DWS outer fabric offers a full range of motion so you won't fumble around when you're placing your next piece of protection. Rab added Primaloft insulation on the back of the hand so it'll stay nice and toasty while you climb without hindering dexterity. Rab also integrated Pittards Armortan leather across the palm so y more...




---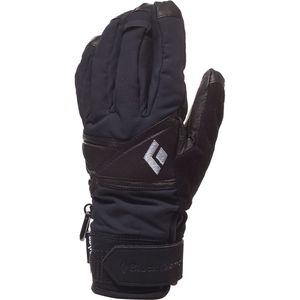 Black Diamond Terminator Glove


$79.95



Black Diamond took the minimal approach in its design of the Terminator Glove. A woven four-way stretch shell provides durability and an unlimited range of motion while the tough goat leather palm gives you the grip you need for modern mixed and ice climbing. A waterproof breathable BDry insert keeps your hand from getting wet from the inside or out. A neoprene cuff with hook-and-loop closure keeps things tight at the wrist, and compression-molded EVA foam on the knuckles protects against impact more...




---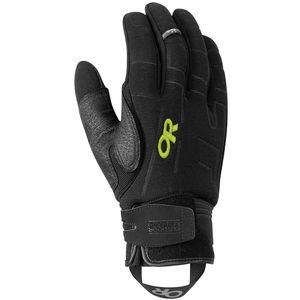 Outdoor Research Alibi II Glove


$79.95



Ice climbers and winter mountaineers: despite the fact that you're wearing the Outdoor Research Alibi II Glove as you scale up a 100ft frozen waterfall, there's still no excuse for busting out that refrain when you reach the top. If you aren't familiar with what refrain we're talking about, all the better. Updated but not changed, the Alibi II features an articulating wrist harness secured with a leather cuff closure. Softshell finger sidewalls and pre-curved construction provide a custom-like f more...




---
Outdoor Research Contact Gloves


On sale - now $57.82




- was

$88.95



You won't lose touch with your tools or the route when you protect your hands with the Outdoor Research Contact Gloves. Designed for ice climbers, these articulated gloves keep a low profile to give you optimal sensitivity when you're wielding tools and placing pro. Swing your axe, set your screw, and clip in your rope for a great day on ice. A multitude of materials went into the Contact. Stretch panels and foam padding on the back of your hand protect your paws from gnarly bits of ice when you more...




---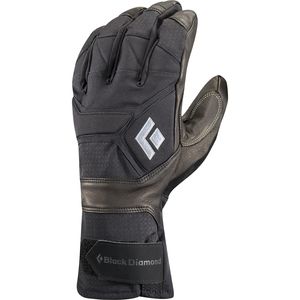 Black Diamond Punisher Glove


$99.95



Lots of manufacturers make extremely warm gloves that turn your hands into useless paddles. That isn't the story with this glove. The Black Diamond Punisher Glove blends unsurpassed dexterity with full weather protection and is designed for long alpine routes or ice cragging in variable temperatures. The Punisher has a fixed lining and a BDry waterproof breathable liner to fight off the weather. The four-way stretch shell provides a full range of motion, extremely important when you find yoursel more...