---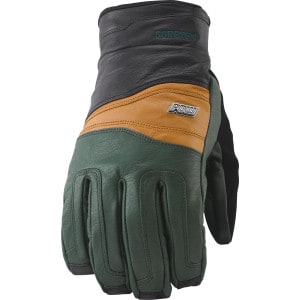 Pow Gloves Stealth GTX Glove - Men's


On sale - now $87.96




- was

$109.95



When the resort is covered in gapers competing in an 'Oblivious Moron' contest, the Pow Stealth Glove provides versatile, low low-profile hand protection for mid-winter rope-ducking missions. The Stealth's goatskin leather shell resists damage well and breaks in over time to improve the fit the longer you wear them. The waterproof/breathable Gore-Tex insert keeps your hands dry as you help yourself to illicit face shots, and the super-warm PrimaLoft One insulation ensures warmth while you hide f more...




---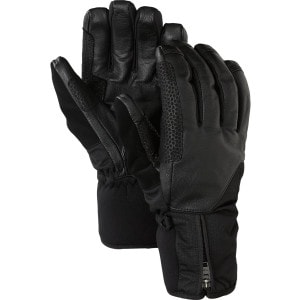 Burton AK Guide Glove - Men's


$114.95



The Burton Men's AK Guide Gloves protect your hands during big-mountain hucks and hairy resort storms. Waterproof breathable Gore-Tex shells send crappy weather packing, while Primaloft insulation packs warmth around your paws. Neoprene stretch panels and Burton's Pistol Grip pre-curved fit increase dexterity for strapping in, opening your backcountry pack, or adjusting your goggles or helmet. more...




---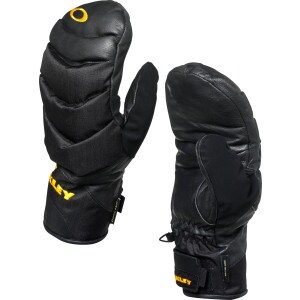 Oakley The 72 Mitten


$120



When the mercury takes a serious dive, mittens work better. The Oakley 72 Mitten is made for super-cold riding when keeping your fingers attached is a priority. This Gore-Tex mitten with Thinsulate insulation is nearly impervious to cold so you can get out every day of the season without the perpetual cold-hand that you always dread. more...




---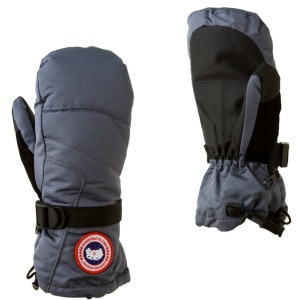 Canada Goose Down Mitten - Men's


$124.95



Whether you're hitting the slopes on a frigid day or postholing your way toward a frozen summit, the Canada Goose Down Mittens protects your hands from the harsh, wet cold. A Hipora waterproof breathable insert backs up the tough nylon shell, and high-quality goose down keeps winter's icy grip at bay. The gauntlet cinch cord and webbing cinch strap seal out cold air and snow while the grippy palm helps you hang on to your poles or axe. more...




---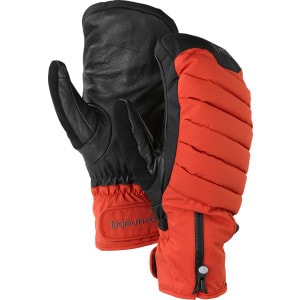 Burton AK Oven Mitten - Men's


$129.95



Face it bro; you're not invulnerable to cold fingers. You're smart, so you choose to wear the Burton Men's AK Oven Mitten on those days when it's not safe to whip it out for a leak break in the trees. The low-profile design makes sliding the cuff of your jacket over the mitten easier than unzipping your fly. more...




---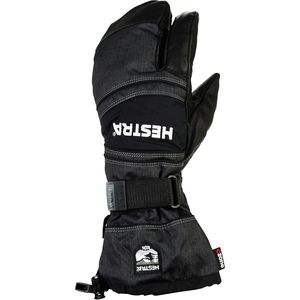 Hestra Czone Mountain 3-Finger Glove


$134.95



The Hestra Czone Mountain 3-Finger Glove provides needed dexterity between the thumb and forefinger as well as the unmatched warmth of a mitten. The goat leather construction gives you a secure grip on your ski pole while the waterproof and breathable Czone insert keeps digits dry and comfortable in tough winter weather. more...




---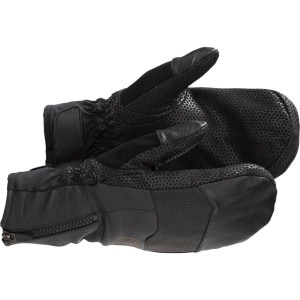 Burton AK Yeti Mitten - Men's


$139.95



Engineered with unlimited dexterity and harsh, unpredictable weather in mind, the Burton AK Yeti Mitten equips your hands with the technology needed to stay dry while conquering the steeps of AK. more...




---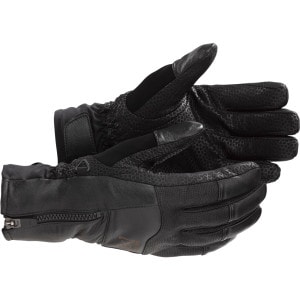 Burton AK Yeti Glove - Men's


$139.95



You don't go to Alaska without having the best gear you can get, and gloves should not be an exception. The Burton AK Yeti Snowboard Glove combines waterproof breathable Gore-Tex with premium leather for unmatched grip and breathability, and a fleece lining with Gore X-Trafit keeps your hands cozy. more...




---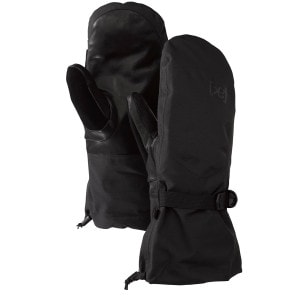 Burton AK 3L Hover Mitten - Men's


$159.95



When you ride the resort in weather conditions that scare everyone else off the mountain or you go big in Alaska's Chugach, wear the Burton Men's AK 3L Hover Mittens to warm those digits. The Gore-Tex fabric ensures your hands stay dry, and the two sets of liners to choose from means you're ready for a wet, warm blizzard or a windy, freeze-your-nipples-off-it's-so-cold peak. more...




---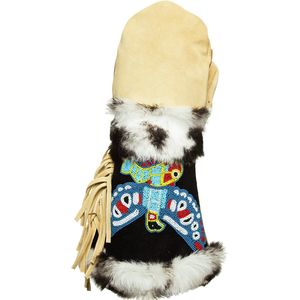 Astis Erling Mitten


$194.95



Wild and free like the wide-open spaces of the North, the Astis Erling Mitten spreads its hand-sewn beadwork across its silicone-injected suede gauntlet to declare its proud soul. And silicone-injected suede leather fends off rain and snow, while the Polartec high-loft insulation and fur around the cuff and wrist add cozy warmth. When you're this warm, dry, and comfortable, your spirit soars. more...




---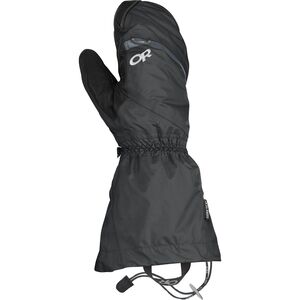 Outdoor Research Alti Mitten - Men's


$198.95



When the temperature outside is so brutal that your pee crystallizes before it hits the ground, the time has come to bust out your Outdoor Research Men's Alti Mitten and its Gore-Tex shell. Constructed for high-alpine mountaineering, arctic expeditions, and other pursuits into the frigid kryosphere, the Alti Mitten blends waterproof Gore-Tex membrane with a removable PrimaLoft-insulated liner to provide digit-saving protection from the ungodly cold elements. more...




---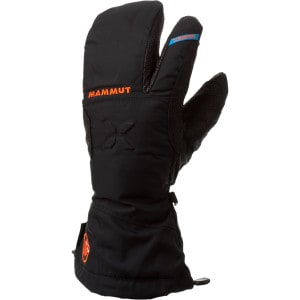 Mammut Eigerjoch Glove


$199.95



Built to perform in some of the toughest alpine conditions imaginable, the Mammut Eigerjoch Glove features an innovative X-trafit Gore-Tex insert, Pittard leather shell, and 450-fill goose down insulation on the back of the hand. The three-fingered design provides critical dexterity between the thumb and forefinger plus the unmatchable warmth of a mitten for the rest of the hand. An additional 60g Primaloft insulation and a warm fleece lining round out this expedition-worthy glove. more...




---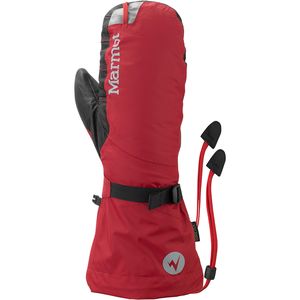 Marmot 8000 Meter Mitten


$274.95



The Marmot 8000 Meter Mitten. Hopefully the name gives you some indication of how far you can push into nasty weather while wearing this mountaineering-style mitt. Multiple varieties of Gore-Tex fabric and membrane technology protect your hand from wet conditions, wind, and sweat, while high-loft, 700-fill goose down insulation fends off thermometer-crushing cold. Slide your hand inside this gauntlet-style mitt, wrap the leather-reinforced palm around your ice tool, and charge up a tricky alpine more...




---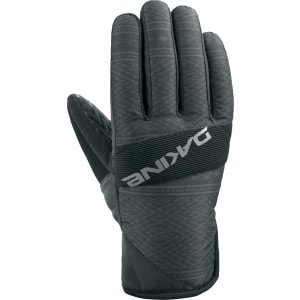 DAKINE Crossfire Glove - Men's


On sale - now $22.46




- was

$29.95



Flash the Dakine Men's Crossfire Glove as you throw it down at the park. Part of the Dakine Method series of low-profile, performance-fit gloves, the Crossfire features a tough nylon shell with a DWR finish that repels water. The glove's precurved box finger construction makes it easy to execute a grab, and the durable Clarino synthetic palm won't shed when you get it right. A waterproof neoprene cuff seals out spring slush. more...




---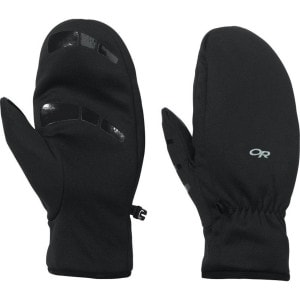 Outdoor Research PL 400 Mittens - Men's


$36.95



When you're working hard earning your turns in the backcountry, you don't need a heavy glove overheating you. The Outdoor Research PL 400 Mitten keeps your hand warm with light insulation while allowing it to breathe and regulate temperature naturally. By allowing sweat vapor to escape, the PL 400 keeps your hand from feeling clammy. Outdoor Research also added silicone grippers to the PL 400's fingers and palm to provide grip and improve dexterity. more...




---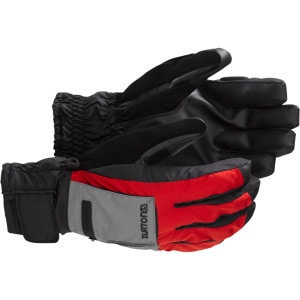 Burton Baker Under Glove - Men's


On sale - now $38.94




- was

$64.9



The Burton Baker Under Glove doesn't mess around when it comes to keeping hands warm. DryRide Ultrashell 2-layer fabric and DryRide Insane Membrane 2. 0 deliver serious waterproofing and moisture-wicking to keep things dry, and the Thermacore insulation and removable DryRide Ultrawick liner offer plenty of warmth. And if that's not enough, a pocket on the back of the hand fits disposable hand warmers in the event of spit-freezes-before-it-hits-the-ground temperatures. more...




---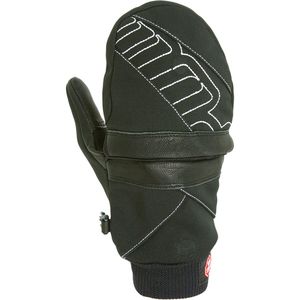 Pow Gloves Transfilmer Glove - Men's


$64.95



Rock the Pow Gloves Men's Transfilmer Glove Keep to your trigger finger warm and make sure you get the shot when you're on camera duty. These midweight softshell gloves transform from mitten to photo-friendly gloves in a jiffy so you won't miss the action. Just slip the mitt's tip back to reveal a fingered glove that leaves your trigger finger free. A goat-skin palm, Thinsulate insulation, and micro-fleece lining keep your hands happy when not shooting. more...




---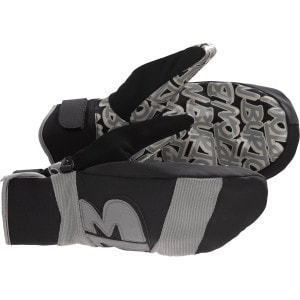 Burton Podium Mitten - Men's


On sale - now $27.96




- was

$69.9



Dominating the mountain is much harder to do if you're running inferior gloves. The Burton Podium Mitten brings you reliable warmth and the proven waterpoof and breathable Gore-Tex technology. The Podium finishes first both inbounds and outbounds as this low-profile mitt can fit under your sleeves with a volume similar to a park glove. Another first from the folks at the B. more...




---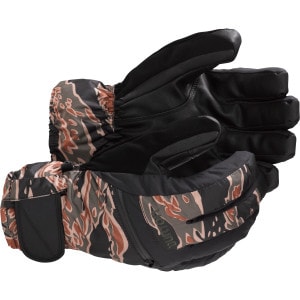 Burton Gore-Tex Under Glove - Men's


On sale - now $27.96




- was

$69.9



Throw on the Burton Men's Gore-Tex Under Glove when the weather gets downright nasty. Burton stuffed this burly glove with Thermacore insulation to keep your nose-pickers toasty on the gnarliest days, and the DryRide Ultrashell combined with the Gore-Tex insert ensures that nothing short of a monsoon finds a way to soak your paws. more...




---
Burton Gore-Tex Leather Mitt - Men's


$74.95



For riders who live in frigid climates or get cold easily, Burton's Gore-Tex Leather Mitt combines the guaranteed water-blocking power of Gore-Tex with the warmth boost that makes mittens so great. Thermacore insulation and a brushed microfiber lining offer mid-winter warmth, while the Gnar Guard leather palm resists damage from board edges, tree branches, or encroaching ski poles. more...




---
Burton Hi-Five Mitten - Men's


$74.95



Burton's Hi-Five Mitt features side zippers for easy finger access without exposing the rest of your hands to the elements. Perfect for dexterous filming, snapping pics, or winning the 'wind vs. lighter' battle while riding the lift. Speaking of which, the hidden stash pocket stores, you know, hidden stuff. Like coins. Yeah, definitely coins. more...




---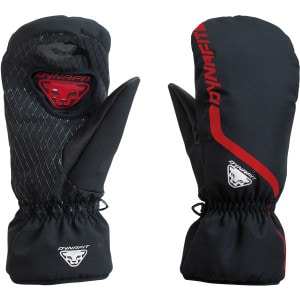 Dynafit Storm Overglove


On sale - now $59.96




- was

$74.95



Take cover with Dynafit's weather-resistant, insulated Storm Overglove. Alone or in combination with a fleece glove or liner, this overglove provides stormproof protection, essential grip and comfort, and convenience, like the finger openings for dexterity-demanding tasks. more...




---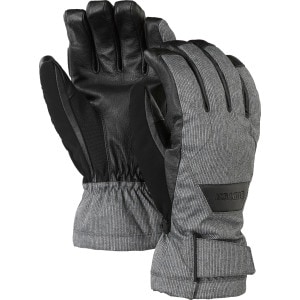 Burton Gore-Tex Leather Glove - Men's


$74.95



Burton's Gore-Tex Leather Glove packs a ton of performance into a value-loaded package. Thanks to a Gore-Tex waterproof/breathable insert, Thermacore insulation, and a durable, grippy leather palm, you'll stay protected from the elements all season long. more...




---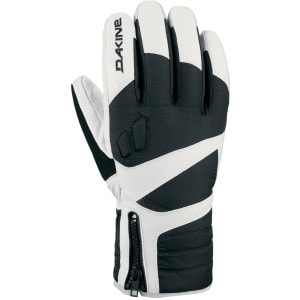 DAKINE Cobra Glove - Men's


On sale - now $67.96




- was

$79.95



Slip your paws into the Dakine Men's Cobra Glove before you head out to tackle the next big winter storm. With a Weathershield leather shell and Gore-Tex insert, this glove keeps your mitts high-and-dry while you slay the deeps. Thermaloft insulation dials in all-day warmth, the mid-weight fleece lining offers killer comfort, and the hook-and-loop closure keeps snow out. more...




---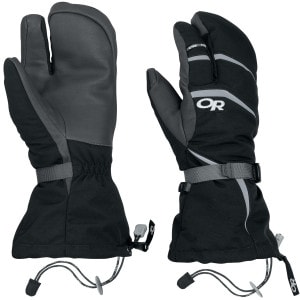 Outdoor Research Highcamp 3-Finger Glove - Men's


$84.95



The Outdoor Research Men's Highcamp 3-Finger Glove strikes a compromise between mittens and gloves for super-cold situations. Like a mitten, the Highcamp lets your fingers warm each other. It also allows you to use your hands like a glove. more...




---
Burton Gondy Leather Glove - Men's


$94.95



Gondolas are great for many reasons besides getting you up the hill quickly. The Burton Gondy Leather Glove and its Thermacore insulation let you bring that warm, enclosed feeling with you as you venture out into remote zones of the mountains in pursuit of powder. And when you have to change up your tunes or check to see how many people liked your most recent post, Touchtec palms can operate on touchscreens so your fingertips don't freeze. more...