---
Scott Howell Jacket - Men's


On sale - now $107.22




- was

$194.95



You're ready for foul weather when you wear the Scott Men's Howell Jacket on your next trip to the mountain. Its waterproof breathable shell and touch of insulation help you get the most out of those days when anyone less dedicated may throw in the towel and stay indoors. And, its relaxed fit and vibrant style help get you through those days when you're trapped in the flatlands. more...




---
Armada Crevasse Jacket - Men's


On sale - now $79.98




- was

$199.95



Being held back because your outerwear has failed to perform leaves you feeling like you're stranded in the bottom of a crevassecold, wet, and helpless. The Armada Crevasse Jacket's Mega Rex shell fabric and SuperFlo Liner will make that wet-helpless feeling a thing of the past, and you'll be able to stay out and play until your legs beg you to go no more. more...




---
The North Face Freedom Jacket - Men's


On sale - now $131.97




- was

$219.95



The North Face Freedom Jacket is a versatile, all-mountain shell that keeps you dry when you're on the hill. Whether you're rocking it by itself on a wet snow day or teaming it up with a puffy jacket to deal with cold, stormy weather, this jacket delivers all-day comfort no matter what the weather is like. more...




---
Scott Motley Jacket - Men's


On sale - now $134.97




- was

$224.95



There's nothing ragtag abut the Scott Men's Motley Jacket; ski-ready features come together with weather-resistant technical fabrics and lightweight, low-bulk insulation in a harmonious whole. Clean styling and low-key contrast detailing offer a welcome break from the multicolor, sometime eyeball-searing options you find on most racks these days. more...




---
Under Armour Sandman Jacket - Men's


On sale - now $89.98




- was

$224.95



While others people's loud park outfits make them look like they belong in a carnival, you like to keep your look discrete with the Under Armour Men's Sandman Jacket. This jacket features ArmourLoft insulation for stellar warmth, underarm vents that ditch excess heat while you hike the pipe, and a plethora of pockets that hold all of your riding essentials. more...




---
Armada Sonar Ski Jacket - Men's


On sale - now $91.98




- was

$229.95



When there's a storm showing up on the radar, hone in on untracked pow lines while wearing the Armada Sonar Men's Ski Jacket. A two-layer laminate, DWR coating, and fully taped seams keep moisture out, while low profile polyfill insulation holds heat in without being so puffy that you can't move freely. more...




---
Armada Void Jacket - Men's


On sale - now $99.98




- was

$249.95



Ever since the cold front stormed in, you've been cowering on the couch wrapped in a blankie. Sport the insulated Void Jacket from Armada and never be absent from your daily throw-down sessions again. Loaded with features and laced with style, the Void Jacket can't wait to reunite you with your slope-side crew. more...




---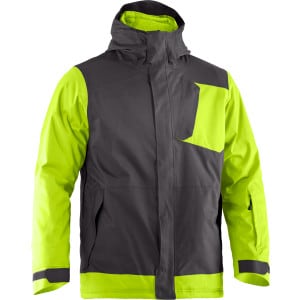 Under Armour Coldgear Infrared Electro Jacket - Men's


$249.95



When you're out shredding in the snow, it helps to have lightweight warmth so you stay comfortable without too much bulk weighing you down. The Under Armour Men's Coldgear Infrared Electro Jacket turns up the warmth without added bulk with a heat-trapping inner coating called ColdGear Infrared. This coating holds in your body heat so you warm up quickly and stay warm during long days in cold weather. PrimaLoft insulation adds a second layer of warmth without bulk, with more insulation around the more...




---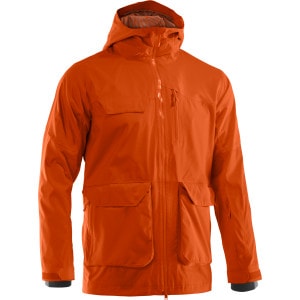 Under Armour Coldgear Infrared Ghost Jacket - Men's


$249.95



When you're skiing with snow ghosts in Whitefish, Montana, wearing the Under Armour Men's Coldgear Infrared Ghost Jacket will help you fit in among your ethereal companions. During those nasty, socked-in days, water suspended in mid-air freezes and settles upon bare branches and pine needles. While the tree slowly morphs into a white, rime-covered shadow of itself, the Coldgear Ghost jacket keeps you feeling human, warm, and dry, until the storm and clouds lift and you re-enter the land of the l more...




---
Under Armour Jackal Jacket - Men's


On sale - now $99.98




- was

$249.95



As the tram approaches the dock, you anxiously reach into the Under Armour Men's Jackal Jacket, turn down your tunes, and listen to the days openings from the operator. Whether it's a bluebird or light storm day, this Jackal is ready. more...




---
Orage Aldrin Jacket - Men's


On sale - now $103.98




- was

$259.95



Before a full day of park laps, zip up the Orage Men's Aldrin Jacket for winter warmth that doesn't skimp on style. The Prime 10 shell shrugs of wet weather and is stuffed with 100g synthetic insulation for toasty warmth. A gang of pockets securely stows essential items and the original fit gives you park-approved length without being overly baggy. more...




---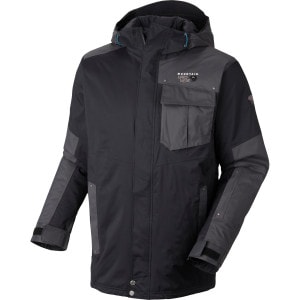 Mountain Hardwear Snowzilla Insulated Jacket - Men's


On sale - now $178.72




- was

$274.95



In the past, Mountain Hardwear's winter jackets bore a fit engineered specifically for the mountaineering crowd, but now this iconic outdoor brand has expanded its scope. The Men's Snowzilla Insulated Jacket has a design for winter athletes who enjoy a more relaxed style. Rather than skimp on the details just because this jacket falls into its 'freeride' line, Mountain Hardwear gave the Snowzilla Jacket toasty insulation, high-end waterproof fabric, and enough ventilation to cool you down quickl more...




---
Patagonia Snowshot Jacket - Men's


On sale - now $167.4




- was

$279



Like the heavy, hammered armor of history's noble knights, the Patagonia Snowshot Jacket equips you for battle against a cold and punishing foe. But instead of deflecting spear heads and lance blows, this shell's waterproof breathable H2No membrane and DWR coating block the frozen advance of winter. Since the glory of slaying wanton pow stashes is your quest, this fortified shell also features a powder skirt and an adjustable hood. more...




---
FlyLow Gear BA Puffy Jacket - Men's


On sale - now $101.48




- was

$289.95



Hurtle through the cold without flinching at wet weather that challenges your FlyLow Men's BA Puffy Jacket. Inside this jacket lies puffy (down-like) synthetic insulation that fights off cold, dark winter weather and that's protected by fully weatherproof, two-layer fabric on the outside. Ever blown open an ultralight jacket by snagging it on a tree branch? Not with the BA, because this jacket is rugged and ready. more...




---
Patagonia Rubicon Rider Jacket - Men's


On sale - now $179.4




- was

$299



While you're waiting for first chair, the Patagonia Rubicon Rider Jacket's environmentally friendly insulation helps keep your teeth from chattering, and while you're blowing down the slopes, the Deluge DWR coating and reinforced panels help keep flurries from soaking in. more...




---
Mountain Hardwear A'parka'lypse Jacket - Men's


On sale - now $134.98




- was

$299.95



Recently, Mountain Hardwear decided it was time for a change. It set to work engineering a line of jackets with all the weatherproofing necessary for a hardcore skier to withstand the elements, but with a more relaxed style fit for the freeride attitude. And thus, the Men's A'parka'lypse Jacket was born. You'll find waterproof breathable fabric to keep you dry, zip vents to keep you cool, and a stretch powder skirt to keep deep snow outall wrapped in a look fit for the park or a peak far beyond more...




---
Spyder Brawler Jacket - Men's


On sale - now $119.98




- was

$299.95



Old Man winter can't lay a glove on you when you're sporting the Spyder Brawler Jacket. Spyder's proprietary Xt.L membrane combines with the polyester tweed shell and a Spylon DWR coating to keep you dry while you smash through waist deep powder, and 40g Thermasoft insulation locks in the heat, even while the wind tries to steal it on the lift back up. more...




---
Oakley Originate Jacket - Men's


On sale - now $180




- was

$300



The Oakley Originate Jacket provides waterproof breathable protection to keep you warm and dry from the pipe to the backcountry. The Originate has the protection you need and the features that you want. And hey, if it's good enough for Tanner Hall .... more...




---
Oakley Ascertain Jacket - Men's


On sale - now $192




- was

$320



These days everybody makes waterproof breathable jackets. It can be tough to determine whose is right for you. If versatility is a consideration, you should check out the Oakley Ascertain Jacket. With its removable hood and powder skirt, not to mention fully taped seams, underarm zip vents, and RECCO avalanche safety system, the Ascertain definitely doesn't fall into the cookie-cutter category of modern ski jackets. more...




---
Armada Couloir Gore-Tex Jacket - Men's


On sale - now $157.48




- was

$349.95



Armada might have named it the Couloir Gore-Tex Jacket because it will breathe easy even if, perched on the precipice, you dont. Just smile and fake it. more...




---
Orage Xavier Pro Jacket - Men's


On sale - now $122.48




- was

$349.95



You might be surprised to learn this, but the Men's Xavier Pro Jacket is skier Xavier Bertoni's pro model jackethopefully that didn't cause you mind to explode, did it? Complete a long fit, waterproof breathable fabric technology, and removable sleeves, this jacket handles everything from deep storms days in the trees to sunny afternoons in the park. Xavier is a tricky guy, so Orage saw fit to toss in an extra pair of sleeves and deck of playing cards. The sleeves are for customizing your style more...




---
Spyder Enforcer Jacket - Men's


On sale - now $139.98




- was

$349.95



The Spyder Enforcer Jacket is one ski jacket that you don't want to mess with. This fully featured shell is built with nails-tough polyester oxford and a 20K-rated waterproof laminate to keep the most brutal storms off your back and Primaloft ECO synthetic insulation to keep the cold from getting to you. What this all adds up to is one mean ski jacket and one of the toughest members of the force. more...




---
Cross Charge Jacket - Men's


On sale - now $118.49




- was

$394.95



What good are your skills, equipment, and insatiable thirst for face shots, big airs, and huge hucks if your outerwear can't hang with your rad-itude? Cross makes just the piece for a guy who shreds with such intensity, and it's called the Men's Charge Jacket. Fill the exterior pockets with enough energy bars to fuel your inner beast and be sure fasten the pow skirt ... it's going to be one of those seasons. more...




---
Scott Preston Jacket - Men's


On sale - now $138.23




- was

$394.95



Scott's designers gave the Men's Preston Jacket some flashy zippers, sure, but this jacket also features Thinsulate insulation and waterproof breathable Gore-Tex fabric so it never shies away from a storm. From the detachable hood with soft chin guard to the powder skirt with integrated jacket-to-pant interface, this shell is chalk full of features. Keep the Preston jacket around for sled-shredding in the backcountry, tram laps at the resort, or some sidecountry action beyond the gates. more...




---
Moment Team Jacket 3L - Men's


On sale - now $119.69




- was

$398.95



Moment's most fully-featured shell, the Men's Team Jacket 3L, takes weather protection to an entirely new level and keeps you looking like you're part of the crew on or off the hill. Waterproof breathable fabric repels the wettest Sierra cement, underarm zips keep you cool underneath, and a jacket-to-pant interface links your whole kit together. Moment gave these threads a relaxed fit and dialed in the details with plenty of adjustability and one smooth-as-silk chest graphic. more...




---
Mountain Hardwear Vertical Peak Jacket - Men's


On sale - now $219.97




- was

$399.95



Combine the waterproof and wind proof performance of a breathable Dry.Q Elite shell with the warmth of Thermic Micro insulation, and you get the Men's Mountain Hardwear Vertical Peak Jacket. The Dry.Q Elite fabric and underarm zips keep you dry and comfortable so you can log unlimited vertical feet in search of the perfect line. When you find it and greedily point your tips downhill, you'll be glad the stretch powder skirt is there to keep the fluff off your belly. more...




---
Mountain Hardwear Whole Lotta Jacket - Men's


On sale - now $159.98




- was

$399.95



The Men's Whole Lotta Jacket has all the features you need to stay dry during heavy, wet winter storms, and it packs a relaxed fit that feels comfortable on the lift or on the street. Mountain Hardwear may have stacked this jacket with three-layer shell fabric, underarm ventilation, and an offset center front zipper for performance, but the style steers clear of mountaineering/climbing Everest seriousness. more...




---
Marmot Fulcrum Jacket - Men's


On sale - now $254.97




- was

$424.95



When the weather starts getting so bad you're debating turning back, having the Marmot Fulcrum Jacket in your corner may tip the balance in favor of sticking it out. The Fulcrum's Gore-Tex Performance shell and fully taped seams keep you dry and comfortable, while the storm-ready features keep you in the game until the leading edge of the front passes. more...




---
Eider Garmisch II Jacket - Men's


On sale - now $150.48




- was

$429.95



Stretchy Defender shell fabric joins forces with Thermal Control insulation in the Eider Men's Garmisch II Jacket. Add in a host of ski-specific features such as the removable hood, powder skirt, and Lycra cuffs, and this classically ski-styled Eider is more than ready to lay down tight turns from first chair to last. more...




---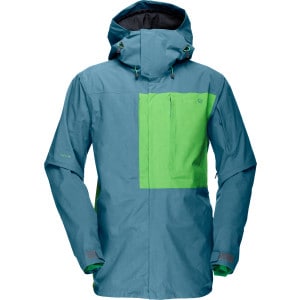 Norr Narvik Gore-Tex 2L Performance Shell Jacket - Men's


$438.9



Norrona crafted the Narvik Gore-Tex 2L Performance Shell Jacket because they believe you shouldn't have to choose between a stylish, baggy fit or a high-tech construction that keeps you comfortable in real weather conditions. Therefore, technical features abound in this new-school-inspired design. A waterproof and breathable Gore-Tex Performance Shell keeps you protected from the elements while breathing well enough to keep you from getting too soggy, and mesh-lined underarm zips offer some extr more...




---
Cross Proctor Parka - Men's


On sale - now $134.39




- was

$447.95



If you're looking to slice the mountain open with every turn, then your excessive passion for skiing or snowboarding requires the proper attire to perform your style snow-surgery in winter's harshest conditions. The Cross Men's Proctor Parka is a totally waterproof, insulated, and highly breathable 'scrub' for doctors of winter destruction like you. Zip up and you'll quickly understand that quality should never be squandered when it comes to your comfort in stressful moments. more...




---
Trew Gear Bellows Jacket - Men's


On sale - now $239.98




- was

$479.95



Whether you're bagging peaks or lapping lifts, make the Trew Gear Men's Bellows Jacket your uniform. Equipped with a waterproof breathable Gelanots membrane, fully taped Bemis seams, and a DWR coating, the Bellows sheds powder and wet snow like a storm champ. Stash a PB&J in the massive chest pocket, drop the huge underarm zips for ventilation, and call your boss as you charge up a storm-day skin track. He might even believe you're sick, as long as you don't use your face-shot photos as your more...




---
Spyder Eiger Shell Jacket - Men's


On sale - now $249.98




- was

$499.95



You're used to Spyder making high-end skiwear, but the Eiger Shell Jacket is much more than a casual Saturday lift-rider's shell, it's actually a piece of serious mountaineering equipment that happens to be perfectly suited to tearing down mountains on skis. This is quickly evident when you see the Eiger's abrasion-resistant shoulders that can stand up to miles of backpack-laden backcountry travel and the climbing-harness-friendly cut that screams mountaineer, even if you happen to be teaching y more...




---
Patagonia Primo Jacket - Men's


On sale - now $329.4




- was

$549



The three-layer Gore-Tex construction of the Patagonia Mens Primo Jacket gives you guaranteed waterproof and breathable protection for the deepest, sickest days of winter. This streamlined shell features clean looks and essential winter features like a the two-way adjustable with a laminated visor that ensures you can see your lines in the harshest of conditions. more...




---
Peak Performance Rocker Jacket - Men's


On sale - now $239.98




- was

$599.95



Designed in conjunction with freeski world champion Henrik Windstedt, the Peak Performance Rocker Jacket blends high-tech materials, advanced design, and state-of-the-art features with a stylish freeride look for a badass combination of form and function. The guaranteed waterproof breathable Gore-Tex Performance Shell provides complete storm protection, lightweight synthetic insulation makes frigid temperatures bearable, and the progressive, loose fit gives you modern style and makes it easy to more...




---
Patagonia Powslayer Jacket - Men's


On sale - now $373.45




- was

$679



If deep, untracked powder dictates how and where you live your life, then you're most likely looking for a serious storm-stopping jacket. The Patagonia Powslayer Jacket's guaranteed waterproof and breathable Gore-Tex Pro Shell protects you from winter's nuking storms season after season. Tougher panel reinforcements on the shoulders, back, and chest ensure long-lasting durability, because you know you're not leaving the mountains any time soon. more...