---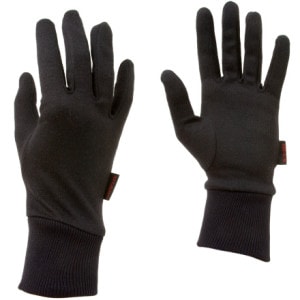 Seirus Deluxe Thermax Glove Liner


On sale - now $6.57




- was

$10.95



Wear the Seirus Deluxe Thermax Glove Liners under your ski shell gloves on frigid days, and sport these comfy liners on their own for trips into town. The wicking fabric keeps your hands from becoming sweat-balls on the slopes, and the form-fitting construction minimizes bulk. The Deluxe Thermax Liners come in handy on sunny backcountry trips when an insulated glove is too hot. more...




---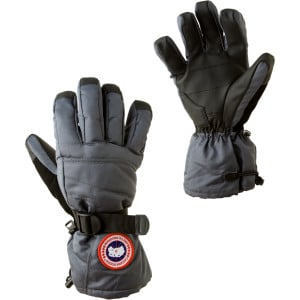 Canada Goose Down Glove - Men's


$124.95



Prepare your hands for the harsh, unforgiving conditions of winter with the Canada Goose Down Gloves. Thanks to a waterproof breathable Hipora insert and warm, high-quality goose down, your paws will be toasty and dry, even if the weather is quite the opposite. Canada Goose added a gauntlet draw cord and a webbing cinch strap to seal out snow and cold air, and the reinforced palm gives you a secure grip on your poles or ice axe. more...




---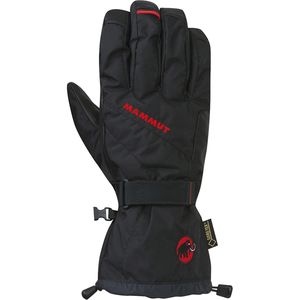 Mammut Expert Tour Glove - Men's


$128.95



Built for extended and aggressive days on the slopes in all conditions, the Mammut Expert Tour Glove is ready to grip and rip every run with you. A Gore-Tex membrane guarantees that water stays out and that your hand has a chance to breathe. more...




---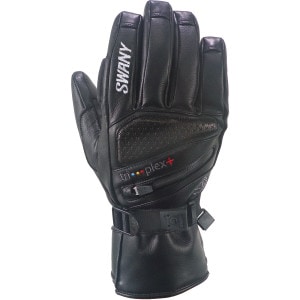 Swany X-Clusive II Glove - Men's


$134.95



The burly leather Men's X-Clusive II Glove from Swany is built for top-tier performance whether you're skinning up backcountry ridge lines or hopping on the tram. A combination of three different weights of Primaloft insulation keeps your hands warm while the Dyna-Therm liner wicks away moisture to keep the inside of your glove from feeling like a swamp. When the storm front rolls in, slip a hand-warmer in the designated pocket, clean your goggles with the wiper, and enjoy exclusive powder runs more...




---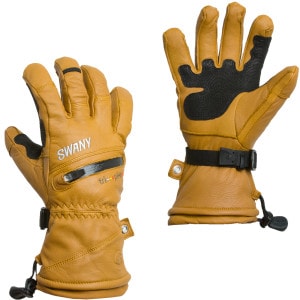 Swany X-Plode Ski Glove - Men's


On sale - now $79.72




- was

$144.95



When you want a leather glove with insulation that won't impede your finger dexterity, pull on the Swany X-Plode Ski Glove. more...




---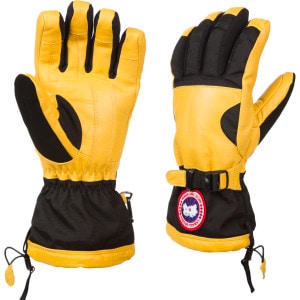 Canada Goose Utility Glove - Men's


$149.95



Plow your snow-covered neighborhood, not because you're a good citizen, but because no one else can stay warm and work like you do wearing the Canada Goose Men's Utility Glove. Insulated by goose down and lined with fleece, these work gloves are incredibly warm as you unplug your engine block heater and start your truck in the dead cold air. The entire outer shell features strong goatskin leather and Cordura for attaching tow cables to cars stuck in the snow bank, and the waterproof breathable i more...




---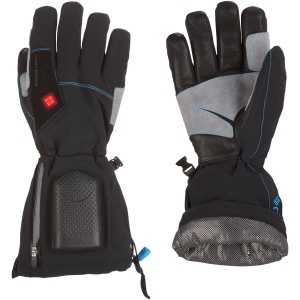 Columbia Electro Amp Glove - Men's


On sale - now $97.47




- was

$149.95



Never have cold hands again. The Columbia Electro Amp Glove has an electric heater built into the glove that provides three different heat settings so you can fine-tune your finger temperature depending on the weather. An OutDry waterproof liner keeps moisture from getting in and moves sweat vapor out, and Columbia's Precision Grip Fit gives you the dexterity to actually use your hands while still in the glove. more...




---
Pow Gloves Liner Glove


On sale - now $7.98




- was

$15.95



If you don't have liner gloves already, you'd be amazed by how often you'll use them. And if you already have liners, you'll see how much better the POW Gloves Liner Glove is. It's premium polypro with a smooth cuff band, and it slips easily under your gloves or mittens for a boost in warmth and comfort. Silicone grippers make the glove a good option for driving or gripping poles as you hike for turns. more...




---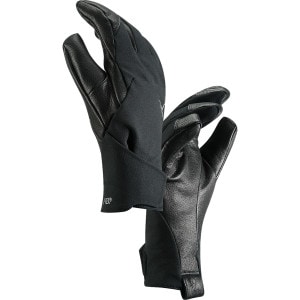 Arc'teryx Zenta LT Glove - Men's


$159.95



The Arc'teryx Zenta LT Glove gives you bomber protection from the cold and the snow with a streamlined, bulk-free design that performs when you're pushing your body hard. Whether you are backcountry touring or pumping your way through the moguls, this glove won't swamp out when your engine is running hot. more...




---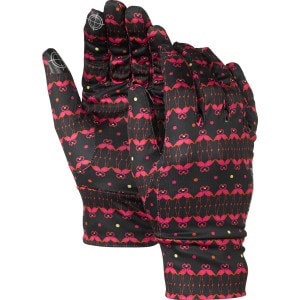 Burton Touchscreen Glove Liner


On sale - now $9.32




- was

$16.95



The Burton Touchscreen Glove Liner isn't the typical insulating addition to your riding gloves. This glove is made from Burton's DRYRIDE moisture-wicking material and features Burton's T-ink technology on the tip of the index finger and thumb. What does that do? It's a membrane that mimics your skin when it's time to text the meeting place to the crew on your touchscreen phone or change playlists on your music device. more...




---
Black Diamond Guide Glove - Men's


$169.95



Backed with a Gore-Tex XCR waterproof breathable membrane and PrimaLoft One insulation, the Black Diamond Men's Guide Glove deals with harsh conditions so they can't put a damper on your epic day in the backcountry or the resort. Plus the Guide's removable liner boosts versatility and maintains your hand dexterity throughout the stormiest winter weather while you patrol, guide, or tour. more...




---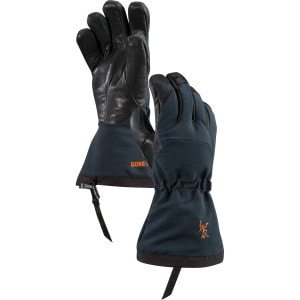 Arc'teryx Zenta AR Glove - Men's


$174.95



Pull on the Arc'teryx Zenta AR Gloves and get ready to blast some backcountry. Built with a Gore-Tex XCR membrane, this gloves allow full breathability while waterproofing your paws. Premium materials like Lezanova leather complement a generous helping of PrimaLoft One insulation for a true all-around winter package worthy of your best face-shot days. more...




---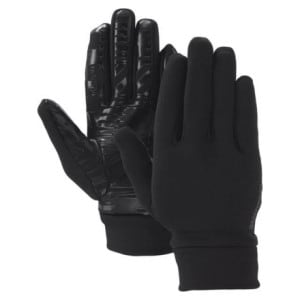 Burton Power Stretch Liner


On sale - now $10.97




- was

$19.95



Slip on the Burton Men's Power Stretch Liner glove and treat your texters to indispensible warmth and stretchiness that you can wear under your shred glove on freezing days, or on its own on walks through town. Four-way Powerstretch fleece is engineered for flexibility, warmth, and breathability, so you won't be hindered by this lightweight Burton glove whether you're shredding gnarly big lines, or walking around a foreign ski town in search of a six-pack. A Sticky Icky grip palm keeps your hand more...




---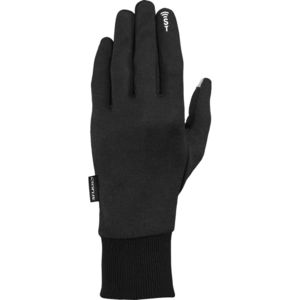 Seirus SoundTouch Deluxe Thermax Glove - Men's


$19.95



The Seirus SoundTouch Deluxe Thermax Glove provides serious warmth in the cold, and it allows you to operate your touchscreen phone or MP3 player without removing your glove. At the end of the pointer finger of this medium-weight, flexible glove lies a small pad that works with the screen of touchscreen devices. Wear the Deluxe Thermax Glove on the slopes, the trail, or around town. more...




---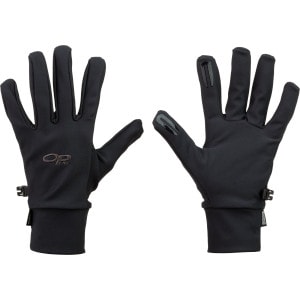 Outdoor Research PL Base Lightweight Glove Liner - Men's


On sale - now $13.77




- was

$22.95



Whether they're worn alone on a cool-weather backpacking trip or under your shell gloves on a powder day, the Outdoor Research Men's PL Base Glove provides plenty of stretch and moisture management, with silicone pads for some extra grip. more...




---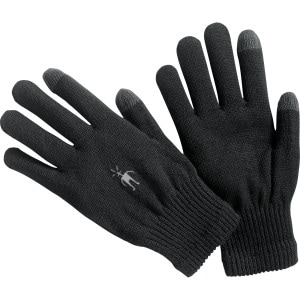 SmartWool Liner Glove


On sale - now $16.76




- was

$23.95



Wear the SmartWool Liner Glove alone when you're trail running during the fall, or use this lightweight glove for extra insulation underneath your heavier glove when you're skiing during the winter. Merino wool provides comforting warmth, it feels smooth against your skin, and it breathes naturally so your hand feels comfortable, not stifled. more...




---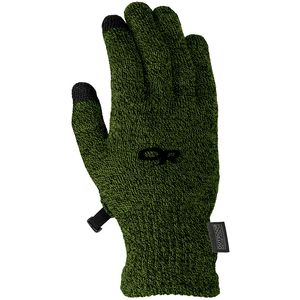 Outdoor Research BioSensor Glove Liner - Men's


$25.95



Outdoor Research Biosensor Liners are so much more than regular glove liners. The merino wool construction not only breathes well and wicks moisture, but it fights odor. Not only that, Biosensor liners are smart-phone friendly, so you can operate touch-screen devices without even taking your liners off. more...




---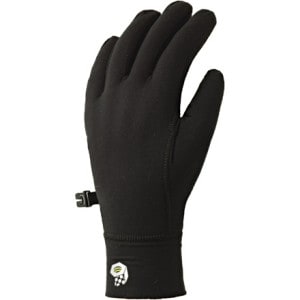 Mountain Hardwear Butter Glove Liner


On sale - now $16.17




- was

$26.95



The Mountain Hardwear Butter Glove Liners work as a great pair of running gloves or as a super liner under ski gloves. The Butter's polyester fabric draws moisture away from your skin while trapping body heat for extra warmth. So when your runs get sweaty you stay dry, but when the temps drop your hands won't go numb. The flatlock seam construction makes for a smooth, tight fit for wear under another glove. And the stretch cuff bunches comfortably on your wrist, locking out unwanted cold breezes more...




---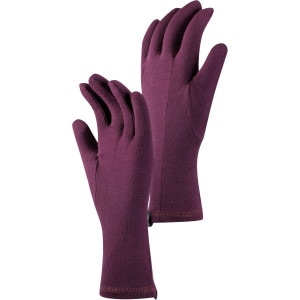 Arc'teryx Gothic Glove


On sale - now $24.46




- was

$34.95



Arc'teryx made their Gothic Lightweight Gloves with itch- and stink-free Merino wool to ensure excellent warmth and comfort. These lightweight gloves are ideal for wearing inside a waterproof shell during nasty weather or alone on bluebird ski days. The Gothic Gloves are just like the old wool gloves you loved--except lighter, more comfortable, and completely itch-free. more...




---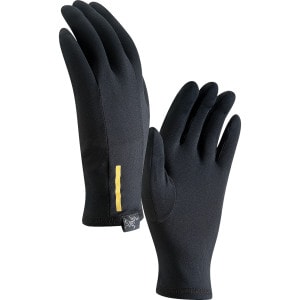 Arc'teryx Phase Liner Glove


$34.95



Dry hands are warm hands, so give your digits a fighting chance under your outer glove and layer first with the Arc'teryx Phase Liner Glove. Designed to wick super-fast and play nicely with your shell glove, the Phase Liner is ready for a day on the mountain in any conditions. more...




---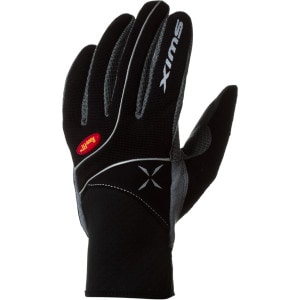 Swix Stride Glove - Men's


$35.95



Slide on the Swix Men's Stride Glove, grab your pole, and push out towards the freshly groomed tracks. Race fit technology and Cool-prene cuffs supply optimal comfort, feel, and compression while you train and enjoy the cold fresh air. more...




---
Arc'teryx Rivet AR Glove


$54.95



When you need protection for an afternoon in the snow but don't intend to scale Everest, pull on the Arc'teryx Rivet AR Glove. This all-around weather warrior features a DWR finish to shed water, and its smooth outer face means you can layer up easily if the cold demands it. Arc'teryx built the Rivet with stretch fabric and an articulated fit for maximum mobility and fun times in the snow. more...




---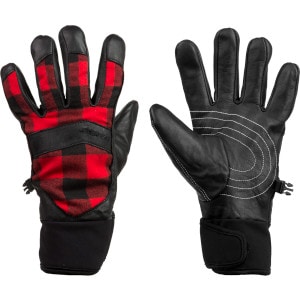 Seirus Xtreme Edge All Weather Glove - Men's


On sale - now $38.97




- was

$59.95



For softshell stretch and hardshell durability in all conditions, pull on the Seirus Xtreme All Weather Edge Glove. A waterproof, breathable, and windproof Dryhand membrane encased in durable nylon protects you from the elements. Abrasion-resistant PVC-reinforced palms and thumbs allow you to put the Xtreme through a beating without a second thought. more...




---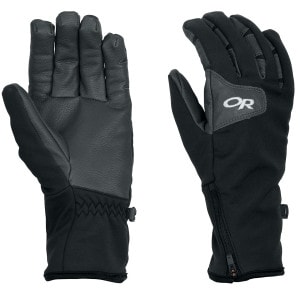 Outdoor Research StormTracker Glove - Men's


$69.95



With its windproof and breathable WindStopper shell and full-leather, wrap-around palm, it's not surprising that the Outdoor Research Storm Tracker Glove is a favorite of backcountry skiers all over the west. Built tough with an pre-shaped fingers and a medium-sized gauntlet to fit over the sleeves of your jacket, this cold-weather glove shields your digits from the wind and provides them with plenty of dexterity for the myriad of tasks you'll need to perform during your backcountry tour, alpine more...




---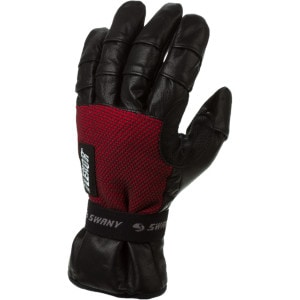 Swany Pro II Ski Glove - Men's


$69.95



The sleek leather of the Swany Pro II Ski Gloves gives you a killer look that is great for a day on the hill or taking to a murder scene. Plus, the technical fabrics keep your hands warm and dry so your hands won't end up soaked by snow (or blood). more...




---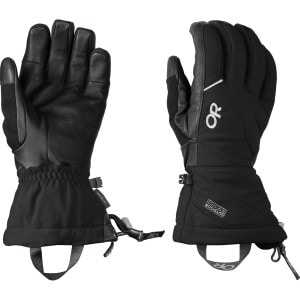 Outdoor Research Southback Glove - Men's


$84.95



When you wake up to the sound of avalanche cannons echoing through the mountains, reach for the Outdoor Research Southback Glove. This waterproof, insulated glove is ready for heavy powder days and free-skiing madness thanks to its careful balance of grip, protection, and dexterity. more...




---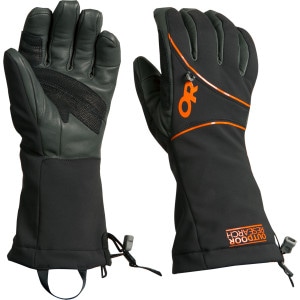 Outdoor Research Luminary Glove - Men's


$98.95



After extensive testing and feedback from Outdoor Research athletes, the softshell Men's Luminary Glove came to light. Made from WindStopper Soft Shell material, the Luminary protects in tough winter conditions and provides the high level of dexterity bold alpine climbers require. Purposely designed without a waterproof membrane for ultra-quick drying and maximum breathability, this glove can literally dry while you're wearing it. more...




---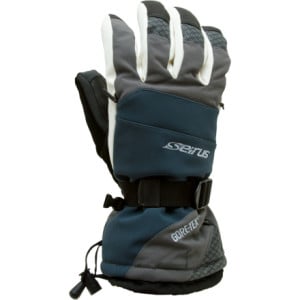 Seirus Method Gore-Tex Glove - Men's


On sale - now $54.97




- was

$99.95



Pull on the Seirus Method Gore-Tex Glove and enjoy fire-like warmth and waterproof protection thanks to the HeatLock insulation and waterproof breathable Gore-Tex membrane. The tough leather palm helps you grip your ski poles on whiteout days, and a gauntlet drawcord keeps out blowing pow. Seirus also added side ventilation zippers to give you total comfort control in varying conditions. more...