---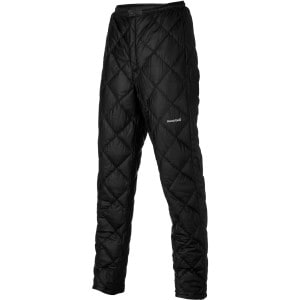 MontBell Ultralight Down Pant - Men's


$144.95



Round out your winter mountaineering kit with a down jacket and the six-and-a-half ounce Mont-Bell Ultralight Down Pant packed with 800-fill goose down. Montbell used highly-packable insulation and compressible shell material to craft these insulated pants, leaving you little reason to leave them behind when the weather hints at sub-arctic temperatures at night. Rather than carrying heavy fleece pants, or simply going without, treat your legs right, because after all, you're going to need them t more...




---
MontBell UL Thermawrap Insulated Pant - Men's


$144.95



Your legs seethe with jealousy every time you whip out that insulated jacket for your upper body on winter camping trips, so do them a favor with the MontBell Men's UL Thermawrap Insulated Pant. Exceloft insulation brings the warmth without the weight, and it stays warm even if it gets wet. Ballistic Airlight fabric is incredibly lightweight and surprisingly durable, and MontBell coated it with DWR to help keep you dry in light rain showers. This pair won't add much space to your bag either. All more...




---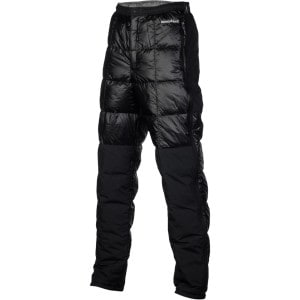 MontBell Ultralight TEC Down Pant - Men's


$174.95



In an age when down jackets are the norm, subvert convention and take warmth to an entirely new level with the MontBell Men's Ultralight TEC Down Pant. The lofty 800-fill goose down treats your lower half better than any pant before and the full-length side zips make getting them on and off a breeze. Plus, the fleece lined front pockets provide a warm place for cold hands. more...




---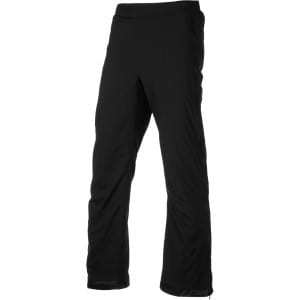 Arc'teryx Atom LT Insulated Pant - Men's


$188.95



You don't mess around when it comes to proper layering in the bitter cold, which is why the Arc'teryx Atom LT Insulated Pants fit the bill for your next sub-zero adventure. Extremely light and packable, these pants feature Coreloft insulation to trap your body heat without bogging you down with excess bulk. more...




---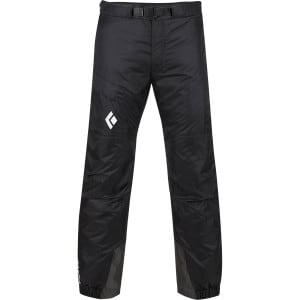 Black Diamond Stance Belay Synthetic Down Pant - Men's


On sale - now $113.4




- was

$189



When most people retreat indoors to sip hot chocolate and do gods-know-what with their time, you head out to the mountains for some epically cold climbing sessions with the Black Diamond Men's Stance Belay Synthetic Down Pant on. With 80g PrimaLoft Synergy insulating your buns, you belay your buddy in total warmth even if the pant gets wet. A Pertex shell wraps up this wonderful warmth with surprising durability considering how lightweight this pant is, and Black Diamond coated the shell with DW more...




---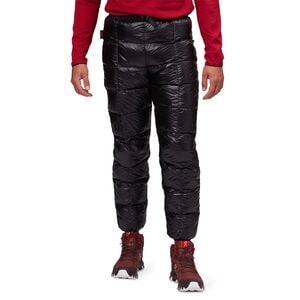 Western Mountaineering Flash Down Pant - Men's


$234.95



It's hard to recover completely at basecamp when the frigid temperatures keep your legs shaking, unless you brought the Western Mountaineering Men's Flash Down Pant with you. With 850+ fill goose down insulation warming your lower body, you get the utmost recovery possible for the remaining ascent. And there's really no reason to leave it at home, because this pant weighs less than half a pound and compresses down to half the size of your water bottle. The Flash features an adjustable belt that more...




---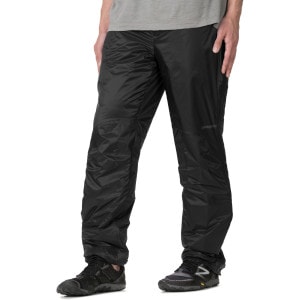 Patagonia DAS Insulated Pant - Men's


$249



When it gets super cold on your alpine climb or right before your summit push, let the Patagonia Men's DAS Insulated Pant boost your confidence. The PrimaLoft One is Patagonia's ultimate insulation made for extreme warmth even when wet so those extended belay sessions won't seem so brutally cold. Its highly compressible insulation and its lightweight yet durable nylon ripstop shell make this pant extremely convenient to bring with you no matter how light you want to travel. And the elasticized w more...




---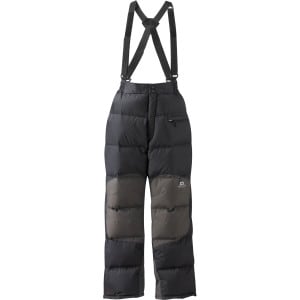 Mountain Equipment Lightline Down Pant - Men's


$249.95



Treat your lower body with the Mountain Equipment Men's Lightline Down Pant when you need recover at basecamp or are taking on the remaining ascent. Mountain Equipment stuffed this pant with lofty 675-fill down insulation to warm your legs up in frigid temperatures, and the stitched baffle construction keeps the down in place in order to maximize your warmth throughout your lower body. Its Drilite Loft shell is totally windproof and highly water-resistant, and the fabric is also lightweight and more...




---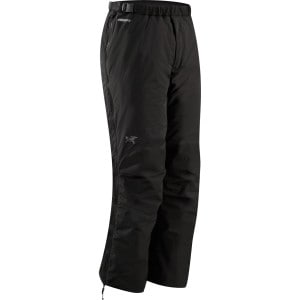 Arc'teryx Kappa Pant - Men's


$298.95



Slow but steady wins the day, at least when you're protected by the the Arc'teryx Men's Kappa Pant. Whether you're carefully working your way across a glacier or putting in time on belay at the base of the ice fall, the Kappa's Coreloft insulation teams up with new, advanced Windstopper fabrics to keep you warm, dry, and comfortable during long periods of low-intensity activities in the cold. more...




---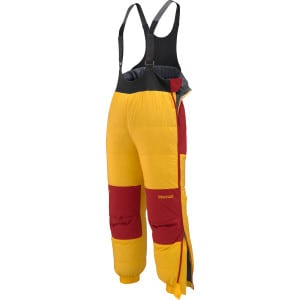 Marmot 8000M Down Pant - Men's


On sale - now $292.47




- was

$449.95



The Marmot Men's 8000M Pants provide the high-loft warmth you need to visit the highest, coldest places on earth. The combination of MemBrain waterproof breathable shell and incredibly warm 800-fill insulation make these expedition-grade bibs ideal for places like Everest, K2, or the South Pole. The 8000M Pant's full-length side zips make quick changes easy while wearing boots and crampons, and the reinforced seat and knees give you the kind of durability you need for gnarly ascents. Marmot made more...




---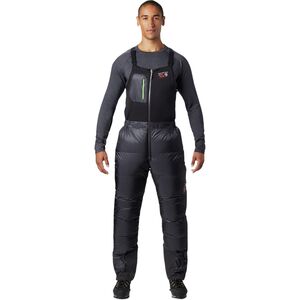 Mountain Hardwear Nilas Insulated Bib - Men's


On sale - now $363.97




- was

$519.95



Few people are as familiar with bitter-cold alpine temperatures as mountaineering legend Ueli Steck, so the fact that he helped design and develop the Mountain Hardwear Men's Nilas Insualted Bib is really saying something. The windproof AirShield Elite shell fabric puts the brakes on heat-thieving winds while the lofty 850-fill Q-Shield Down boasts the ability to maintain insulating performance even when exposed to moisture. more...




---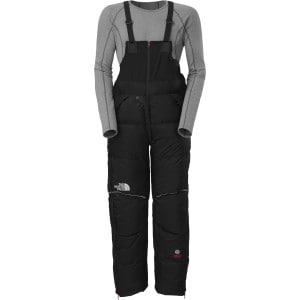 The North Face Himalayan Down Pant - Men's


$548.95



The North Face teamed up with legendary mountaineer Conrad Anker to make its Men's Himalayan Down Pant worthy of any expedition up 8,000-meter peaks like Everest and Gasherbrum I. Anker made sure this Summit Series pant got the right insulation in the right places with 800-fill Hungarian goose down in the upper and 700-fill in the lower. He even added Climashield synthetic insulation in the ankles for warmth even when it gets wet or compressed over your boot gaiter. Water-resistant, wind-resista more...