---
Columbia Buga Set - Toddler Boys'


$124.95



Keep your boy protected from the elements this winter with the Columbia Toddler Boys' Buga Set. An Omni-Tech waterproof membrane covers both the jacket and the bib to keep Junior dry, and it breathes so excess heat has less of a chance to turn into sweat while he pulls his sled up the hill. Nylon Legacy twill fabric boosts durability, and Columbia added a bit of microfleece on the bib for comfort. With Microtemp insulation on the jacket and Microtemp XF II on the bib, your not-so-little boy can more...




---
Columbia Buga Snow Suit Set - Toddler Girls'


$124.95



Bundle your little girl up in the Columbia Toggle Girls' Buga Snow Suit Set and send her out for her first taste of winter fun. Adjustable suspenders and hood give her a comfy fit so she won't feel restricted as she lays down her first set of snowy footprints. The Omni-Tech laminate blocks moisture so she can enjoy the snow longer without getting damp, and it's breathable too so she won't feel clammy under her layers. Critical seams are taped to stop melting snow from working in along the stitch more...




---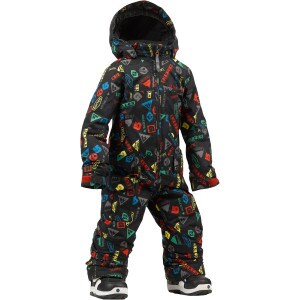 Burton Minishred Striker One-Piece Suit - Toddler Boys'


$149.95



Dress your little shredder in the Burton Toddler Boys' Minishred Striker One-Piece Suit and then drop him off for his first day of snowboarding school. A long front zipper lets him jump inside this suit without hassle, and the thick, body-mapped Thermacore insulation protects him from winter temperatures while keeping weight and bulk to a minimum. The waterproof breathableDryRide Durashell membrane and taped critical seams handle nasty winter storms. The soft taffeta lining feels good against ba more...




---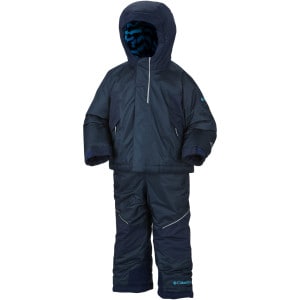 Columbia Whirlinator Set Snow Suit - Toddler Boys'


$149.95



It seems like your boy grows every day, and you're getting eager to snap some skis on the little tiger and send him down the slopes. Get him the Columbia Toddler Boys' Whirlinator Set Snow Suit that will see him through preemptive simple snow play and early ski lessons. The Omni-Tech laminate provides waterproofing element throughout the suit while remaining breathable so Junior isn't stifled during active pursuits in his winter wonderland. The Omni-Heat Thermal Reflective lining teams up with t more...




---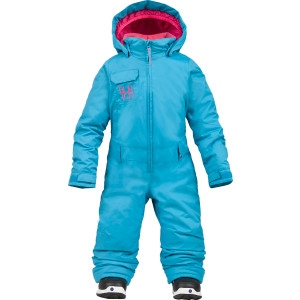 Burton MiniShred Illusion One Piece Snow Suit - Toddler Girls'


$149.95



Introduce your little ripper to the bunny hill and beyond with the warm, waterproof, and breathable Burton MiniShred Illusion One Piece Toddler Girls' Snow Suit. A generous amount of Thermacore insulation has been added throughout the body, sleeves, hood, and collar for plenty of warmth on colder days. A waterproof and breathable DryRide Durashell membrane keeps your little girl gets goes out to playing in fresh powder. Evolving along with your ever-growing child, this snow suit features Burton' more...




---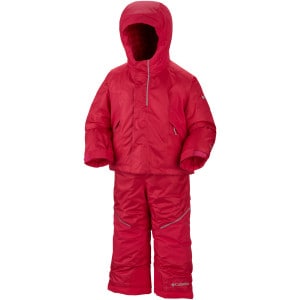 Columbia Whirlinator Snow Suit Set - Toddler Girls'


$149.95



Since she started walking, your little girl is a non-stop whirling dervish. When she doesn't get her way, she throws her little body down on any surface, snow included, and pitches a fit of epic proportions. Whether your little princess is playing or throwing a tantrum in the middle of winter, keep her warm and dry in the Columbia Toddler Girls' Whirlinator Snow Suit Set. Made from waterproof Omni-Tech nylon fabric and taped seams to ensure any moisture she feels is not from the snow, your daugh more...




---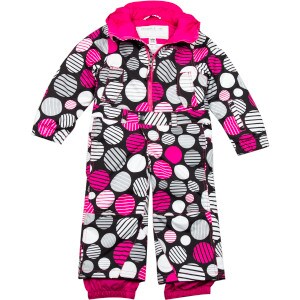 O'Neill Powder Fullsuit - Toddler Girls'


$149.95



What kid doesn't love playing in the snow? The kid who gets cold and wet within the first five minutes of being outside. This winter, clothe your little girl in the O'Neill Powder Fullsuit and stop having to worry about whether she's going to stay warm and dry while she's out romping in the winter wonderland.O'Neill has made sure your daughter will be nice and warm with 80g synthetic insulation in the body and 60g synthetic insulation in the arms. A waterproof/breathable membrane with critical s more...




---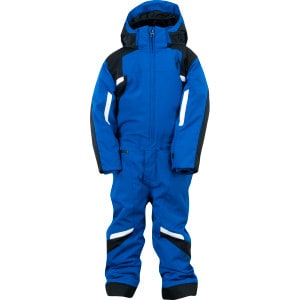 Spyder Mini Journey Snow Suit - Toddler Boys'


On sale - now $125.97




- was

$179.95



When it comes to staying warm on the mountain, a full suit is tough to beat. The Toddler Boys Mini Journey Snow Suit from Spyder will protect your little guy from head to toe when the snow starts to fall. The waterproof and breathable shell stuffed with ThermaWeb insulation keeps the cold out and the warmth in. When you're cold and ready to hit the lodge, he's going to throw a fit so he can stay out and play even longer. more...




---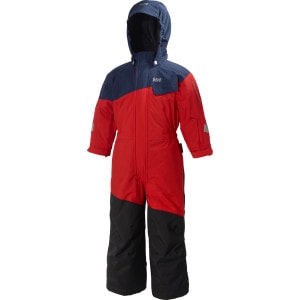 Helly Hansen Rider Insulated Ski Suit - Toddler Girls'


$179.95



The Helly Hansen Toddler Girls' Rider Insulated Ski Suit simplifies things when you're getting your little girl ready to go out in the snow. Having her outerwear all in one piece means you don't have to keep track of multiple items of clothing or work her into pants and a jacket separately. The waterproof Helly Tech Performance fabric and fully taped seams keep wetness out while the WarmCore insulation heats up her core whether she's sledding, doing pizza-wedges down the bunny hill, or building more...




---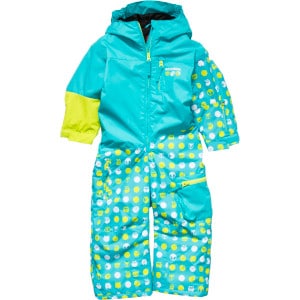 Rossignol Mini Suit - Toddler Girls'


$179.95



Your young one might not be old enough for her first ski lesson yet, but that doesn't mean she should just knock around in the house all winter, especially when the Rossignol Toddler Girl's Mini Suit grows with her. Its membrane gives this jacket exceptional waterproof protection against the wet weather, and Rossignol taped the critical seams so the seams that are most likely to let snow seep in while she plays in the backyard are covered. Polyester insulation warms her up in cooler temperatures more...




---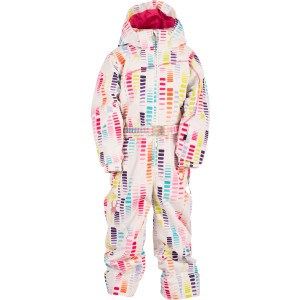 Spyder Bitsy Sassy Suit - Toddler Girls'


$184.95



The Spyder Itsy Bitsy Sassy Suit comes with all the wet weather and cold protection of high-end adult jackets, even more than some. Your little girl will be able to brave her ski lesson and the go back for more. A waterproof breathable laminate wrapped in a stretchy polyester shell with loads of synthetic ThermaWeb insulation is the ideal recipe for a dayful of smiles. The Bitsy comes with a slew of not-so-obvious but just as important features, as well. Inner snow gaiters and elasticized cuffs more...




---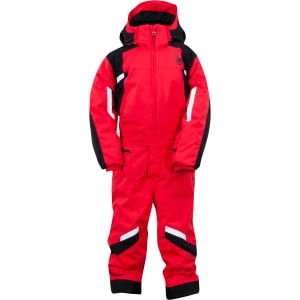 Spyder Mini Harness Journey Suit - Toddler Boys'


$209.95



Your little guy has just fallen down for the third time this run. But, falling is part of learning and the Spyder Toddler Boys' Mini Harness Journey Suit has a built-in harness system that makes it easy to get him back on his feet and headed in the right direction. more...




---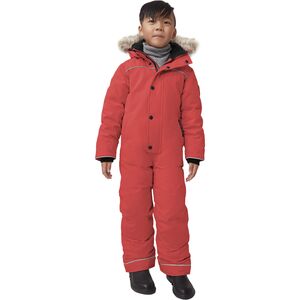 Canada Goose Grizzly Snow Suit - Toddler Boys'


$494.95



When Junior thinks of winter, the first thing that occurs to him is rolling in the snow, and the Canada Goose Toddler Boys' Grizzly Snowsuit is just the thing to make playtime fun. The water-resistant shell fabric and 625 fill-power insulation keep him warm and happy when the snowballs start flying. The outer layer of the Grizzly Snowsuit is polyester with a touch of cotton for a soft feel. The fabric is coated with a washer-safe water-resistant treatment to hold the elements at bay; at the seat more...




---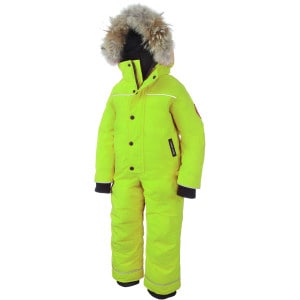 Canada Goose Grizzly Down Snow Suit - Toddler Girls'


$494.95



Your little girl wants to play in the snow everyday, so outfit her in the Canada Goose Toddler Girls' Grizzly Down Snow Suit that handles her everyday winter play. With 625-fill down insulation warming her body, she can play in the snow as long as she wants. And since down has a high warmth-to-weight ratio, your girl stays cozy without feeling weighed down by her snow suit. The Arctic-Tech shell and the lining both have water-resistant coatings that help the suit stay dry in light flurries.The G more...




---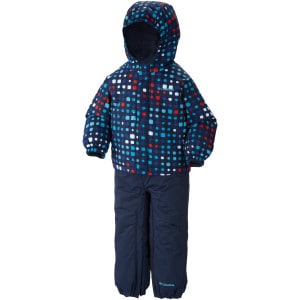 Columbia Fresh Pow Set - Toddler Boys'


$84.95



The first snow dump hit your front yard and your boy is beaming with delight. Suit him up in the Columbia Toddler Boys' Fresh Pow Set so he can get to work on flattening your front yard's powder-covered lawn. An Omni-Shield coating resists water and other unwanted stains that your little tyke seems to create out of thin air. The nylon shell stands up to wear and tear from sledding adventures, and the 140g Slimtech insulation in both jacket and bibs warms him to the core while keeping the bulk do more...




---
Columbia Frosty Slope Set - Toddler Boys'


$89.95



For boys who like to play it safe in the snow, there are other sets. For rough and rowdy boys who like to run, jump, roll, and tromp through the snow, there's the Columbia Toddler Boys' Frosty Slope Set. This set has an Omni-Shield coating that resists liquids and stains that range from melted snow to the dirty grass underneath. That means you sip hot cocoa without worrying over tonight's massive laundry cycle. The durable nylon face and lining make the Frosty hand-me-downable. The insulation in more...




---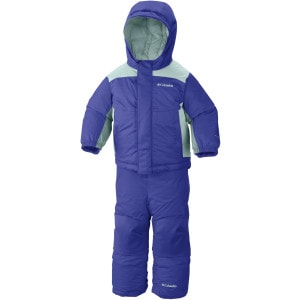 Columbia Double Flake Reversible Snow Suit Set - Toddler Girls'


$89.95



Put the Columbia Toddler Girls' Double Flake Reversible Snow Suit Set on your princess for the weekend and she is set against the cold and snow. The Double Flake Snow Suit is equipped with an Omni-Shield membrane to shed moisture when you toss a few harmless snowballs at her on the front lawn or when it starts snowing while you are sledding in the park. It also dries quickly so you don't have to find her a different jacket after a night's play in fresh snow. The shell is made with a Microtex Lit more...




---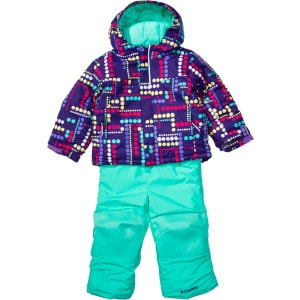 Columbia Frosty Slope Snow Suit Set - Toddler Girls'


$89.95



Why buy a snow outfit one piece at a time? That requires more time, and time is precious when you have a toddler. The Columbia Toddler Girls' Frosty Slope Snow Suit Set is your one stop for warm, water-repellant snow layers for your little princess. Columbia's Omni-Shield offers advanced repellency to shed moisture whether you are helping her build a snowman or she is taking her first ski lesson. The 150g Microtemp polyester insulation will keep her cozy without getting too bulky.The Frosty Slop more...




---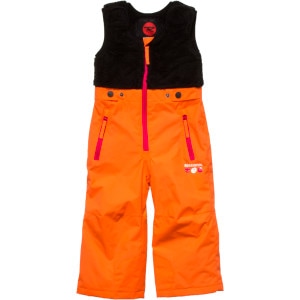 Rossignol Mini Pant - Toddler Girls'


$99.95



Your young one plays in the snow from its first fall to the final melt, so get her the Rossignol Toddler Girls' Mini Pant to keep her comfortable throughout winter. Its membrane places a waterproof barrier between the wet world, and taped critical seams prevent snow from seeping in through key seams. The 60g polyester insulation warms her lower body while she plays outside after the sun sets, and the bib uses fuzzy fleece to add more warmth and comfort to her core.You can extend the cuffs for ad more...