---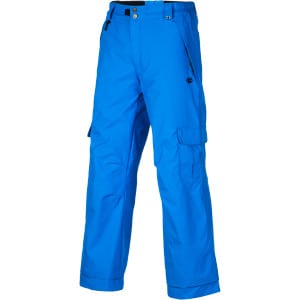 686 Mannual Ridge Insulated Pant - Boys'


On sale - now $55




- was

$100



The 686 Mannual Ridge Insulate Pant features weather-resistant InfiDry-5 fabric and 80 grams of polyfill insulation to keep your gromlet warm and cozy whether he's shredding the gnar or starting a snowball fight. And better yet, it's fully equipped with the Youth Evolution room-to-grow system to handle those sudden growth spurts. more...




---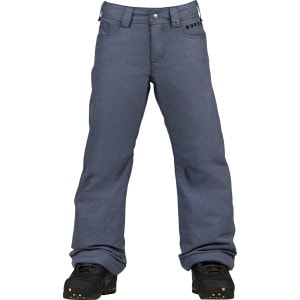 Burton Denim Insulated Pant - Boys'


$109.95



Keep your outerwear on the same level as your tricks. Denim twill with DryRide Durashell waterproofing and breathability links style and function like you link combos. Mapped Thermacore insulation and zip vents regulate heat while you hit-hike-hit. Worry about dialing in your 5s and not snow getting in with ankle gaiters and jacket-to-pant interfacing. Leg Lifts save your cuffs from shredding as you cross the lot to get to the lifts. You work hard to look good in the air and on the rails get som more...




---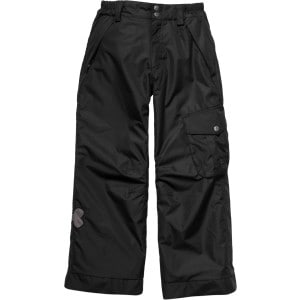 Paul Frank Skurvy Insulated Pant - Boys'


$109.95



Send him outside in the Paul Frank Boys' Skurvy Insulated Pant, because storming that snow fort and ruling supreme as king of the hill isn't as much fun if he's freezing. The waterproof, breathable shell will keep him dry, and the polyester insulation will keep the shivers at bay. You'll be psyched on the Extend-O-Matic sizing, which expands the waist up to one and a half inches, and the legs by two inches. That means he should actually get though an entire season in the same set of pants, even more...




---
Ride Charger Cargo Insulated Pant - Boys'


$109.95



The super-warm Ride Boys' Charger Cargo Insulated Pant will keep your little snowboarder happy and shredding all day. This stylie cargo pant is full of light insulation to keep him warm and sheltered with waterproof, breathable Aquapel protection. This classic fit boys' pant has articulated knees and an adjustable waist for everyday comfort. If that's not enough, it also has a Grow-With-Me hem and gaiter for extra-long life and fit for fast-growing kids; when a pant's going to be worn for more t more...




---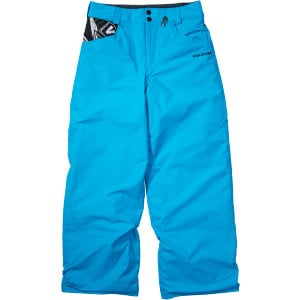 Volcom Discover Insulated Pant - Boys'


$109.95



The relaxed-fit Volcom Boys' Discover Insulated Pant, with 8K-rated waterproof fabric and 80g poly fill insulation, will keep your boy comfortable as he tackles his first runs and rails and improves his skills at the local snow park. The adjustable inner waistband allows for a customized secure fit, while boot gaiters keep snow from getting in the pant cuffs so the day isn't cut short the first time he plants in waist-deep powder. The Grow-Tech feature in the legs allows you to let you to let ou more...




---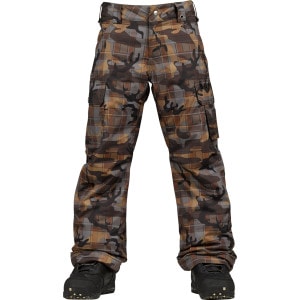 Burton Exile Cargo Insulated Pant - Boys'


$114.95



The Burton Boy's Exile Cargo Pant delivers all the technical aspects and the style points found in Dad's and big brother's pants, but they're designed from scratch to fit smaller riders. DryRide Durashell's two-layer construction gives the Exile the highest waterproof rating in Burton's line of boy's snow pants. Under the waterproof, breathable shell there's 60g Thermacore insulation throughout for cold, snowy days, along with thigh zips to regulate heat on warmer days. Boot gaiters stop snow an more...




---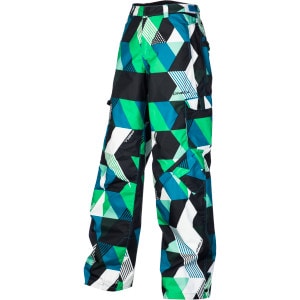 O'Neill Volta Print Pant - Boys'


On sale - now $65.97




- was

$119.95



Look to the O'Neil Boys' Volta Print Pant to keep your ninja-pole swinging, helicopter-flying, park-and-pipe grom warm and comfortable. Toasty Firewall insulation warms his bum on chilly lift rides and while he waits for his turn in the pipe. more...




---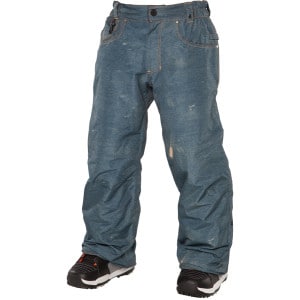 686 LTD Destructed Denim Insulated Pant - Boys'


$120



Cold, uncomfortable weather can bring a day of riding to a nasty end in a hurry. You'd like to keep riding, and of course, you want your kid to have a good time as well. The 686 Boys' LTD Pant includes a generous 80g synthetic insulation to take the edge off nasty weather without causing your kid to overheat, and the destructed denim makes this pant look like it's been through a few seasons' worth of hard wear and tear on the mountain and the asphalt. The LTD's shell is polyester with 686's Infi more...




---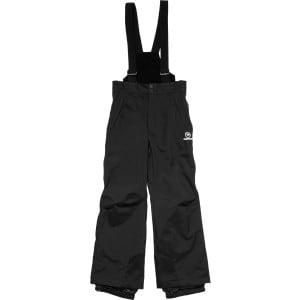 Rossignol Zip Pant - Boys'


On sale - now $103.96




- was

$129.95



Your boy will come down the hill in a spiffy race suit, but you know that thin thing won't keep him warm going up the lift. The Rossignol Boys' Zip Pant accommodates these race-day wardrobe changes with ease. The 60g of insulation is enough to keep the chill at bay and the full side zips let him pop them on and off without touching his boots, so transitions are super simple. When he's finished his run, or is training under the lights, or hey, even if he's not a ski racer at all, the Zip's weathe more...




---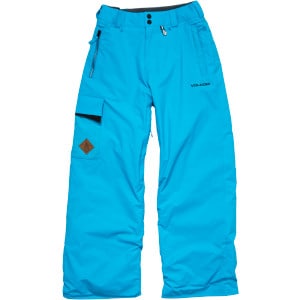 Volcom Foxtail Insulated Pant - Boys'


$129.95



With the Volcom Boys' Foxtail Insulated Pant, not only will your boy stay comfortable while looking cool when he's out shredding, he'll be able to wear this pant for more than one season. This feature-packed pant includes everything from 8K-rated waterproof fabric to 80g poly fill insulation, boot gaiters to a pant-to-jacket interface zipper. The adjustable inner waistband and relaxed-fit legs make for a comfortable fit that supports free movement, while mesh-lined zippered inseam vents allow yo more...




---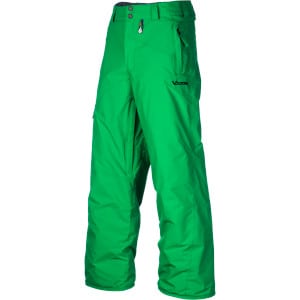 Volcom Launch Insulated Pant - Boys'


On sale - now $64.97




- was

$129.95



The Volcom Boys' Launch Insulated Pant give your kid a smooth look while and dishes up enough weather protection to keep him dry and warm while he rocks the resort. Make sure he's zipped up in these well-rounded, insulated pants before he straps into his snowboard. more...




---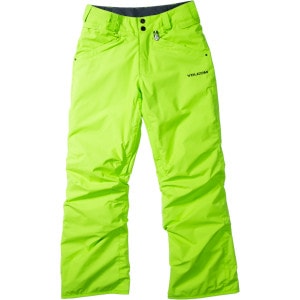 Volcom Lumber Insulated Pant - Boys'


$139.95



The Volcom Boys' Lumbar Insulated Pant is a win-win for both you and your boy. This pant provides a lot of technical features at a reasonable price, and has cool, streamlined style that your boy will love. Volcom's V-Science waterproof fabric and breathable lining will keep your boy dry and comfortable, 80g poly fill insulation adds a layer of toasty warmth, and fleece lining at the seat and knees provides added warmth where it's needed most. The adjustable inner waistband allows for a customize more...




---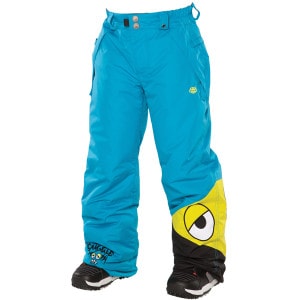 686 Snaggleface Insulated Pant - Boys'


$140



The 686 Snaggleface Insulated Pant keeps your kid warm, dry, and stoked, thanks to an InfiDry-5 waterproof and breathable membrane, taped seams, and a touch of insulation. It also features Snaggletooth's menacing mug to scare off any small woodland creatures attempting to get their paws on the granola bars stashed in his pocket. 686 knows that snack-stuffing groms will grow like crazy, so they designed the Snaggleface pants to grow with him, thanks to the Youth Evolution leg and waist extension more...




---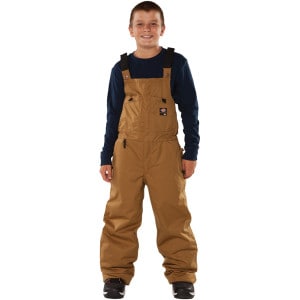 686 Times Dickies Bib Overall Insulated Pant - Boys'


$140



You're ready to step up to tough outerwear with real features and attitude, even if most outerwear manufacturers still think you read comics and play tag. 686 feels your pain, and they got together with Dickies to design some gear that you can be proud of. The Times Dickies Bib Overall Insulated Pant provides enough insulation to take the edge of cold days without overheating you on days when the sun pops out unexpectedly. The waterproof breathable Infidry membrane and taped critical seams hold more...




---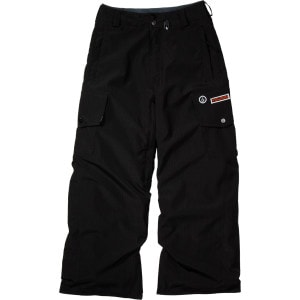 Volcom Digger Insulated Pant - Boys'


$149.95



The Volcom Boys' Digger Insulated Pant--with 10K-rated waterproof fabric, 80g poly fill insulation, and features that keep snow from getting in--ensures that your boy stays protected when he's out carving turns, learning tricks, and taking a tumble or two out in the snow. The pant has a zipper interface that allows it to connect to any of Volcom's compatible jackets so it keeps snow from getting in at the waist, while boot gaiters keep snow from entering at the cuffs. The adjustable inner waistb more...




---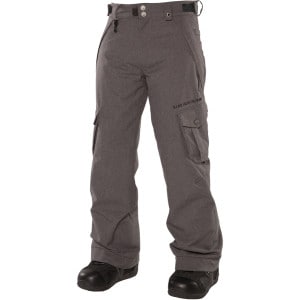 686 Smarty Original Cargo Insulated 3-in-1 Pant - Boys'


$160



686 knows you're worried about keeping your kid warm and happy on the hill, which is why the Smarty Original Cargo Insulated Pant lets you choose between 'warm' and 'really warm' depending on the weather and your level of overprotective paranoia. A removable fleece liner combines with full-time 40g polyfill insulation to keep Junior toasty warm during even the gnarliest winter storms. The Smarty's shell is polyester with 686's Infidry 8K membrane and a durable water repellant finish. The lining more...




---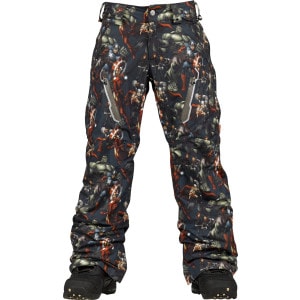 Burton Marvel Pant - Boys'


$179.95



Your mini-you puts on the Burton Boys' Marvel Pant and all the sudden it's like he's in a comic. "Pow" and "Bam" and "Ooofff" is all that you hear as he rips it hard. You look down and wish your pants could do that. Well, the Marvel packs a superhero wallop in the design department with your kid's favorite Marvel characters right there riding with him. But there's also tech with the two-layer DryRide Durashell, which is waterproof and breathable (after all, his super powers aren't fighting cold, more...




---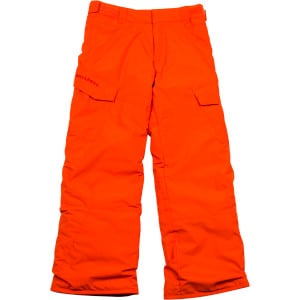 Billabong Mini Rail Pant - Boys'


On sale - now $75.96




- was

$94.95



Give your little ripper the wintertime protection he needs with the Billabong Boys' Mini Rail Pant. Offering up a water-resistant and breathable barrier from snow and light rain showers, these snowboard pants are great for learning to ride and playing in the snow. When your little dude goes through a growth spurt, rejoice in the adjustable exterior waist and GroRoom technology, which allows these pants to expand in leg length as your child gets taller. Additional features include waterproof elas more...




---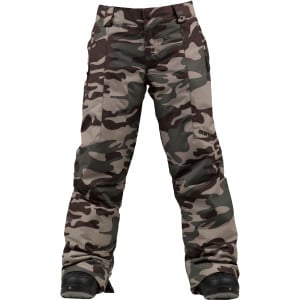 Burton Cyclops Insulated Pant - Boys'


On sale - now $59.94




- was

$99.9



One-eyed monsters and knuckle-dragging youth agree that the Burton Boys' Cyclops Insulated Pant is the best pant around for crushing everything in their path and staying dry and warm doing it. more...




---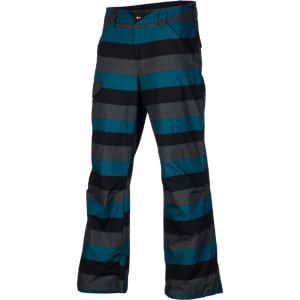 Burton TWC Throttle Pant - Boys'


On sale - now $49.95




- was

$99.9



The Burton Boys' TWC Throttle Pant brings the style and tech of the White Collection to your sub-adult shredder. DryRide awesomeness and Thermacore warmth keep him comfortable so he can rack up laps and then hike for those last few shots at his favorite jump even after the lifts are closed. more...




---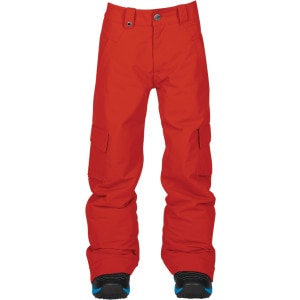 Bonfire Troop Pant - Boys'


$99.95



It seems like every time you buy Junior a pair of ski pants, he outgrows them before he can even break them in. The folks at Bonfire feel your pain, that's why they designed the Boys' Troop Pant with EZ-Grow Cuffs that allow the pant to grow as he grows. The Troop will also take himthrough winter's coldest months with its water-resistant shell, taped critical seams, and toasty syntheticinsulation. The soft taffeta lining and articulated knees give the Troop a comfortable, natural feel, and the b more...




---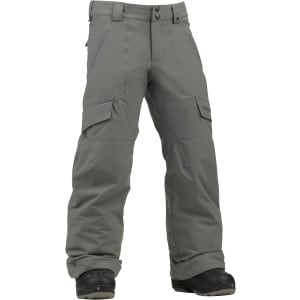 Burton TWC Tracker Insulated Pant - Boys'


On sale - now $79.96




- was

$99.95



Through combining waterproof protection, a mid-level of insulation, and an innovative Room-To-Grow system, the Burton TWC Tracker Insulated Boys' Pant keeps your little man comfortable when playing in the snow. A DryRide Durashell membrane is both waterproof and breathable--preventing wetness when spending hours on the snow. Thermacore insulation provides cold weather protection from all but the chilliest of conditions. Growth-spurt-friendly, the TWC Tracker Insulated Boys' Pant sports a Room-To more...




---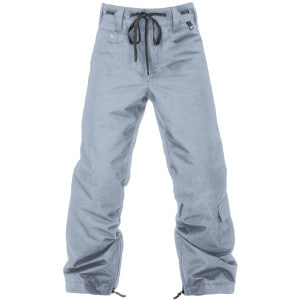 Nomis Eazy Pant - Boys'


On sale - now $74.96




- was

$99.95



Days on the mountain with your little ones can be quite stressful; all that complaining and whining can really ruin a good day. You can make a difference by giving your son the Nomis Boy's Eazy Pant. With their waterproof, breathable twill, these snowpants won't give your boy much to complain about at all. He may find other things to whine about but, thanks to a little insulation, the cold won't be one of them. If he's in his growing stagewhen aren't they?then you'll find the internal adjustable more...




---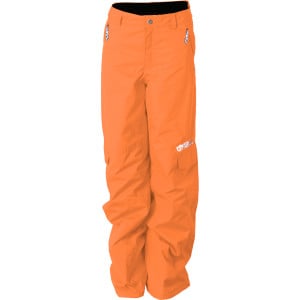 O'Neill Volta Insulated Pant - Boys'


On sale - now $19.99




- was

$99.95



His ability to jet from the car like a bolt of lightning is almost as powerful as his gear-destruction and rapid-growth abilities. Whatever the reason for his need for a new riding pant, your son will appreciate the water-resistant, highly-breathable O'Neill Boys' Volta Insulated Pant. And you'll appreciate the reinforced cuff that should resist wear long enough to last the entire season. Now, if you can only convince him to stash a pb&j in the large cargo pocket to save you money on food and pu more...




---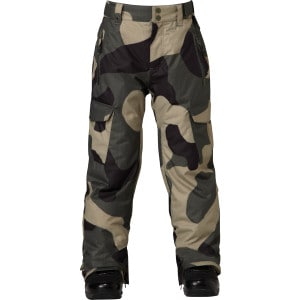 Quiksilver Porter Pant - Boys'


$99.95



Cold-weather protection and cargo-pant style make the Quiksilver Boys' Porter Pant a surefire win in your little grom's eyes. This allover-insulated pant fends off the subzero temps, and its waterproof, breathable protection keeps him dry when it storms. A smooth taffeta lining feels soft next to his skin, and the brushed tricot seat adds extra warmth where he needs it. Mesh-lined venting lets him dump heat when the sun shines or he's riding hard, and the bottom legs lift up from the cargo pocke more...




---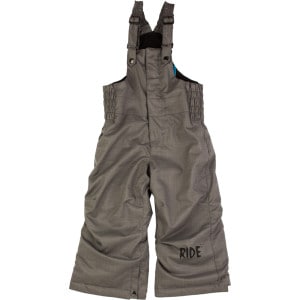 Ride Wild Bib Pant - Little Boys'


On sale - now $59.97




- was

$99.95



Whether he's locked into lessons at the resort or throwing snowballs at the schoolyard, the Ride Little Boys' Wild Bib Pants provides the cozy warmth and water-resistant fabric to keep him out of the house for longer periods of time. It's a win-win. more...




---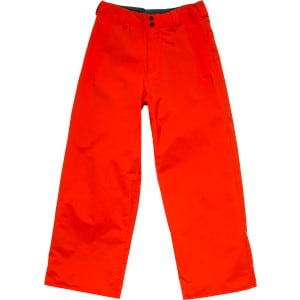 Volcom Module Insulated Pant - Boys'


$99.95



Your boy's ready to ride on his own, you want him to stay warm. Send him out in the Volcom Module Insulated Pant, and you'll both be happy. The durable V-Science Oxford fabric, breathable lining, and 80g polyester fill insulation keep his legs warm from the lift to the half pipe. The boot gaiter and critical taped seams ensure snow doesn't creep in where it's not supposed to, and the Stone butt patch keeps him dry while he's strapping in. The triple reinforced rise provides a comfortable fit, an more...