---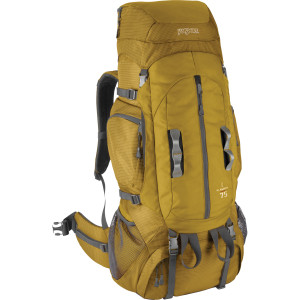 JanSport Klamath 75 Backpack - 4600cu in


$169.95



You gather your gear, organize it inside the JanSport Klamath 75 Backpack, and remove yourself from society for a week. This pack's comfortable, adjustable suspension and beefy storage space is ready to help you get away from the city humdrum. more...




---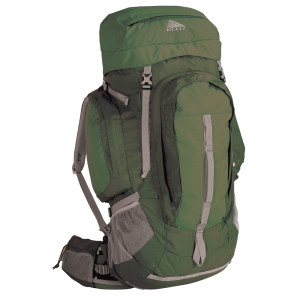 Kelty Coyote Backpack - 4750cu in


On sale - now $123.17




- was

$175.95



The Kelty Coyote Backpack's beefy dimensions and sophisticated suspension bring sport and luxury together so you can get to those places where no car could travel. With the assurance of an adjustable torso system, this big, compressible pack fits to your body for long loops along an endless ridge line. more...




---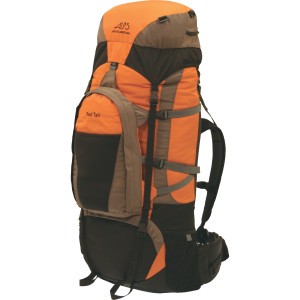 ALPS Mountaineering Red Tail Backpack - 4900cu in


On sale - now $125.96




- was

$179.95



When a day, a weekend, or even a week isn't enough time on the trail, load up the extendable 80-liter ALPS Mountaineering Red Tail Backpack and remove yourself from civilization until you fill the void with a adult-sized dose of wilderness. Not for mere weekend getaways, this six-pound pack outfits the month-long treks you plan for weeks and then quit your job to complete start to finish. The top spindrift collar extends to provide more than 80 liters of space, but since its dual-density shoulde more...




---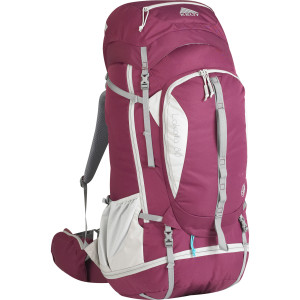 Kelty Lakota 80 Backpack - Women's - 4800cu in


$189.95



The Kelty Women's Lakota 80 Backpack holds everything you need for a week-plus backpacking trip into Rocky Mountain National Park. This pack features women-specific Lightbeam Fixed suspension system for a comfortable fit and lightweight support, while a plethora of other features enhances your overall carrying comfort. more...




---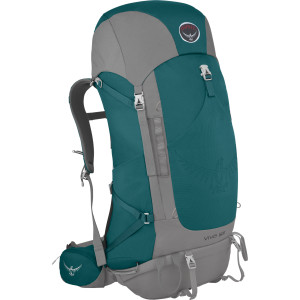 Osprey Packs Viva 65 Backpack - Women's - 3967cu in


$198.95



There's nothing like pulling up to the trail head, climbing out of your car, and swinging the Osprey Women's Viva 65 Backpack over your shoulders. This lightweight, durable, and simple pack holds everything you need for your four-day trip into the backcountry. Its women-specific design, Fit-on-the-Fly hip-belt, and adjustable torso provides a solid, comfortable, and supportive pack for you to shoulder during your gorgeous hike through fields of wildflowers and tall green grass. more...




---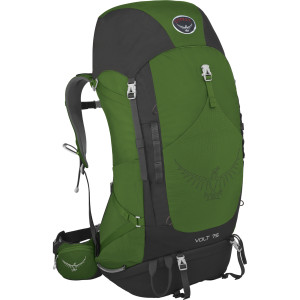 Osprey Packs Volt 75 Backpack - 4,577cu in


$198.95



If you want your pack to fight right, but other than that you adhere to a less-is-more philospohy when you wander through the backcountry, the Osprey Volt 75 Backpack was built with you in mind. Osprey designers gave the Volt a high-end fully adjustable suspension to ensure it would comfortably carry heavy loads, then trimmed away unnecessary bells and whistles to produce a sleek bag that provides everything you need for multi-day excursions into wild places. more...




---
Kelty Coyote Backpack - 4700-4900cu in


$199.95



The Kelty Coyote Backpack's beefy dimensions and sophisticated suspension bring capable sport and comfortable luxury together, so you can roam far and wide without the pain and suffering. With the assurance of an adjustable, padded, and ventilated suspension system, this stable carrier fits your torso with precision and weight-dispersing efficiency. Plentiful gear pockets, attachment points, and hydration compatibility keep you organized. If even that gets too much, turn the top lid into a lumba more...




---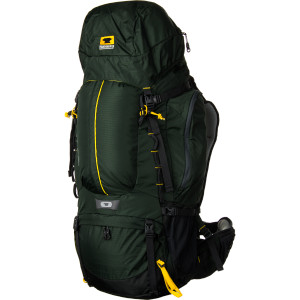 Mountainsmith Apex 80 Backpack - 4882cu in


$209.95



For the money, you'd be hard pressed to find a full-featured expedition-style pack that carries as comfortably as the Mountainsmith Apex 80 Backpack. The ICS Cup waist belt, Lumbar Control Point pad, and Delta Wing straps are all designed to effectively transfer up to 75 pounds of pack weight onto and over your hips for comfortable hiking, and the detachable lid converts to a lumbar pack for day hikes out of base camp. more...




---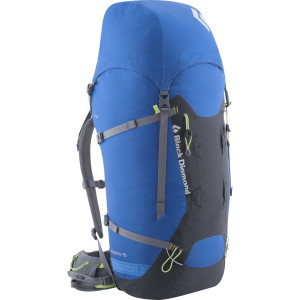 Black Diamond Mission 75 Backpack - 4455-4699cu in


$239.95



Don't make the mistake of slogging through your next adventure with a bulky, heavy, or inadequate pack. Black Diamond designed the top-loading Mission 75 Backpack to be a lightweight expedition-sized hauler for alpine assaults so hauling those massive loads at altitude won't be such a painful experience. Such a trek might still leave you parched, but that's why the Mission is hydration-reservoir-compatible. more...




---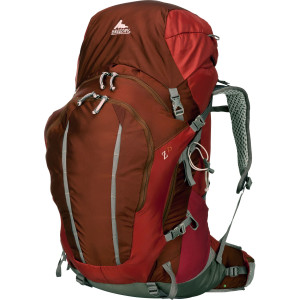 Gregory Z 75 Backpack - 4211-4943cu in


On sale - now $215.16




- was

$268.95



You asked for it, and Gregory delivered. The Gregory Z 75 Backpack is the latest addition to the Z Series packs, built to get you adventuring further and longer with the same sleek design, ventilating comfort, and trail-savvy features that you love about the Z 65. more...




---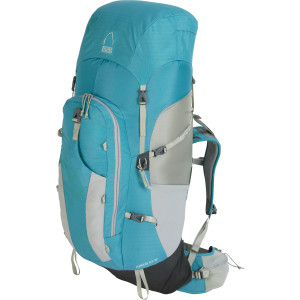 Sierra Designs Jubilee 65 Backpack - Women's - 3800cu in


$279.95



Sierra Designs blessed the Women's Jubilee 65 Backpack with many of the same features as the Jubilee 50 pack, but gave this one an extra 15 liters of carrying capacity for extra-long expeditions. If you have a full week of beautiful trekking ahead of you, toss all your gear and food into this pack and bask in the comfort of its women-specific construction. It's far better than a small men's pack; its shoulder straps, sternum strap, hip belt, and suspension are tailored to a woman's shape. more...




---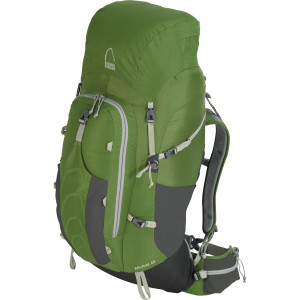 Sierra Designs Revival 65 Backpack - 3800-3950cu in


$279.95



Sierra designs gave the Revival 65 Backpack everything you need for a long multi-day trip into the woods or a huge summer trip through Central America. Light, simple design and maximized carrying capacity make this pack an easy winner, and its comfortable suspension system lends a little ease for your shoulders. more...




---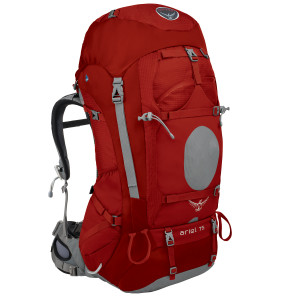 Osprey Packs Ariel 75 Backpack - Women's - 4400-4600cu in


On sale - now $231.16




- was

$288.95



The durable Osprey Womens Ariel 75 Backpack makes your travel into the backcountry a whole lot easier and more comfortable thanks to its lightweight, stellar AirScape suspension fit system, and customizable IsoForm CM hipbelt. The Ariel fits and organizes everything you need for a long adventure in the wilderness, so youre not left having to choose between taking your down puffy jacket or your sleeping pad. more...




---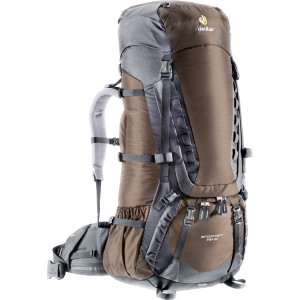 Deuter Aircontact 75+10 Pack - 4580cu in


$289



As far as expedition load-haulers go, the Deuter Aircontact 75+10 Pack may fool you into thinking it's a lot smaller than it really is. Built for comfort during high-mileage movement, the Aircontact features Deuter's proprietary Variflex hip belt plush comfort. more...




---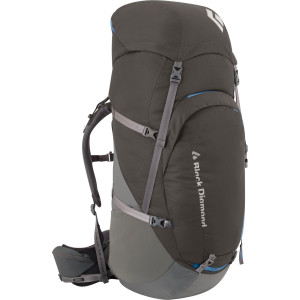 Black Diamond Mercury 75 Backpack - 4577-4699cu in


$289.95



Black Diamond designed the Mercury 75 Backpack for multi-day backpackers that won't compromise on quality any more than they'll stay inside on a sunny weekend. The cutting-edge ergoActiv suspension system shoulders heavy loads and utilizes SwingArm shoulder straps and an unrestricted hip belt to keep you comfortable over long distances. A contoured frame optimizes load transfer so you can spend your time taking in incredible mountain vistas rather than popping painkillers for your wrenched back. more...




---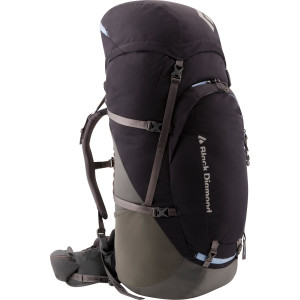 Black Diamond Onyx 75 Backpack - Women's - 4577-4699cu in


$289.95



Time to get away for an extended adventure. The Black Diamond Women's Onyx 75 Backpack packs just about everything except the kitchen sink, and keeps you comfortable while doing it. Black Diamond's ErgoActiv XP suspension system features an innovative free-floating hip belt that pivots with your bodys movements for improved load stability and comfort when traveling over uneven terrain. more...




---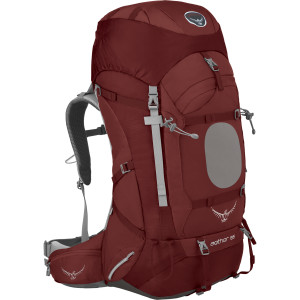 Osprey Packs Aether 85 Backpack - 5004-5553 cu in


$298.95



Buy a plane ticket to China, pack up your gear in the Osprey Aether 85 Backpack, and wander into the land of infinite possibilities. Its large storage space, multiple straps, and gear loops enable the Aether to be used for a variety of short to long backpacking trips among rice patties, snow-covered peaks, and cherry-blossom forests. Plus, if you need more space, Osprey's attachable AddOns (sold separately) make the Aether 85 large enough for two-week-long expeditions. more...




---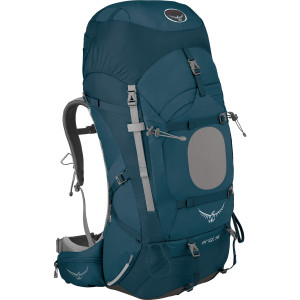 Osprey Packs Ariel 75 Backpack - Women's - 4211-4577cu in


$298.95



Solve your backpacking discomfort and hot spot issues with the Osprey Women's Ariel 75 Backpack. Designed specifically to fit a woman's body, the lightweight Ariel 75 has more than enough room to carry your gear for a week-long trip into Glacier or Yosemite National Park. Its AirScape back panel provides comfort and durability during intense hikes up steep terrain during warm weather, while its customizable IsoForm CM hip-belt supplies optimal load carry, support, and comfort. more...




---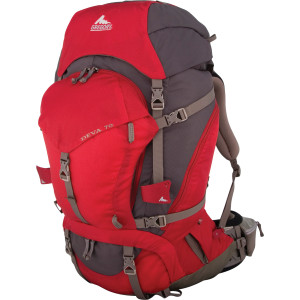 Gregory Deva 70 Backpack - Women's - 4150-4455cu in


On sale - now $255.16




- was

$318.95



Your week-long trek through the Sierras demands a heavy load and the Gregory Deva 70 Backpack features women's-specific Response AFS suspension to help you carry it over the rugged trail. Incorporating a reduced torso size and soft, contoured shoulder straps, the Response AFS suspension maintains a rigid structure thanks to an aluminum stay and advanced thermo-molded EVA back panel. more...




---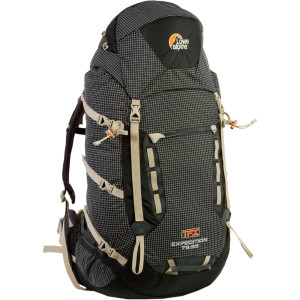 Lowe Alpine TFX Expedition Backpack - 4600cu in


$324.95



As its name suggests, the Lowe Alpine Expedition Backpack is suitable for hauling loads of stuff into the backcountry and does so while providing you carrying comfort and fit versatility. With a max load at around 70 pounds you can over-pack to your hearts desire and laugh while you ask for help putting your pack back on. more...




---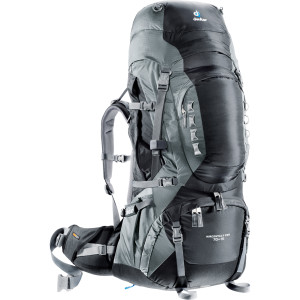 Deuter Aircontact Pro 70+15 Backpack - 4271cu in


$339



No-resupply expeditions require lugging an expanded backcountry kit, and the Deuter Aircontact Pro 70+15 Backpack is the undisputed heavyweight-hauler. With the Aircontact Pro system?featuring tons of breathability and anatomically cut cushioning?and an adjustable torso and V-shaped aluminum frame, this pack sits comfortably on extra-long treks and across treacherous terrain. Its extended capacity of 85 liters includes two large pockets for your reservoirs to keep you hydrated and hauling. more...




---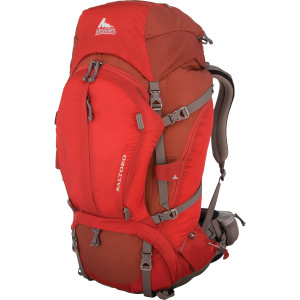 Gregory Baltoro 75 Backpack - 4455-4760cu in


$348.95



Your week-long trail ambitions may be misunderstood by co-workers and family, but once you put on the Baltoro 75 Backpack and feel how great its Response AFS suspension responds to a heavy load, you realize that Gregory has your back. Now with superior suspension for spring 2012, this updated award-winning top-loader incorporates a larger load capacity with beefed-up suspension. more...




---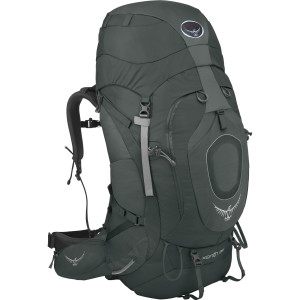 Osprey Packs Xenith 88 Backpack - 5370-5858cu in


$348.95



Whether you have aspirations to walk the entire Appalachian trail or you're trekking through Nepal, the Osprey Xenith 88 Backpack has the packing space, support, and comfort to handle the task. The LightWireHD frame transfers weight to the hips so you can haul up to 70 pounds of gear, and the BioForm CM waist-belt can be custom heat molded for a fully personalized fit. Dual curved side zippers allow you to quickly access gear without dumping everything out, and the removable lid doubles as a day more...




---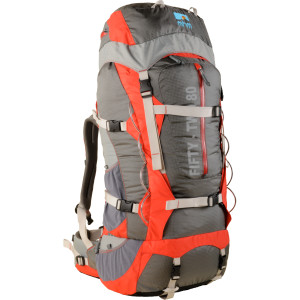 Mile High Mountaineering Fifty-Two 80 Backpack - 4882cu in


On sale - now $279.2




- was

$349



When you peek into your gear closet to begin the pack party for next week's backpacking adventure, the Mile High Mountaineering Fifty-Two 80 Backpack will catch your eye with its tech-backed mountain savvy and adventure-ready attitude. This expedition load-hauler holds everything but the kitchen sink, so beware of fellow adventurers trying to dump their superfluous gear on you. You've got your gear down to a system, although the Fifty-Two 80 certainly allows room for leeway. more...




---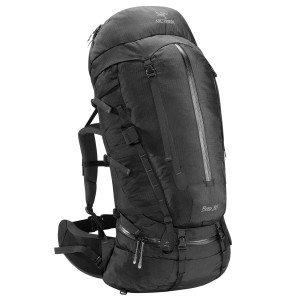 Arc'teryx Bora 80 Backpack - 4390-5000cu in


On sale - now $319.16




- was

$398.95



Arc'teryx dedicated the Bora 80 Backpack to keeping you comfortable during multi-day trips with tons of gear. Dual aluminum stays and Thermoformed shoulder and hip-belt straps ensure maximum comfort and support when you really load up this giant backpack. Arc'teryx integrated a large front pocket, sleeping bag compartment, and side access to keep everything organized and accessible. more...




---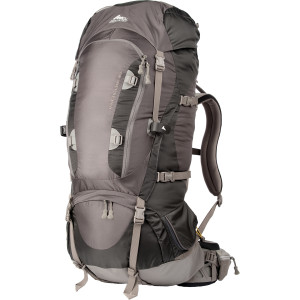 Gregory Palisade 80 Backpack - 4699-5370cu in


$398.95



When you carry gear for a week, you want a pack thats good to your back, shoulders, and waist. Gregory made the Palisade 80 Backpack with a pre-curved harness, a waist-belt with five adjustable angles, and an auto-cant shoulder harness system. Rotating auto-cant attachment points move to mirror the slope of your shoulders and width of your neck so you get less rubbing and fewer hot spots while you hike. more...




---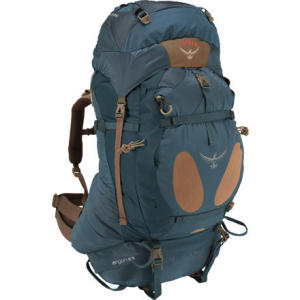 Osprey Packs Argon 85 Backpack - 5100-5500cu in


On sale - now $319.16




- was

$398.95



The Osprey Argon 85 Backpack carries all you need for a whole week in the hills and, thanks to the ReCurve Suspension system, keeps you comfortable every step of the way. Even with 70lbs of gear loaded into this pack's 5300cu inch interior, the AirScape back panel and BioForm waist-belt eliminate pressure points. more...




---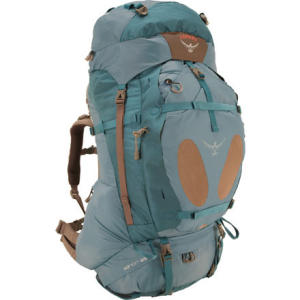 Osprey Packs Xenon 85 Backpack - Women's - 4700-5100cu in


On sale - now $279.27




- was

$398.95



Osprey created the Xenon 85 Backpack for women who demand comfort when they hit the trail for a weekend or longer. Two aluminum stays provide plenty of support to help carry whatever you can stash in this 4900cu inch Osprey pack. The Xenon 85 Backpack includes a molded back panel and well-padded waist-belt to ensure a plush feel even a couple days into your trip. more...




---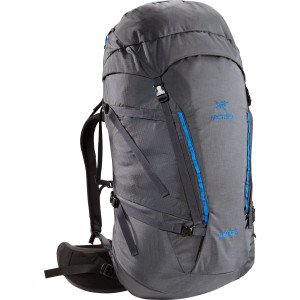 Arc'teryx Nozone 75 Backpack - 4210-4576cu in


$399.95



The professional-caliber Arc'teryx Nozone 75 Backpack caters to the serious mountaineer. Designed to haul heavy loads over long distances, the Nozone 75 is built with burly but lightweight ballistic fabrics to withstand abuses suffered above the treeline. more...




---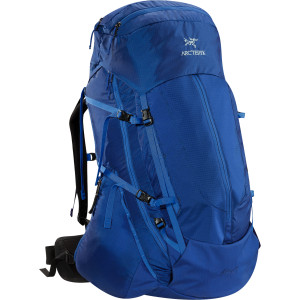 Arc'teryx Altra 75 Backpack - Men's - 4575-4758cu in


$478.95



When your wanderlust can't be suppressed for another day, load up the Arc'teryx Men's Altra 75 Backpack and head to Canyonlands for a week of desert solitude. The C Suspension System keeps the pack close to your body for less fatigue and load movement, and features a framesheet that's laminated directly to the back panel so you're hauling less pack and more gear. And speaking of hauling gear, the Rotating Load Transfer Disc ensures that your hips, and not your back or shoulders, are supporting m more...




---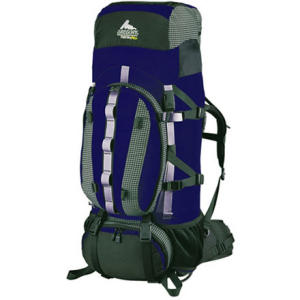 Gregory Petit Dru Pro 85 - Women's - 4400-5700cu in


$528.95



For women with big goals for big mountains, the Gregory Packs Petit Dru Pro backpack is an able companion. Extraordinarily tough and laden with useful features, the Petit Dru Pro will exceed your expectations. Professional mountaineers are tough on their gear, which is why this pack is with this elite group of athletes. The Petit Dru Pro's narrow profile and female-specific fit and components, combined with our beefiest suspension system, and top-of-the-line materials, make it the logical choice more...