This is to be aired on BBC2 at 7pm on Sunday the 22nd of April (and presumeably thereafter for a short time on iplayer), though it was already shown on the BBC in Yorkshire and the north of England on the 18th of March.
I was invited to a viewing of this 1 hour film at the RGS (Royal Geographical Society) in London on the 11th of April. Living a fairly short train ride away we decided to make a family day-out of it while going to see this before we headed back home again.
Frank Wild is widely regarded as being one of the great un-sung heroes of the Heroic Age of Antarctic exploration, being involved in 5 expeditions with Scott, Mawson and Shackleton over a 20 year period of which he spent 10 in Antarctica. In each of these he played a valuable part, in particular forming a strong bond with Ernest Shackleton who regarded him as his right-hand man and loyal lieutenant. For those who are new to the story, there is a short biography
here
.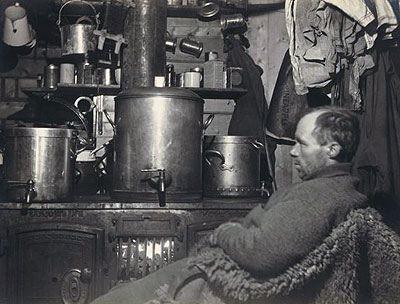 The documentary is well worth seeing and the story (based on Angie Butler's book - The Quest for Frank Wild) is compelling. For me at least, it won't really bear a repeat viewing. I found the presentation somewhat irritating and it couldn't really settle on a style or decide what the most important aspects were. Wild's 3 years with Mawson for instance are dismissed with a single line while we are then treated to some ill-chosen jaunty music while king penguins waddle about.
There is a pleasing end to the tale in that Wild's ashes are found still in the church in Braamfontein Cemetry where he was cremated on the 23rd of August 1939. His widow had intended them to be taken to South Georgia where Shackleton's grave is, though war broke out a week later and then with her passing and there being no children, the ashes were forgotten. His ashes were taken in 2011 to South Georgia and laid alongside "The Boss", Ernest Shackleton.
So was Frank Wild one of the greats of the Heroic Age of Antarctic exploration? He is certainly an unsung hero and the part he played is worthy of wider recognition. The film argues that he belongs with the giants of polar exploration, Amundsen, Mawson, Nansen, Scott and Shackleton. To my mind though, he doesn't really make it in that company. Those men were the visionaries and innovators, they made things happen. Wild while undoubtedly tough, resourceful and above all loyal was a follower rather than a leader.
Perhaps in another later age, despite his social standing he may have been a leader, but in the stark class distinctions of Edwardian England he was not in a position really to launch his own expedition (assuming he had the ability).