I'm interested! - tell me more....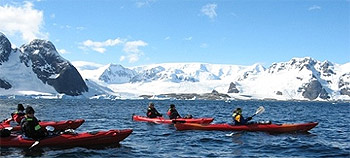 Antarctica is a great place to travel to as part of a group or special interest tour. Whether with a group of friends, or members of a club, society, university, college or school, we can help you to put your expedition together to the far end of the world.
Antarctica is the source of literally thousands of projects in schools across the world every year (I know this as students and teachers visit Cool Antarctica and email me about it - a lot!). So I thought how about putting together a package so that instead of going to the local field-studies centre or a more traditional destination, a school or other group could plan
A group or educational visit to Antarctica
We offer a range of flexible packages in conjunction with Antarctica Bound who are able to negotiate advantageous group rates for a number of people travelling together. If the group is sufficiently large, we may be able to provide an escort for the group to facilitate transfers and other sundry arrangements.
Our packages are airport-to-airport wherever you happen to be starting from, get your group to the airport you specify when booking and we'll do the rest until you get to the same place to go home again.

Our trips have one free place in every 19 (or 2 for half price in 20 as you see fit to arrange it) or better according to the particular trip and ship.

2 landings a day ashore while in Antarctica is normal, depending on local conditions, so there's plenty of opportunity to experience Antarctica from the ground as well as from the ship - sailing through ice-berg strewn seas while looking out for seals, whales and being followed by an albatross for example!

There is an "open bridge" policy on expedition ships for most of the time, so passengers can get the best view of where the ship is going and see how it all operates.

The overall atmosphere on the ship is very relaxed, mealtimes are informal and there's plenty of variety of food available to suit even the pickiest palette!

The ships we use are comfortable and capable means of delivering adventure to their passengers rather than being glamorous cruise ships. All cabins have an outside view and usually their own bathroom facilities. Occasionally cabins may have facilities shared with usually no more than 2-3 other cabins.

Each voyage is seen very much as an educational experience for all passengers - field work ashore is not possible however.

Groups are included amongst sailings as they are booked, so a group may be the only one aboard with the other passengers being of varied ages and nationalities, or there may be more than one group at a time.

There are daily lectures organized that explain about where the ship is that day and what may be seen in the vicinity and ashore during the days excursions. These are given by experienced naturalists, historians, photographers and other experts in their fields, these guides will also accompany trips ashore.

Children on the voyages are allowed everywhere other passengers are allowed to go including the bar area where drinks may be purchased (non-alcoholic of course).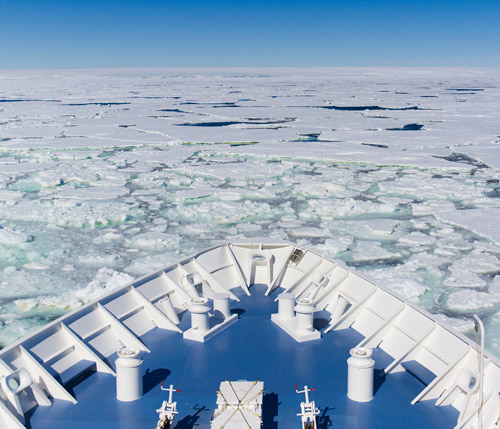 Who would a trip to Antarctic be suitable for?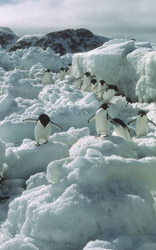 Trips to Antarctica are most suitable for accompanied educational groups where the students are at least 14 years old at the time of departure. Younger students would probably find the lack of other suitable entertainment onboard not to their taste.
It should be noted that while an Antarctic cruise provides its own ever changing backdrop with wildlife accompaniment that this is very much a sight-seeing trip to experience the wonder of Antarctica first hand. There are organized lectures on board on a regular basis, other entertainment consists mainly of socializing with other trip passengers over meals and in the evenings.
The time spent in Antarctica is paramount - there are no tv's in cabins for example or other traditional teenager-type entertainments. This is not the kind of cruise where the time is spent alternately eating and being entertained on board all day long!
I wanted to go all along really, what's it cost and what do we get to do?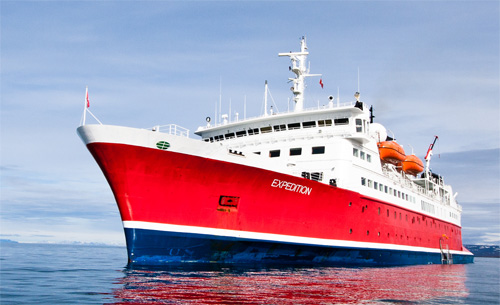 There are a number of trips that would be suitable for educational groups. Those leaving from Ushuaia in Argentina and visiting the peninsula region are the most suitable due to access by commercial flights, the shorter duration of the trips and reduced cost compared to trips that leave from Australia or New Zealand.
For a sample itinerary based on the ship M/S Expedition (pictured above) click here
Form Object