Tell me more about a trip to Antarctica!
Antarctic Peninsula, Falklands, South Georgia cruises
Peninsula Cruise

10 days from $4,595
Weddell Sea and Antarctic Peninsula
Remote region
kayaking option
Air-Cruise
Fly over the Drake Passage then join your ship in Antarctica. Fly both ways or fly one - sail one options
Antarctica, South Georgia and the Falkland Islands
22 days from $15,980
Antarctic Peninsula
Fly / sail 10 days, active adventure, camping, kayaking
Antarctica Cruise
14 days, Luxury Accommodation
kayaking
Antarctica Cruise - The Peninsula
Active Adventure - kayaking, camping
Classic Antarctica
Fly cruise with Antarctic Circle crossing
9 days from $12,695
Antarctic Peninsula
Luxury Ship
13 days from £13,750
Across the Circle
Antarctic Peninsula, Antarctic Circle, Historic Areas - kayaking, camping
14 days from $5,499
Antarctic Peninsula
Antarctic Peninsula, Penguins, Seals, Whales, Historic sites
10 days from $7,876
Cruises in Eastern Antarctica - Ross Sea Region
Ross Sea in the Wake of Scott and Shackleton
Ross Ice Shelf, McMurdo Sound
29 days from $18,700
Antarctica Peninsula to the Ross Sea
Wildlife and History
rarely travelled itinerary
31 days from $24,163
Galapagos cruises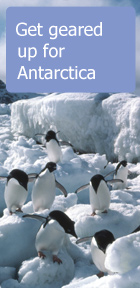 Lonely Planet travel guide Antarctica
USA

| UK


Free world delivery


Antarctica Cruising Guide
USA

| UK


Free world delivery
Highlights: Small and comfortable research ship, highly experienced guides, expect an active trip with kayaking options. Includes stunning South Georgia!
Rates:
$11,190 - $18,190 : 11/20/13
$12,990 - $21,190 : 1/31/14
Single Supplement: 1.5 times the regular double occupancy rate (not available in the triple share category)
Kayaking Supplement: $795 per person
Ship - Akademik Ioffe - Research Ship
Passengers: 96
Introduction
On this far-reaching expedition to the islands of the South Atlantic Ocean and the Antarctic mainland, revel in 18 days of exploration aboard a comfortable and well-appointed research vessel. Throughout your trip, a highly experienced expedition staff will provide excellent customer care in a casual and active environment--daily hikes, kayaking excursions, and daily Zodiac rides. After a couple days in the Falklands, enjoy three days on magnificent South Georgia--known for dramatic mountains and the pompous king penguins numbering in the thousands. Make a couple stops in the South Orkney Islands before arriving at the much-anticipated Antarctic Mainland where you encounter an unimaginable profusion of penguins, whales cresting in close proximity, and sweeping ice sheets that span an entire continent.
Itinerary
Day 1: Ushuaia / Embarkation
Today is the first day of your adventure. Board your ship in Ushuaia, the world's southernmost city on the tip of Argentina, and settle into your "home" for the next 18 days. In the early evening, you set sail and begin your voyage leaving behind Ushuaia and charting a course through the Beagle Channel.
Day 2: At Sea
You have the chance to spend plenty of time with you onboard polar experts. They will be educating you as you travel through the wonders of Antarctica. Sailing northeast, you will likely be joined by swooping seabirds including the wandering albatross, who you will come to know well on this journey.
Days 3-4: Exploring the Falklands
Arriving in the Falklands during the night, by morning you are excited to make your first shore excursion. The plan is to explore the islands of the West Falkland Archipelago, home to a profusion of seabirds and migratory birds including the black-browed albatross. Your first penguin sightings will be on the islands of West Point with its bustling rookeries of rockhoppers. On Carcass Island, observe nesting Magellanic penguins along with oystercatchers, geese and the flightless steamer duck who is a permanent Falkland resident.

The next day, make a stop in Stanley, the capital of the Falkland Islands. As you wander through the charming streets of brightly painted houses, you learn how this quiet harbor was once a major port in the 19th century for ships attempting to round the formidable waters of Cape Horn. You also make a stop in Stanley's famed philatelic museum with its impressive collection of historic stamps.
Days 5-6: At Sea
Now you sail southeast bound for the island of South Georgia. These days at sea are never dull. Much of your time is spent scanning the horizon in search of whales and other marine mammals as well as seabirds. Your friendly onboard experts continue to fill minds with heroic stories of some of the earliest daredevils to explore Antarctica. You also learn about Polar conservation--a theme particularly close to the hearts of your guides and crew. The anticipation grows particularly as you cross the Antarctic Convergence and notice a dramatic drop in temperature.
Southwards, a magnificent Alpine country, illuminated by the rising sun, rose slowly from the sea; there were mighty fells with snowy crowns and with sharp, uncovered teeth, around the valleys through which enormous, broad rivers of ice came flowing to the sea.
J. Gunnar Andersson, 1902 - describing South Georgia
Days 7-9: South Georgia
Majestic snow-covered mountains greet you on the island of South Georgia, the most rugged island in this region. You cruise the protected waters of the eastern coast looking for suitable landing spots such as Salisbury Plain and St Andrews Bay. The highlight of both these excursions is the mind-boggling abundance of king penguin adults and young that live in these locations by the hundreds of thousands, covering every inch of the shore. That is not the only wildlife on display. Fur seals can be seen poking their heads above the water, skuas and giant petrels swoop in the skies above, and the albatross--your constant companion--is never far away. You may explore an old whaling station at Grytviken and visit the grave of the most famous Antarctic explorer, Sir Ernest Shackleton.
Days 10-12: Sea and South Orkneys
As you cross the Scotia Sea, sailing ever closer to Antarctica, you may visit the South Orkney Islands. Linked to the Antarctic Peninsula by an enormous sub-marine mountain range these islands, often shrouded in mist, are protected by large icebergs and sea ice. If you are lucky, there will be an excursion to Coronation Island to observe penguins nesting in moss beds alongside graceful snow petrels. You may also stop at the remote island of Laurie and visit the Argentinean meteorological station located there.
Days 13-16: South Shetland Islands and the Antarctic Mainland
Elephant Island, en route to the South Shetland Islands, will be your next destination if conditions are suitable. Here, you learn more about the famous Antarctic adventures of Sir Ernest Shackleton. This island was a place of refuge in 1916 for Shackleton and his crew after his ship was destroyed by pack ice in the Weddell Sea.

Next, you spend some time cruising among the South Shetland Islands just off the Antarctic Peninsula. Dazzling wildlife sightings await you on your excursions to some of these islands including King George, Half Moon, Aicho or Livingston. Adélie, chinstrap and Gentoo penguins thrive here, as do several species of seal. You may even see the gentle humpback whale dining on krill off King George Island.

Weather permitting, you enter the flooded volcanic caldera of Deception Island. At this recently active volcano the hot, thermal water mixes with the icy, Southern Ocean making this a great place for a quick dip for the more intrepid guest. If you prefer to stay dry, you may choose to enjoy a spectacular walk to the higher points of the crater rim. There is also an abandoned whaling station nearby begging exploration.

Finally, after so much anticipation, you arrive at the Antarctic mainland in Paradise Harbour or Hope Bay. The scenery here--from the colossal icebergs to the seemingly endless Antarctic ice sheet--is truly breathtaking. Weather permitting, you may undertake a shore excursion and set foot on the White Continent itself.
Days 17-18: Drake Passage
Make your way back, heading again across the Antarctic Convergence and the Drake Passage before rounding Cape Horn. Sailing down the Beagle Channel, you celebrate the conclusion of your Polar expedition at a special dinner.
Day 19: Ushuaia
In the early morning, arrive back in Ushuaia. It is time to say farewell to your crew and fellow travellers. Guests will be transported to their hotels or to the airport for return flights home.
Notes:

The above itinerary is a guide only, as the exact program depends on weather and ice conditions and the wildlife you encounter. Flexibility is the key to the success of this expedition.

Mandatory Insurance:
Passengers must have comprehensive travel insurance. Your own domestic government medical insurance and private health care plans will not cover you in most overseas countries. Your policy must provide coverage for your medical costs in case of hospitalization, emergency travel and repatriation. Cancellation insurance is also recommended.

Sea Kayaking Option: $795 per person
Pre-booked option for up to 16 guests. If you have experience sea kayaking and are interested in doing this activity during the expedition, you will need to book this option prior to departure from home. You cannot book this activity once onboard. There is a separate document for sea kayakers that you will need to review beforehand. Provided equipment includes full Gore-Tex drysuits, kayak specific PFD's, neoprene booties, a waterproof deck bag, pogies and many other vital paddling accessories.
Hiking Excursions: No additional supplement
No pre-booking required. Trekking poles are available onboard for passenger use and instep crampons will be provided if necessary to improve traction on slick surfaces. Sturdy hiking books and warm hiking socks are needed to join this activity. Hikes will be 2-3 hours in duration and will involve negotiating challenging terrain without the assistance of trails. Antarctica hiking rewards with images of snow, ice, mountains, and glaciers.

Photography:
An onboard photographer is available to work with you throughout the voyage to help you improve your photography and encourage you to look at scenes or events in a different way in order to capture them digitally. Also available is an onboard multimedia download studio with computers, cables, and hard-drives for back-up storage and for creating DVDs of your images.

Included:
Accommodation aboard the ship; all meals during the voyage prepared by onboard professional chefs; afternoon tea with fresh snacks each afternoon; coffee, tea, hot chocolate throughout the day; all Zodiac excursions; extensive program of relevant educational presentations; advice from experienced team of naturalists; foul weather gear set (pants/jacket/wellington boots OR waterproof backpack/waterproof binoculars/wellington boots); use of multimedia station; welcome reception; welcome dinner; farewell dinner hosted by Captain; 'Memory Book' (log book chronicling your trip, includes photos); onboard medical officer; pre-departure information; hairdryers available on request at no charge; transfers from the meeting point in Ushuaia to the pier to board the ship on day 1 of the cruise and transfers from the pier to the meeting point or airport on the last day of the cruise.

Not Included:
All airfare; visa and passport fees; airport departure taxes; pre-cruise or post-cruise meals, transfers, and hotel accommodation; personal laundry charges; postage; telephone calls; drinks; medical expenses; trip interruption and cancellation insurance; travel medical insurance including medical evacuation (required); gratuities to staff and crew; private fitness sessions; massage therapy; fee for optional programs.
Antarctic Peninsula Region Cruises - (sample cruises)

Trip
Departure Dates
Highlights
Ship / Pax
Options*
Prices**
Days
Departure port
Antarctica Cruise - The Peninsula
11/15/13
South Shetland Islands, Antarctic Peninsula, Lemaire Channel, Paradise Bay, Port Lockroy
Expedition Ship

Sea Adventurer - 122

$4,595 -
$8,995
10
Ushuaia, Argentina
Classic Antarctica Air-Cruise
12/02/13, 12/07/13, 12/12/13, 12/17/13, 12/22/13, 12/27/13, 01/17/14, 01/22/14, 02/01/14, 02/06/14, 02/11/14

Fly over the Drake Passage both ways

, Antarctic Peninsula, South Shetland Islands
Expedition Ship

Ocean Nova -

68

$9,700 -
$17,995
7
Punta Arenas - Airport
Antarctic Peninsula Air-Cruise
11/30/12, 12/11/12

Sail south, fly back,

South Shetland Islands, Abundant Wildlife, Lemaire Channel
Research Vessel

Polar Pioneer - 54

kayaking
camping
$6,700 -
$11,800
10
Ushuaia, Argentina
return, Punta Arenas Chile
Antarctica Cruise - The Peninsula - Luxury expedition ship with 5-star service.
12/22/13
Antarctica Cruise - Falkland Islands, The Peninsula
Luxury Expedition Ship

Silver Explorer - 132

$13,750 -
$37,450
13
Ushuaia, Argentina
Antarctica Cruise - The Peninsula (Active Adventure)
12/10/13, 01/27/14, 02/24/14, 03/06/14, 03/16/13
South Shetlands, Antarctic Peninsula, Penguin Rookeries, Lemaire Channel
Research Vessel

Akademik Sergey Vavilov - 92

kayaking,
camping
$5,990 -
$12,190
11
Ushuaia, Argentina
Antarctica Cruise - Crossing the Circle
2/16/14
Antarctic Peninsula, Sail far South to land on Antarctica inside the circle, visit penguins, icebergs on a luxury ship
Luxury Expedition Ship

Sea Spirit - 112

kayaking,
camping
$11,395 -
$24,995
15
Ushuaia, Argentina
Antarctica Cruise - Weddell Sea Adventure
11/22/13, 1/4/14, 1/13/14, 2/15/14
Antarctic Peninsula, Penguins, Seals, Whales, Historic sites
Scenic Exploration Ship

Fram

- 240

$7,876 -
$13,128
10
Ushuaia, Argentina
Trip
Departure Dates
Highlights
Ship / Pax
Options*
Prices**
Days
Departure port
Antarctica Cruise - Weddell Sea & Peninsula
2/28/14
Remote Stunning Area, West and East of the Antarctic Peninsula, Seals and Penguins
Research Vessel

Polar Pioneer - 56

kayaking

$8,200 -
$13,200
12
Ushuaia, Argentina
Antarctic Peninsula with Circle Crossing
1/1/14, 2/16/14

Fly over the Drake Passage both ways

,
Antarctic Peninsula, South Shetland Islands
Expedition Ship

Ocean Nova - 68

$12,695 -
$19,795
9
Ushuaia, Argentina
Antarctica Cruise - Across the Circle Antarctic
12/20/13, 2/25/14, 3/9/14
Antarctic Peninsula, Antarctic Circle, Historic Areas
Expedition Ship

Expedition - 68

kayaking
camping
$5,499 -
$12,999
14
Ushuaia, Argentina
Antarctica - Cruise - The Peninsula
Luxury expedition ship
11/27/13, 12/07/13, 12/17/13, 12/27/13, 01/6/14, 01/16/14, 01/26/14, 02/05/14
South Shetland, Paradise Bay, Lemaire Channel
Luxury Expedition Ship

National Geographic Explorer- 148

$11,990 -
$22,870
14
Buenos Aires / Ushuaia, Argentina
Antarctica Cruise - The Peninsula Luxury Expedition Ship
12/2/13, 12/12/12, 1/21/14, 1/31/14, 2/10/14, 2/20/14, 12/2/14, 12/12/14
Antarctic Peninsula, Penguin Rookeries, Lemaire Channel
Luxury Expedition Ship

Silver Explorer - 132

$9,750 -
$28,550
11
Buenos Aires / Ushuaia, Argentina
Antarctica Cruise - The Peninsula with Circle Crossing
2/10/14, 2/19/14

Sail south, fly back,

South Shetlands, Antarctic Peninsula, Lemaire Channel, Spectacular Glaciers
Research Vessel

Polar Pioneer - 54

kayaking
$7,200 -
$12,200
10
Ushuaia, Argentina

Cruises Visiting South Georgia- (sample cruises)

Trip
Departure Dates

Highlights

Ship / Pax

Options*
Prices**
Days
Departure port
Antarctica, Falklands, & South Georgia
11/20/13, 1/31/14
Vast Colonies of King Penguins, Breathtaking Scenery, Historic sites, South Shetlands, Antarctic Peninsula
Research Ship

Akademik Ioffe -

96

kayaking
$11,190 -
$21,190
19
Ushuaia, Argentina
South Georgia, Antarctica & the Falklands

2/2/13

Vast Colonies of King Penguins, Breathtaking Scenery, Historic sites - kayaking option
Expedition Ship

Sea Adventurer - 122

kayaking

$13,495 -
$25,595

23

Buenos Aires / Ushuaia, Argentina

South Georgia, Antarctica & The Falklands
10/19/13
Vast Colonies of King Penguins, Breathtaking Scenery, Historic sites
Research Ship

Ushuaia -

84

$8,500 -
$13,710
17
Fly to Stanley in the Falkland Islands from Santiago, disembark in Ushuaia, Argentina

Notes




* options may be at additional cost and are usually booked when the cruise is booked - it may be too late once the cruise has started.

** prices are based per person, the lowest price is usually for triple occupancy in a basic cabin, the highest for double occupancy in the best available suite.

Need a Little Guidance? contact our travel partners who will help you find the best cruise for your requirements