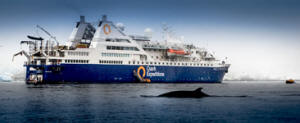 The Ocean Diamond in Antarctica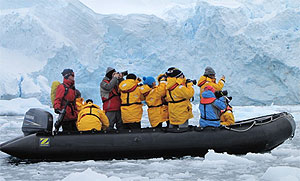 Sightseeing at sea level from a zodiac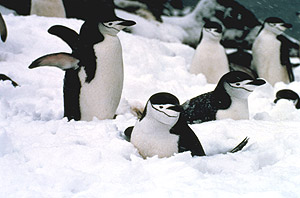 Chinstrap penguins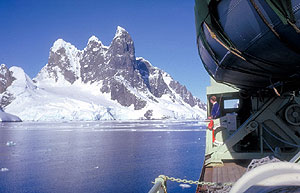 The Lemaire Channel on the Antarctic Peninsula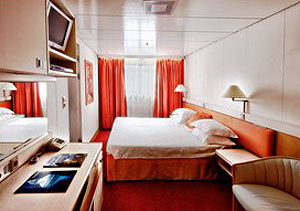 A twin room on the Ocean Diamond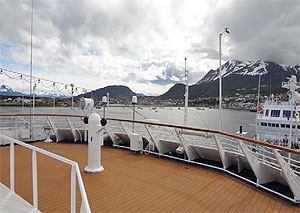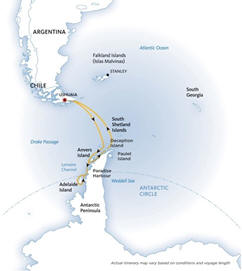 A unique trip to Antarctica on board a luxury expedition ship, the Ocean Diamond, overlaid with traditional Chinese culture shortly after the period of celebration of Chinese New Year 2015
(the Chinese New Year in 2015 begins on February the 19th, the year of the sheep).

What more memorable way can there be to have a New Year to remember than to experience it in Antarctica surrounded by ice bergs, penguins and glaciers while enjoying the luxury of an ocean cruise in a Chinese atmosphere!

Unusually on this trip,
there will be Chinese speaking guides and many or most of the passengers will also be Chinese.
Trip Highlights: Luxury expedition ship with excellent service, fantastic cuisine, and experienced naturalist guides. All cabins have an exterior view and en suite facilities. A truly beautiful ship!

Rates - prices in USD $
Prices:

$8,999 - Economical Sea View
$9,299 - Standard Sea View
$9,950 - Superior Sea View

Above rates are per person and do NOT include flights to or from Ushuaia the port of embarkation and disembarkation.

Ship - Ocean Diamond - Luxury Expedition Ship
Passengers: 189

Itinerary
Day 1 - 19th Feb - Arrive Ushuaia:

Arrive in Ushuaia, a small town at the "end of the world" surrounded by rugged peaks and glaciers, and transfer independently to your conveniently located hotel. The following day, in the afternoon, the Expedition Team gets you settled aboard your ship as you sail into the Beagle Channel to start your Antarctic expedition.

Day 2 - 20th Feb - Embarkation Day:

Embarkation will occur in the late afternoon, after which your vessel will sail down the historic Beagle Channel. This historic channel transects the Tierra del Fuego archipelago in the extreme south of South America. Expect an air of excitement as you depart for the world's most southern continent!


Day 3 - 21st Feb - Crossing the Drake Passage:

Prepare for rough water, but do not be disappointed if your crossing is smooth sailing. This is where you can expect to earn your place in Antarctica. Time during these first days is largely spent chatting with other travelers and listening to the presentations given by your Expedition Team. Above all, watch out for the first ice-berg, they get carried around the Antarctic Ocean and don't drift north, they mean you have arrived!


Day 4 - 22nd Feb - Drake Passage and Antarctic Peninsula:

With the Drake Passage left in our wake, we make a final approach to Antarctica. Get your cameras ready, as the continent's coastline will make its first appearance, signaling the start of your adventure in the realm of the Antarctic. You'll see plentiful icebergs floating by and be fixated on the surface of the ocean as curious whales spout and breach before your eyes.

Day 5 - 23rd Feb - The Antarctic Circle:
Crossing the Antarctic Circle is an impressive achievement, as most expeditions to the Peninsula do not reach this far south, which is officially noted at 66° 33' S. You and your shipmates will celebrate in style with a well-earned glass of champagne!



Days 6-9 - 24th Feb-27th Feb - Northbound along the Peninsula:


By now, your knowledge of Adelie, chinstrap and gentoo penguins will be matched by your ability to differentiate between a leopard, fur or Weddell seal. Terms like 'bergy bits' and pancake ice will seem normal too, yet there are still many tales to be told. As you head back towards the Drake, Zodiac excursions will continue to fill your days, while the Expedition Team will help fill in any blanks that remain in your newly acquired knowledge of the Antarctic.

Day 8-9 - 28th Feb-1st Mar - The Drake Passage:

Today you leave Antarctica and head north across the Drake Passage. In between bird watching and whale watching, and enjoying some final lectures by your expedition staff, this is a chance to relax and review your adventures before returning to Ushuaia.

Day 12 Depart Ushuaia:

Disembark after breakfast and transfer to the airport for your independent flights home.
Many factors play a role in shaping the expedition's progress.
There will be attempts to leave the ship to explore in a range of activity levels at least twice a day. Perhaps you'll feel salt spray on your face as the Zodiac weaves in and around grounded icebergs in Pleneau Bay. You could scramble to the top of a craggy hill for an unforgettable view of an icy chasm near Port Lockroy. You might sit quietly on a pebbled beach and wait for a curious penguin chick to approach or plunge into the frigid Antarctic waters.
Over the course of the austral spring and summer, the sun lingers longer, melting snow and ice. Wildlife abounds: chicks hatch and fledge, and pods of whales breach in a deep bay where a calving iceberg has churned up krill, the local delicacy. The natural cycle of life ensures that every expedition is different. And that every expedition is full of surprises! As you sail from island to shore to bay during four days in the Peninsula, the Expedition Team provides opportunities for contemplation and to engage your curiosity.
Details
Payment:
To confirm reservations on all cabins full payment must be paid at the time of booking. The payment may be paid by bank wire transfer.
Cancellation policy:
Cancellation is received between 180 days and 120 days prior to departure, 40% of payments are forfeited. If cancellation occurs less than 120 days prior to departure, all payments are forfeited.
Included:
1. One night pre-expedition hotel accommodation with breakfast in Ushuaia as indicated in the itinerary. (The number of guests per room is the same as cabin occupancy on the ship. Due to limited availability, travelers who reserve a suite on board are accommodated in standard rooms at the hotel).
2. Shipboard accommodation with daily housekeeping; all breakfasts, lunches and dinners on board throughout your voyage.
3. All shore landings per the daily program; leadership throughout the voyage by experienced Expedition Leader, including shore landings and other activities; all Zodiac transfers and cruising per the daily program; formal and informal presentations by Expedition Team and guest speakers as scheduled; photographic Journal on DVD, documenting the voyage.
4. A pair of waterproof expedition boots on loan for shore landings; an official parka to keep; coffee, tea, and cocoa available around the clock; a flat-screen television and DVD player in every cabin; hair dryer and bathrobes; comprehensive pre-departure materials, including a map and an informative Antarctic Reader.
5. All miscellaneous service taxes and port charges throughout the program; all luggage handling aboard ship.
6. Emergency Evacuation Insurance for all passengers to a maximum benefit of USD $100,000 per person.
7. Access to a large collection of polar books and DVD's in many languages; yoga classes.
Not Included:
1. Any airfare; passport and visa expenses; transportation from airport to hotel in Ushuaia and from hotel to wharf.
2. Government arrival and departure taxes, Argentina's Reciprocity Fee;
3. Any meals ashore with the exception of breakfast at the host hotel before embarkation; alcoholic and non-alcoholic beverages,
4. Except for ones mentioned as included; baggage, cancellation and medical travel insurance; excess baggage charges; laundry, massage and other personal charges; telecommunications charges;
5. Service charge at the end of the voyage for shipboard staff and crew. It is about USD150~170 per person;
6. Supplements for adventure options; fuel surcharge may apply;
*Emergency Evacuation Insurance:
Emergency evacuation coverage to a maximum benefit per paying passenger of $100,000 is included in the cost of this expedition. Included coverage is applicable only to travel between the first and last day of the expedition purchased. Additional days of travel prior to the expedition and/or after the expedition are not covered by the included emergency evacuation insurance. We strongly advise all passengers to purchase medical, cancellation and baggage insurance, and additional emergency evacuation coverage.
Warning
: include_once(../cruises-all-include.php): failed to open stream: No such file or directory in
/home/coolant/public_html/Travel/Trip_details/antarctica_cruise_special_offer.php
on line
334
Warning
: include_once(): Failed opening '../cruises-all-include.php' for inclusion (include_path='.:/usr/lib/php:/usr/local/lib/php') in
/home/coolant/public_html/Travel/Trip_details/antarctica_cruise_special_offer.php
on line
334