Tell me more about a trip to Antarctica!
Antarctic Peninsula, Falklands, South Georgia cruises
Peninsula Cruise

10 days from $4,595
Weddell Sea and Antarctic Peninsula
Remote region
kayaking option
Air-Cruise
Fly over the Drake Passage then join your ship in Antarctica. Fly both ways or fly one - sail one options
Antarctica, South Georgia and the Falkland Islands
22 days from $15,980
Antarctic Peninsula
Fly / sail 10 days, active adventure, camping, kayaking
Antarctica Cruise
14 days, Luxury Accommodation
kayaking
Antarctica Cruise - The Peninsula
Active Adventure - kayaking, camping
Classic Antarctica
Fly cruise with Antarctic Circle crossing
9 days from $12,695
Antarctic Peninsula
Luxury Ship
13 days from £13,750
Across the Circle
Antarctic Peninsula, Antarctic Circle, Historic Areas - kayaking, camping
14 days from $5,499
Antarctic Peninsula
Antarctic Peninsula, Penguins, Seals, Whales, Historic sites
10 days from $7,876
Cruises in Eastern Antarctica - Ross Sea Region
Ross Sea in the Wake of Scott and Shackleton
Ross Ice Shelf, McMurdo Sound
29 days from $18,700
Antarctica Peninsula to the Ross Sea
Wildlife and History
rarely travelled itinerary
31 days from $24,163
Galapagos cruises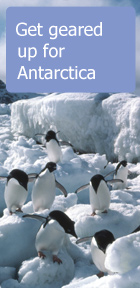 Lonely Planet travel guide Antarctica
USA

| UK


Free world delivery


Antarctica Cruising Guide
USA

| UK


Free world delivery
Trip Highlights: Luxury expedition ship with 5-star service, fantastic cuisine, and experienced naturalist guides. Most cabins have a veranda. A truly beautiful ship!

Rates:
$10,550 - $28,550 : 12/13/13, 12/12/13
$9,750 - $26,650 : 1/21/14 - 2/20/14
$10,150 - $27,550 : 2/12/14 - 12/12/14
Above rates are per person and do NOT include round-trip charter flight (Buenos Aires/Ushuaia) and transfers in Ushuaia ($950 per person (12/2/13 - 12/12/13); $1,140 per person (1/21/14 - 12/12/2014)
Single Supplement: Varies with category and departure date.
Triple Occupancy: Available in some cabin categories, rates vary with category and departure date.
Ship - Silver Explorer - Luxury Expedition Ship
Passengers: 132
Introduction
Experience the wonders of the Antarctic while taking full advantage of the luxurious all-inclusive lifestyle afforded by the world's best and most uncompromising service including the most spacious suites and comfortable common areas of any expedition ship. A frosted wilderness of glistening white as far as the eye can see. Natural ice sculptures like enormous works of avant-garde art. This is the modern explorer's final frontier. Hear the cries of penguins multiplied by the thousands, watch leopard seals and sea lions perfectly at ease in the company of visitors, feel the unspeakable magnificence of a whale breaching from beneath cold ocean waters. Astounding animal encounters - opportunities found nowhere else on earth. Charter flight schedules vary with departure; see end of page for details.
Itinerary
Day 1: Buenos Aires / Ushuaia / Embarkation
This morning in Buenos Aires, transfer independently from your hotel to the airport for your charter flight to Ushuaia (flight included in rate). Tierra del Fuego might well be considered the "Land at the End of the World" but, for today, it is only the beginning. A spectacular jumping off point and return port for your Antarctic expedition. Upon arrival in Ushuaia, you are met and transferred to the Prince Albert II for embarkation. This evening, meet your Expedition Leaders.
Days 2-3: Drake Passage
The Drake Passage has a notorious reputation for its turbulent seas due to the Antarctic Convergence, a natural boundary where cold polar water flows northward and warmer equatorial water moves southward. When they meet, nutrients are pushed to the surface, often attracting a multitude of seabirds and whales. Spend some time on deck watching the horizon and the variety of seabirds that glide in the air currents of our ship's wake such as the black-browed albatross, sooty shearwaters and white-chinned petrels. Have your cameras ready to capture the magical colour of a midnight sunset.

As you set sail on your initial transit, familiarize yourself with the elegant Prince Albert II and the welcoming Expedition Team members. Attend wildlife, geography and historical discussions hosted by our expert naturalists and guest lecturers that will prepare you for the exciting adventures that lie ahead. When available, visit the Bridge to learn about the instruments and techniques of Antarctic navigation.
Days 4-8: Antarctic Peninsula
Past the furthest reaches of Tierra del Fuego and beyond your wildest imagination lies the last great frontier – Antarctica's vast white wilderness. Landscapes formed by the harshest wrath of mother nature, yet blessed by an isolated independence and tranquility await. A place where remarkable natural beauty and wildlife species exist and, in fact thrive despite the harsh climate. Witness the dramatic splendor of spectacular iceberg sculptures, marvel at calving glaciers and experience up-close encounters with marine mammals. Watch for seals sunbathing on slow-moving ice floes and for Humpback, Minke, and Orca whales breaching from below the frigid waters. Each day you will have the opportunity to partake in at least two Zodiac departures, and, if conditions permit, will visit a variety of penguin rookeries and scientific research stations. Perhaps a Zodiac cruise amidst colorful icebergs or a special excursion with your expert guest naturalist will be the highlight of your day's agenda.
Days 9-10: Drake Passage Return
Navigating your return through the Drake Passage, you will watch for seabirds and wildlife you may have missed on the first trip. Take this opportunity to attend additional presentations offered by the onboard lecturers and to swap photos with newfound friends as you journey towards Ushuaia.
Day 11: Ushuaia, Argentina
After breakfast, disembark the Prince Albert II and transfer to Ushuaia International Airport for your return flight to Buenos Aires.
Notes:

Included:
All ocean-view suite accommodation; complimentary beverages served throughout the ship (a premium assortment of complimentary wines, champagne and spirits are stocked in one of the finest cellars at sea; in-suite beverage cabinet stocked with your preferred assortment of complimentary beverages; all onboard gratuities; no assigned dining time, no assigned table; complimentary in-suite dining and 24-hour room service; a full spectrum of entertainment and onboard enrichment from renowned authors to destination specialists; expedition parka and backpack; complimentary rubber boots on board; port charges and handling fees.

Not Included:
International airfare; charter flight, Buenos Aires-Ushuaia & Ushuaia-Buenos Aires, transfers in Ushuaia between airport/pier on day of embark/disembark [$950 per person (12/2/2013-12/12/2013); $1,140 per person (1/21/2014 - 12/12/2014)]; government fees and taxes; passport expenses; items of a personal nature; fuel surcharge may apply.
Antarctic Peninsula Region Cruises - (sample cruises)

Trip
Departure Dates
Highlights
Ship / Pax
Options*
Prices**
Days
Departure port
Antarctica Cruise - The Peninsula
11/15/13
South Shetland Islands, Antarctic Peninsula, Lemaire Channel, Paradise Bay, Port Lockroy
Expedition Ship

Sea Adventurer - 122

$4,595 -
$8,995
10
Ushuaia, Argentina
Classic Antarctica Air-Cruise
12/02/13, 12/07/13, 12/12/13, 12/17/13, 12/22/13, 12/27/13, 01/17/14, 01/22/14, 02/01/14, 02/06/14, 02/11/14

Fly over the Drake Passage both ways

, Antarctic Peninsula, South Shetland Islands
Expedition Ship

Ocean Nova -

68

$9,700 -
$17,995
7
Punta Arenas - Airport
Antarctic Peninsula Air-Cruise
11/30/12, 12/11/12

Sail south, fly back,

South Shetland Islands, Abundant Wildlife, Lemaire Channel
Research Vessel

Polar Pioneer - 54

kayaking
camping
$6,700 -
$11,800
10
Ushuaia, Argentina
return, Punta Arenas Chile
Antarctica Cruise - The Peninsula - Luxury expedition ship with 5-star service.
12/22/13
Antarctica Cruise - Falkland Islands, The Peninsula
Luxury Expedition Ship

Silver Explorer - 132

$13,750 -
$37,450
13
Ushuaia, Argentina
Antarctica Cruise - The Peninsula (Active Adventure)
12/10/13, 01/27/14, 02/24/14, 03/06/14, 03/16/13
South Shetlands, Antarctic Peninsula, Penguin Rookeries, Lemaire Channel
Research Vessel

Akademik Sergey Vavilov - 92

kayaking,
camping
$5,990 -
$12,190
11
Ushuaia, Argentina
Antarctica Cruise - Crossing the Circle
2/16/14
Antarctic Peninsula, Sail far South to land on Antarctica inside the circle, visit penguins, icebergs on a luxury ship
Luxury Expedition Ship

Sea Spirit - 112

kayaking,
camping
$11,395 -
$24,995
15
Ushuaia, Argentina
Antarctica Cruise - Weddell Sea Adventure
11/22/13, 1/4/14, 1/13/14, 2/15/14
Antarctic Peninsula, Penguins, Seals, Whales, Historic sites
Scenic Exploration Ship

Fram

- 240

$7,876 -
$13,128
10
Ushuaia, Argentina
Trip
Departure Dates
Highlights
Ship / Pax
Options*
Prices**
Days
Departure port
Antarctica Cruise - Weddell Sea & Peninsula
2/28/14
Remote Stunning Area, West and East of the Antarctic Peninsula, Seals and Penguins
Research Vessel

Polar Pioneer - 56

kayaking

$8,200 -
$13,200
12
Ushuaia, Argentina
Antarctic Peninsula with Circle Crossing
1/1/14, 2/16/14

Fly over the Drake Passage both ways

,
Antarctic Peninsula, South Shetland Islands
Expedition Ship

Ocean Nova - 68

$12,695 -
$19,795
9
Ushuaia, Argentina
Antarctica Cruise - Across the Circle Antarctic
12/20/13, 2/25/14, 3/9/14
Antarctic Peninsula, Antarctic Circle, Historic Areas
Expedition Ship

Expedition - 68

kayaking
camping
$5,499 -
$12,999
14
Ushuaia, Argentina
Antarctica - Cruise - The Peninsula
Luxury expedition ship
11/27/13, 12/07/13, 12/17/13, 12/27/13, 01/6/14, 01/16/14, 01/26/14, 02/05/14
South Shetland, Paradise Bay, Lemaire Channel
Luxury Expedition Ship

National Geographic Explorer- 148

$11,990 -
$22,870
14
Buenos Aires / Ushuaia, Argentina
Antarctica Cruise - The Peninsula Luxury Expedition Ship
12/2/13, 12/12/12, 1/21/14, 1/31/14, 2/10/14, 2/20/14, 12/2/14, 12/12/14
Antarctic Peninsula, Penguin Rookeries, Lemaire Channel
Luxury Expedition Ship

Silver Explorer - 132

$9,750 -
$28,550
11
Buenos Aires / Ushuaia, Argentina
Antarctica Cruise - The Peninsula with Circle Crossing
2/10/14, 2/19/14

Sail south, fly back,

South Shetlands, Antarctic Peninsula, Lemaire Channel, Spectacular Glaciers
Research Vessel

Polar Pioneer - 54

kayaking
$7,200 -
$12,200
10
Ushuaia, Argentina

Cruises Visiting South Georgia- (sample cruises)

Trip
Departure Dates

Highlights

Ship / Pax

Options*
Prices**
Days
Departure port
Antarctica, Falklands, & South Georgia
11/20/13, 1/31/14
Vast Colonies of King Penguins, Breathtaking Scenery, Historic sites, South Shetlands, Antarctic Peninsula
Research Ship

Akademik Ioffe -

96

kayaking
$11,190 -
$21,190
19
Ushuaia, Argentina
South Georgia, Antarctica & the Falklands

2/2/13

Vast Colonies of King Penguins, Breathtaking Scenery, Historic sites - kayaking option
Expedition Ship

Sea Adventurer - 122

kayaking

$13,495 -
$25,595

23

Buenos Aires / Ushuaia, Argentina

South Georgia, Antarctica & The Falklands
10/19/13
Vast Colonies of King Penguins, Breathtaking Scenery, Historic sites
Research Ship

Ushuaia -

84

$8,500 -
$13,710
17
Fly to Stanley in the Falkland Islands from Santiago, disembark in Ushuaia, Argentina

Notes




* options may be at additional cost and are usually booked when the cruise is booked - it may be too late once the cruise has started.

** prices are based per person, the lowest price is usually for triple occupancy in a basic cabin, the highest for double occupancy in the best available suite.

Need a Little Guidance? contact our travel partners who will help you find the best cruise for your requirements