Tell me more about a trip to Antarctica!

Shackleton's 1914-17 Trans-Antarctica Expedition on Twitter - follow us now to get the story 100 years to the day later.
@danthewhaler

2014/15 Itinerary
Antarctic Peninsula, Falklands, South Georgia cruises
Peninsula Cruise

10 days from $5,995
Weddell Sea and Antarctic Peninsula
Remote region


scuba and kayaking options
Air-Cruise
Fly over the Drake Passage then join your ship in Antarctica. Fly both ways or fly one - sail one options
Antarctica, South Georgia and the Falkland Islands
23 days from $15,995
Antarctic Peninsula
Fly / sail 11 days, active adventure


scuba and kayaking options
Antarctica Cruise
14 days, Luxury Accommodation


kayaking
Antarctica Cruise - The Peninsula
Active Adventure -

kayaking, camping
Classic Antarctica
Fly cruise with Antarctic Circle crossing
9 days from $12,995
Antarctic Peninsula
Luxury Ship
12 days from $6,295
Across the Circle
Antarctic Peninsula, Antarctic Circle, Historic Areas


scuba and kayaking options
11 days from $7,100
Antarctic Peninsula
Antarctic Peninsula, Penguins, Seals, Whales, Historic sites
13 days from $11,073
Cruises in Eastern Antarctica - Ross Sea Region
Ross Sea in the Wake of Scott and Shackleton
Ross Ice Shelf, McMurdo Sound
30 days from $19,500
Galapagos cruises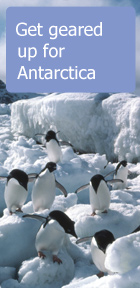 Lonely Planet travel guide Antarctica
USA

| UK


Free world delivery


Antarctica Cruising Guide
USA

| UK


Free world delivery
Trip Highlights: Stylish expedition ship, great guides, kayaks, National Geographic partnership.

Rates: $12,250 - $23,560
Solo rates $16,600 - $17,110
Child rate: $500 off per child (under 18)
Single share accommodations available
Ship - National Geographic Explorer - Luxury Expedition Ship
Passengers: 148
Introduction
This journey to the "White Continent" offers six days of exploration on the incomparably beautiful Antarctic Peninsula and the surrounding islands and waterways. The sights, sounds and emotions will stay in your mind forever — enormous tabular icebergs, hillsides covered with thousands of penguins and the excitement on deck as someone shouts, "Whales!" Travel with a very highly experienced Antarctica expedition staff, which includes an Undersea Specialist. Zodiacs and kayaks to further your ability to examine this remote wilderness. All departures are Photo Expeditions, see end of description for details.
Itinerary
Day 1: U.S. / Buenos Aires, Argentina
Depart this evening on an overnight flight to Buenos Aires.
Day 2: Buenos Aires, Argentina
Arrive in Buenos Aires this morning. Buenos Aires undoubtedly resembles the aristocratic atmosphere of the big European capitals. But beyond this Buenos Aires, there is another one: the bohemian neighborhood of La Boca and the popular Tango that lives in San Telmo streets. This is the mixture that makes Buenos Aires original and irresistible.
Day 3: Buenos Aires / Ushuaia, Argentina / Embark
The morning's LAN charter flight offers some rare views as you fly over the vividly rugged terrain of Patagonia before landing in Ushuaia, Argentina, the southernmost city in the world. Have lunch during a catamaran cruise of the scenic Beagle Channel before embarking the National Geographic Explorer.
Day 4: At Sea
Arise this morning well into your journey across the Drake Passage. Lying between Cape Horn and the Antarctic Peninsula, the Drake holds a distinct place in maritime lore. Sometimes misty and gray, other times calm and clear, crossing the legendary Drake Passage is unforgettable.
Days 5-10: Antarctica
With nearly 24 hours of daylight at this time of year, you make the most of the six days exploring the Antarctic Peninsula and its surrounding islands. The schedule is flexible to give you the best experience possible. Your veteran expedition team and their expert knowledge of Antarctica's waters enable you to take advantage of the unexpected. You are out daily — experiencing Antarctica with all your senses as you walk, cruise in Zodiacs, and venture out in kayaks. See seals wallowing on the beach; hear the cries of penguins, and the huge, nurturing silence of this pristine place.

You may sail through the incomparable Lemaire Channel, where a hush falls over onlookers as bergs of beauty and scale drift by. Identify penguins, paddle kayaks through berg fields, and land with Zodiacs on the "White Continent."
Days 11-12: At Sea
There is time to watch at the bridge for marine life, to indulge in a massage, a workout in the gym, or catch up on some reading in the library.
Day 13: Ushuaia / Disembark / Buenos Aires
Disembark in Ushuaia with time to explore before proceeding to the airport for your charter flight to Buenos Aires. Fly on an overnight flight to the U.S.
Day 14: Arrive Home
Today, you arrive back home.
Photo Expeditions:
The photo team, a National Geographic Photographer and a Lindblad Photo Specialist, will enhance your voyage by working with you on photo composition and exposure; helping you develop your own unique vision; showing you how professionals edit and store images while on the go; and sharing the stories behind some of their greatest images. Whether expert or interested beginner, you'll find added benefits such as walks ashore and Zodiac cruises dedicated to photography, presentations on the creative and technical aspects of photography, and one-on-one mentoring and coaching in the field.

Included:
Cabin accommodations aboard ship; one hotel night in Buenos Aires; all meals and non-alcoholic beverages aboard the ship; some meals ashore; all shore excursions and sightseeing; transfers to and from group flights; tips (except to ship's crew), taxes and service charges; services of a ship physician and expedition staff; use of kayaks; expedition parkas.

Not Included:
International air transportation; round-trip charter flights between Buenos Aires/Ushuaia (approx. $790 per person); extensions; passport and visa expenses; baggage/accident/cancellation insurance; immigration fees; items of a personal nature such as alcoholic beverages, email and laundry; gratuities to ship's crew at your discretion; fuel surcharge may apply.
Antarctic Peninsula Region Cruises - (sample cruises)

Trip
Departure Dates
Highlights
Ship / Pax
Options*
Prices**
Days
Departure port
Discovering the 7th Continent - The Antarctic
Peninsula
11/16/14
11/26/14
12/06/14
South Shetland Islands, Antarctic Peninsula, Lemaire Channel, Paradise Bay, Port Lockroy
Expedition Ship

Sea Adventurer - 122

kayaking
camping
snowshoeing
$5,995 -
$14,995
12
Ushuaia, Argentina
Classic Antarctica Air-Cruise
12/02/14
12/07/14
12/12/14
12/17/14
12/22/14
12/27/14
01/22/15
02/06/15
02/11/15

Fly over the Drake Passage both ways

, Antarctic Peninsula, South Shetland Islands
Expedition Ship



Ocean Nova -

68

kayaking
snowshoeing
$9,790 -
$18,595
7
Punta Arenas - Airport
Antarctic Peninsula Air-Cruise
02/27/15

Fly south, sail north,

South Shetland Islands, Abundant Wildlife, Lemaire Channel
Research Vessel

Polar Pioneer - 54

kayaking
scuba
$7,100 -
$12,600
11
Punta Arenas Chile, return Ushuaia, Argentina
Antarctica Cruise - The Peninsula - Luxury expedition ship
11/27/14
12/17/14
01/14/15
01/24/15
02/03/15

Antarctica Peninsula, South Shetland Islands, Abundant Wildlife, Lemaire Channel
Luxury Expedition Ship

Sea Explorer - 114

kayaking
$6,295 -
$16,795
12
Ushuaia, Argentina
Antarctica Cruise - The Peninsula (Active Adventure)
12/10/14
01/27/15
03/16/15
South Shetlands, Antarctic Peninsula, Penguin Rookeries, Lemaire Channel
Research Vessel

Akademik Sergey Vavilov - 92

kayaking,
camping
$6,795 -
$13,095
11
Ushuaia, Argentina
Trip
Departure Dates
Highlights
Ship / Pax
Options*
Prices**
Days
Departure port
Antarctica Peninsula - via Cape Horn
12/05/14
02/04/2015
03/04/2015
Cape Horn national Park, Antarctic Peninsula, penguins, icebergs on a luxury ship
Luxury Expedition Ship

Sea Spirit - 112

kayaking
camping
snowshoeing
$7,595 -
$19,195
12
Ushuaia, Argentina
Antarctica Cruise - Land of the Penguins
11/19/14
1/04/15
1/16/15
Antarctic Peninsula, Penguins, Seals, Whales, Historic sites
Scenic Exploration Ship



Fram

- 240

$11,073 -
$18,779
13
Buenos Aires, Ushuaia, Argentina
Antarctic Peninsula with Circle Crossing, Air Cruise
01/01/15
02/16/15

Fly over the Drake Passage both ways

,
Antarctic Peninsula, South Shetland Islands
Expedition Ship

Ocean Nova - 68

kayaking
snowshoeing
$12,995 -
$20,795
9
Punta Arenas, Chile
Antarctica - Cruise - The Peninsula
Luxury expedition ship
11/28/14
12/08/14
12/18/14
12/28/14
01/7/15
01/17/15
01/27/15
02/06/15
South Shetland, Paradise Bay, Lemaire Channel
Luxury Expedition Ship

National Geographic Explorer - 148

kayaking
$11,990 -
$22,870
14
Buenos Aires / Ushuaia, Argentina
Antarctica Cruise - The Peninsula with Circle Crossing
0 2/19/15

Sail south, fly back,

South Shetlands, Antarctic Peninsula, Lemaire Channel, Spectacular Glaciers
Research Vessel

Polar Pioneer - 54

kayaking
$7,100 -
$12,600
11
Ushuaia, Argentina
Antarctica Cruise - The Peninsula Luxury Expedition Ship
12/2/14
12/12/14
1/09/15
1/31/14
2/06/15
2/16/15
2/26/15
12/2/15
12/12/15
Antarctic Peninsula, Penguin Rookeries, Lemaire Channel
Luxury Expedition Ship

Silver Explorer - 132

$9,950 -
$29,750
11
Ushuaia, Argentina

Cruises Visiting the Ross Sea Region

Antarctica Cruise - Weddell Sea & Peninsula
01/11/15
02/09/15
Scott and Shackleton's Huts, remote East Antarctica, Emperor penguins, sub-Antarctic islands
Research Vessel

Spirit of Enderby
- 56

$19,500 -
$28,800
30
New Zealand

Cruises Visiting South Georgia- (sample cruises)

Trip
Departure Dates

Highlights

Ship / Pax

Options*
Prices**
Days
Departure port
Antarctica, Falklands, & South Georgia
11/20/14
01/31/15
Vast Colonies of King Penguins, Breathtaking Scenery, Historic sites, South Shetlands, Antarctic Peninsula
Research Ship



Akademik Ioffe

-

96

kayaking
$11,995 -
$22,695
19
Ushuaia, Argentina
South Georgia, Antarctica & the Falklands

02/19/15

Vast Colonies of King Penguins, Breathtaking Scenery, Historic sites - kayaking option
Expedition Ship

Sea Adventurer - 122

kayaking

$15,995 -
$25,995

23

Ushuaia, Argentina / Buenos Aires

South Georgia, Antarctica & The Falklands
10/17/14
Vast Colonies of King Penguins, Breathtaking Scenery, Historic sites
Expedition Ship



Expedition


-

132

$9,999 -
$15,999
22
Fly to Stanley in the Falkland Islands from Montevideo, disembark in Ushuaia, Argentina

Notes




* options may be at additional cost and are usually booked when the cruise is booked - it may be too late once the cruise has started.

** prices are based per person, the lowest price is usually for triple occupancy in a basic cabin, the highest for double occupancy in the best available suite.

Need a Little Guidance? contact our travel partners who will help you find the best cruise for your requirements