Tell me more about a trip to Antarctica!

Shackleton's 1914-17 Trans-Antarctica Expedition on Twitter - follow us now to get the story 100 years to the day later.
@danthewhaler

2014/15 Itinerary
Antarctic Peninsula, Falklands, South Georgia cruises
Peninsula Cruise

10 days from $5,995
Weddell Sea and Antarctic Peninsula
Remote region


scuba and kayaking options
Air-Cruise
Fly over the Drake Passage then join your ship in Antarctica. Fly both ways or fly one - sail one options
Antarctica, South Georgia and the Falkland Islands
23 days from $15,995
Antarctic Peninsula
Fly / sail 11 days, active adventure


scuba and kayaking options
Antarctica Cruise
14 days, Luxury Accommodation


kayaking
Antarctica Cruise - The Peninsula
Active Adventure -

kayaking, camping
Classic Antarctica
Fly cruise with Antarctic Circle crossing
9 days from $12,995
Antarctic Peninsula
Luxury Ship
12 days from $6,295
Across the Circle
Antarctic Peninsula, Antarctic Circle, Historic Areas


scuba and kayaking options
11 days from $7,100
Antarctic Peninsula
Antarctic Peninsula, Penguins, Seals, Whales, Historic sites
13 days from $11,073
Cruises in Eastern Antarctica - Ross Sea Region
Ross Sea in the Wake of Scott and Shackleton
Ross Ice Shelf, McMurdo Sound
30 days from $19,500
Galapagos cruises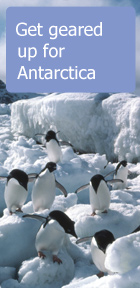 Lonely Planet travel guide Antarctica
USA

| UK


Free world delivery


Antarctica Cruising Guide
USA

| UK


Free world delivery
Trip Highlights: Sail farther south than most trips and attempt to cross the Antarctic Circle, with opportunities for Zodiac cruises, camping and kayaking.
Rates: $8,499 - $14,999
Rates are per person
Single Supplement: Available at 1.6 times the regular rate, excluding category 1 and category 1A.

Kayaking Supplement:
$749 per person (12/20/2014 - 2/19/2015)
Camping Supplement:
$249 per person (12/20/2014 - 2/19/2015)
(Please contact us for additional details and to book in advance.)
Ship - Expedition - Expedition Ship
Passengers: 132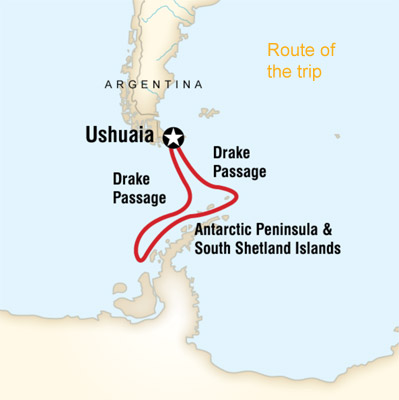 Introduction
A massive rookery of penguins shuffles across a frozen shore, a pod of whales glides through frigid waters, dramatic landscapes float off in the distance - welcome to Antarctica. You'll sail the Drake Passage past the South Shetland Islands and then really explore the western coast of the Antarctic Peninsula. The safe and comfortable Expedition is ideally suited to these icy waters and its expert staff are there to ensure you'll fully appreciate all the majesty you encounter. Prepare yourself for an adventure like no other.
Itinerary
Day 1: Arrive Ushuaia
Arrive into Ushuaia, the southernmost city in the world. Make your way to your hotel and enjoy the evening at leisure.
Sitting on the shores of the Beagle Channel, Ushuaia actually means 'the bay facing westward' in the language of the original Yamna inhabitants. Once a penal colony (the presidio was disbanded in the 1940s) for political prisoners as well as hardened criminals, Ushuaia is now a major tourist attraction, particularly for people cruising to Antarctica. The town of 40,000 is also a major ski resort area for both alpine and cross-country skiers and offers magnificent hiking in Parque Nacional Tierra del Fuego, the only coastal national park in Argentina.
Day 2: Ushuaia
Today, you will embark on the Expedition. Group embarkation is set for 4 p.m. The morning is free to do any last minute shopping or an optional excursion to the Terra Del Fuego National park or a good hike up to the Marshall Glacier. The evening is spent on board the ship watching the sunset over the Beagle Channel. Please note while it is intended to adhere to the itinerary described below, there is a certain amount of flexibility built into the itinerary and on occasion it may be necessary, or desirable to make alterations. On the first day on board, your Expedition Leader will give you an expedition overview.
Days 3 - 4: The Drake Passage
Cape petrels mesmerize you, but majestic wandering albatross take your breath away as you cross Drake Passage. Your biologists reveal Antarctica's natural history, while environmental and safety briefings prepare you.
Spirits soar as air and water temperatures fall, marking the crossing of the Antarctic Convergence. All eyes are peeled for the first iceberg, the first penguin and the first glimpse of land.
Days 5 - 6: Antarctic Peninsula / South Shetland Islands
This is what you've been waiting for - a chance to step foot on the Great White Continent! Over the next few days, you will navigate southwards making stops in the South Shetland Islands then through the Bransfield Strait and to the Antarctic Peninsula. The goal is to attempt two excursions per day while navigating through the area, but the itinerary and daily schedule will be based on the local weather and ice conditions encountered. The Antarctic Peninsula and the South Shetland Islands abound with wildlife activity. Penguins gather with their fast-growing chicks, seals haul out onto ice floes and beaches, and numerous albatross and other seabirds trail in your wake. There is plenty of time to enjoy the sheer beauty and the breathtaking scenery of ice-choked waterways, blue and white icebergs, impressive glaciers and rugged snow-capped mountains. The Peninsula also has a remarkable history and, during the voyage, you will learn about some of the most important and dramatic expeditions to this remote corner of the world. Keeping a lookout from the Bridge or the deck of the ship, as it threads its way along the continent, you'll feel the same sense of excitement as many of those early explorers.
Days 7 - 8: Polar Circle Crossing
You set off southward along the western coast of the Antarctic Peninsula. Passing colossal icebergs and countless colonies of penguins, you push on with your goal in mind - crossing the Antarctic Polar Circle. Few travelers have ventured this far south, but with your fully equipped ice-strengthened vessel and favorable sea conditions, you can access many remote locations other ships just can't reach.
Day 9 – 11 Antarctic Peninsula / South Shetland Islands
You will continue your exploration of the peninsula and then into the South Shetlands as you move North again. Keeping a close eye out for wildlife, you might have the opportunity to do some whale watching or even go for a polar plunge in the Southern waters.
Days 12 - 13: The Drake Passage
Time to leave the icy wonderland for warmer climes. With Anvers and Brabant islands astern, return to Drake Passage, your winged companions soaring and dipping in the wake. As icebergs fade on the horizon, memories hold fast as you reflect on a rich diversity of experiences.
Day 14: Ushuaia, Argentina / Disembark
And so the adventure comes to a close. You will say your goodbyes as you disembark in Ushuaia in the morning.
Notes
Mandatory Travel Insurance:
As a requirement of participation on the Expedition, all passengers must purchase medical and emergency evacuation insurance with a minimum medical coverage of $200,000 and this insurance must cover personal injury, medical expenses, repatriation expenses, and evacuation expenses. Clients must be able to provide proof of insurance purchase and adequate coverage as per the required amounts above. We also strongly recommend that all passengers purchase comprehensive travel insurance which would include coverage for cancellation, trip disruption, baggage and personal property. We can assist you with this.

Kayaking Supplement:
$659 per person (2/25/2014 - 3/9/2014)
$749 per person (12/20/2014 - 2/19/2015)
Limited to just 10 people per cruise, you'll venture out to sheltered bays and areas known for calmer waters and take part in group kayaking trips led by experienced and skilled leaders. Space is limited, however, so be certain to book in advance. Please contact us for additional details.

Camping Supplement:
$159 per person (2/25/2014 - 3/9/2014)
$249 per person (12/20/2014 - 2/19/2015)
Limited to just 20 people, the Antarctica camping experience includes time to enjoy the beauty of Antarctica near your campsite with ample photography options. Please contact us for additional details and to book in advance.

Included:
All meals onboard the ship (excluding drinks other than coffee, tea and water); shore excursions and Zodiac cruises; services of Expedition staff and naturalists; lecture and educational programs; accommodation aboard the Expedition; one-night accommodation with breakfast in Ushuaia; complimentary waterproof boots onboard; Ushuaia airport transfer depending on your departure flight details; Antarctica destination guidebook; waterproof jacket.

Not Included:
Airfare; travel insurance (required); passport and visa fees; departure taxes; gratuities are at your discretion; items of a personal nature including laundry, alcoholic and non-alcoholic beverages (except coffee, tea and water); optional excursions; kayaking; camping.
Antarctic Peninsula Region Cruises - (sample cruises)

Trip
Departure Dates
Highlights
Ship / Pax
Options*
Prices**
Days
Departure port
Discovering the 7th Continent - The Antarctic
Peninsula
11/16/14
11/26/14
12/06/14
South Shetland Islands, Antarctic Peninsula, Lemaire Channel, Paradise Bay, Port Lockroy
Expedition Ship

Sea Adventurer - 122

kayaking
camping
snowshoeing
$5,995 -
$14,995
12
Ushuaia, Argentina
Classic Antarctica Air-Cruise
12/02/14
12/07/14
12/12/14
12/17/14
12/22/14
12/27/14
01/22/15
02/06/15
02/11/15

Fly over the Drake Passage both ways

, Antarctic Peninsula, South Shetland Islands
Expedition Ship



Ocean Nova -

68

kayaking
snowshoeing
$9,790 -
$18,595
7
Punta Arenas - Airport
Antarctic Peninsula Air-Cruise
02/27/15

Fly south, sail north,

South Shetland Islands, Abundant Wildlife, Lemaire Channel
Research Vessel

Polar Pioneer - 54

kayaking
scuba
$7,100 -
$12,600
11
Punta Arenas Chile, return Ushuaia, Argentina
Antarctica Cruise - The Peninsula - Luxury expedition ship
11/27/14
12/17/14
01/14/15
01/24/15
02/03/15

Antarctica Peninsula, South Shetland Islands, Abundant Wildlife, Lemaire Channel
Luxury Expedition Ship

Sea Explorer - 114

kayaking
$6,295 -
$16,795
12
Ushuaia, Argentina
Antarctica Cruise - The Peninsula (Active Adventure)
12/10/14
01/27/15
03/16/15
South Shetlands, Antarctic Peninsula, Penguin Rookeries, Lemaire Channel
Research Vessel

Akademik Sergey Vavilov - 92

kayaking,
camping
$6,795 -
$13,095
11
Ushuaia, Argentina
Trip
Departure Dates
Highlights
Ship / Pax
Options*
Prices**
Days
Departure port
Antarctica Peninsula - via Cape Horn
12/05/14
02/04/2015
03/04/2015
Cape Horn national Park, Antarctic Peninsula, penguins, icebergs on a luxury ship
Luxury Expedition Ship

Sea Spirit - 112

kayaking
camping
snowshoeing
$7,595 -
$19,195
12
Ushuaia, Argentina
Antarctica Cruise - Land of the Penguins
11/19/14
1/04/15
1/16/15
Antarctic Peninsula, Penguins, Seals, Whales, Historic sites
Scenic Exploration Ship



Fram

- 240

$11,073 -
$18,779
13
Buenos Aires, Ushuaia, Argentina
Antarctic Peninsula with Circle Crossing, Air Cruise
01/01/15
02/16/15

Fly over the Drake Passage both ways

,
Antarctic Peninsula, South Shetland Islands
Expedition Ship

Ocean Nova - 68

kayaking
snowshoeing
$12,995 -
$20,795
9
Punta Arenas, Chile
Antarctica - Cruise - The Peninsula
Luxury expedition ship
11/28/14
12/08/14
12/18/14
12/28/14
01/7/15
01/17/15
01/27/15
02/06/15
South Shetland, Paradise Bay, Lemaire Channel
Luxury Expedition Ship

National Geographic Explorer - 148

kayaking
$11,990 -
$22,870
14
Buenos Aires / Ushuaia, Argentina
Antarctica Cruise - The Peninsula with Circle Crossing
0 2/19/15

Sail south, fly back,

South Shetlands, Antarctic Peninsula, Lemaire Channel, Spectacular Glaciers
Research Vessel

Polar Pioneer - 54

kayaking
$7,100 -
$12,600
11
Ushuaia, Argentina
Antarctica Cruise - The Peninsula Luxury Expedition Ship
12/2/14
12/12/14
1/09/15
1/31/14
2/06/15
2/16/15
2/26/15
12/2/15
12/12/15
Antarctic Peninsula, Penguin Rookeries, Lemaire Channel
Luxury Expedition Ship

Silver Explorer - 132

$9,950 -
$29,750
11
Ushuaia, Argentina

Cruises Visiting the Ross Sea Region

Antarctica Cruise - Weddell Sea & Peninsula
01/11/15
02/09/15
Scott and Shackleton's Huts, remote East Antarctica, Emperor penguins, sub-Antarctic islands
Research Vessel

Spirit of Enderby
- 56

$19,500 -
$28,800
30
New Zealand

Cruises Visiting South Georgia- (sample cruises)

Trip
Departure Dates

Highlights

Ship / Pax

Options*
Prices**
Days
Departure port
Antarctica, Falklands, & South Georgia
11/20/14
01/31/15
Vast Colonies of King Penguins, Breathtaking Scenery, Historic sites, South Shetlands, Antarctic Peninsula
Research Ship



Akademik Ioffe

-

96

kayaking
$11,995 -
$22,695
19
Ushuaia, Argentina
South Georgia, Antarctica & the Falklands

02/19/15

Vast Colonies of King Penguins, Breathtaking Scenery, Historic sites - kayaking option
Expedition Ship

Sea Adventurer - 122

kayaking

$15,995 -
$25,995

23

Ushuaia, Argentina / Buenos Aires

South Georgia, Antarctica & The Falklands
10/17/14
Vast Colonies of King Penguins, Breathtaking Scenery, Historic sites
Expedition Ship



Expedition


-

132

$9,999 -
$15,999
22
Fly to Stanley in the Falkland Islands from Montevideo, disembark in Ushuaia, Argentina

Notes




* options may be at additional cost and are usually booked when the cruise is booked - it may be too late once the cruise has started.

** prices are based per person, the lowest price is usually for triple occupancy in a basic cabin, the highest for double occupancy in the best available suite.

Need a Little Guidance? contact our travel partners who will help you find the best cruise for your requirements