Antarctic Peninsula Cruise
Active Adventure
South Shetlands, Antarctic Peninsula, Penguin Rookeries, Lemaire Channel - optional kayaking and camping - 11 Days | Departures: 03/07/16, 03/17/16 | From: $7,495
---
Trip Highlights: Small and comfortable research ship, highly experienced guides, expect an active trip with kayaking and camping options.
Rates: $7,495 - $13,195
Triple from: $7,495, Twin from $9,795
Single Rate: 1.5 times the regular double occupancy rate for twin cabins and 2 times the regular double occupancy rate for suites (not available in the triple share category).
Kayaking supplement: $795 per person
Ship - Akademik Sergey Vavilov - Research Ship
Passengers: 92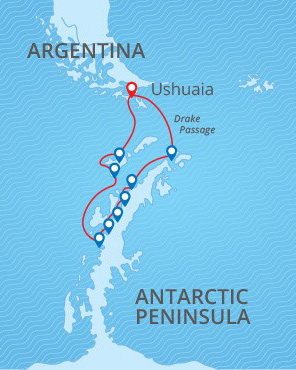 Summary
Spend 10 nights aboard a comfortable and well-appointed vessel as you explore the Antarctic Peninsula. Throughout your adventure, your highly experienced and personable expedition staff will provide excellent customer care in a casual and active environment. Daily hikes, kayaking excursions for those who sign up, and daily Zodiac rides. Discover an unimaginable profusion of penguins, whales cresting the waves in close proximity, and sweeping ice sheets that span an entire continent. Explore Petermann Island or Wilhelmina Bay where you encounter colossal icebergs and, of course, the ice landscapes that stretch as far as the eye can see. Hardy adventurers or those with a yen for history have the chance to camp out on the ice overnight and feel the thrill and audacity of early explorers who attempted to conquer this continent.
Itinerary
Day 1: Ushuaia / Embark
Today is the first day of your adventure. Board your ship in Ushuaia, the world's southernmost city on the tip of Argentina, and settle into your "home" for the days ahead. In the early evening, you set sail and begin your voyage leaving behind Ushuaia and charting a course through the Beagle Channel.

Days 2-3: Crossing the Drake Passage
Your journey across the famous Drake Passage, named after the 16th-century English navigator Sir Francis Drake, is an experience in itself. Your ship is accompanied most of the way by albatrosses - including the magnificent Wandering Albatross - along with an impressive variety of other seabirds. You have a good chance of spotting whales and dolphins and many different species have been encountered in these rich waters over the years. You also cross the Antarctic Convergence, a biological barrier where cold polar waters sink beneath the warmer waters of the more temperate zones.
Days 4-8: Exploring the Antarctica Peninsula
In the waterways of the Antarctic Peninsula, explore by inflatable Zodiac boats to marvel up close at nature's glory. Planned excursions might include Neko Harbor, Wilhelmina Bay and even the southerly Petermann Island, where you can observe Weddell, crabeater and elephant seals, skuas and other seabirds as well as a shocking abundance of penguin species including some very large colonies of the comical Adelie penguin. At Half Moon Island, observe a breeding colony of chinstrap penguins that share their territory with fur seals and blue-eyed shags. You may also see the gentle humpback whale dining on krill in its feeding grounds and possibly have an opportunity to observe killer and Minke whales.
You finally arrive on the continent of Antarctica at Paradise Bay or Neko Harbor. Prepare to be dazzled by your first glimpse of the continent. The scenery here is amazing. In particular, you will be struck by the oddly-shaped icebergs that look like sculptures, as well as the colossal tabular icebergs that break away from the continent's ice shelf. Hopefully the weather will be mild enough to allow you to step foot on the White Continent itself. Some may wish to camp on shore overnight. Whatever your vantage point--whether it is onboard or onshore--expect to feel transformed as you experience a twilight from the very bottom of the planet.
Days 9-10: Drake Passage
As you leave this magical place and make your way back, heading again across the Antarctic Convergence and the Drake Passage before rounding Cape Horn, you will spend the time sharing and reflecting on the wonderful experiences of the last few days. Sailing down the Beagle Channel, celebrate the conclusion of your Polar expedition at a special dinner.
Day 11: Ushuaia / Disembarkation
In the early morning, arrive back in Ushuaia. It is time to say farewell to your crew and fellow travelers. Guests will be transported to their hotels or to the airport for return flights home.
Read this itinerary as a guide only; the exact route and program varies according to ice and weather conditions - and the wildlife you encounter. Flexibility is the key to the success of this expedition.
Notes:
The above itinerary is a guide only, as the exact program depends on weather and ice conditions and the wildlife you encounter. Flexibility is the key to the success of this expedition.
Mandatory Insurance:
All guests are required to have comprehensive travel insurance which must cover accidents, injury, illness and death, medical expenses, including any related to pre-existing medical conditions, emergency repatriation (including helicopter) and personal liability. We strongly recommends at least $200,000 Emergency Medical/Evacuation coverage for Antarctic trips which includes coverage for cancellation, trip disruption, baggage and personal property. We can assist you with this. You must carry proof of insurance with you and produce it if requested by expedition staff. The expedition team reserves the right to cancel or suspend your participation on a trip or in certain activities that comprise part of a trip, at any time, including after the commencement of your tour, with no right of refund, if you are unable to provide proof of insurance when requested.
Special Departure: Marine Mammals in Antarctica - 03/17/2016
Late in the Austral summer, the Antarctic seas come alive with marine mammal life. March represents a critical time for whales in Antarctic waters as they feed on vast krill swarms to build energy stores for either a long migration to tropical breeding grounds or to prepare for survival in the ice-choked waters that will soon encapsulate the region. Through a collaborative effort with Dr. Arie Friedlander of the Marine Laboratory of Duke University, a heightened knowledge and awareness has been generated on humpback, minke and orca whales along the Antarctic Peninsula. The launch of GoPro Underwater Viewing Apparatus technology in every Zodiac will enhance your marine mammal encounters, paired with hydrophones, this technology provides unparalleled underwater viewing to watch live, or back on board.

Camping Option: No additional supplement.
No additional supplement. No pre-booking required. If conditions are suitable and you choose to camp on the continent, all the required gear such as a few tents, bivy sacs and sleeping bags, will be provided. This excursion is managed with strict environmental regulations. A portable outhouse tent is used and absolutely everything is transported back to the ship afterwards.
Sea Kayaking Option: $795 per person.
Pre-booked option for up to 16 guests. If you have experience sea kayaking and are interested in doing this activity during the expedition, you will need to book this option prior to departure from home. You cannot book this activity once onboard. There is a separate document for sea kayakers that you will need to review beforehand. Provided equipment includes full Gore-Tex drysuits, kayak specific PFD's, neoprene booties, a waterproof deck bag, pogies and many other vital paddling accessories.
Snowshoeing: No additional supplement - select departures
No pre-booking required. If conditions are suitable, you may choose to snowshoe on the continent. Snowshoes and trekking poles provided. Traveling by snowshoes offers a new view of Antarctica! Come prepared with warm socks and comfortable clothing. A small knapsack to carry water and an extra layer of clothing is recommended.
Hiking Excursions: No additional supplement
No pre-booking required. Trekking poles are available onboard for passenger use and instep crampons will be provided if necessary to improve traction on slick surfaces. Sturdy hiking books and warm hiking socks are needed to join this activity. Hikes will be 2-3 hours in duration and will involve negotiating challenging terrain without the assistance of trails. Antarctica hiking rewards with images of snow, ice, mountains, and glaciers.
Photography: No additional supplement.
An onboard photographer is available to work with you throughout the voyage to help you improve your photography and encourage you to look at scenes or events in a different way in order to capture them digitally. Also available is an onboard multimedia download studio with computers, cables, and hard-drives for back-up storage and for creating DVDs of your images.
Included:
Accommodation aboard the ship; all meals during the voyage prepared by onboard professional chefs; afternoon tea with fresh snacks each afternoon; coffee, tea, hot chocolate throughout the day; all Zodiac excursions; extensive program of relevant educational presentations; advice from experienced team of naturalists; overnight camping gear; foul weather gear set (pants/jacket/wellington boots OR waterproof backpack/waterproof binoculars/wellington boots); use of multimedia station; welcome reception; welcome dinner; farewell dinner hosted by Captain; 'Memory Book' (log book chronicling your trip, includes photos); onboard medical officer; pre-departure information; hairdryers available on request at no charge; transfers from the meeting point in Ushuaia to the pier to board the ship on day 1 of the cruise and transfers from the pier to the meeting point or airport on the last day of the cruise.
Not Included:
All airfare; visa and passport fees; airport departure taxes; pre-cruise or post-cruise meals, transfers, and hotel accommodation; personal laundry charges; postage; telephone calls; drinks; medical expenses; trip interruption and cancellation insurance; travel medical insurance including medical evacuation (required); gratuities to staff and crew; private fitness sessions; massage therapy; fee for optional programs.
Antarctic Peninsula - Sample Cruises - 2015 / 2016
Trip
Highlights
Prices USD*
Days
Antarctica Cruise - Discovering the 7th Continent
South Shetlands, Antarctic Peninsula, Penguin Rookeries, Lemaire Channel Optional kayaking, camping and snowshoeing
$6,995 -
$14,995
12
Antarctica Cruise - The Peninsula
Classic Antarctica, pristine scenery, classic sites of scientific and historic interest, experienced naturalist guides. Optional kayaking, camping, cross-country skiing and mountaineering
$6,795 -
$16,995
12
Classic Antarctica Air-Cruise
Fly over the Drake Passage, Antarctic Peninsula, South Shetland Islands, Wildlife, Scenery, Ice Optional kayaking and snowshoeing
$9,995 - $18,995
8
South Georgia / Falkland Islands / Antarctica - Sample Cruises - 2015 / 2016
Need a Little Guidance? contact our travel partners who will help you find the best cruise for your requirements
Notes
*
Prices
are based per person, the lowest price is usually for triple occupancy in a basic cabin, the highest for double occupancy in the best available suite.
Options
may be at additional cost and are usually booked when the cruise is booked - it may be too late once the cruise has started.