Tell me more about a trip to Antarctica!
Antarctic Peninsula, Falklands, South Georgia cruises
Peninsula Cruise

10 days from $4,595
Weddell Sea and Antarctic Peninsula
Remote region
kayaking option
Air-Cruise
Fly over the Drake Passage then join your ship in Antarctica. Fly both ways or fly one - sail one options
Antarctica, South Georgia and the Falkland Islands
22 days from $15,980
Antarctic Peninsula
Fly / sail 10 days, active adventure, camping, kayaking
Antarctica Cruise
14 days, Luxury Accommodation
kayaking
Antarctica Cruise - The Peninsula
Active Adventure - kayaking, camping
Classic Antarctica
Fly cruise with Antarctic Circle crossing
9 days from $12,695
Antarctic Peninsula
Luxury Ship
13 days from £13,750
Across the Circle
Antarctic Peninsula, Antarctic Circle, Historic Areas - kayaking, camping
14 days from $5,499
Antarctic Peninsula
Antarctic Peninsula, Penguins, Seals, Whales, Historic sites
10 days from $7,876
Cruises in Eastern Antarctica - Ross Sea Region
Ross Sea in the Wake of Scott and Shackleton
Ross Ice Shelf, McMurdo Sound
29 days from $18,700
Antarctica Peninsula to the Ross Sea
Wildlife and History
rarely travelled itinerary
31 days from $24,163
Galapagos cruises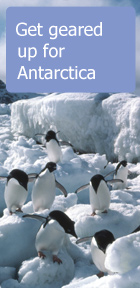 Lonely Planet travel guide Antarctica
USA

| UK


Free world delivery


Antarctica Cruising Guide
USA

| UK


Free world delivery
Trip Highlights: Luxury expedition ship travelling from Hobart to the sub-Antarctic islands and Commonwealth Bay, rich with wildlife and history! returning to New Zealand.
Rates: $31,202 - $47,372
Ship - Orion - Luxury Expedition Ship
Passengers: 106
Introduction
This voyage covers some of the polar regions famously charted during the first race to the South Pole by pioneering explorers Scott and Shackleton over 100 years ago. The Ross Sea coast extends from the ice shelf northwards until it reaches the very tip of Victoria Land and Cape Adare. During our time in the Ross Sea Region we will attempt a variety of opportunistic landings, subject to weather conditions. Although our itinerary to the extreme sub-Antarctic and Antarctic regions is based on many years of collective experience, prevailing weather and ice conditions in this area of the world are unpredictable, mother nature dictates our course. These are not cruises they are true expeditions to what can be the most inhospitable region on earth. Bring with you a spirit of adventure and flexibility.
The Orion is a purpose built, luxury expedition ship with ice strengthened hull and all the facilities for adventure cruising such as zodiacs, kayaks, etc. but combined with 4*+ service and amenities. All suites and cabins (all twin or double accommodation) have private facilities, TV & DVD player and fridge. 13 suites also have a French balcony. The Constellation Restaurant serves buffet breakfasts and lunches and a la carte dinners along with a good selection of mostly Australian wines. There is a lounge, bar, lecture theatre, passenger lift, 24 hour reception desk, boutique, spa and hot tub.
Itinerary
Day 1: Embark Hobart, Tasmania
Set on the River Derwent, Hobart is very much a city of the sea, with views of the Derwent estuary appearing around every corner. Historic 19th century waterfront warehouses remain, still bordering the commercial fishing harbor. Hobart is the finishing line for the famed blue water Sydney to Hobart Yacht Race and its deep harbor precinct once bustled with whalers, soldiers, bureaucrats and businessmen. A walk through the town will reveal that the city has resisted the pressure to move with the times, having retained and preserved old buildings such as the Parliament, built by convicts in the 1830's.
Days 2 - 4: At Sea
Day 5: Macquarie Island
One of those wondrous places that you've probably never heard of. The sub-Antarctic island of Macquarie has magnificent scenery and prolific wildlife. It became a wildlife sanctuary in 1933 and has been a World Heritage Site since 1977. There is a permanent manned Australian research station.
Ashore you will find a rugged backdrop of mountains and tussock grass covered headlands. There are around 850,000 royal penguins, 150,000 breeding pairs of king penguins as well as rock hopper penguins, gentoo penguins, elephant seals and numerous other seabirds. Scattered amongst the colonies like many other historic sites in Antarctica, you will find the rusting remains of machinery used by whalers and sealers in times gone by for the processing and exploitation of the wildlife.
Days 6 - 8: At Sea
Day 3: Auckland Islands
Cruise in Zodiacs in Sandy Bay, on Enderby Island at the northern end of Auckland Islands, to observe the profuse birdlife. Your expedition team will lead you to nesting royal albatross, and allow you to get up close and personal with a large New Zealand sea lion colony. If you are fortunate, you may see the rare yellow-eyed penguin as they move to and from their nests in the forests beyond the beach. The sensitivity of the ecosystem means that visitor numbers are strictly restricted on these islands.
Day 4: At Sea
As you make your way through the Southern Ocean, the expedition team will be on hand to prepare you for your expedition experience giving you an overview of all aspects of Antarctic life, with lectures and presentations on wildlife, ice, environmental sustainability and the history of polar exploration. These lectures are given by some of the foremost experts in their fields including botany, marine biology, anthropology and history.
Days 6-8: At Sea
Days 9 - 15: Ross Sea region
Visit Ross Island, guarded by Mount Erebus, Mount Terror and Mount Bird with all the famous spots which played such an important role in the dramatic British expeditions of the last century such as Cape Royds with the cabin of Ernest Shackleton. There is also Cape Evans with the cabin of Robert Falcon Scott, from Hut Point Scott and his men set out for the South Pole.
Days 16-18: At Sea
Day 19: Campbell Island
Campbell Island is an oceanic island of rugged scenery, unique flora and abundant wildlife. You can walk to the hilltop breeding sites of the royal albatross, these have the second largest wingspan of any bird and are very approachable, making excellent subjects for photography.
Days 20: At Sea
Make your way to New Zealand while reflecting on your journey's highlights with fellow travelers.
Day 21: Dunedin / New Zealand - Disembarkation
Extend your trip in New Zealand or make your way home.
Ports of call and itinerary are subject to change, dependent on weather and tidal conditions.
Antarctic Peninsula Region Cruises - (sample cruises)

Trip
Departure Dates
Highlights
Ship / Pax
Options*
Prices**
Days
Departure port
Antarctica Cruise - The Peninsula
11/15/13
South Shetland Islands, Antarctic Peninsula, Lemaire Channel, Paradise Bay, Port Lockroy
Expedition Ship

Sea Adventurer - 122

$4,595 -
$8,995
10
Ushuaia, Argentina
Classic Antarctica Air-Cruise
12/02/13, 12/07/13, 12/12/13, 12/17/13, 12/22/13, 12/27/13, 01/17/14, 01/22/14, 02/01/14, 02/06/14, 02/11/14

Fly over the Drake Passage both ways

, Antarctic Peninsula, South Shetland Islands
Expedition Ship

Ocean Nova -

68

$9,700 -
$17,995
7
Punta Arenas - Airport
Antarctic Peninsula Air-Cruise
11/30/12, 12/11/12

Sail south, fly back,

South Shetland Islands, Abundant Wildlife, Lemaire Channel
Research Vessel

Polar Pioneer - 54

kayaking
camping
$6,700 -
$11,800
10
Ushuaia, Argentina
return, Punta Arenas Chile
Antarctica Cruise - The Peninsula - Luxury expedition ship with 5-star service.
12/22/13
Antarctica Cruise - Falkland Islands, The Peninsula
Luxury Expedition Ship

Silver Explorer - 132

$13,750 -
$37,450
13
Ushuaia, Argentina
Antarctica Cruise - The Peninsula (Active Adventure)
12/10/13, 01/27/14, 02/24/14, 03/06/14, 03/16/13
South Shetlands, Antarctic Peninsula, Penguin Rookeries, Lemaire Channel
Research Vessel

Akademik Sergey Vavilov - 92

kayaking,
camping
$5,990 -
$12,190
11
Ushuaia, Argentina
Antarctica Cruise - Crossing the Circle
2/16/14
Antarctic Peninsula, Sail far South to land on Antarctica inside the circle, visit penguins, icebergs on a luxury ship
Luxury Expedition Ship

Sea Spirit - 112

kayaking,
camping
$11,395 -
$24,995
15
Ushuaia, Argentina
Antarctica Cruise - Weddell Sea Adventure
11/22/13, 1/4/14, 1/13/14, 2/15/14
Antarctic Peninsula, Penguins, Seals, Whales, Historic sites
Scenic Exploration Ship

Fram

- 240

$7,876 -
$13,128
10
Ushuaia, Argentina
Trip
Departure Dates
Highlights
Ship / Pax
Options*
Prices**
Days
Departure port
Antarctica Cruise - Weddell Sea & Peninsula
2/28/14
Remote Stunning Area, West and East of the Antarctic Peninsula, Seals and Penguins
Research Vessel

Polar Pioneer - 56

kayaking

$8,200 -
$13,200
12
Ushuaia, Argentina
Antarctic Peninsula with Circle Crossing
1/1/14, 2/16/14

Fly over the Drake Passage both ways

,
Antarctic Peninsula, South Shetland Islands
Expedition Ship

Ocean Nova - 68

$12,695 -
$19,795
9
Ushuaia, Argentina
Antarctica Cruise - Across the Circle Antarctic
12/20/13, 2/25/14, 3/9/14
Antarctic Peninsula, Antarctic Circle, Historic Areas
Expedition Ship

Expedition - 68

kayaking
camping
$5,499 -
$12,999
14
Ushuaia, Argentina
Antarctica - Cruise - The Peninsula
Luxury expedition ship
11/27/13, 12/07/13, 12/17/13, 12/27/13, 01/6/14, 01/16/14, 01/26/14, 02/05/14
South Shetland, Paradise Bay, Lemaire Channel
Luxury Expedition Ship

National Geographic Explorer- 148

$11,990 -
$22,870
14
Buenos Aires / Ushuaia, Argentina
Antarctica Cruise - The Peninsula Luxury Expedition Ship
12/2/13, 12/12/12, 1/21/14, 1/31/14, 2/10/14, 2/20/14, 12/2/14, 12/12/14
Antarctic Peninsula, Penguin Rookeries, Lemaire Channel
Luxury Expedition Ship

Silver Explorer - 132

$9,750 -
$28,550
11
Buenos Aires / Ushuaia, Argentina
Antarctica Cruise - The Peninsula with Circle Crossing
2/10/14, 2/19/14

Sail south, fly back,

South Shetlands, Antarctic Peninsula, Lemaire Channel, Spectacular Glaciers
Research Vessel

Polar Pioneer - 54

kayaking
$7,200 -
$12,200
10
Ushuaia, Argentina

Cruises Visiting South Georgia- (sample cruises)

Trip
Departure Dates

Highlights

Ship / Pax

Options*
Prices**
Days
Departure port
Antarctica, Falklands, & South Georgia
11/20/13, 1/31/14
Vast Colonies of King Penguins, Breathtaking Scenery, Historic sites, South Shetlands, Antarctic Peninsula
Research Ship

Akademik Ioffe -

96

kayaking
$11,190 -
$21,190
19
Ushuaia, Argentina
South Georgia, Antarctica & the Falklands

2/2/13

Vast Colonies of King Penguins, Breathtaking Scenery, Historic sites - kayaking option
Expedition Ship

Sea Adventurer - 122

kayaking

$13,495 -
$25,595

23

Buenos Aires / Ushuaia, Argentina

South Georgia, Antarctica & The Falklands
10/19/13
Vast Colonies of King Penguins, Breathtaking Scenery, Historic sites
Research Ship

Ushuaia -

84

$8,500 -
$13,710
17
Fly to Stanley in the Falkland Islands from Santiago, disembark in Ushuaia, Argentina

Notes




* options may be at additional cost and are usually booked when the cruise is booked - it may be too late once the cruise has started.

** prices are based per person, the lowest price is usually for triple occupancy in a basic cabin, the highest for double occupancy in the best available suite.

Need a Little Guidance? contact our travel partners who will help you find the best cruise for your requirements