Tell me more about a trip to Antarctica!

Shackleton's 1914-17 Trans-Antarctica Expedition on Twitter - follow us now to get the story 100 years to the day later.
@danthewhaler

2014/15 Itinerary
Antarctic Peninsula, Falklands, South Georgia cruises
Peninsula Cruise

10 days from $5,995
Weddell Sea and Antarctic Peninsula
Remote region


scuba and kayaking options
Air-Cruise
Fly over the Drake Passage then join your ship in Antarctica. Fly both ways or fly one - sail one options
Antarctica, South Georgia and the Falkland Islands
23 days from $15,995
Antarctic Peninsula
Fly / sail 11 days, active adventure


scuba and kayaking options
Antarctica Cruise
14 days, Luxury Accommodation


kayaking
Antarctica Cruise - The Peninsula
Active Adventure -

kayaking, camping
Classic Antarctica
Fly cruise with Antarctic Circle crossing
9 days from $12,995
Antarctic Peninsula
Luxury Ship
12 days from $6,295
Across the Circle
Antarctic Peninsula, Antarctic Circle, Historic Areas


scuba and kayaking options
11 days from $7,100
Antarctic Peninsula
Antarctic Peninsula, Penguins, Seals, Whales, Historic sites
13 days from $11,073
Cruises in Eastern Antarctica - Ross Sea Region
Ross Sea in the Wake of Scott and Shackleton
Ross Ice Shelf, McMurdo Sound
30 days from $19,500
Galapagos cruises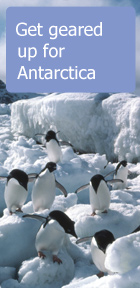 Lonely Planet travel guide Antarctica
USA

| UK


Free world delivery


Antarctica Cruising Guide
USA

| UK


Free world delivery
Trip Highlights: This voyage is well-suited for active travelers who want to explore the peninsula on a small-group expedition with a kayaking option.
Rates: $8,700 - $14,290
Above rates are per person and based on double occupancy (except for Triple cabins).
Single Rate: 1.7 times the twin share rate. Solo travelers can be matched up to share a cabin (if availability) and will be charged the double or triple occupancy rate.
Kayaking Option: $995 per person.
Climbing Option: $250 per person. 12/6/2014 departure only.
Camping Option: Included in cruise rate.
Ship - Polar Pioneer - Research Ship
Passengers: 54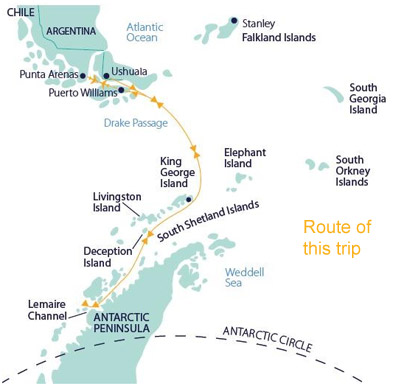 Introduction
One of the most dynamic and fast-changing regions of Antarctica, the Weddell Sea demands the most from those who attempt to explore it. Expeditions led by Sweden's Otto Nordenskjold and Sir Ernest Shackleton became renowned survival epics. You will thread your way through the tabular bergs that stream through Antarctic Sound, where a new underwater volcano is making its way to the surface, and attempt to land on wildlife-rich islands in the northern Weddell Sea.
Itinerary
Day 1: Ushuaia, Argentina
Board your ship, the Polar Pioneer, in the afternoon. You'll set sail along the Beagle Channel this evening.
Day 2-3: Drake Passage

As you cross the Drake Passage observe as cape petrels dart around the ship, black-browed and wandering albatross soar overhead and Wilson's storm petrels flit above the sea. Learn about Antarctica from our expert naturalist's informative talks. Safety and environmental guidelines will be covered by your expedition team while preparing for upcoming adventures. Enjoy time to meet fellow travelers, chat, read and prepare for the days ahead.


Days 4-9: South Shetland Islands / Antarctic Peninsula
An overnight passage along Gerlache Strait delivers you to the stunning Antarctic Peninsula, an ethereal wonderland of vast proportions. Aboard Zodiacs, explore penguin rookeries, historic sites, scientific stations and cruise near exquisite icebergs. Our kayakers glide into secluded bays, while climbers ascend pristine peaks.
Stepping ashore on the continent itself creates an everlasting memory. Bubble-netting humpbacks demand a wake-up call, even at midnight! A curious leopard seal cruising amongst spectacular icebergs may mean postponing lunch.
We make the most of every day and a fair bit of each night as well. If the weather allows, we'll have a sleep-out on the ice – a must for any Antarctic explorer!
Days 10-11: Drake Passage
You will cross the Drake Passage with magnificent albatrosses in our wake. The last shipboard lectures give you time to polish your Antarctic education before you make a ceremonial rounding of Cape Horn.
Day 12: Puerto Williams / Punta Arenas, Chile

A dawn cruise along the Beagle Channel ends in Puerto Williams. Disembark after breakfast for a tour of the town and stunning surroundings, before transferring to the airport for your flight to Punta Arenas.
Read this itinerary as a guide only; the exact route and program varies according to ice and weather conditions – and the wildlife you encounter. Flexibility is the key to the success of this expedition.
Reverse Itinerary: 1/20/2015 departure (Punta Arenas, Chile to Ushuaia, Argentina)
Mandatory Travel Insurance:
All guests are required to have emergency medical evacuation travel insurance coverage. Proof of coverage is required prior to embarkation. The policy provider, policy number and emergency contact phone number must be provided prior to departure date. We strongly recommend at least $200,000 Emergency Medical/Evacuation coverage for Antarctic trips which includes coverage for cancellation, trip disruption, baggage and personal property. We can assist you with this.
Kayaking Option: $995 per person
If you wish to take this option, please advise us when you make your booking as numbers are limited. Please note, some sea kayaking experience is necessary.
Climbing Option: $250 per person. 12/6/2014 departure only.
From easy ascents to more technical routes, ranging from four to 10 hours. You'll need to be moderately fit, and use crampons and an ice axe. Most climbers bring their own gear, but a list can be supplied of what is on board.
Camping Option: Included in cruise rate
Camping is optional, subject to weather conditions and organized onboard the ship.
Included:
Luggage transfer from Ushuaia hotel to ship on day of voyage departure (12/6/2014); transfer from ship to Puerto Williams airport (12/6/2014); flight from Puerto Williams to Punta Arenas (12/6/2014); flight from Punta Arenas to Puerto Williams, Chile (1/20/2015); transfer from Puerto Williams airport to ship (1/20/2015); tour of Puerto Williams; cabin accommodation on the ship; all meals onboard; all shore excursions; lectures and guide services; boots (for loan onboard); medical service of the resident medical officer onboard; port taxes and service charges.

Not Included:
Airfare except flight from Puerto Williams to Punta Arenas (12/6/2014) or flight from Punta Arenas to Puerto Williams, Chile (1/20/2015); accommodation and transfers before or after the cruise; visa, passport, and vaccination charges and airport departure taxes; fuel surcharge may apply; optional sea kayaking and climbing activities, items of a personal nature; internet charges; travel insurance; and gratuity to the ship's crew is at your discretion.
Antarctic Peninsula Region Cruises - (sample cruises)

Trip
Departure Dates
Highlights
Ship / Pax
Options*
Prices**
Days
Departure port
Discovering the 7th Continent - The Antarctic
Peninsula
11/16/14
11/26/14
12/06/14
South Shetland Islands, Antarctic Peninsula, Lemaire Channel, Paradise Bay, Port Lockroy
Expedition Ship

Sea Adventurer - 122

kayaking
camping
snowshoeing
$5,995 -
$14,995
12
Ushuaia, Argentina
Classic Antarctica Air-Cruise
12/02/14
12/07/14
12/12/14
12/17/14
12/22/14
12/27/14
01/22/15
02/06/15
02/11/15

Fly over the Drake Passage both ways

, Antarctic Peninsula, South Shetland Islands
Expedition Ship



Ocean Nova -

68

kayaking
snowshoeing
$9,790 -
$18,595
7
Punta Arenas - Airport
Antarctic Peninsula Air-Cruise
02/27/15

Fly south, sail north,

South Shetland Islands, Abundant Wildlife, Lemaire Channel
Research Vessel

Polar Pioneer - 54

kayaking
scuba
$7,100 -
$12,600
11
Punta Arenas Chile, return Ushuaia, Argentina
Antarctica Cruise - The Peninsula - Luxury expedition ship
11/27/14
12/17/14
01/14/15
01/24/15
02/03/15

Antarctica Peninsula, South Shetland Islands, Abundant Wildlife, Lemaire Channel
Luxury Expedition Ship

Sea Explorer - 114

kayaking
$6,295 -
$16,795
12
Ushuaia, Argentina
Antarctica Cruise - The Peninsula (Active Adventure)
12/10/14
01/27/15
03/16/15
South Shetlands, Antarctic Peninsula, Penguin Rookeries, Lemaire Channel
Research Vessel

Akademik Sergey Vavilov - 92

kayaking,
camping
$6,795 -
$13,095
11
Ushuaia, Argentina
Trip
Departure Dates
Highlights
Ship / Pax
Options*
Prices**
Days
Departure port
Antarctica Peninsula - via Cape Horn
12/05/14
02/04/2015
03/04/2015
Cape Horn national Park, Antarctic Peninsula, penguins, icebergs on a luxury ship
Luxury Expedition Ship

Sea Spirit - 112

kayaking
camping
snowshoeing
$7,595 -
$19,195
12
Ushuaia, Argentina
Antarctica Cruise - Land of the Penguins
11/19/14
1/04/15
1/16/15
Antarctic Peninsula, Penguins, Seals, Whales, Historic sites
Scenic Exploration Ship



Fram

- 240

$11,073 -
$18,779
13
Buenos Aires, Ushuaia, Argentina
Antarctic Peninsula with Circle Crossing, Air Cruise
01/01/15
02/16/15

Fly over the Drake Passage both ways

,
Antarctic Peninsula, South Shetland Islands
Expedition Ship

Ocean Nova - 68

kayaking
snowshoeing
$12,995 -
$20,795
9
Punta Arenas, Chile
Antarctica - Cruise - The Peninsula
Luxury expedition ship
11/28/14
12/08/14
12/18/14
12/28/14
01/7/15
01/17/15
01/27/15
02/06/15
South Shetland, Paradise Bay, Lemaire Channel
Luxury Expedition Ship

National Geographic Explorer - 148

kayaking
$11,990 -
$22,870
14
Buenos Aires / Ushuaia, Argentina
Antarctica Cruise - The Peninsula with Circle Crossing
0 2/19/15

Sail south, fly back,

South Shetlands, Antarctic Peninsula, Lemaire Channel, Spectacular Glaciers
Research Vessel

Polar Pioneer - 54

kayaking
$7,100 -
$12,600
11
Ushuaia, Argentina
Antarctica Cruise - The Peninsula Luxury Expedition Ship
12/2/14
12/12/14
1/09/15
1/31/14
2/06/15
2/16/15
2/26/15
12/2/15
12/12/15
Antarctic Peninsula, Penguin Rookeries, Lemaire Channel
Luxury Expedition Ship

Silver Explorer - 132

$9,950 -
$29,750
11
Ushuaia, Argentina

Cruises Visiting the Ross Sea Region

Antarctica Cruise - Weddell Sea & Peninsula
01/11/15
02/09/15
Scott and Shackleton's Huts, remote East Antarctica, Emperor penguins, sub-Antarctic islands
Research Vessel

Spirit of Enderby
- 56

$19,500 -
$28,800
30
New Zealand

Cruises Visiting South Georgia- (sample cruises)

Trip
Departure Dates

Highlights

Ship / Pax

Options*
Prices**
Days
Departure port
Antarctica, Falklands, & South Georgia
11/20/14
01/31/15
Vast Colonies of King Penguins, Breathtaking Scenery, Historic sites, South Shetlands, Antarctic Peninsula
Research Ship



Akademik Ioffe

-

96

kayaking
$11,995 -
$22,695
19
Ushuaia, Argentina
South Georgia, Antarctica & the Falklands

02/19/15

Vast Colonies of King Penguins, Breathtaking Scenery, Historic sites - kayaking option
Expedition Ship

Sea Adventurer - 122

kayaking

$15,995 -
$25,995

23

Ushuaia, Argentina / Buenos Aires

South Georgia, Antarctica & The Falklands
10/17/14
Vast Colonies of King Penguins, Breathtaking Scenery, Historic sites
Expedition Ship



Expedition


-

132

$9,999 -
$15,999
22
Fly to Stanley in the Falkland Islands from Montevideo, disembark in Ushuaia, Argentina

Notes




* options may be at additional cost and are usually booked when the cruise is booked - it may be too late once the cruise has started.

** prices are based per person, the lowest price is usually for triple occupancy in a basic cabin, the highest for double occupancy in the best available suite.

Need a Little Guidance? contact our travel partners who will help you find the best cruise for your requirements