Tell me more about a trip to Antarctica!

Shackleton's 1914-17 Trans-Antarctica Expedition on Twitter - follow us now to get the story 100 years to the day later.
@danthewhaler

2014/15 Itinerary
Antarctic Peninsula, Falklands, South Georgia cruises
Peninsula Cruise

10 days from $5,995
Weddell Sea and Antarctic Peninsula
Remote region


scuba and kayaking options
Air-Cruise
Fly over the Drake Passage then join your ship in Antarctica. Fly both ways or fly one - sail one options
Antarctica, South Georgia and the Falkland Islands
23 days from $15,995
Antarctic Peninsula
Fly / sail 11 days, active adventure


scuba and kayaking options
Antarctica Cruise
14 days, Luxury Accommodation


kayaking
Antarctica Cruise - The Peninsula
Active Adventure -

kayaking, camping
Classic Antarctica
Fly cruise with Antarctic Circle crossing
9 days from $12,995
Antarctic Peninsula
Luxury Ship
12 days from $6,295
Across the Circle
Antarctic Peninsula, Antarctic Circle, Historic Areas


scuba and kayaking options
11 days from $7,100
Antarctic Peninsula
Antarctic Peninsula, Penguins, Seals, Whales, Historic sites
13 days from $11,073
Cruises in Eastern Antarctica - Ross Sea Region
Ross Sea in the Wake of Scott and Shackleton
Ross Ice Shelf, McMurdo Sound
30 days from $19,500
Galapagos cruises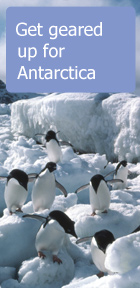 Lonely Planet travel guide Antarctica
USA

| UK


Free world delivery


Antarctica Cruising Guide
USA

| UK


Free world delivery
Rates: $7,595 - $19,195
Above rates are per person and based on double occupancy except Triple Cabins.
Single Rates: 1.7 times the regular double occupancy rate in Main Deck and Classic; 2 times the regular double occupancy rate in Superior, Deluxe, Suite, and Owner's Suite. Solo travelers can be matched up to share a cabin, if available, and will be charged the double or triple occupancy rate (standard cabin categories only).
Sea Kayaking Option: Available all departures - $950 per person
Camping Option: Not available 3/4/2015 - $250 per person
Snowshoeing Option: Available 12/5/2014 only - Included in cruise rate
Ship - Sea Spirit - Luxury Expedition Ship
Passengers: 112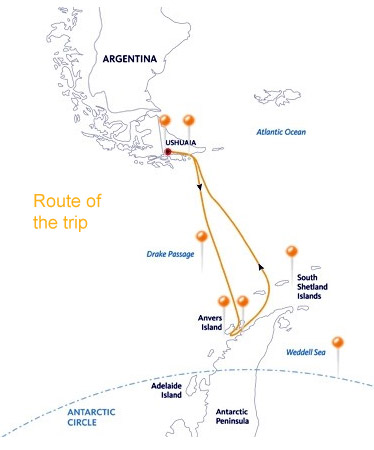 Summary

This well-established expedition cruise offers you the ideal introduction to Antarctica and the chance to visit Cape Horn National Park. Departing and finishing in the port of Ushuaia in Argentina, the itinerary visits prime sites along the Antarctic Peninsula and the neighboring South Shetland Islands. This program will emphasize wildlife viewing, possible visits to scientific bases, and the breathtaking scenery with narrow waterways, glaciers, icebergs and rugged mountains.

Itinerary

Day 1: Ushuaia, Argentina
Arrive early in Ushuaia to enjoy the southern city's frontier feel. Overnight at your hotel.

Day 2: Embarkation Day
Embarkation will occur in the late afternoon, after which your vessel will sail down the historic Beagle Channel. This historic channel transects the Tierra del Fuego archipelago in the extreme south of South America. Expect an air of excitement as you depart for the world's most southern continent!

Day 3: Cape Horn
Weather permitting, attempt to land on Cape Horn. In June 2005, Cape Horn National Park was declared a World Biosphere Reserve by UNESCO. Discover its beauty, biodiversity and vast sailing history.

Day 4: The Drake Passage
The Drake Passage is legendary for its high winds and rolling seas, but you may be lucky and get calm weather. If so, you'll keep busy on deck, on the Bridge and in the presentation room. You will be prepared for all aboard for riding Zodiacs, participating in shore landings and, if you dare, polar dips.

Days 5-9: South Shetland Islands / Antarctic Peninsula
The Expedition Team launches the Zodiacs to skim across the water to go ashore, or drift silently while you watch whales feed or penguins jump aboard ice floes. The grand snow-covered mountains of the Peninsula will sparkle in the sun, as clouds drift about their peaks.

Days 9-10: The Antarctic Circle
Crossing the Antarctic Circle is an impressive achievement, as most expeditions to the Peninsula do not reach 66° 33' S. Celebrate with a well-earned glass of champagne. Travelers toast to the intrepid explorers who have gone before.

Days 10-11: Drake Passage to Ushuaia
As you cross the Drake once again, you will have time to adjust to a world where day and night are distinct.

Day 12: Ushuaia, Argentina


Disembark after breakfast and transfer to the airport for your independent flights home.

Notes:

Read this itinerary as a guide only; the exact route and program varies according to ice and weather conditions - and the wildlife you encounter. Flexibility is the key to the success of this expedition.

Mandatory Travel Insurance:
All guests are required to have comprehensive travel insurance coverage. Due to the remoteness of the areas in this itinerary, travelers must have a minimum $50,000 of emergency medical coverage. Proof of coverage is required prior to embarkation. The shipping company will not be held responsible for delays due to force majeure. Any additional costs accrued will be the responsibility of the traveler. We strongly recommend at least $200,000 Emergency Medical/Evacuation coverage for Antarctic trips which includes coverage for cancellation, trip disruption, baggage and personal property. We can assist you with this.

Sea Kayaking Option: Available all departures
Not included in cruise rate. See rates page for price. Minimum age 16 years. This is a pre-booked option for kayakers with some experience. Places are strictly limited so please advise at time of booking. Please contact us for additional details.

Camping Option: Not available 3/4/2015
Not included in cruise rate. See rates page for price. Minimum age 16 years. Space is limited; request at time of booking. No camping experience is necessary to participate in this program. Sleeping bags and all safety equipment are provided.

Snowshoeing Option: 12/5/2014 departure only
Included in cruise rate. Anyone can take part, no previous experience necessary. Snowshoes available free of charge for excursions when conditions permit.

Included:
Group transfers in Ushuaia from the airport to local hotel for passengers arriving on Day 1 of the program or one day prior only; one night pre-expedition hotel accommodation at a four-star hotel with breakfast, as indicated in the itinerary (The number of guests per room is the same as cabin occupancy on the ship. Due to limited availability, travelers who reserve a suite on board are accommodated in standard rooms at the hotel. Triple rooms may not be available), five-star hotel for guests in Deluxe, Premium and Owner's suites; group transfers from a designated location in Ushuaia to the ship on embarkation day; group transfer upon disembarkation in Ushuaia from the ship to the local airport only for passengers with departing flights before noon; shipboard accommodation with daily housekeeping; all breakfasts, lunches and dinners on board throughout your voyage, "open bar" offering unlimited alcoholic and non-alcoholic drinks (please inform of any dietary requirements as far in advance as possible. Unfortunately, the ships' galleys cannot prepare kosher meals.); leadership throughout the voyage by your experienced Expedition Leader, including shore landings and other activities; formal and informal presentations by your Expedition Team and guest speakers as scheduled; Photographic Journal on DVD, documenting the voyage; all Zodiac transfers and cruising per the daily program; a pair of waterproof expedition boots on loan for shore landings; an official parka to keep; coffee, tea and cocoa available around the clock; hair dryer and bathrobes in every cabin; a 10 Mb card for access to the ship's wireless internet connection; comprehensive pre-departure materials, including a map and an informative Antarctic Reader; all miscellaneous service taxes and port charges throughout the program; all luggage handling aboard ship; Emergency Evacuation Insurance for all passengers to a maximum benefit of $100,000 per person*.

Not Included:
Any airfare; passport and visa expenses; government arrival and departure taxes, Argentina's Reciprocity Fee; any meals ashore with the exception of breakfast at the host hotel before embarkation; baggage, cancellation and medical travel insurance; excess baggage charges; laundry, massage and other personal charges; telecommunications charges; voluntary gratuity at the end of the voyage for shipboard staff and crew; supplements for adventure options; fuel surcharge may apply.

*Emergency Evacuation Insurance:
Emergency evacuation coverage to a maximum benefit per paying passenger of $100,000 is included in the cost of this expedition. Included coverage is applicable only to travel between the first and last day of the expedition purchased. Additional days of travel prior to the expedition and/or after the expedition are not covered by the included emergency evacuation insurance. We strongly advise all passengers to purchase medical, cancellation and baggage insurance, and additional emergency evacuation coverage.
Antarctic Peninsula Region Cruises - (sample cruises)

Trip
Departure Dates
Highlights
Ship / Pax
Options*
Prices**
Days
Departure port
Discovering the 7th Continent - The Antarctic
Peninsula
11/16/14
11/26/14
12/06/14
South Shetland Islands, Antarctic Peninsula, Lemaire Channel, Paradise Bay, Port Lockroy
Expedition Ship

Sea Adventurer - 122

kayaking
camping
snowshoeing
$5,995 -
$14,995
12
Ushuaia, Argentina
Classic Antarctica Air-Cruise
12/02/14
12/07/14
12/12/14
12/17/14
12/22/14
12/27/14
01/22/15
02/06/15
02/11/15

Fly over the Drake Passage both ways

, Antarctic Peninsula, South Shetland Islands
Expedition Ship



Ocean Nova -

68

kayaking
snowshoeing
$9,790 -
$18,595
7
Punta Arenas - Airport
Antarctic Peninsula Air-Cruise
02/27/15

Fly south, sail north,

South Shetland Islands, Abundant Wildlife, Lemaire Channel
Research Vessel

Polar Pioneer - 54

kayaking
scuba
$7,100 -
$12,600
11
Punta Arenas Chile, return Ushuaia, Argentina
Antarctica Cruise - The Peninsula - Luxury expedition ship
11/27/14
12/17/14
01/14/15
01/24/15
02/03/15

Antarctica Peninsula, South Shetland Islands, Abundant Wildlife, Lemaire Channel
Luxury Expedition Ship

Sea Explorer - 114

kayaking
$6,295 -
$16,795
12
Ushuaia, Argentina
Antarctica Cruise - The Peninsula (Active Adventure)
12/10/14
01/27/15
03/16/15
South Shetlands, Antarctic Peninsula, Penguin Rookeries, Lemaire Channel
Research Vessel

Akademik Sergey Vavilov - 92

kayaking,
camping
$6,795 -
$13,095
11
Ushuaia, Argentina
Trip
Departure Dates
Highlights
Ship / Pax
Options*
Prices**
Days
Departure port
Antarctica Peninsula - via Cape Horn
12/05/14
02/04/2015
03/04/2015
Cape Horn national Park, Antarctic Peninsula, penguins, icebergs on a luxury ship
Luxury Expedition Ship

Sea Spirit - 112

kayaking
camping
snowshoeing
$7,595 -
$19,195
12
Ushuaia, Argentina
Antarctica Cruise - Land of the Penguins
11/19/14
1/04/15
1/16/15
Antarctic Peninsula, Penguins, Seals, Whales, Historic sites
Scenic Exploration Ship



Fram

- 240

$11,073 -
$18,779
13
Buenos Aires, Ushuaia, Argentina
Antarctic Peninsula with Circle Crossing, Air Cruise
01/01/15
02/16/15

Fly over the Drake Passage both ways

,
Antarctic Peninsula, South Shetland Islands
Expedition Ship

Ocean Nova - 68

kayaking
snowshoeing
$12,995 -
$20,795
9
Punta Arenas, Chile
Antarctica - Cruise - The Peninsula
Luxury expedition ship
11/28/14
12/08/14
12/18/14
12/28/14
01/7/15
01/17/15
01/27/15
02/06/15
South Shetland, Paradise Bay, Lemaire Channel
Luxury Expedition Ship

National Geographic Explorer - 148

kayaking
$11,990 -
$22,870
14
Buenos Aires / Ushuaia, Argentina
Antarctica Cruise - The Peninsula with Circle Crossing
0 2/19/15

Sail south, fly back,

South Shetlands, Antarctic Peninsula, Lemaire Channel, Spectacular Glaciers
Research Vessel

Polar Pioneer - 54

kayaking
$7,100 -
$12,600
11
Ushuaia, Argentina
Antarctica Cruise - The Peninsula Luxury Expedition Ship
12/2/14
12/12/14
1/09/15
1/31/14
2/06/15
2/16/15
2/26/15
12/2/15
12/12/15
Antarctic Peninsula, Penguin Rookeries, Lemaire Channel
Luxury Expedition Ship

Silver Explorer - 132

$9,950 -
$29,750
11
Ushuaia, Argentina

Cruises Visiting the Ross Sea Region

Antarctica Cruise - Weddell Sea & Peninsula
01/11/15
02/09/15
Scott and Shackleton's Huts, remote East Antarctica, Emperor penguins, sub-Antarctic islands
Research Vessel

Spirit of Enderby
- 56

$19,500 -
$28,800
30
New Zealand

Cruises Visiting South Georgia- (sample cruises)

Trip
Departure Dates

Highlights

Ship / Pax

Options*
Prices**
Days
Departure port
Antarctica, Falklands, & South Georgia
11/20/14
01/31/15
Vast Colonies of King Penguins, Breathtaking Scenery, Historic sites, South Shetlands, Antarctic Peninsula
Research Ship



Akademik Ioffe

-

96

kayaking
$11,995 -
$22,695
19
Ushuaia, Argentina
South Georgia, Antarctica & the Falklands

02/19/15

Vast Colonies of King Penguins, Breathtaking Scenery, Historic sites - kayaking option
Expedition Ship

Sea Adventurer - 122

kayaking

$15,995 -
$25,995

23

Ushuaia, Argentina / Buenos Aires

South Georgia, Antarctica & The Falklands
10/17/14
Vast Colonies of King Penguins, Breathtaking Scenery, Historic sites
Expedition Ship



Expedition


-

132

$9,999 -
$15,999
22
Fly to Stanley in the Falkland Islands from Montevideo, disembark in Ushuaia, Argentina

Notes




* options may be at additional cost and are usually booked when the cruise is booked - it may be too late once the cruise has started.

** prices are based per person, the lowest price is usually for triple occupancy in a basic cabin, the highest for double occupancy in the best available suite.

Need a Little Guidance? contact our travel partners who will help you find the best cruise for your requirements