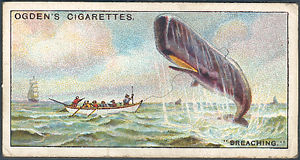 16 "Breaching"


One of the most marvelous feats performed by the whale is that movement called "Breaching". Imagine a creature 90 feet long, leaping clear of the water and momentarily suspended in the air. Then an awful crash and swirl accompanies its fall back into its native element. As most if not all of the propelling power of the whale lies in its huge tail, some notion of its strength may be obtained by considering this strange feat.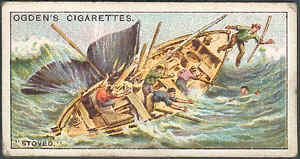 17 "Stoved"


"Beware of a Sperm's jaw and of a Right Whale's flukes". In the old whaling days blows from the flukes or tail caused the loss of many lives. Frequently they crashed into the boat with all the force of tons of weight added to enormous muscular strength. In a moment the boat would be smashed to splinters, and he men not only in danger of drowning, but of blows from the huge tail, from broken fragments of the boat or from the weapons which the boat was loaded. It is surely a reminiscence of the whaler's life that the word "fluke" to-day means an accident, even though an unlucky one.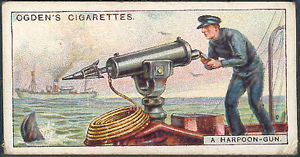 18 A Harpoon Gun

It can be readily understood that the close contact necessitated by the use of the hand-thrown harpoon and of the lance took a heavy toll of human life, and it is not too much to say that the advent of the steam-ship and the harpoon-gun have revolutionized the industry and given it a new lease of life. It will be seen in the illustration that the
four barbs are bound together by a thin wire. This wire is fastened to an explosive charge, and when the harpoon enters the whale, the wire is stripped off, releasing in one moment the four barbs. The charge is automatically exploded, and if the harpoon has struck a vital part the whale is killed at once.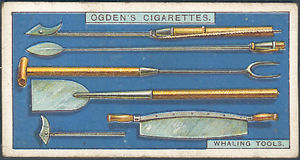 19 Whaling tools - old style
The harpoons (or "irons") were used to make the whale fast, moveable toggles preventing them from being withdrawn. The actual killing was accomplished at close quarters by means of the lance. The whaling-spade was used at the cutting-in and was of great service in the difficult task of removing and opening the huge head. The blubber fork was used in testing the blubber in the trying-pot, and for lifting the spent blubber which was reserved for fuel. The mincing knife cut the blubber into thin rashers termed bible-leaves. At the present day the blubber is sliced by huge revolving knives.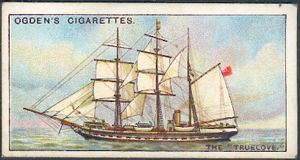 20 The "Truelove"

This, the most famous whaler in history, was built at Philadelphia in 1764, and after being captured by the British during the American War of Independence, was sent out from Hull in 1784. When 42 years old the "Truelove" made her first voyage to the Davis Straits, her last voyage being made in 1868. Altogether she made72 voyages and captured 500 whales.