Human Impacts on Antarctica and Threats to the Environment - Overview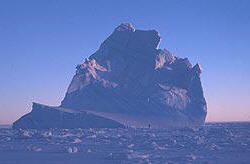 Antarctica is certainly the most pristine place on earth although it is not as unspoiled as may be imagined. For more than a hundred years people have travelled to Antarctica and most parts have now been visited. More than just footprints have been left and more than just photographs have been taken.
Some Antarctic species have been taken to the verge of extinction for economic benefit. Others have been killed or disturbed, soils have been contaminated, untreated sewage has been discharged into the sea and rubbish that will not decompose or break down has been left behind in even the remotest parts.
Recently attitudes have changed as we begin to realise that there are few unvisited places left on earth and that they are tremendously important to humanity. Antarctica's clean air, water and ice of are of importance to science for understanding how the Earth's environment is changing both naturally and as a result of human activity.
Tour operators are beginning to tap a huge and ever increasing demand to visit the Earth's last great wilderness. Both science and tourism have the potential to damage the very qualities that draw them to Antarctica.
Global Impacts
Antarctica is an important laboratory for research into the global impacts of the industrialized world.
Lakes on Signy Island in the Maritime Antarctic for instance have shown possibly the fastest local response to regional climate found anywhere on Earth. Average lake temperatures having risen by 0.9°C in 15 years while temperatures in the surrounding seas have stayed constant.
Global change may have effects that impact directly on the Antarctic environment and its fauna and flora. Global warming for example may contribute to break-up ice-shelves causing loss of habitat for animals dependent on the ice-shelf as well as the effect of increasing sea level on low-lying regions in the rest of the world.
Increasing Ultra Violet (UV) radiation due to the ozone hole may cause changes to phytoplankton communities and could have effects up the food chain.
Antarctica is a sensitive indicator of global change. The polar ice cap holds within it a record of past atmospheres that go back tens or even hundreds of thousands of years, allowing study of the earth's natural climate cycles against which the significance of recent changes can be judged.
The concerns for the environmental management of Antarctica is how to make good past damage and how to reduce the current and future impacts.
Past sins
In the earlier days of Antarctic programmes (well into the 1980's) waste was dealt with in one of three ways:
1- If it was flammable, it was burnt

If it wasn't flammable it was: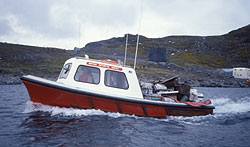 There was also a variation of the second approach whereby larger items such as broken and useless vehicles were taken out onto the sea ice and left. When the ice broke up in the spring, the rubbish on them would break out too and they would be dumped further out at sea as the floe they were on melted or tipped up.
Further inland, rubbish was often dropped down a crevasse or just left where it was. In the harsh Antarctic environment, even large items such as empty oil drums can be blown by the wind for miles from where they were originally dumped so spreading the problem. Broken down or crashed vehicles and aircraft were usually just left where they were.
A part of the Antarctic Treaty called the Madrid Protocol (because it was agreed on at an Antarctic Treaty conference in Madrid) requires that national Antarctic programmes clean-up abandoned work sites and waste tips so long as the process of clean-up does not cause greater adverse impacts or cause the removal of historic sites or monuments.
A cleaner future
Environmental audits are now carried out around bases, on land and in the sea to assess the impact that the base and its activities is having on the area around it. Any activity is bound to have some degree of disturbance to the environment, vehicle exhausts, wildlife disturbance, waste of various types being produced etc.
Some bases are now experimenting with alternative energy sources, the Australian Mawson base for example now has a wind powered electricity generator - a fairly obvious choice for one of the windiest places on earth! But problematic as the wind is so strong so often that the windmills are at risk of damage.
Protected areas are being set up with various levels degrees of protection, no vehicles allowed, limitations to annual visitors, or even no people allowed at all in some cases.
Expeditioners are now educated far better about protecting the environment and are frequently guided by a code of conduct while in Antarctica.