If carried out correctly - these methods are "worth doing" - but NOT for the purpose of ameliorating the effects of profligate carbon dioxide production - they are NOT a cure.
You should also be aware than carbon offsetting schemes are always someone's business idea, and this aspect can sometimes be more important to them than any aspect of "Saving the Planet".
Tree planting - reforestation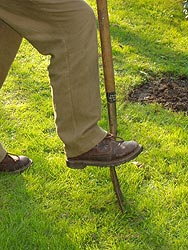 Of these methods, rather surprisingly, reforestation is the most controversial. It is the one that seems the easiest, straightforward and should be the most effective, but it is also the one that can be carried out in such a way as to actually be harmful rather than useful.
Deforestation has been a feature of human civilizations right from the earliest days when we first realised there were benefits from cutting down trees - wood to use as fuel, as a building material and for a million and one other uses. Open land rather than forest was good for hunting some animals and then later on it was a way of getting more land for farming.
Planting trees is a good and useful thing to do almost anywhere in the world. It helps stop soil erosion, has an effect on climate stabilization on a local and global scale, provides wood for fuel and building and a habitat for wildlife.
Appropriate tree planting is always a good thing.
All too often though, the trees that are planted are a monoculture - just one kind of tree - over a large area. Even worse, sometimes these are fast-growing non-native trees and the result is a "green desert" that can actually degrade the soil.
To be useful, trees planted would have to be maintained in perpetuity (forever), if they were felled and used at any time, the carbon dioxide they have sequested would simply be released back into the atmosphere and it may as well never have happened in the first place. In the worst cases, tree planting carbon-offset schemes are just ways of getting some subsidized forestry planting for future use, they can be a way of getting someone else to pay to plant trees that would have been planted anyway.
The wood from these trees could be used for various purposes such as building, tools, furniture etc. in which case more carbon would remain locked away as long as the use was continued. Eventually however it would rot and the carbon be returned to the atmosphere.
Renewable Energy
Helping to fund these schemes will not deal with any carbon dioxide you have already emitted. Instead of both of us p**sing in the well, I do it anyway and pay you not to.
However, it can be of increasing value for the future as such schemes can potentially last indefinitely and they result in NO further carbon dioxide being emitted over what is sustainable (such as biomass energy where the emitted carbon dioxide is used by the next crop).
The thing with a lot of this stuff is that we just don't really know where it's all going and investing in renewable energy is the place where it can possibly make the biggest difference in the longer term.
Energy Efficiency
Doesn't result in any reduction of carbon dioxide, but helps other people (in developing countries) to act to reduce their carbon dioxide output. Energy efficient light bulbs are cheaper in the long run however and so are efficient wood burning stoves, so it's more to do with poverty than global warming.
It's not going to stop global warming and is currently as unsustainable as a long term approach.
However it is like the rabbit-caught-in-the-headlights being able to slow the car down so it has longer to deal with the time when it's really close when it may have thought about getting out of the way or otherwise avoid what was previously inevitable.
Climate Change: Global Warming | GW Antarctica | Misconceptions | Carbon sinks | Carbon cycle | Prevention | Carbon Offsetting | Tree Planting