Live Antarctic Blogs
There are many more Antarctic blogs as well as those listed here, like many diaries they often start off with good intentions and then become a little sparse. The ones listed here are those that have some extra value.
Please let us know if there are others that you think should be added here - either live or archive
Archive Antarctic Blogs
Who was the first Antarctic blogger? - email with link if you have a claimant
Claimant!:
Dale Andersen, I was blogging from McMurdo in 1993, and again from the Dry Valleys (Lake Hoare) in 1996. You could double check with Geoff Haines-Stiles (passport to knowledge, polar palooza) for the 1993 blog (Dale's Dive Diary) and Keith Cowing at NASAWatch for the material I posted in 1996. Dale's website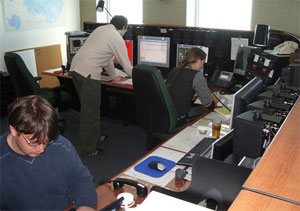 South Pole Station Operations Center (SOC). Personnel handle high-frequency radio calls with aircraft, local radio communications, and fire alarms.
Photograph by: Peter Rejcek - National Science Foundation - Dec 2005.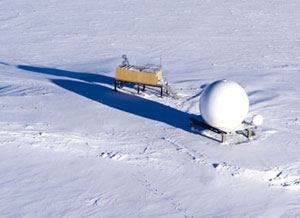 Communications equipment at Amundsen-Scott South Pole Station. The white sphere is the MARISAT GOES Terminal (SPMGT) satellite communications antenna platform. Behind it to the left is the Radio Frequency (RF) Building.
Photograph by: Scot Jackson - National Science Foundation - October 27, 2005.
Webcams:
Communications have probably changed the experience of being in Antarctica more than any other single factor.
In the earliest days, there was no radio even, so ships and their crews would not be heard of for literally months on end, even a year or more, until it returned to port or came across another ship during its voyage.
Later radio was invented, but communications were rather "official" being about the work of the base or ship rather than personal communications. The radio communications themselves would be at a pre-arranged "sched" (scheduled) time and would be via a land station bordering Antarctica. This situation lasted for several decades into the late 20th century.
The next major step forwards was with the advent of telex communications when the base personnel were given a monthly allowance of around 100 words or so to be sent in either direction to a pre-named contact person. Aside from this communications of a personal nature between Antarctic personnel and the rest of the world was by letter which went in each direction from one to three times a year depending on how deep in Antarctica the base was.
Later by the 1980's, satellite communications arrived along with fax machines which speeded things up and also increased the amount of traffic.
Personnel now had 200 words and more per month in each direction and the possibility of making telephone calls (at exorbitant cost! - paid by the individual)
With the advent of the internet and broadband, the outside world is now available via your keyboard and monitor screen almost on demand (satellite position and weather conditions allowing).
So in the last 100 years, base personnel have gone from being able to only send letters 1-3 times a year to being able to email and post their thoughts, news and pictures on websites and blogs on a daily basis, in both cases replies are at a similar frequency.