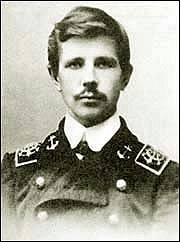 Amundsen/Fram - first successful expedition to reach the South Pole - 1910-12 Fram
Russian student of oceanography working under professor Bjørn Helland-Hansen.
Born in the Onega District, graduated from Archangelsk Marine College and then sent to Norway by his father to train as an oceanographer.
He lived in Tromso and Bergen before being invited by Amundsen to join his expedition in 1909, he was the only non-Norwegian.
In 1912 he was invited to be be captain of a an Arctic expedition led by Vladimir Rusanov which disappeared mysteriously near the coast of the Taimyr Peninsula.